This has always been one of my favourite antipasti, perfect along a good glass of chilled white wine while waiting to serve dinner.  I have never seen it here in Sydney and I was looking for the perfect occasion to try and make it at home.  And what better occasion than my series on Regional Italian recipes?  This is a traditional recipe from the region of Marche in the Central area of Italy facing the Adriatic Sea.  Specifically this recipe is originally from the town of Ascoli, thus the name "all'ascolana", which means "Ascoli style". It would be best made with olives from that area called "ascolane tenere", which are big and sweet.  I have made them with the olives I could find here… I was lucky enough to find some pitted green olives which were quite large.  They worked perfectly well for the job.  The only small difference between this home made version and the original olive all'ascolana was that mine were a bit more salty, as the olives were kept in brine.  Next time I will keep them in water for a little bit before filling them to get rid of some of that saltiness.  Other than that they were very good and the filling was exactly as I recalled it.  You can also fill them a little more if you like and the remaining stuffing is great to make tortellini… believe me, I have tried it!  For my readers' sake only obviously! 😉  Enjoy!
Recipe adapted from Giallo Zafferano
Ingredients (makes around 100 olives):
100 big green olives, pitted
100 gms – 3.5 oz. beef, cubed
100 gms – 3.5 oz. pork, cubed
100 gms – 3.5 oz. chicken, cubed
3 tbsp extra virgin olive oil
1 small carrot, minced
1 small celery stalk, minced
½ onion, minced
1 glass white wine
Zest of ½ lemon
4 or 5 cloves (or 1/8 tsp of powdered cloves)
1/8 tsp nutmeg
1 slice of white sandwich bread, blended
80 gms – 5 tsp Parmigiano Reggiano, finely grated
1 egg
Salt
Flour, Breadcrumbs, Eggs (beaten) to coat the olives
Vegetable oil for deep frying
Put the extra virgin olive oil, minced carrot, onion and celery in a frying pan and sauté for a few minures on a medium fire, until the vegetables are soft.
Add the 3 types of meat and brown them well.
Add salt, cloves and white wine and let the alcohol evaporate.
Cook on a low flame until the meat is cooked through.  Set aside to cool down.
In the meantime, put the slice of bread in a mixer and blend it finely.
When it's lukewarm put the meat mixture in a mixer and blend it well.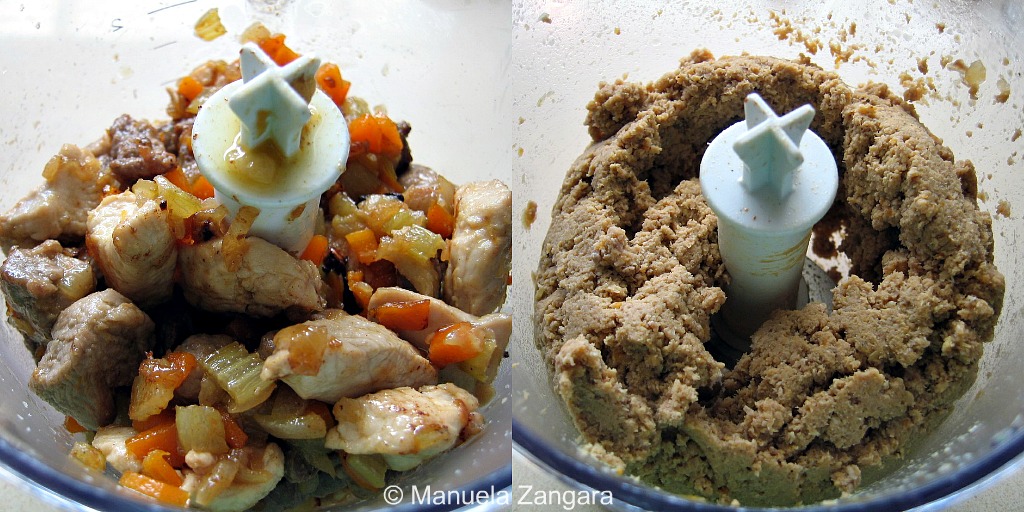 Transfer it into a bowl, add the nutmeg and clove powder (if you are using the powder instead of the cloves), lemon zest, 1 egg, finely grated Parmigiano Reggiano, the blended slice of bread and mix well until you get a thick and pliable mixture.  Let it rest for 30 minutes.
To fill the olives, make an incision on 1 side to open them and fill them with your fingers.
Beat the egg in a bowl.  Put the flour and breadcrumbs in 2 separate plates.  Coat each filled olive with flour, dip it in the egg and then coat well with breadcrumbs, pressing with your palm so the crumbs stick well to your olive.
When you have done this for all the olives, re dip them in the egg and coat again with breadcrumbs to obtain a double coating.
Deep fry them in warm vegetable oil, rolling them around with a slotted spoon.  Remove them and put them on a plate lined with kitchen paper to drain the excess oil.
Serve warm.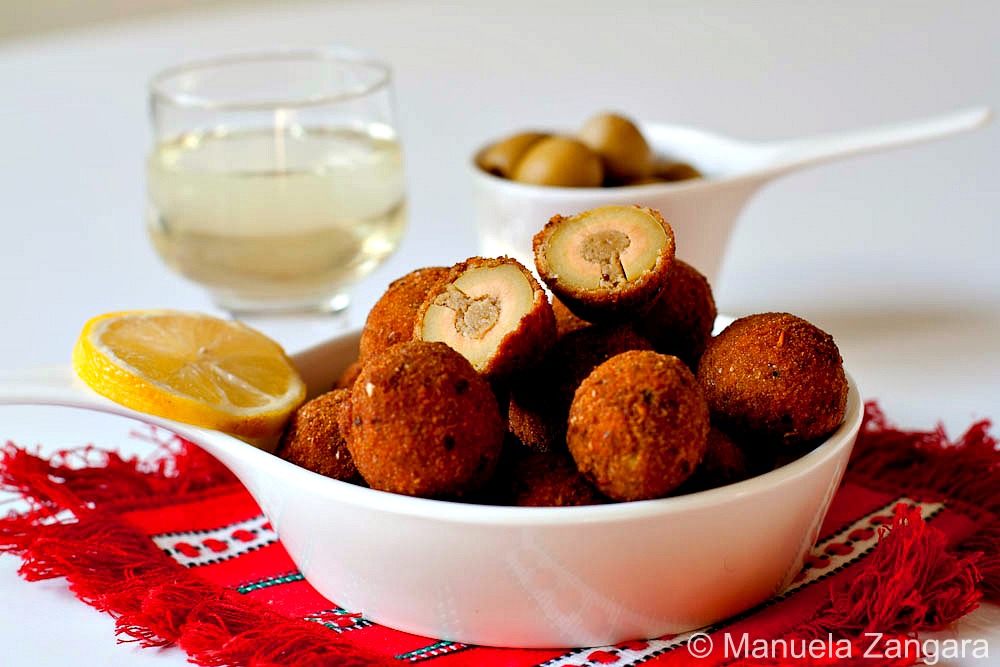 NOTE: you can keep these olives in the fridge up to 2 days before frying them, or you can freeze them.  Make sure not to overlap them in the container or they will stick together.  The best thing is to individually wrap them in cling wrap and then put them in a freezer Ziploc bag.  When you want to eat them, fry them from frozen on a medium-low heat: if the oil is too hot they will burn on the outside and remain cold on the inside!
For a list of all the regional recipes already published, click here.

Related Posts: