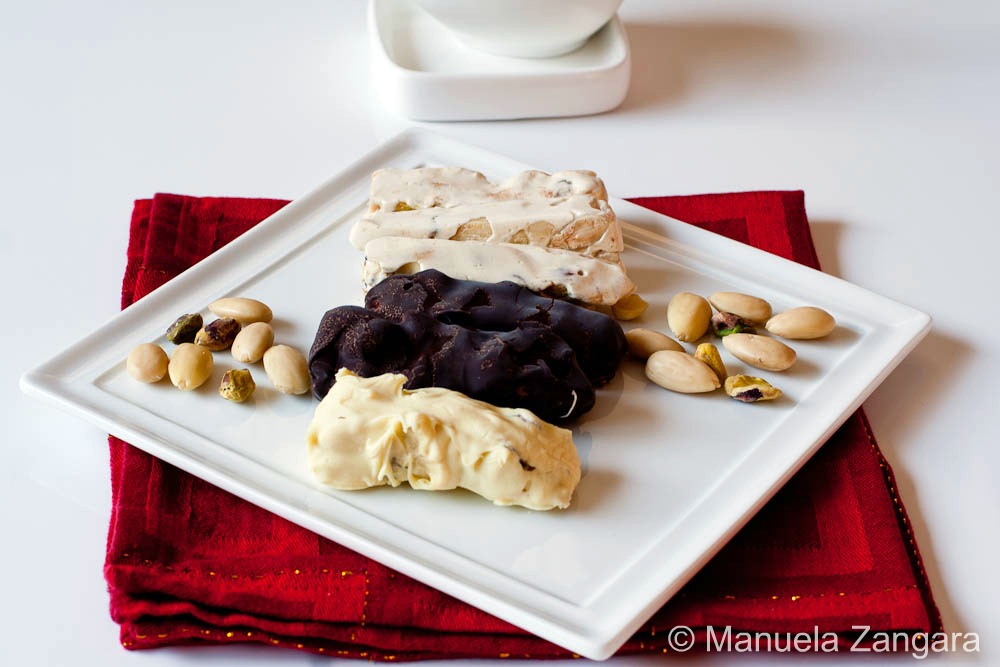 Torrone is one of the most popular sweets eaten in Italy for Christmas.  It never fails to make its appearance on our Christmas table.  It comes in many variations… it can be hard as a rock, soft and chewy, plain, covered in chocolate, flavoured with fruits, almond based, hazelnut based… you name it.  I had never made it at home as it is usually easily available in the stores, but this time I needed it out of season!  Besides, I really wanted to step it up a bit and try a homemade version.  I found a recipe online for what looked like a very good soft torrone and it did not seem too hard to make at all.  I had always thought of it as something too complicated and time consuming to make, and this was not at all the case.  I was surprised about how quickly I made it and how good it was!  The key is, you need a sugar thermometer (I bought a basic one for a couple of dollars) and you have to be precise when measuring the temperature and well organised so you can do everything before the temperature of your mix drops.  Just follow the instructions below and you'll have a deliciously soft, chewy (yet somewhat crunchy) torrone in no time.  I then cut it in smaller pieces and dipped some in melted dark chocolate and some in melted white chocolate to make Chocolate covered torroncini to serve with coffee for my Foodbuzz 24×24 Christmas in July event!
Recipe adapted from Chef Luca Montersino
Ingredients:
533 gms mixed nuts (I used 333 gms blanched almonds, 150 gms hazelnuts, 50 gms pistachios)
240 gms + 20 gms sugar
80 gms water
20 gms glucose powder
160 gms honey
40 gms egg white
Host sheets (optional) or baking paper
Start by preparing the tray where you will put the torrone to dry.  I used a 20x14cm pan and I layered it with baking paper at the bottom.  I also sprayed the sides with some oil spray to make sure the torrone didn't get stuck.
I also cut out another piece of baking paper (the same size as the one I put at the bottom), and kept it aside.  The original recipe calls for host instead of baking paper, but I didn't have any… Obviously, if you use baking paper, make sure to peel it off before eating the torrone.  If you use host, then you can eat it as is and the host can be left on when coating them with chocolate.
Put the 240 gms of sugar, glucose powder and water in a pot and cook it until the syrup reaches 146°C (295°F).
Put the honey in another pot [and when the sugar syrup in the other pot reaches 118°C (245°F)] put the fire on and cook the honey until it reaches 125°C (257°F) [so that the sugar syrup and the honey reach their desired final temperature at about the same time].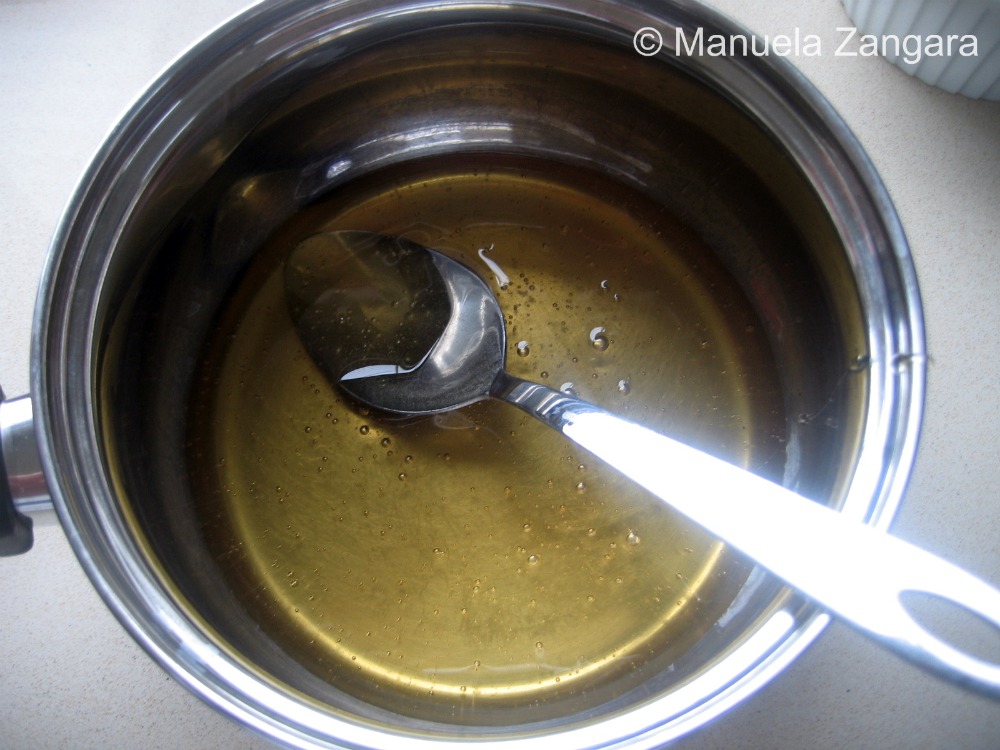 In the meantime, put the egg whites and the remaining sugar in an electric mixer and whip them until stiff.  Change the whisk attachment to the paddle attachment and whisk for 2 more minutes in the mixer.
Put the mixed nuts in a bowl and heat them up in the microwave for 1 or 2 minutes.  They need to become hot.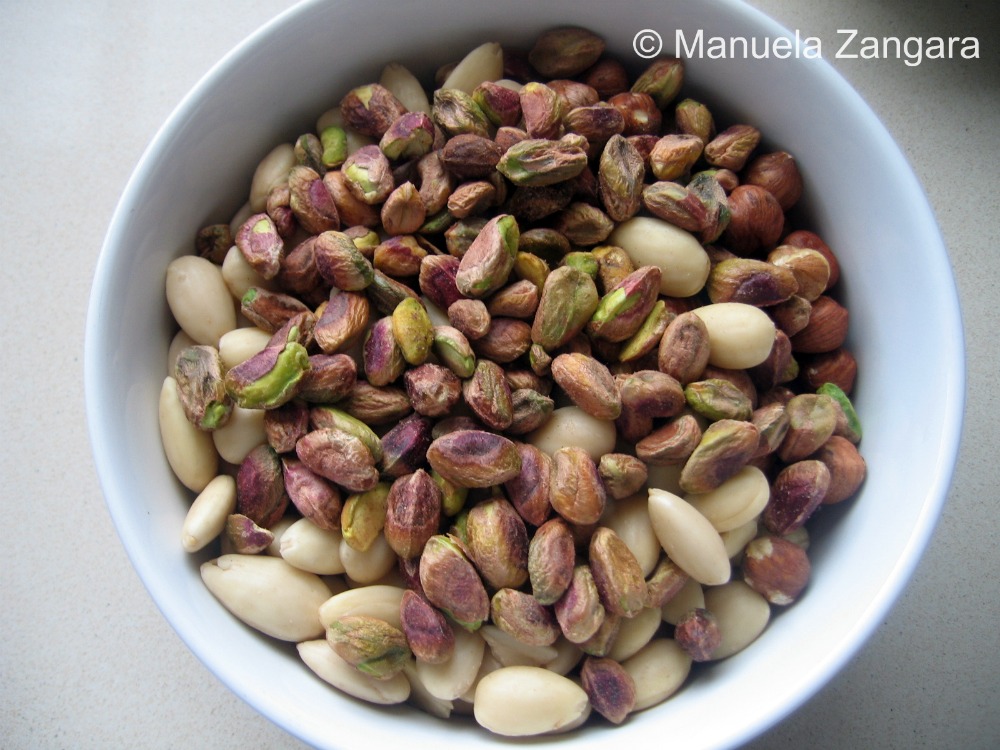 When the sugar syrup and the honey are ready, pour them slowly one after the other (the order is not important) into the egg white mixture.  Keep the mixer on while adding the hot syrup and honey.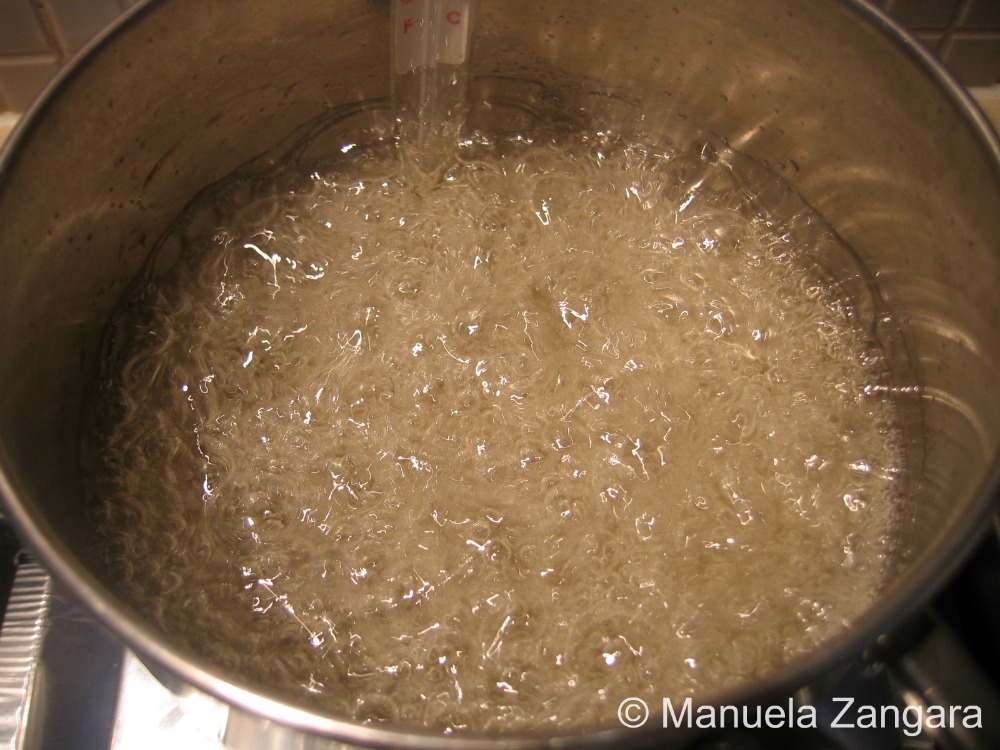 When incorporated, put the hot mixed nuts in it and quickly stir with a wooden spoon.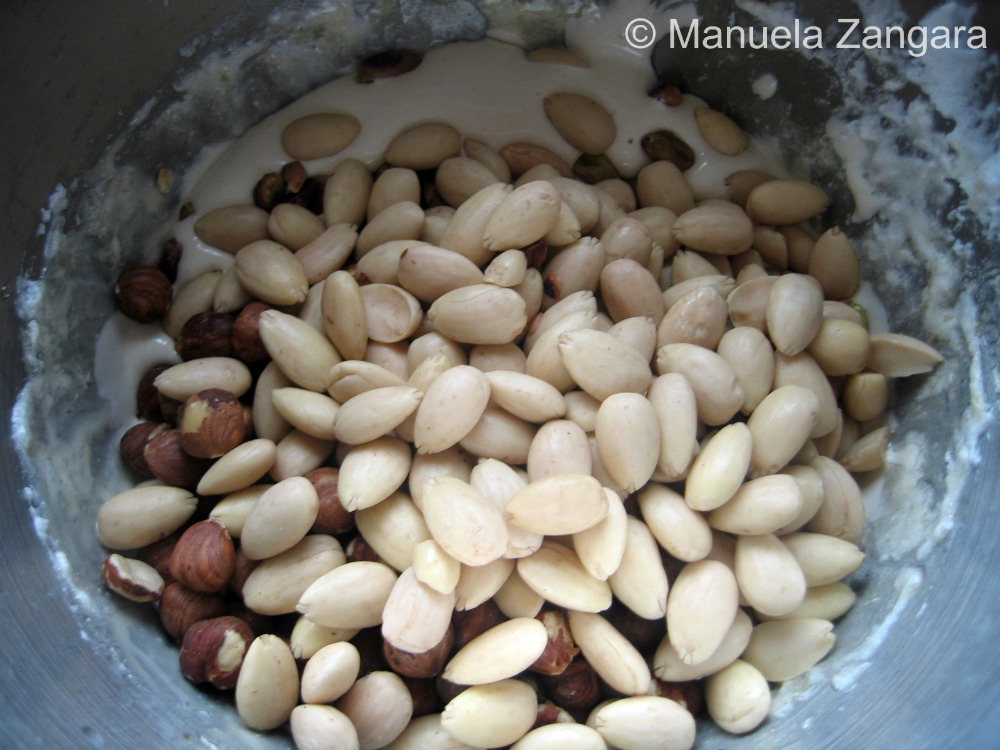 Pour into the prepared pan.  Spray a little oil on a plastic spatula and level the torrone mixture.
Place the other piece of baking paper on the top and gentily press it with a similar sized pan to make sure it is well levelled and no air bubbles form inside.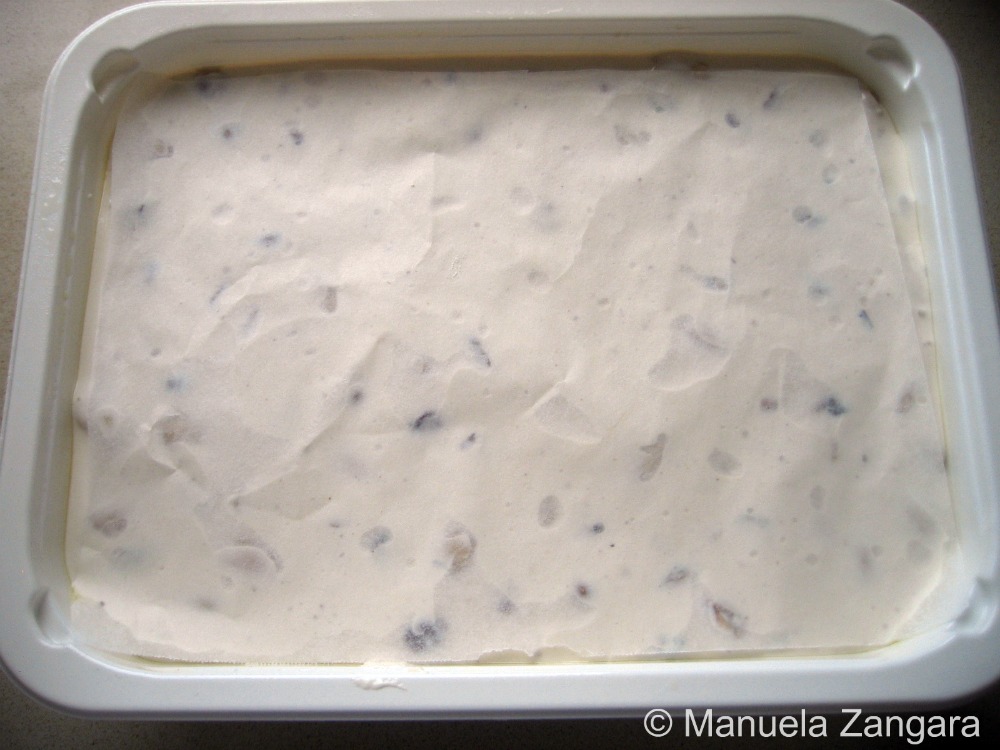 Let it dry overnight.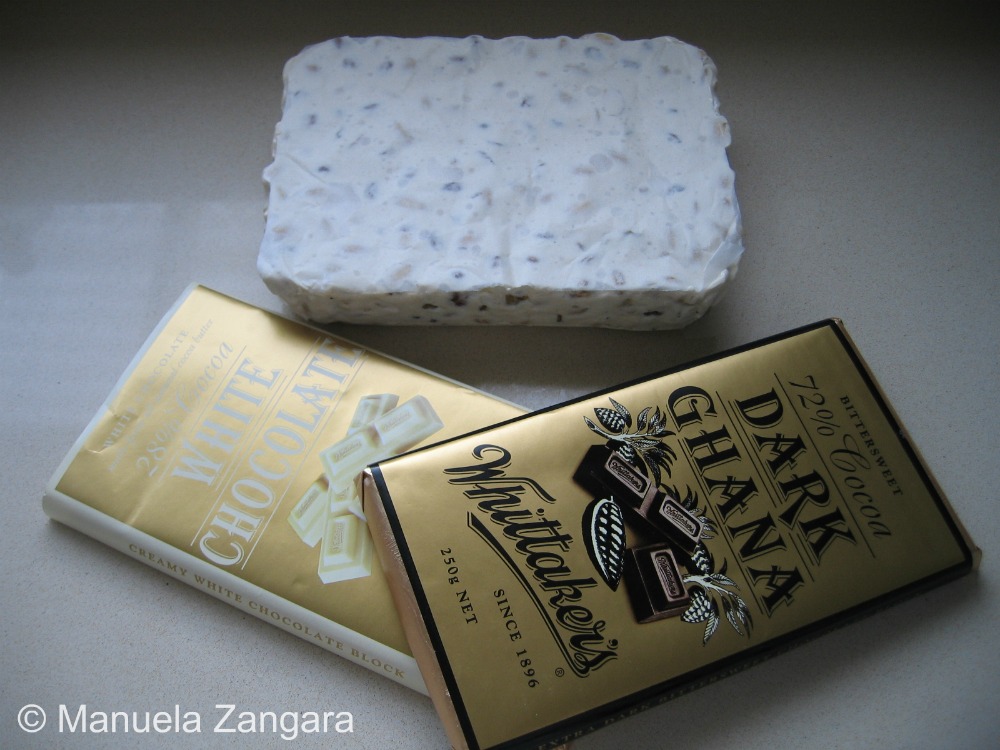 The following day you can cut it in pieces.
Remove the paper and eat it like that or melt some chocolate in a double boiler and dip the pieces in it.
Let them dry before serving them.
I made plain, dark chocolate and white chocolate torroncini (little torrone pieces) to serve with espresso for my Foodbuzz 24×24 Christmas in July event.

Related Posts: