I think I might have said this already, but growing up I never liked berries.  The berries you find in Italy are often too sour for my taste buds, so I never enjoyed eating them (well, apart from the times I would actually pick them on the mountains… but that's another story!).  So I was pleasantly surprised to find out that berries sold here in Australia are much sweeter… and I am buying them more often.  I especially enjoy blueberries!  So, whenever they are in season and I see them at the store, I just cannot help myself and buy way too much!  What do you do with all those blueberries??  Well, besides eating them straight from the punnet, you could make some Blueberry Trifle or some Blueberry Muffins with lemon sugar crust… or some of this fantastic blueberry curd.  I saw it a few months ago on Jill's site Mad About Macarons.  Erin from Big Fat Baker had shared her recipe in a guest post for Jill's Egg Yolk Recipes… and I fell in love with it.  It had such a beautiful colour, I knew then that I had to try it!  And I am so glad I did!  It is awesome… very delicate, yet full of flavour!  It is perfect with some freshly baked scones!  Enjoy!
Recipe adapted from Erin of Big Fat Baker and the Egg Yolk Recipes at Mad About Macarons
Ingredients:
90 gms – 6 tbsp unsalted butter at room temperature
280- 340 gms – 10-12 oz. blueberries (fresh or frozen)
3 large egg yolks (I used 4 smaller ones)
180 ml – ¾ cup sugar
1 pinch of salt
60 ml – ¼ cup water
Start by either defrosting the frozen blueberries or rinsing the fresh ones.  Then put them in a saucepan with the water and cook them until they burst.
Strain them through a fine sieve.  Make sure to mash them well with a spoon to get as much of the pulp out as possible.  Discard the skins and keep the liquid/pulp aside.
In the same saucepan whisk together the sugar and butter (1).  Add the egg yolks (2) and mix until fully combined (3).  Then add the blueberry juice and salt and whisk well (4).
Set the pan over low heat, and over the next 5 to 7 minutes, gradually increase the temperature of the mixture to medium while constantly stirring.  Cook without boiling for 5 to 7 more minutes, or until the mixture has reached 75ºC – 170ºF.
Remove the pan from the fire and stir for 5 more minutes to cool it down.  Tranfer to a pint sized jar for storage.
The curd will keep in the fridge for up to 2 weeks and I have also successfully frozen it.
It is perfect on a warm freshly baked scone with (or without) whipped cream!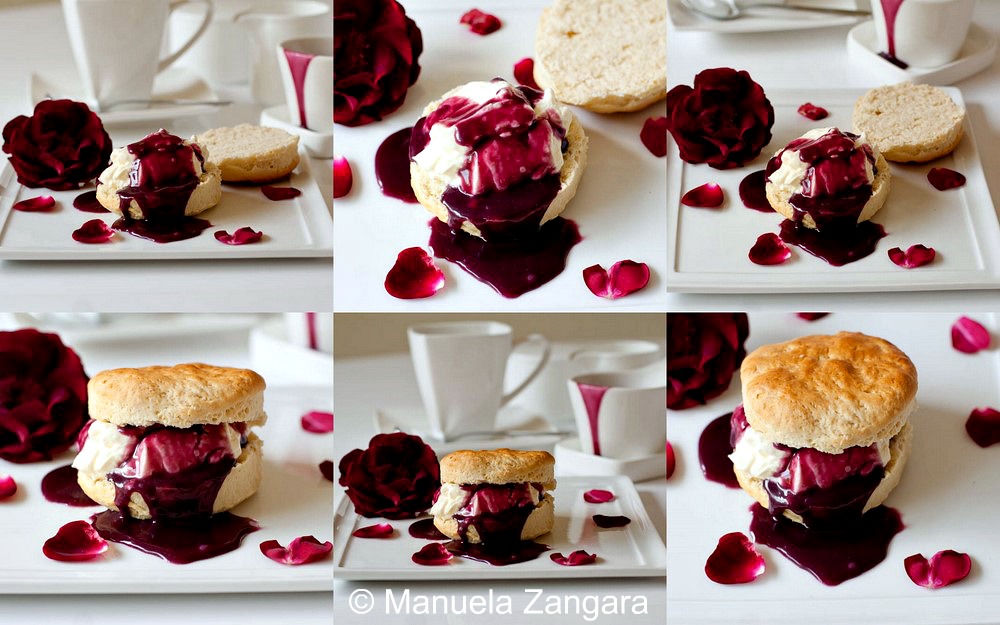 Thank you Erin of Big Fat Baker for such a fantastic recipe and thank you Jill for showcasing it on Mad About Macarons!!!

Related Posts: