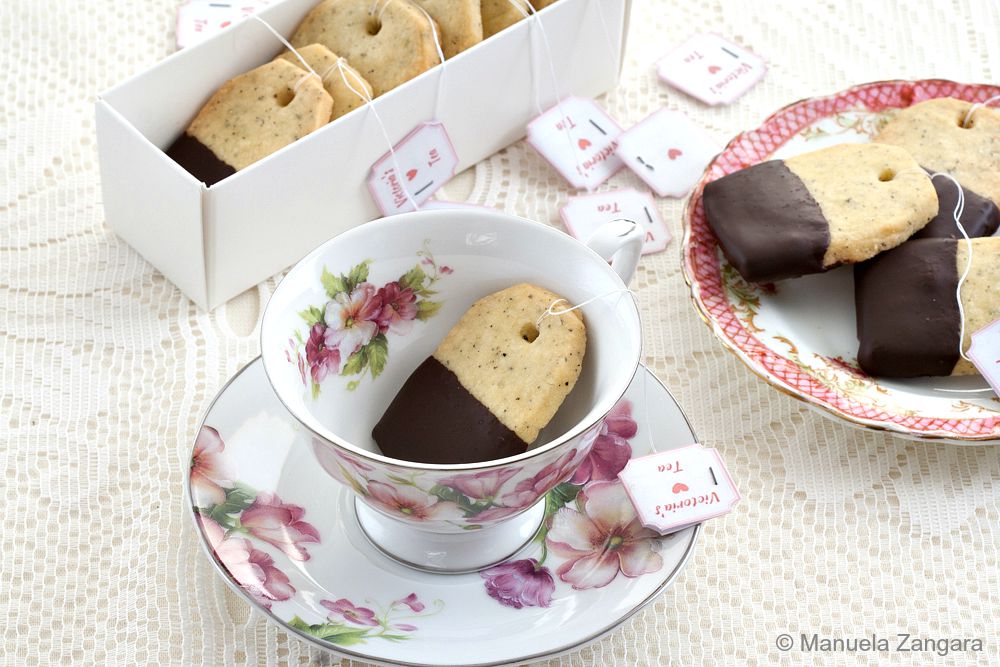 I made these cookies for my daughter's 8th birthday party. The theme was "high tea", so these teabag cookies were perfect for it. I had seen them on the web before and I was just waiting for the right occasion to try and make them myself. I have used my shortbread recipe and added some earl grey tea to the dough, just to make them more flavourful. These cookies are very easy to make and what I really love about shortbread is that I can make the cookies in advance, cut out the shapes and freeze them. Then, a couple of days before I need them, I just bake them from frozen. I find that they retain their shape much better this way and it also helps when I have many other things to prepare for a party. These cookies were probably the most popular item on the buffet. The kids were all over them… I guess shortbread dipped in chocolate is hard to resist. And they looked cute with the thread and tag… just like real teabags. Give them a go for your next tea party!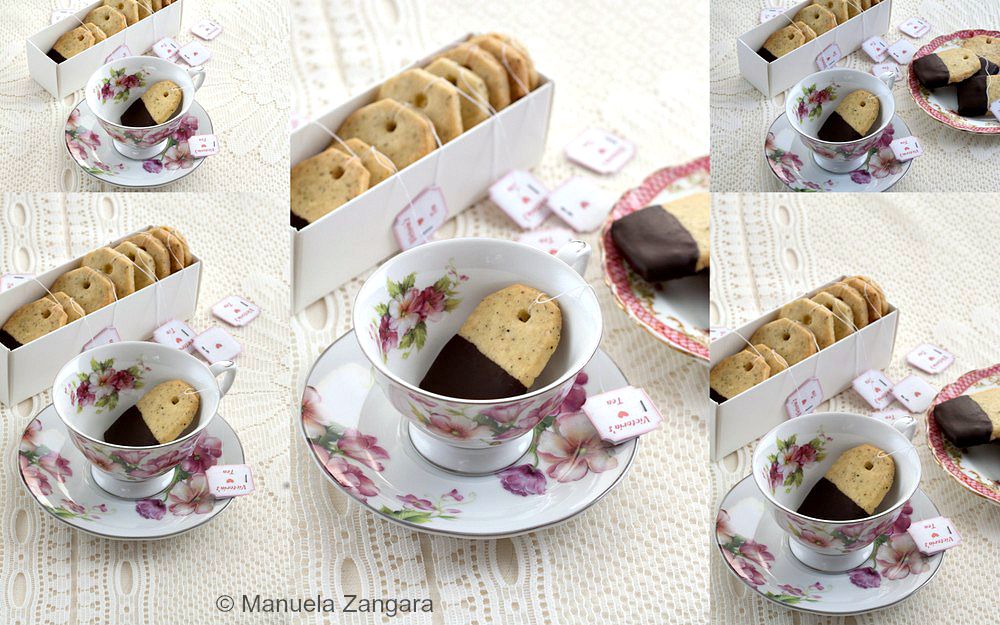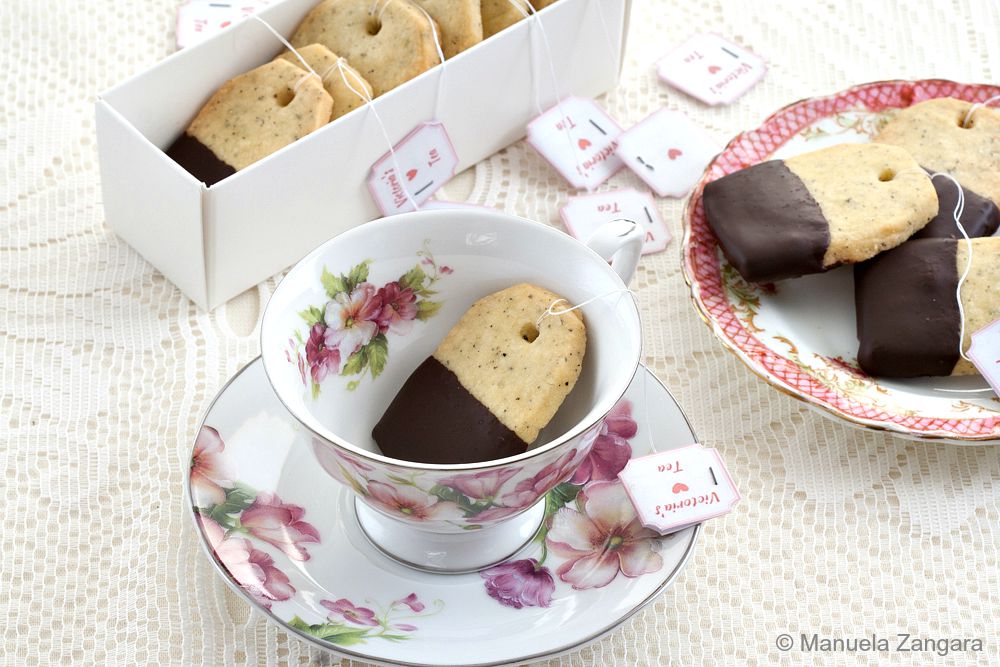 Earl Grey and Chocolate Shortbread Teabag Cookies
How to make Earl Grey and Chocolate Shortbread Teabag Cookies, the perfect treat for your next tea party.
Ingredients
1

tsp

earl grey tea

260

gms

– 2 cups flour

225

gms

– 1 cup unsalted butter

at room temperature

60

gms

– ½ cup icing sugar

1

tsp

vanilla extract

¼

tsp

salt

180

gms

– 6 oz. dark chocolate

melted
Instructions
Blend together the tea and icing sugar.

Put the butter, tea and icing sugar in the bowl of a mixer with a paddle attachment and beat them on medium speed for about 3 minutes or until the mixture is very smooth. Add the vanilla extract. Then reduce the speed to low and add the salt and flour, mixing only until just incorporated.

Flatten the dough into a disc, wrap it in plastic wrap, and chill the dough in the fridge for at least 1 hour.

Roll out the dough into a 0.5 cm – ¼ inch thick sheet. Cut into teabags with a sharp knife, using a real teabag as a guide.

Place the cookies on a tray lined with baking paper, make a hole at the top using a toothpick and place them in the fridge for 15 minutes (this will help the cookies to retain their shape when baked).

Bake in a preheated oven at 170°C – 340°F on the middle rack for 13 to 15 minutes. The cookies should remain pale. Transfer them to a wire rack to cool completely.

Once the cookies have cooled down, melt the chocolate over a double boiler.

Dip half of each cookie in the melted chocolate to make it look like there is tea inside, and place it on a tray lined with baking paper.

When you have done that for all the cookies, put the tray in the fridge for about 10 minutes, or until the chocolate has hardened.
Recipe Notes
These cookies can be stored in an airtight container for about a week. I also often freeze the uncooked shaped cookies and then bake them from frozen.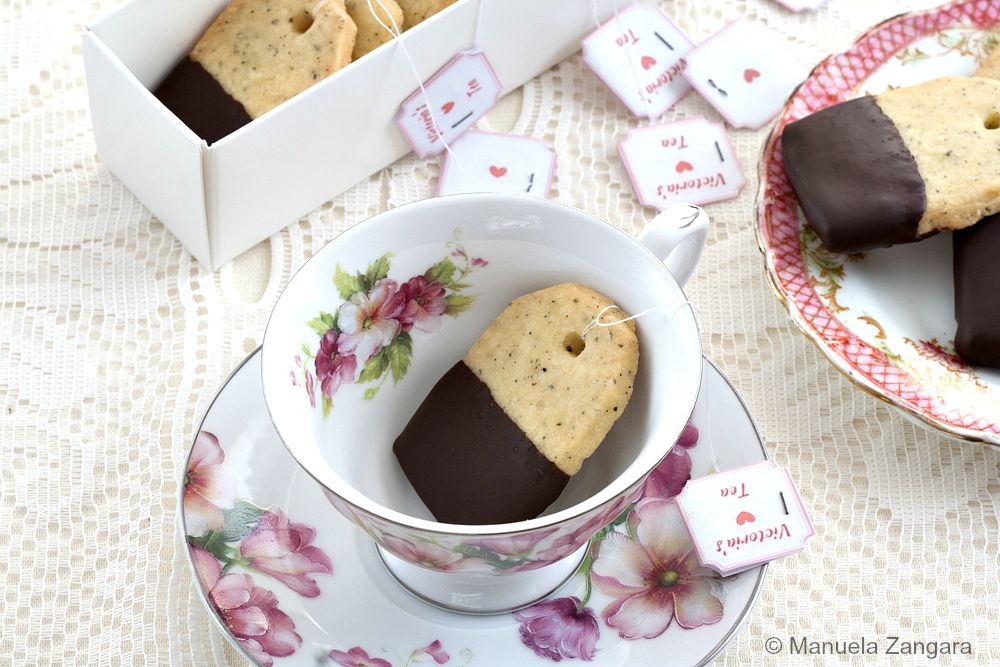 Related Posts: