I have recently been invited by the charming Jill to write a guest post for her beautiful site, Mad About Macarons… She has just created a section on her site to publish recipes that require egg yolks.  The reason is simple: the more egg yolks you use, the more egg whites you are going to have to make some delicious macarons.  Make sure to chek out her site… there are some mouth-watering suggestions and she is a very good writer… I simply love her posts, they make you feel like you are in Paris with her!
Here is my guest post at Mad About Macarons!
When Jill asked me to write a guest post for Mad About Macarons, I was so honoured and excited: I still am relatively new to blogging and this is my first ever guest post!  Thank you Jill!!!  From the moment I got her invite, I started thinking about what recipe I could share that uses as many egg yolks as possible, so that you can save all the egg whites for some of Jill's fantastic macarons!
In the end I chose to write about a traditional Sicilian sweet: genovesi.  They are yummy pastries filled with lemony custard and covered in icing sugar.  The best genovesi are found in the little medieval mountain top town of Erice, near Trapani.  There is a little shop that makes the best sweets ever: beautifully decorated marzipans, almond based biscuits and all sorts of pastries.  The owner of this shop, Maria Grammatico, learnt how to make all these traditional treats from the nuns of the convent of San Carlo where she spent her childhood as an orphan.  She is a remarkable lady and you can often see her behind the counter of her shop.  This recipe has been adapted from Maria's original recipe and it makes 4 genovesi… you can easily make a double dose and you can store them in an airtight container for a couple of days.  Now you will have even more egg whites for your macarons!
GENOVESI ERICINE (adapted from Maria Grammatico's recipe – from the book "Bitter Almonds: Recollections and Recipes of a Sicilian Girlhood" by Mary Taylor Simeti)
Ingredients (makes 4):
For the pastry
125 gms durum wheat flour
125 gms pastry flour (Italian 00) / all purpose flour
100 gms sugar
100 gms butter (or margarine) at room temperature, chopped
2 egg yolks
About 50 ml cold water
For the filling
1 egg yolk
75 gms sugar
30 gms corn flour
250 ml milk
½ tsp of lemon zest, grated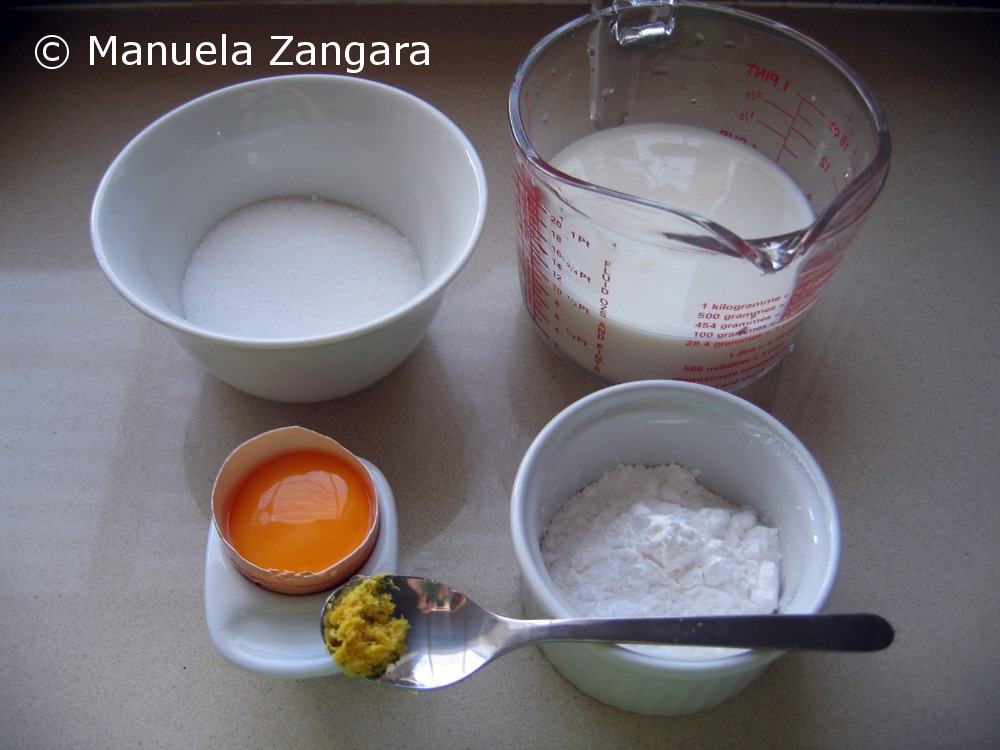 Icing sugar
How to make the pastry (Note: this dough keeps well up to a week in the fridge and even 1 month in the freezer)
Put the 2 different types of flour, sugar, butter and egg yolks in a mixer with a dough hook and knead for a couple of minutes, adding the water little by little till the dough looks crumbly and comes together when pressed between your fingers (you can also do this step by hand).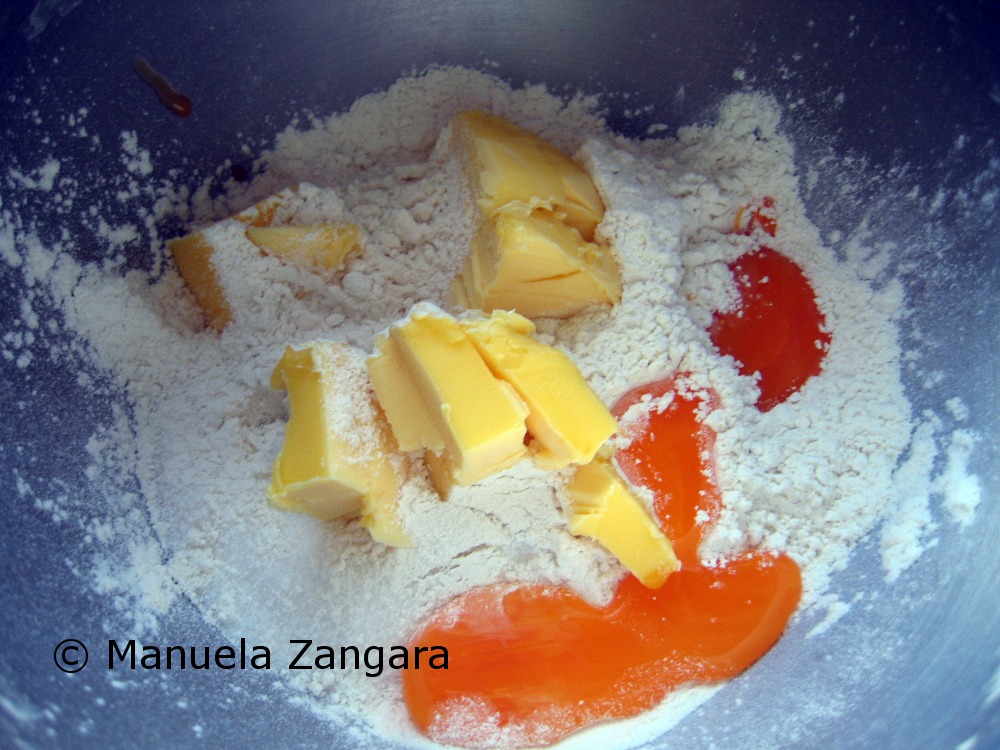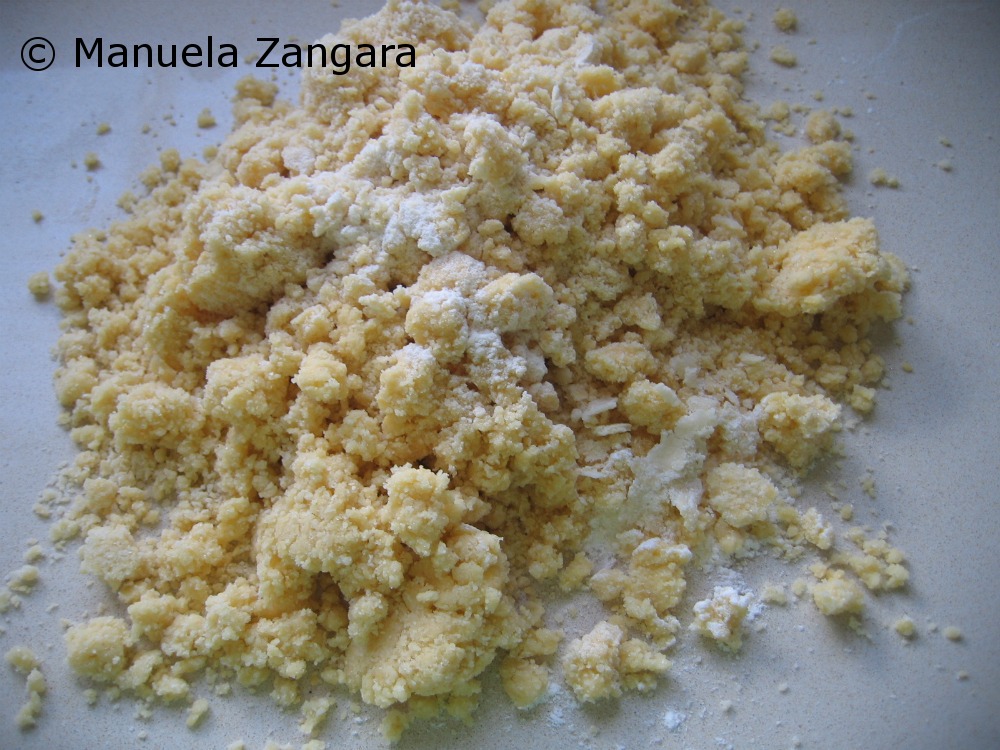 Then put it on a floured surface and knead it quickly until the dough comes together into a smooth ball.  Do not over work it or the pastry will come out hard.
Wrap the dough in cling wrap and put it in the fridge to "rest" for at least 30 minutes.

How to make the lemony custard filling (Note: this custard keeps well up to 3 days in the fridge)
Put the egg yolk and sugar in a pot and whisk well by hand or by using an electric mixer.
Dissolve the corn flour in a quarter of the milk and then incorporate it to the remaining milk.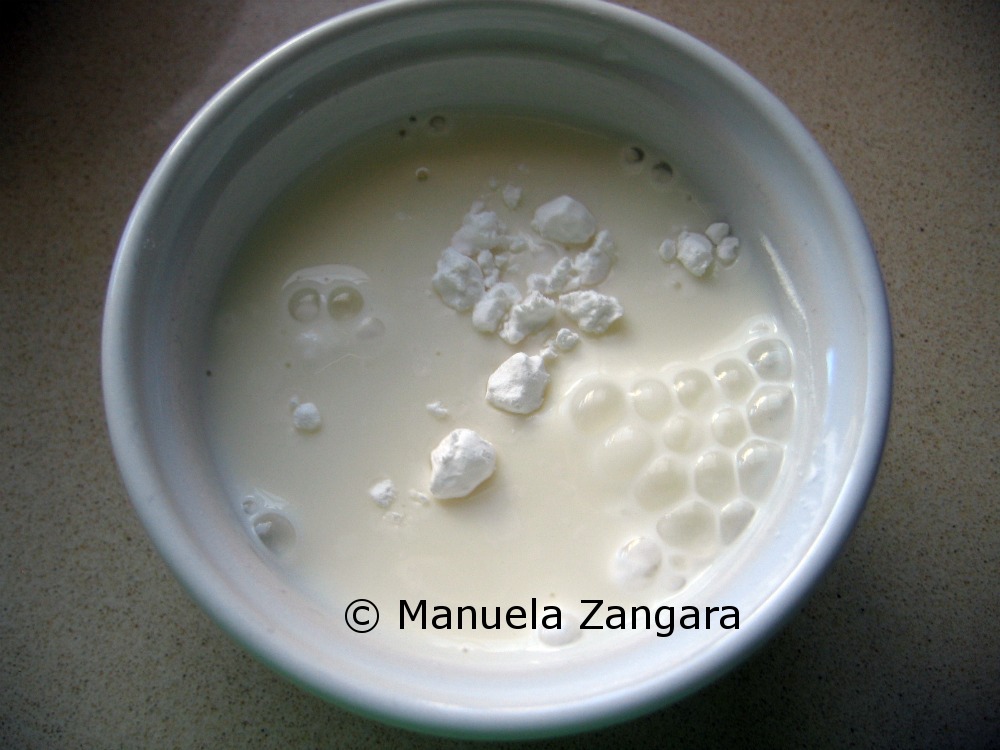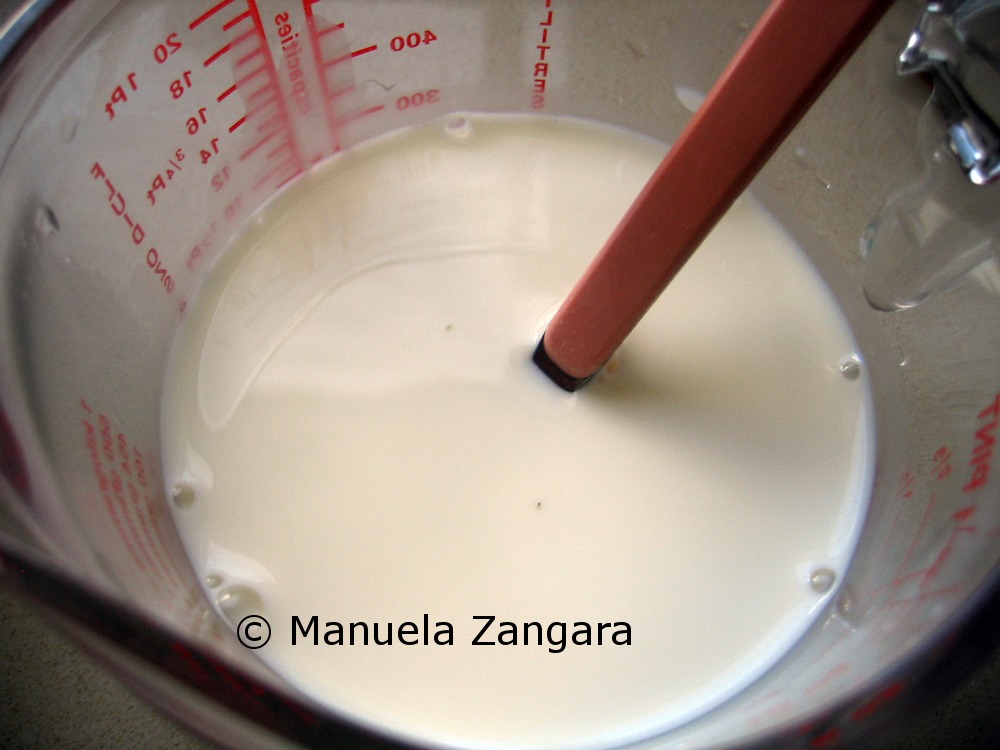 Stir well and add the milk to the beaten egg yolk little by little and incorporate it while whisking continuously.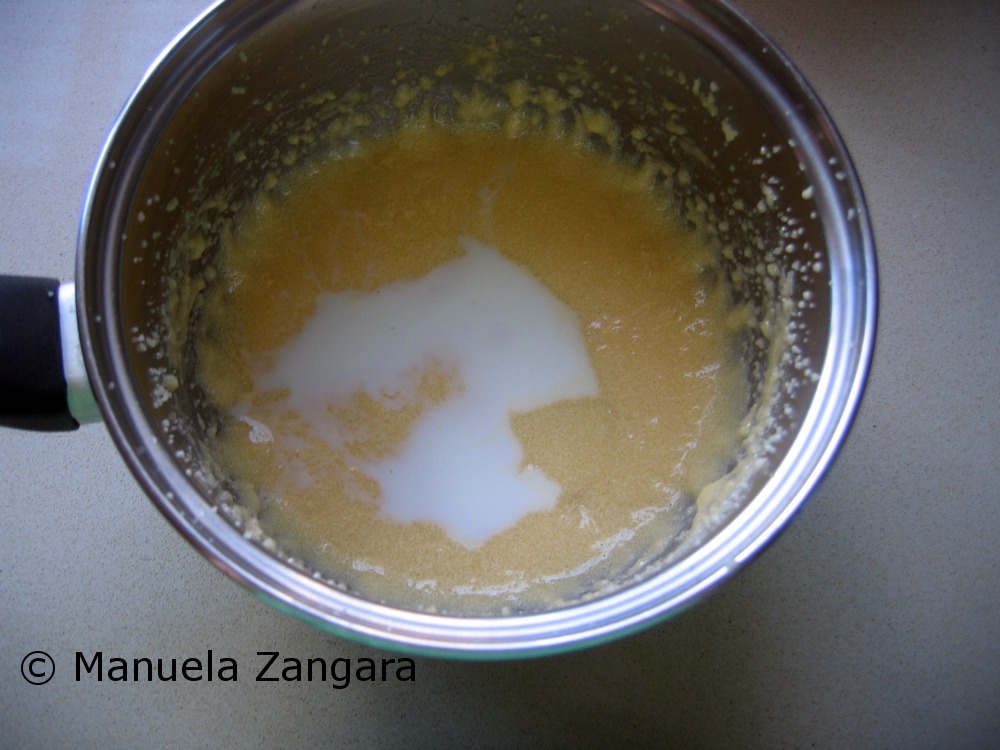 Put the pot on the fire and cook the cream on a very low flame (stirring continuously) for about 12 minutes or until it thickens.  It needs to become as thick as a pudding.
Stir in the grated lemon zest, cover with some cling wrap (make sure that the cling wrap sits directly on the cream to prevent a skin from forming) and keep aside to cool down.

How to assemble the genovesi:
Roll the dough into a ½ cm thick sheet and cut 8 circles of 10 cm of diameter.  You can do this either with a cutter or by using a ramkin and cutting along the edges with a knife.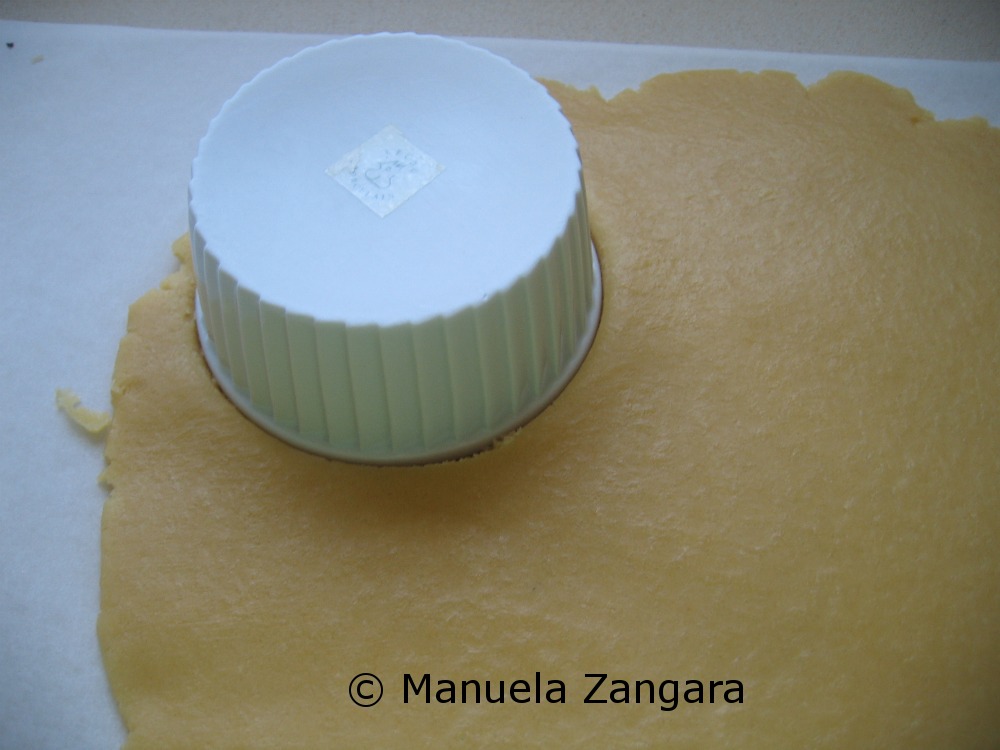 Put 2 tablespoons of custard in the centre of 4 of the circles and cover them with the other 4 circles.  Press the sides with your fingers to close the genovesi well.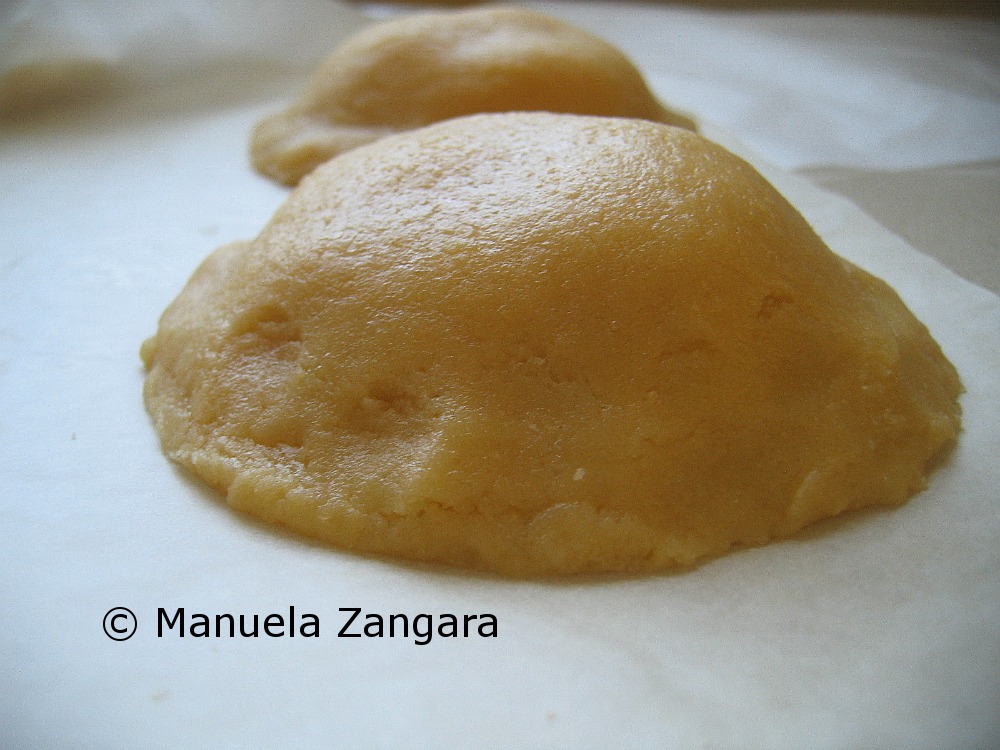 Bake in a preheated fan forced oven at 220°C for 7 minutes or until golden.  Do not over cook or the genovesi will harden.
When ready, put them on a rack to cool down slightly and then sprinkle them with icing sugar.  They are best served lukewarm with a cup of tea, coffee or cappuccino.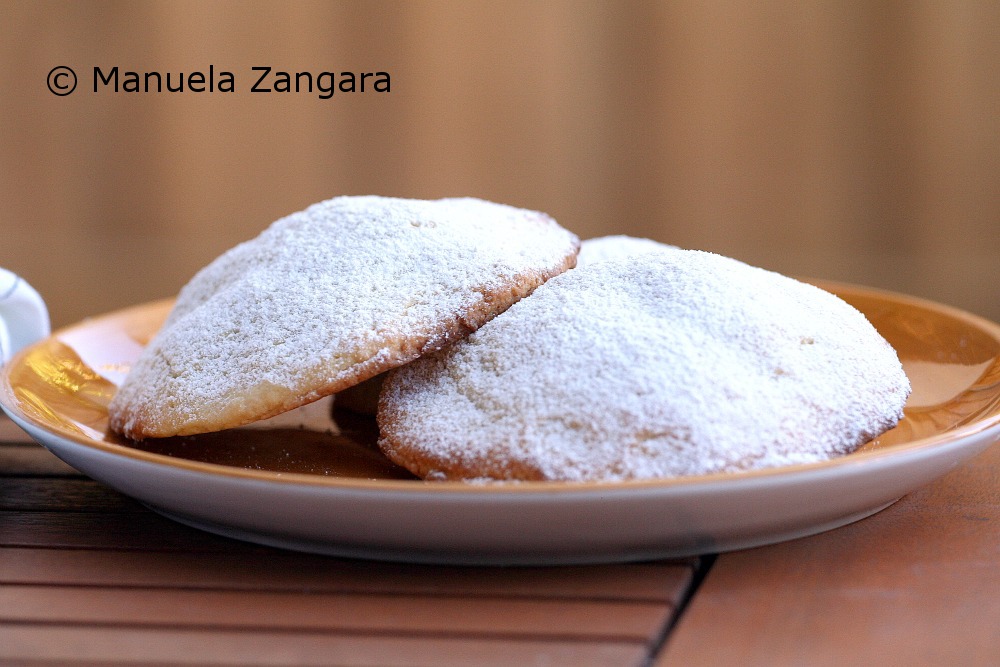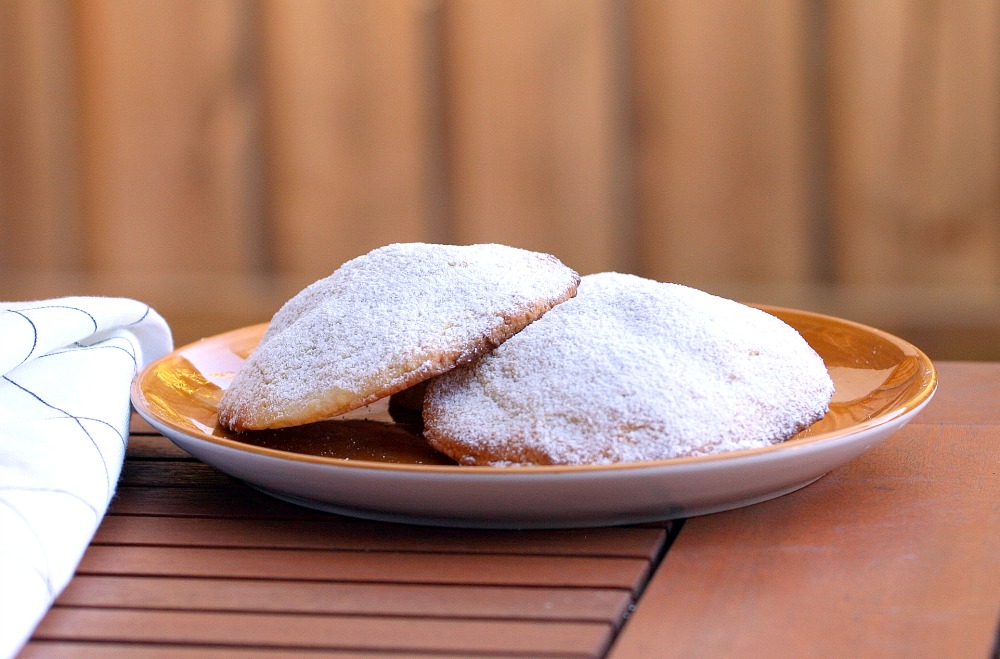 Enjoy and remember that you can make a double dose, as you can keep the genovesi in an air-tight container for a couple of days.
And do not forget to visit my friend Jill's website Mad About Macarons for lots of tips on how to make delicious macarons and more!
Also, you can vote for my Chocolate and Coconut Tartelettes for this month's recipe challenge over at FoodFrenzy!

Related Posts: