I have had this Guinness Brownies with Baileys Frosting recipe saved for a looooong time and I finally got to make it. And what better occasion than Saint Patrick's Day? Isn't this the quintessential Irish recipe? These brownies are amazing… so chocolatey and fudgy! The addition of Guinness only intensifies the deep chocolate flavour. They have become my absolute favourite brownies! Don't worry about serving them to the kids, the Guinness is cooked before being added to the batter, so the alcohol evaporates. Just don't frost them if you want the kids to eat them. The frosting as well is delicious. I love Baileys, it is my favourite liqueur and it goes very well with chocolate. These brownies are an absolute keep! Happy Saint Patrick's Day!
Guinness Brownies with Baileys Frosting
Guinness Brownies with Baileys Frosting - An easy recipe for moist, fudgy brownies made with Guinness stout, and topped with Baileys frosting.
Ingredients
Guinness Brownies
160 ml – ⅔ cup Guinness stout
260 gms – 1 ½ cups dark chocolate chips
170 gms – ¾ cup unsalted butter
265 gms – 1⅓ cups granulated sugar
3 eggs
1 tsp vanilla extract
95 gms – ¾ cup all purpose flour
¾ tsp salt
Baileys Frosting
Instructions
Brownies
Preheat oven to 350°F. Line a 20cmx20cm (9x9inch) pan with baking paper. Set aside.
In a small saucepan, bring the Guinness to a boil. Boil for 5-10 minutes, until reduced by half. Set aside to cool slightly.
In the microwave or a double boiler, melt the chocolate chips and butter until completely smooth. Set aside to cool slightly.
In a large bowl, whisk the sugar, eggs, and vanilla extract. Add melted chocolate mixture and whisk to combine. Add the Guinness and whisk to combine. Stir in flour and salt. Pour into the prepared pan.
Bake in a pre-heated oven at 175°C – 350°F for approximately 30-35 minutes, until a toothpick inserted into the centre comes out without batter on it (a few fudgy crumbs are ok).
Cool completely, then cut into 12 squares.
Frosting
Using a hand mixer or stand mixer, beat the butter and powdered sugar until combined. Add the Irish cream and vanilla. Beat on medium speed for a minute or two, until smooth and creamy.
Spread frosting over the top of the brownies, or use a piping bag and decorating tip to frost each brownie individually.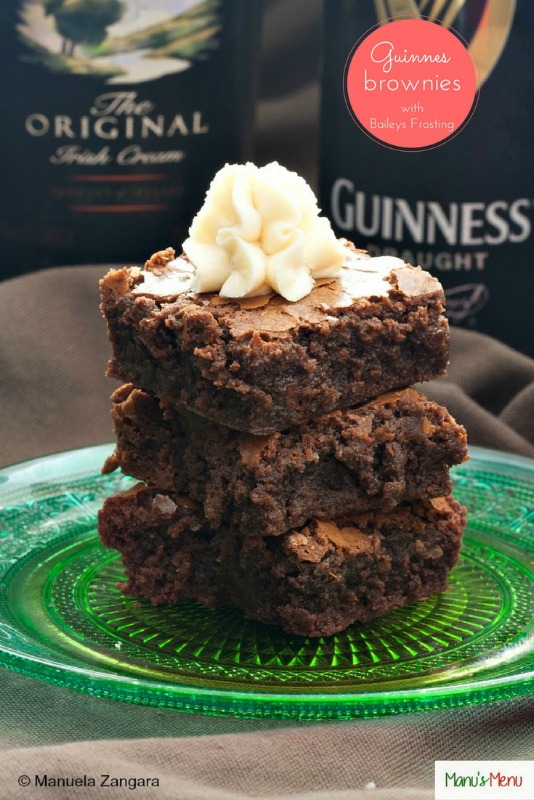 Pin It

Related Posts: