I love Japanese Curry!! And with this Low Fodmap Japanese Curry Roux I too can enjoy it without having to worry about my tummy!
Have you ever tried Japanese Curry? It is so good! It is milder than other curries and the gravy is glossy and thicker than regular curries. In fact, it looks more like a stew than curry. You can make it with any protein you like, however, beef is my protein of choice for this.
If you don't need to follow the Low Fodmap diet, you can use ready-made Japanese curry roux. I find it at my normal supermarket, however, you may want to check out your local Asian grocery store if you can't get it at your everyday store.
Unfortunately, the ready-made roux contains high fodmap ingredients, so I am not able to have it. That's why I decided to adapt it to the Low Fodmap diet. It is actually really easy to make at home and you can adjust it to your taste too by mixing different spices. You can also make it more or less spicy. It's up to you.
All you need to do is roast your spices, and add them to a roux. That's it! You can store it in the fridge or in the freezer. This recipe makes 18 portions, which means that if you make curry for 4 people, you will need to use 4 pieces of it.
Come back next week for my Japanese Curry recipe!!
Enjoy and don't forget to check out my video recipe and to leave a comment to let me know how you like it!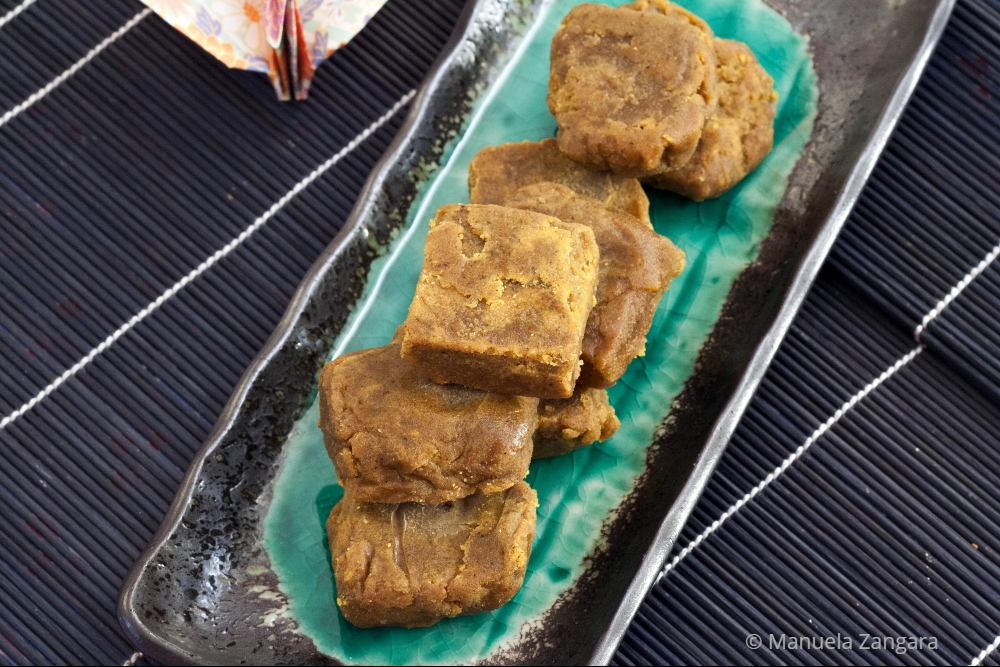 Low Fodmap Japanese Curry Roux
Low Fodmap Japanese Curry Roux – with the perfect mix of spices to make your Japanese style curry. Great for delicate tummies too.
Total Time
8
hours
20
minutes
Ingredients
150

gms

– 5 1/3 oz. butter or vegetable spread

100

gms

– 3 ½ oz. gluten-free and/or low fodmap flour

1

tsp

turmeric powder

1

tsp

cardamom powder

1

tsp

cumin powder

1

tsp

cinnamon powder

1

tsp

clove powder

1

tsp

nutmeg powder

1

tsp

Low Fodmap garam masala

½

tsp

black pepper

ground

1

tsp

ginger powder

¼

tsp

chilly powder

1

tsp

curry powder

3

tbsp

maple syrup
Instructions
Roast all the spices in a non-stick frying pan over low heat for about 5 minutes till fragrant. Then set aside.

Melt the butter/spread over low heat and add the maple syrup.

Add the flour and stir to combine.

Keep stirring for about 15 minutes. The mixture is lumpy at the beginning but will become smooth.

Add the roasted spices and mix well. Then turn the fire off.

Line a container with baking paper or cling wrap and place the roux into it.

Cover and wrap the curry roux with the cling wrap and put it in the fridge overnight to set.

The next day cut into 18 pieces.
Recipe Notes
This roux will keep in the fridge for a couple of weeks. You can also put it in a freezer ziplock bag and keep it in the freezer. It will keep for a couple of months.
I prefer to line the container with baking paper as I find it easier to remove the roux from it than from cling wrap.
Each piece is enough for 1 person.
Don't forget to PIN this post!

Related Posts: