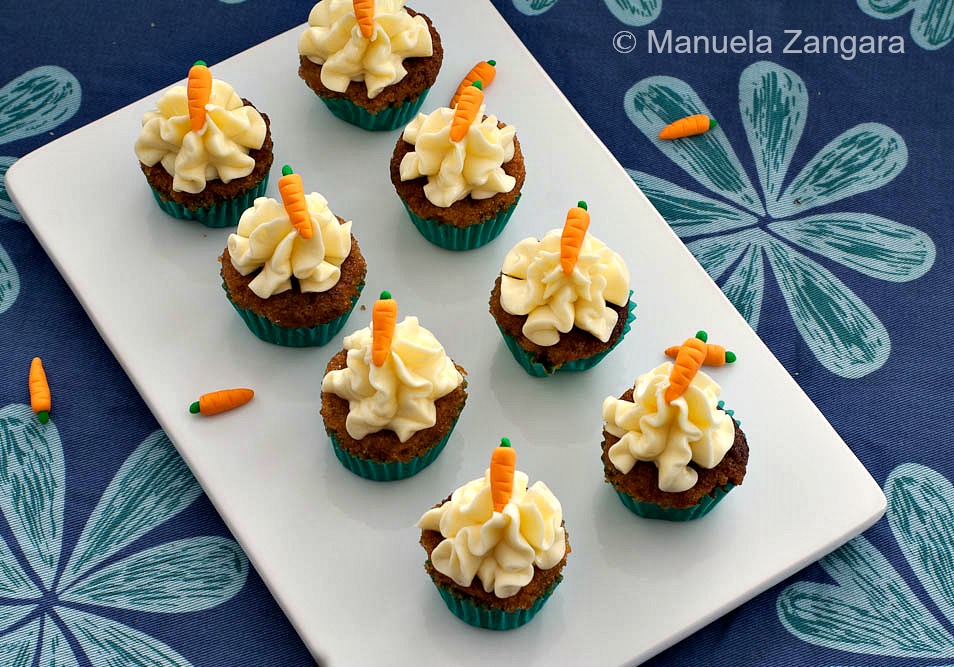 I always make cupcakes for my kids birthday parties as I love how festive they look and kids always devour them!  As my youngest daughter's birthday party was all about Miffy (and bunnies), I thought of making carrot cupcakes in the hope of keeping things on the "healthy side" (well… at least they did have carrots inside!).  I also made them small as I think they are the best size for kids parties, they are easier to handle and you never have leftovers.  I decorated them with a classic cream cheese frosting… yum!  If you follow me on Facebook, Twitter, Instagram or Google+, you will have recognised the toppers as I posted a picture of them a few days ago.  I had a blast making these tiny fondant carrot toppers!  And they were very easy to make… all you need is a little orange and green fondant and a knife!  Don't they look cute??  Enjoy!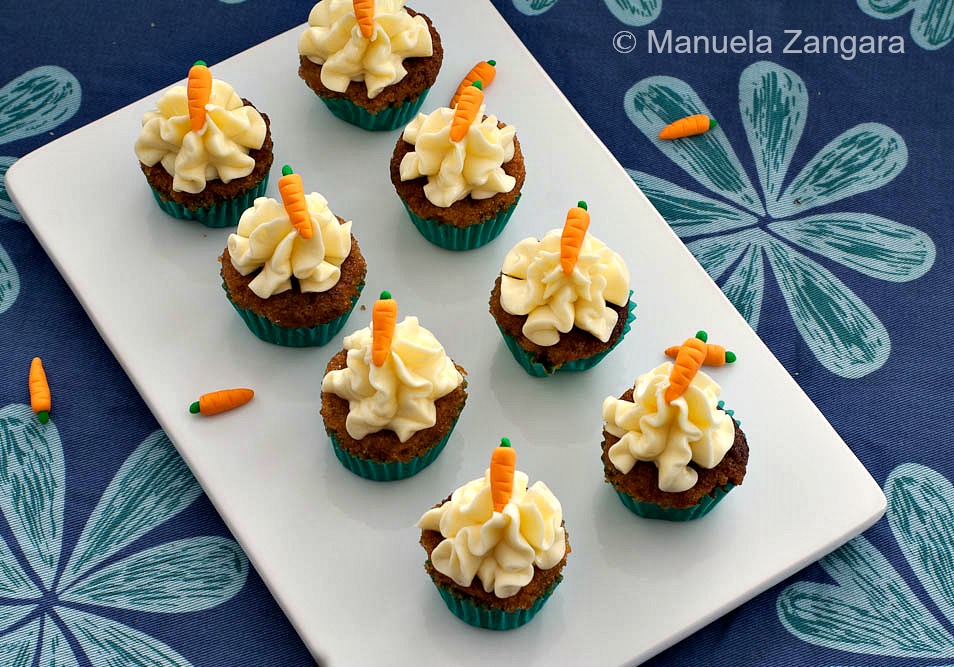 Mini Carrot Cupcakes with Cream Cheese Frosting
How to make delicious Mini Carrot Cupcakes with Cream Cheese Frosting for a bunny themed party!
Ingredients
Carrot Cupcakes
250

gms

– 2 cups all purpose flour

2

tsp

baking soda

1

tsp

salt

2

tsp

ground cinnamon

½

tsp

ground nutmeg

1

tsp

ground ginger

400

gms

– 2 cups sugar

1 ¼

cups

vegetable oil

4

large eggs

at room temperature

390

gms

– 3 cups grated carrots
Cream Cheese Frosting
450

gms

– 16 oz. FULL FAT cream cheese

softened

115

gms

– ½ cup unsalted butter

at room temperature

1

tsp

vanilla extract

300

gms

– 2 ½ cups confectioners/icing sugar

1

pinch

of salt
Fondant Carrot Toppers
Orange Fondant

Green Fondant

Water
Instructions
Carrot Cupcakes
Put the flour, baking soda, salt, cinnamon, nutmeg and ginger in a bowl and whisk together.

In another bowl, whisk together the oil and sugar until combined. Add the eggs one at a time, whisking to incorporate between each addition.

Add the wet ingredients to the dry ingredients. Add the grated carrots and gently mix with a wooden spoon until combined.

Line a muffin tin with paper cups and spoon the mixture into them, until each cup is about 3/4 full.

Bake in a preheated oven at 180°C – 355°F for 15 to 20 minutes or until a skewer inserted in the centre comes out clean. Remove from the oven and transfer to a wire rack to cool down.
Fondant Carrot Toppers
Make small rounded triangles with the orange fondant (try to make them look like carrots).

Make some indentations with a knife along the "carrot" to make it look more real.

With a toothpick, make a small hole at the wider end of each carrot and, using a little water as glue, attach a small piece of green fondant to make it look like carrot leaves.

Let the toppers dry for a few minutes and then put them in an air tight container until ready to use.
Cream Cheese Frosting
In a stand mixer, combine the cream cheese and butter, and beat on medium high speed until smooth. Add the vanilla and salt and mix until incorporated.

Pipe onto the cold cupcakes and decorate with the carrot toppers.
Recipe Notes
I made half the above dose and got 34 mini cupcakes (3.5 cm – 1 ¼ inch in diameter).
I made the cupcakes in advance and froze them. I thawed them at room temperature the day of the party and frosted them before serving.
Use only full fat cream cheese. I tried it with reduced fat cream cheese, but the frosting was way too soft and had to make it again!

Related Posts: