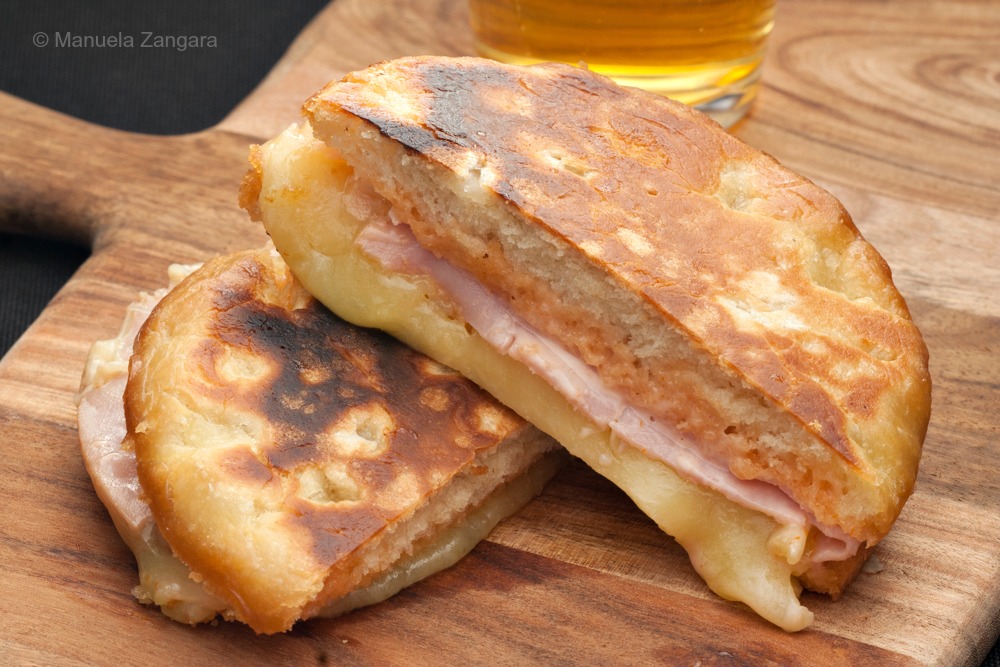 Today's recipe makes me a little emotional, as it brings back lots of memories from my teen age years. We used to have a cafe in our high school from where we could purchase food and drinks and one of my favourite sandwiches was called "Monica"… I think it was named after the girl who was working there and put it together the first time. It was made with a round focaccia and filled with salsa rosa, ham and cheese and then it was grilled. It was so good I can still remember the taste after all these years (I won't tell you how many… let me just say that we used to sing to the latest Nirvana songs… you do the maths! Hehehe). So I set on a mission to replicate the famous Monica Sandwich at home. I used my schiacciata (made without rosemary) for this, but if you find a good focaccia, you can use that as well. It tasted exactly the same as the "original" and it took me back to high school for a few minutes!  The recipe is very simple and the secret is the sauce! It goes extremely well with the other ingredients! I hope you like it as much as I do! Enjoy!
Monica Sandwich
Monica Sandwich - a delicious grilled ham and cheese sandwich made with focaccia and a secret ingredient.
Ingredients
Salsa Rosa
1

tbsp

Mayo

½

tbsp

Ketchup
Sandwich
1

Small Schiacciata

12 cm – 5 inches - click here for the recipe.

Ham

thinly sliced

Extra Tasty cheese

sliced

Salsa Rosa
Instructions
To make the sandwich, slice the schiacciata in half. Spread the Salsa Rosa on both halves, top with the sliced cheese and ham, then close the sandwich.

Grill it until toasted and the cheese has melted.

Cut in half and serve immediately.
Recipe Notes
I used 2 slices of extra tasty cheese and 2 slices of ham, but that depends on how big they are.

Related Posts: