Since going Low Fodmap, I have really missed baking bread. So, I am extremely pleased to share with you this amazing recipe for Low Fodmap Mini Focaccia today!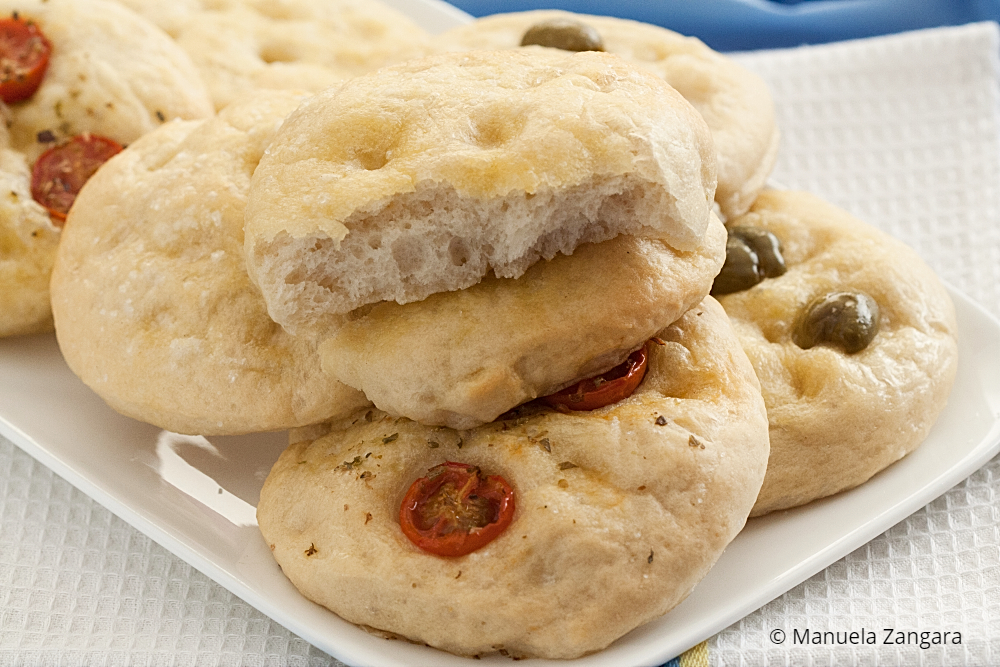 I used the Healthy Baker low fodmap plain flour to make it. We are really lucky to have such great alternative flour here in Australia. I can't praise it enough! I am slowly experimenting with this flour and I will be sharing other bread recipes that I make with it soon. So, stay tuned! This is NOT a gluten free recipe though, so if you cannot eat gluten, unfortunately, this recipe is not for you.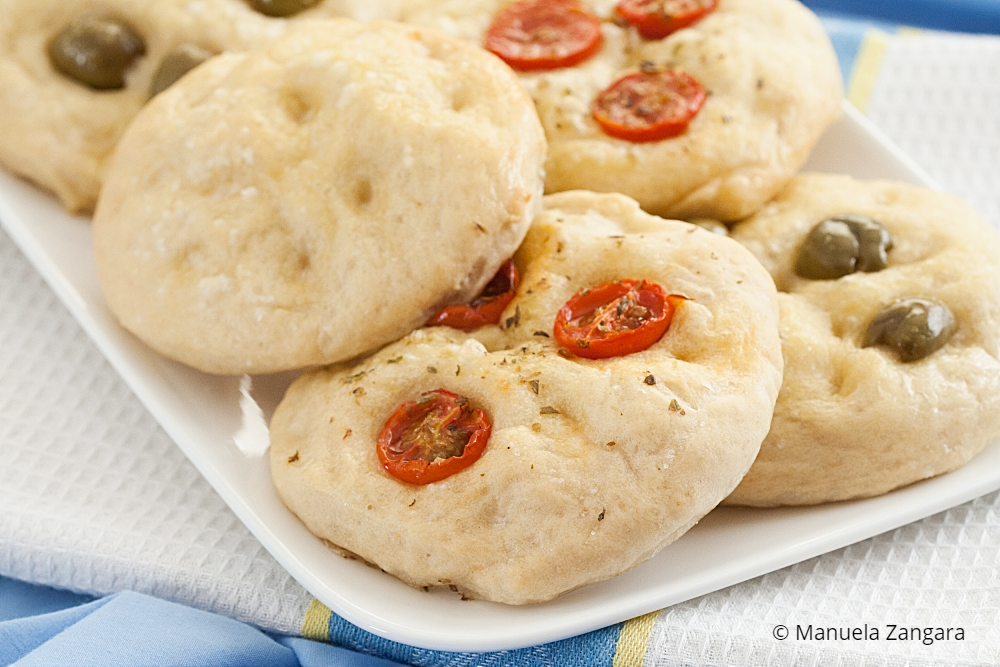 I love focaccia, it's one of my all-time favourite snacks. I grew up eating it for my afternoon tea (or school break) back in Italy. It was easy at that time, no dietary restrictions and awesome bakeries at every corner! But this Low Fodmap Mini Focaccia takes me back to those good times, as it tastes exactly the same as what I grew up eating.
I will be baking a double batch for my New Year's Eve buffet and I will serve it along with my Low Fodmap Walnut Capsicum dip. I can't wait to dig in. This Low Fodmap focaccia is airy, moist and soft, yet lower in fat than any other focaccia! You can make it plain, with olives or with cherry tomatoes!
If you don't have any dietary restriction and would still love to make similar focaccia check out this recipe!
Enjoy and don't forget to check out my video recipe and to leave a comment to let me know how you like it! And of course, have a fantastic New Year 2019!
Low Fodmap Mini Focaccia
Low Fodmap Mini Focaccia – airy, moist and soft, yet low fodmap and lower in fat than any other focaccia! Plain, with olives or with cherry tomatoes!
Prep Time
1
hour
20
minutes
Total Time
1
hour
40
minutes
Ingredients
Focaccia
200

ml

– ¾ cup + 1 ½ tbsp water lukewarm

100

gms

– 3 ½ oz. potato boiled and mashed

¾

tsp

salt

5

gms

– 1 ¾ tsp dry active yeast

1

tsp

sugar

15

ml

– 1 tbsp extra virgin olive oil
Toppings
Green olives

halved

Cherry tomatoes

halved

Oregano

More Extra virgin olive oil

Warm water

More Salt to taste
Instructions
Mix the yeast with the sugar and lukewarm water and set aside to activate.

When frothy, put it in the bowl of an electric mixer fitted with a hook attachment.

Add the flour, mashed potato, extra virgin olive oil, and salt, and knead well until the dough is smooth.

Make it into a ball, cover it and let it rise for at least 1 hour or until doubled in volume.

When the dough has doubled in volume, roll it into a 1.25 cm – ½ inch thick sheet and use a cookie cutter to cut out circles of 10 cm – 4 inches in diamater.

Make the remaining dough into a ball again, let it rest for 5 minutes, then make more circles, until the dough finishes.

Transfer the circles to a baking tray lined with baking paper and let it proof again for 30 minutes.

Press down with your fingertips to make the characteristic holes.

Drizzle with a generous amount of extra virgin olive oil, a little water and some salt. If you want, you can top the focaccia with halved green olives, or halved cherry tomatoes and a sprinkle of oregano.

Bake in a pre-heated oven at 180°C – 355°F for 20 minutes, or until golden brown.

As soon as you remove them from the oven, spray them with a little extra virgin olive oil (optional). Let them cool down completely before serving.

Related Posts: