Today I will share with you the recipe for an Indian savoury snack that is always eaten for Diwali, but that we also like to eat during the rest of the year at tea time: murukku – முறுக்கு (also known as chakali or chakli).  Murukku is a Tamilian word that means "twisted" and even though these snacks are very popular in the South of India, they are eaten all over the country.  They are wheel shaped savoury cookies made with rice and gram flours, spices and carom seeds… and then deep fried!  I particularly like the taste that the carom seeds give to them and the fact that even though they are deep fried, they are not oily at all!  Italians don't usually have savoury food at tea time, but I happily make an exception for murukku.  There is nothing better than biting into these crunchy and slightly spicy "cookies" while sipping on a cup of hot Indian Chai (click here for the recipe!), especially on a rainy day!  Enjoy!
MURUKKU - CHAKALI
Instructions
Put the flours, chilli powder, salt and carom seeds in a bowl and mix them well.
Add the butter and rub it into the dry ingredients with you fingers so that it gets well incorporated into the mixture
Add the water little by little and knead until obtaining a soft dough. Make it into a ball and cover it with a wet cloth. Keep it aside.
Heat the vegetable oil for deep frying.
Prepare the murukku press by placing the star (chakali) attachment.
Fill the cylinder with some of the dough and press it into a spiral onto the back of a slotted spoon, to create a murukku/chakali.
Gently place the murukku/chakali in the hot oil and fry it on both sides until golden brown and the bubbles around the murukku/chakali in the oil subside.
Remove it from the pot and put it on a plate covered with kitchen paper to drain the excess oil.
Allow it to cool down completely and serve with a hot cup of chai!
Notes
Store in an air-tight container.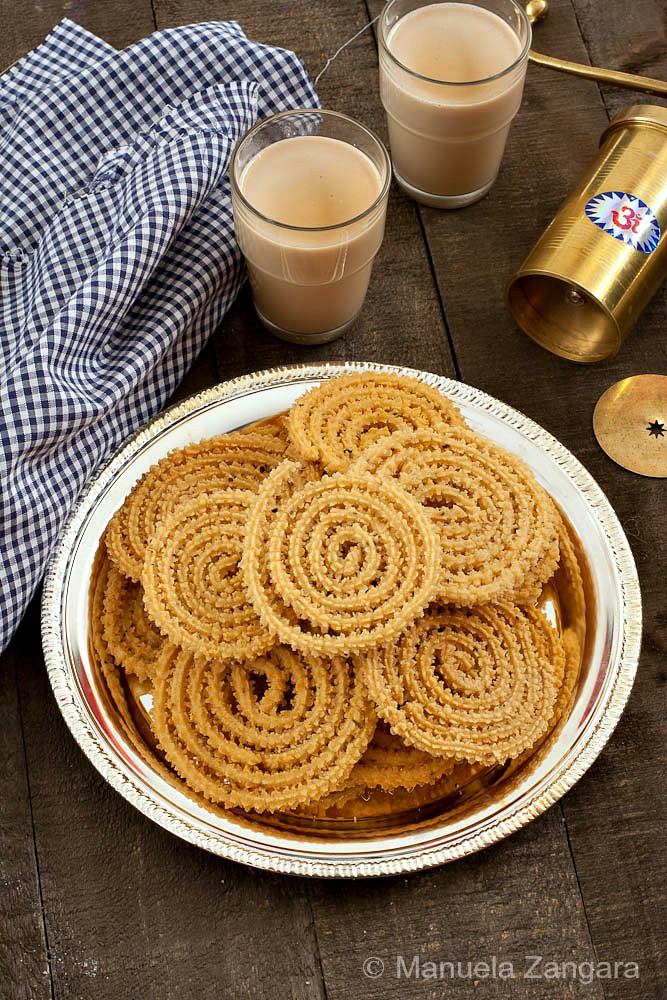 Pin It

Related Posts: