Happy Diwali!  Today is the beginning of Diwali (दिवाली), the "festival of lights", a 5-day Indian festival that celebrates the triumph of good over evil and light over darkness.  Light is the symbol of the celebrations and many clay lamps filled with oil are lit during the 5 days of the festival.  As you may know, even though my husband is Indian, we are not hindus, but we believe that the meaning of this festival is "universal" and one that we can all easily relate to, so we too are celebrating Diwali.  As part of our celebrations, I made some Indian sweets like Jalebi, Gajar ka Halwa and these Shankarpali (शंकरपाली).  These are small fried cookies traditionally made mainly in Maharashtra and Gujarat and served for Diwali.  They are amazing… not too sweet, crunchy and they literally melt in your mouth!  They are very easy to make and they can be served as a snack with a hot cup of chai.  Be warned though, they are addictive: I find it hard to stop at one!  Follow the recipe below to make some Shankarpali at home and join in the celebration of light!  दिवाली की शुभकामनाएं to everyone who celebrates!
Shankarpali – Shakarpara
Celebrate Diwali with these delicious Shankarpali: fried crunchy Indian cookies that literally melt in your mouth!
Ingredients
60

gms

– ¼ cup ghee

155

gms

– 1 ¼ cup all purpose flour

maida

50

gms

– ¼ cup fine semolina flour

sooji

65

gms

– 1/3 cup sugar

65

ml

– ¼ cup milk

1

pinch

salt

Vegetable oil for frying
Instructions
In a bowl combine the ghee and milk. Mix and microwave for 30 to 60 seconds, so the ghee melts completely. Make sure not to over heat this or the ghee may split.

Add the sugar and mix to dissolve.

Add the semolina flour and salt and mix.

Add the flour, little by little and knead until you obtain a soft but not sticky dough, like in the picture.

Divide the dough into 4 smaller balls and work with them one at a time. Roll each of them into a 1 cm – ½ inch thick circle and cut out squares/diamonds about 2.5 cm – 1 inch big, with a knife or a pizza cutter.

Deep fry them in batches in hot vegetable oil over medium heat so that your shankarpali cook without burning. When they are golden brown, remove them with a slotted spoon and put them on a plate covered with kitchen paper to drain the excess oil.

Serve at room temperature with some chai.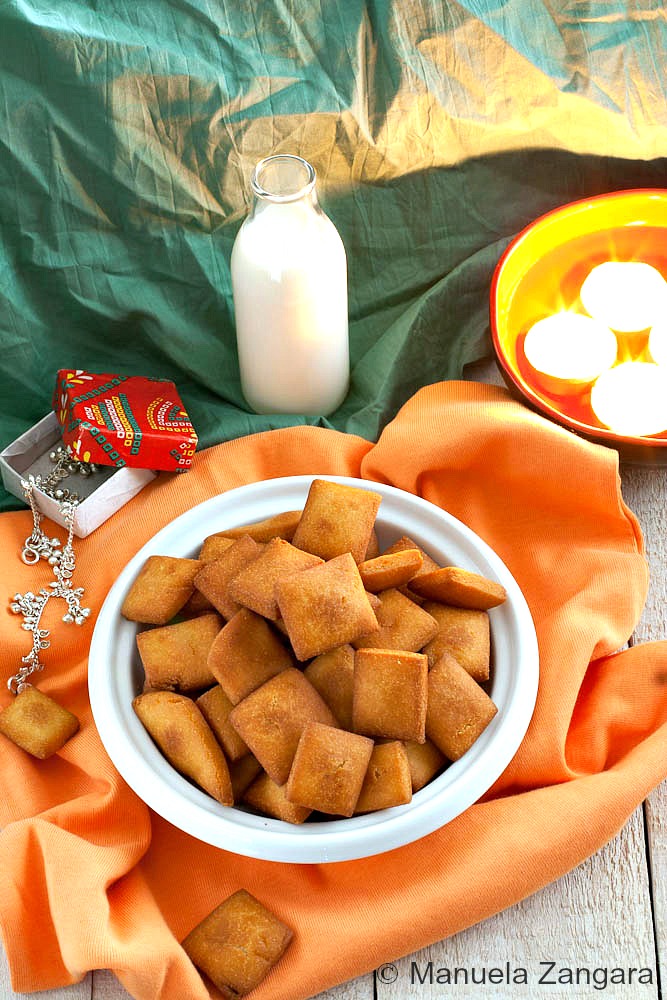 Related Posts: