Since moving to Australia I have become more and more interested in baking my own bread. When I was living in Italy, buying artisanal bread was easy and convenient. I never lived too far from a bakery. In fact, come to think of it, nobody lives more than a 5 minute walk from one, at least in a city! Bread (with pasta) is a staple of Italian cooking, so we make it a point to always have fresh and tasty bread with our meals. When I moved here, I found it hard to get used to "supermarket bread". So much so, that I almost stopped buying bread all together. Until I started making my own. Sure it isn't as convenient as a 5 minute walk to your local bakery, but, tastewise, nothing can beat home-made! So, after perfecting my Ciabatta making technique, I decided to tackle Olive Bread, another favourite of mine. This recipe is spot on and fool proof.  It is very easy and it tastes exactly like the Olive Bread I used to buy in Italy. I made it with black olives, but green olives work just as well.  I like to serve it with my meals or as an appetiser with a generous drizzle of good quality extra virgin olive oil. Try it and let me know what you think!
Olive Bread
How to make Olive Bread at home, the Italian way!
Total Time
2
hours
25
minutes
Ingredients
500

gms

– 4 cups all purpose flour

7

gms

– 2 ½ tsp active dry yeast

300

ml

– 1 ¼ cup lukewarm water

2

tsp

sugar

1 ¼

tsp

salt

3

tbsp

extra virgin olive oil

180

gms

– 6 ½ oz. olives

pitted and sliced
Instructions
Dissolve the yeast and sugar in the lukewarm water. Mix well and let it activate for 5 minutes or until frothy.

In the bowl of an electric mixer fitted with the hook attachment add the flour, extra virgin olive oil and salt. Mix and add the yeast and water mixture.

Knead well, then add 2/3 of the sliced olives and knead again, on low, until just combined. Do not over knead or the olives will break and the bread will become dark in coulour.

Knead the dough by hand for a couple of minutes, make it into a ball, then cover it and let it sit in a warm place for 1 hour or until doubled in size.

Punch down the dough and knead it again for a minute or two, add the remaining olives and flatten the dough into a 3 cm – 1 ¼ inch thick rectangle. Cut it into 6 bâtons and transfer them to a baking dish lined with baking paper. Dust the tops with a little flour. Cover them and let them rest for 30 minutes.

Bake in a pre-heated oven at 200°C – 390°F for 20 – 25 minutes.

When ready, remove from the oven and let the bread cool down on a wire rack.
Recipe Notes
This bread freezes very well. I usually make a double batch and freeze it in Ziploc bags as soon as it cools down to room temperature. When you want to eat it, thaw it at room temperature and put it back in a hot oven for 3 to 5 minutes, or until the crust is crunchy again. It will be exactly the same as when you first baked it!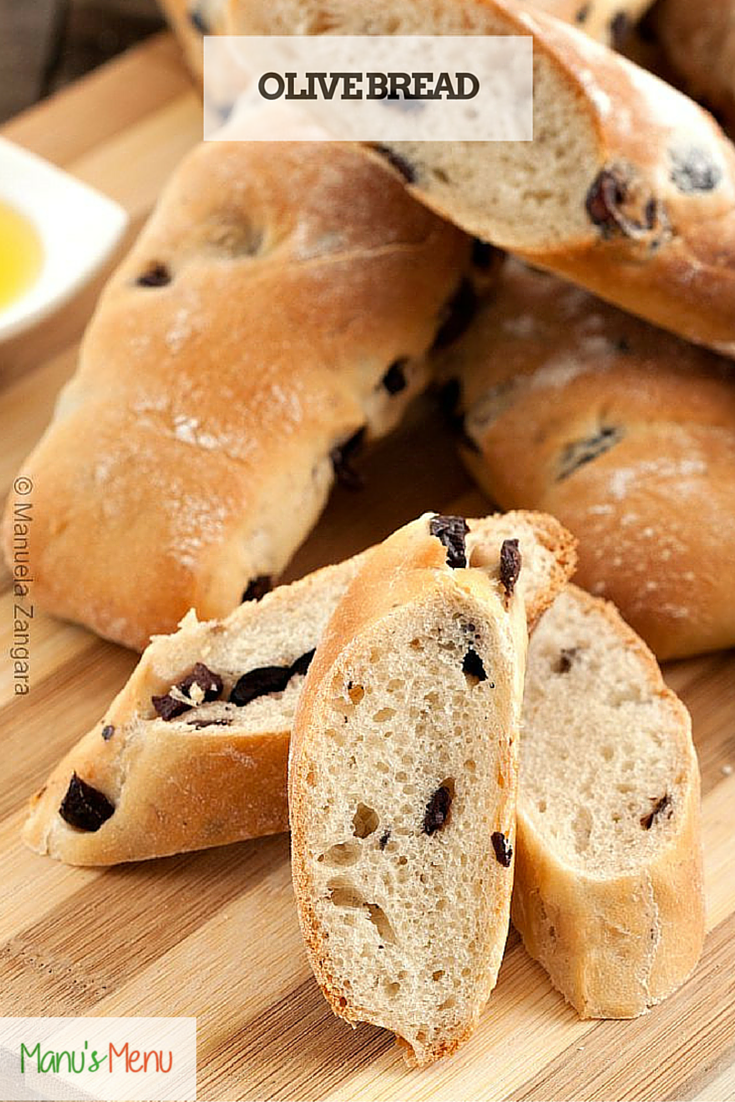 Related Posts: