A couple of weeks ago, I shared a few photos of this bread on MsM's facebook page and did get quite a few requests for the recipe, both online and via email.  So, here you have it: quick no-knead Ciabatta bread!  It is a really simple recipe and, unlike other no-knead bread recipes, it is also very quick to make.  You don't need to leave the dough to proof for many many hours… the normal proofing time is enough.  The taste will be slightly different than the one of the usual no-knead bread, as the yeast bacteria don't have that much time to fully develop, but I love it like this.  And it's so much cheaper than store bought bread!!  Besides, you can have amazing tasting home-made bread in 2 hours, from beginning to end.  How great is that?  I haven't bought any bread since I started to make this.  I can make it in the morning and know it will be ready for lunch!  I always make a double dose and freeze it, as my girls LOVE bread so much, they could eat it all in a day!!  Ciabatta is my absolute favourite bread, so I am really really happy to share this recipe with all of you!  Enjoy!
Quick No- Knead Ciabatta Bread
A recipe for some amazing Quick No- Knead Ciabatta Bread, ready in under 2 hours!
Prep Time
1
hour
30
minutes
Total Time
2
hours
5
minutes
Ingredients
700

gms

– 5 ½ cups all purpose flour

520

gms

water – 2 ¼ cups

lukewarm

7

gms

– 2 ½ tsp dry yeast

17

gms

– 3 tsp salt

1 ½

tsp

honey
Instructions
Dissolve the yeast and honey in the water. Mix well and let it activate for 5 minutes or until frothy.

In the bowl of an electric mixer fitted with the whisk attachment, add ¾ of the flour and salt. Mix and add the yeast and water mixture.

Whisk well, then add the remaining flour and whisk until just combined (you can do all the whisking by hand as well, without using an electric mixer).

Sprinkle a little water on the bench top. Place 4 pieces of plastic wrap on the wet bench top and sprinkle some flour onto them.

Put 1/4 of the dough on each piece of plastic wrap

Punch down the dough and mold each piece of dough into a ciabatta shape without tugging it too much or it will gain too much strength. Make sure your dough is not very thick (about 2.5 cm – 1 inch thick is ideal).

Pick up one piece of plastic wrap and flip it over a baking tray lined with baking paper to drop a ciabatta so that the side covered in flour faces upwards.

Bake in a pre-heated oven at 200°C – 390°F for 30 – 35 minutes. Put a small pot of hot water in the oven to maintain a high level of humidity for the first 15 minutes, then remove it and bake for the remaining 15 – 20 minutes.

When ready, remove it from the oven and let it cool down on a wire rack.
Recipe Notes
This bread freezes very well. I usually make a double batch and freeze it in Ziploc bags as soon as it cools down to room temperature. When you want to eat it, thaw it at room temperature and put it back in a hot oven for 5 minutes, or until the crust is crunchy again. It will be exactly the same as when you first baked it!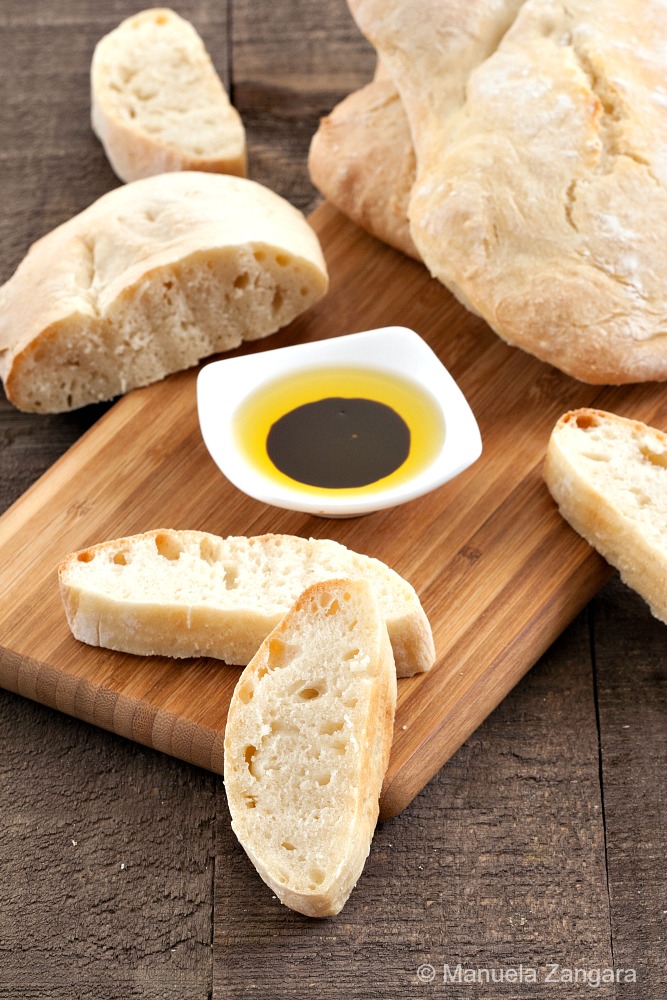 Related Posts: