This week's Regional Italian recipe is Pollo alla cacciatora, from the region of Tuscany or, as we say, Toscana.  Who does not know Tuscany??  It is probably one of the most beautiful regions of Italy and definitely one of the most visited.  And it is one of the regions with some of the best (and most varied) food you can dream of … not to mention some of the best wine in the world.  I am sure the majority of you will have at least heard of Pollo alla cacciatora (which literally means "chicken made hunter style") and many of you will have probably eaten it as well as it is a very famous dish that can be found at many Italian restaurants around the globe.  Anyhow, as with many other popular Italian recipes, this too has often been manipulated and transformed into something "non-original".  It is a very simple recipe and it was originally cooked by peasants with whatever they grew in their fields.  Pollo alla cacciatora is a classic dish that almost everyone in Italy makes…  it is one of those dishes that will slightly vary from house to house!  And today I am sharing with you my mom's recipe.  Enjoy!
Ingredients:
1.5 kg chicken, cut in pieces and with the skin on
1 clove garlic, minced
2 carrots, diced
1 onion, diced
¼ glass extra virgin olive oil
400 gms diced tomatoes
1 tbsp parsley, minced
2 sprigs rosemary
3 stalks celery
10 big green olives, pitted (optional)
1 glass red wine
Heat the extra virgin olive oil in a big pot and brown the chicken pieces in it for a few minutes (1).  Now add the onion and let it cook for 2 or 3 minutes (2).  Add the garlic, carrots, celery, parsley and rosemary, salt and pepper (3) and sauté for 5 minutes or until all the vegetables are soft (4).  Now pour in the red wine (5) and let the alcohol evaporate on a high flame.  Add the diced tomatoes (6), lower the heat to medium, cover and let the chicken cook for about 30 minutes or until cooked through.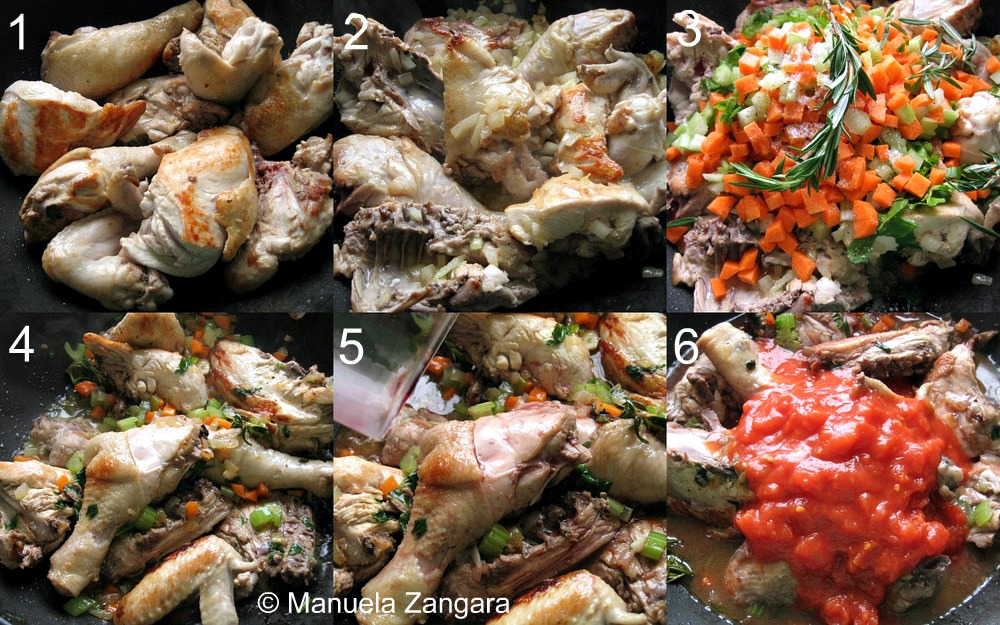 5 minutes before putting the fire off, add the olives and mix well.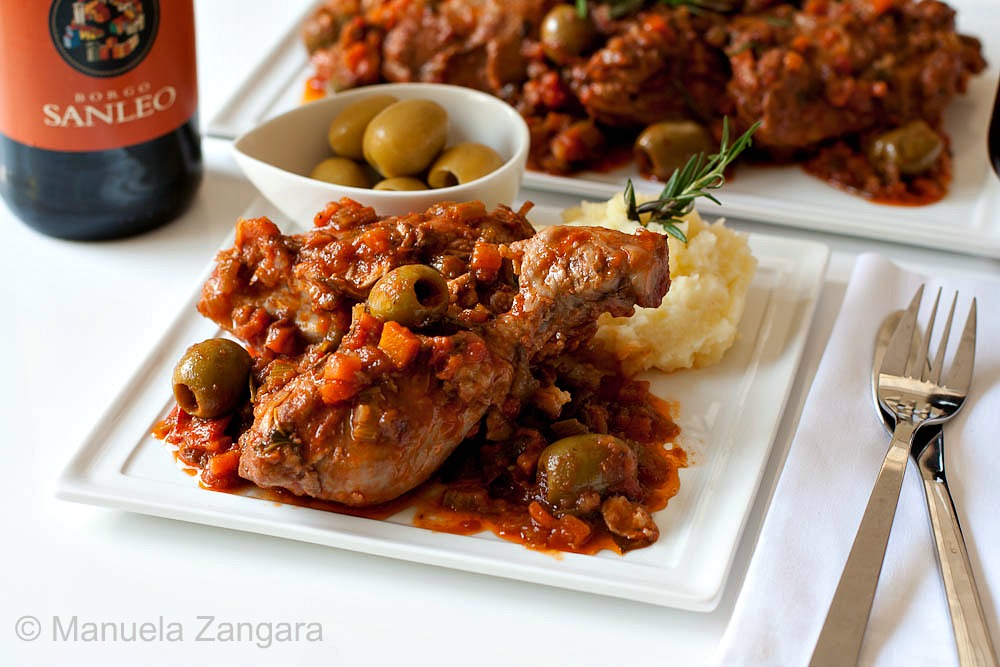 Serve warm with some mash potatoes on the side.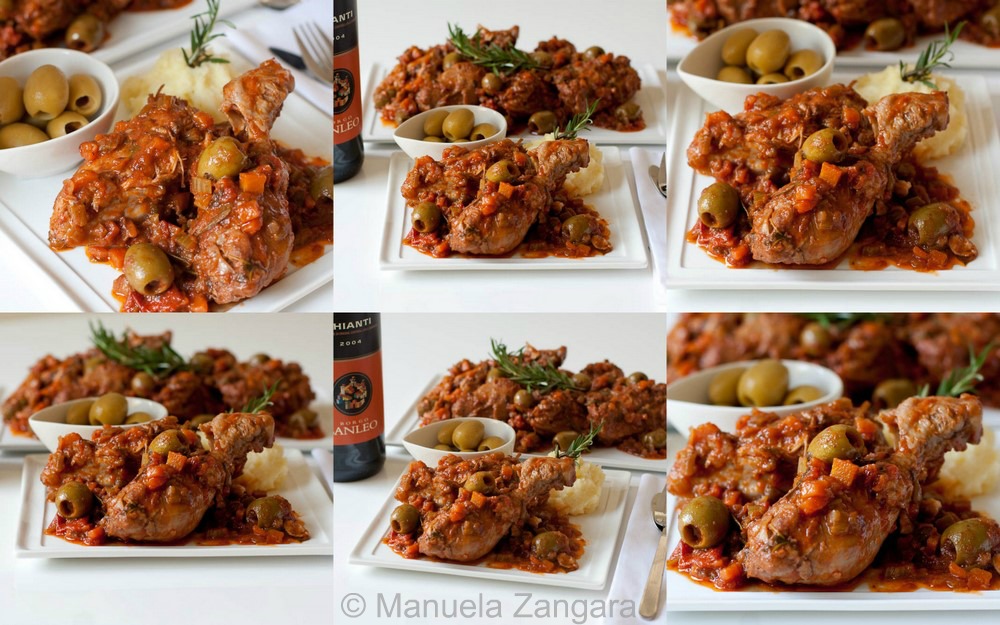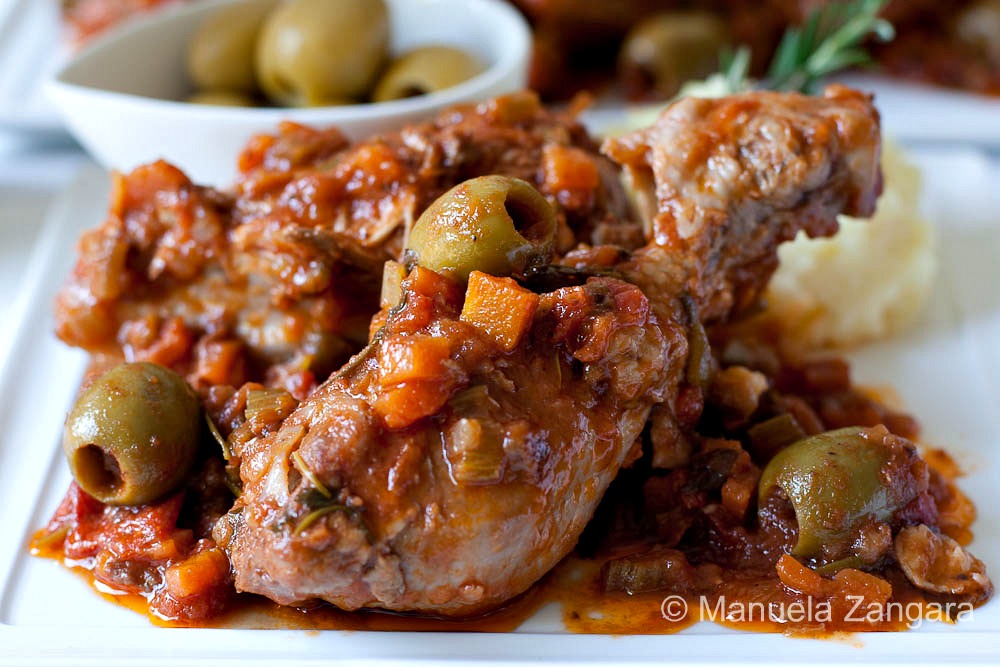 Don't forget to check out all the other Regional Italian Dishes already published!

Related Posts: