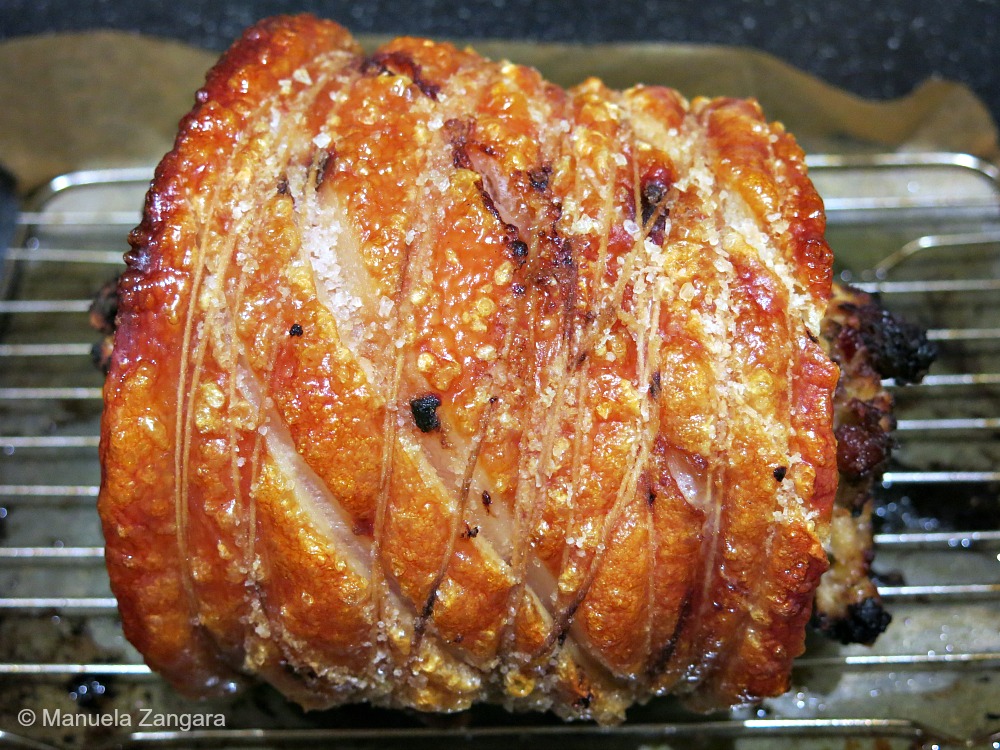 Finally I get to share with you this amazing Roast Pork and Stuffing recipe! I made this for Christmas Eve and I have been meaning to share it ever since! I was extremely happy with how it came out. Italians do not usually make crackling, so this was my first attempt ever and I am very happy to report that it came out perfectly! Crunchy and oh soooo tasty! If you follow the recipe below, you too will be able to make the perfect crackling. The stuffing is very easy to make and it has a somewhat Middle Eastern twist to it as it uses pistachios and dried apricots as well as sage (I love it!) and dried cranberries, which are perfect for Christmas! I served this roast with Honey Glazed Baby Carrots and some Middle Eastern Chargrilled Pumpkin Salad.
Please excuse the not so bright pictures, but it was Christmas Eve and we ate quite late. Besides I took them with my point and shoot camera… I didn't want to set up the usual photographic equipment in front of everyone and have them wait till I had the perfect shot! I can guarantee, though, that this Roast Pork is AMAZING!! Enjoy!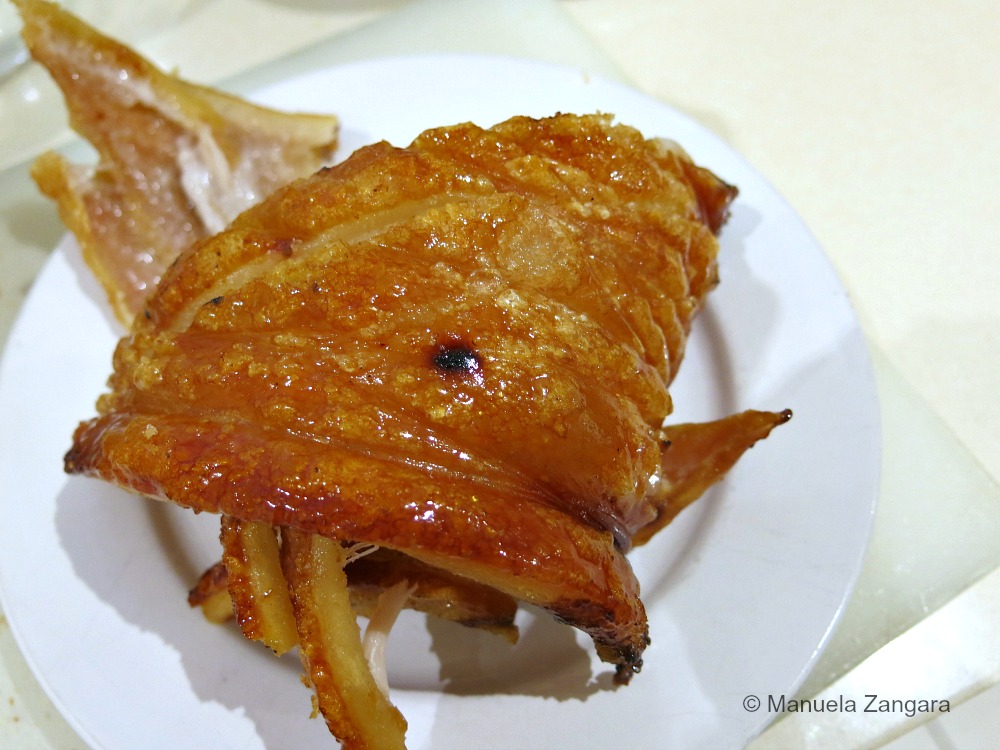 Roast Pork and Stuffing
Roast Pork and Stuffing - delicious and moist and with the perfect crackling!
Cook Time
1
hour
45
minutes
Total Time
2
hours
5
minutes
Ingredients
1.5

kg

– 3 1/3 lbs. loin pork

boned and rolled

20

gms

– 1 tbsp butter

1

tbsp

extra virgin olive oil

1

red onion

chopped

4

cups

white fresh breadcrumbs

½

cup

dried apricots

chopped

½

cup

dried cranberries

chopped

1/3

cup

pistachios

chopped

¼

cup

sage leaves

chopped

2

eggs

whisked

Salt and pepper to taste

Coarse salt and Vegetable Oil for the rind
Instructions
Pat dry the roast with a paper towel. Untie and unroll the pork.

Place, skin side up and uncovered on a rack in a baking dish. Refrigerate overnight to dry the rind.

The next day, heat the butter and oil in a frying pan over medium heat. Add the chopped onion and cook, stirring, for 5 minutes or until softened.

Transfer to a bowl with the breadcrumbs, dried fruit, pistachios, sage and eggs. Stir to combine and season with salt and pepper to taste.

Take the pork out of the fridge and place it, meat side up, on a board.

Put the roast on a rack, then pour hot boiling water over the rind. This will help getting the perfect crackling. Pat dry with a paper towel.

Line a baking dish with baking paper and place the rack into the dish. Sit the pork onto the rack.

Bake in a pre-heated oven at 240°C for the first 50 minutes (until it crackles), then reduce the heat to 180°C and and cook for 30 - 35 minutes per kg, depending on how well you like your roast cooked.

Once cooked, let the roast rest for 10 minutes before removing the crackling and slicing the roast.

Serve warm with the crackling on the side.

Related Posts: