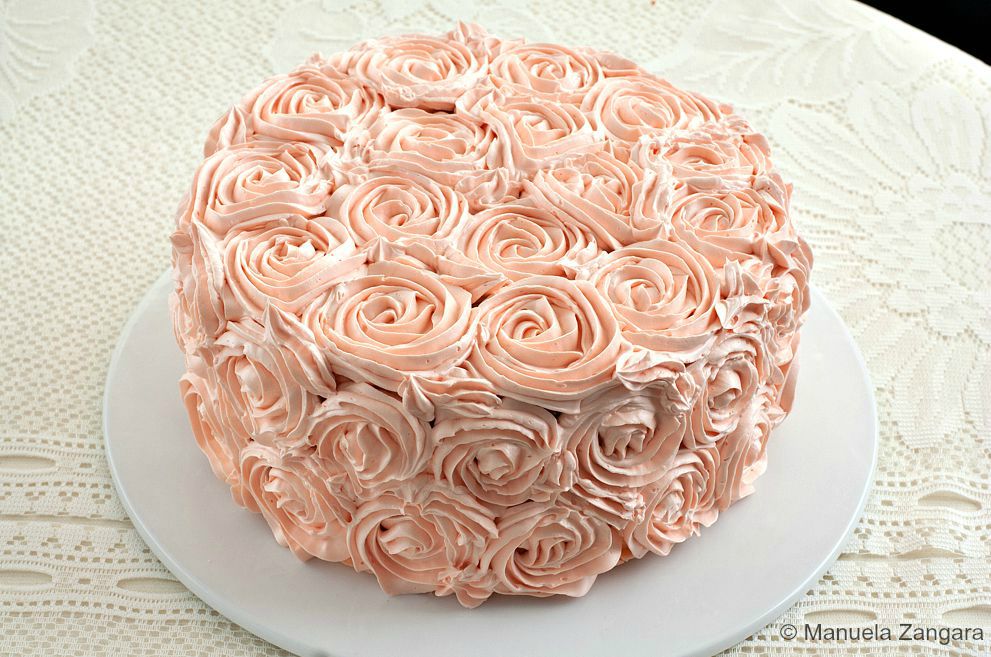 I made this cake for my eldest daughter's birthday party. As she turned 8, she wanted something a little bit more "grown up" than the usual fondant cakes. The theme of the party was "high tea", so I though that a Rosette Cake would do the trick. This was my first Rosette cake and my first mud cake, so I was quite nervous about it. I really wanted it to both taste and look good. The cake is very chocolatey and quite dense. The overall result is not very sweet, which to me is a great plus. The Swiss meringue buttercream was another first for me and it was love at first sight. It looks so much better than regular buttercream… it's smoother, shinier, more elegant and much fluffier. At the same time, it tastes better: lighter and less sweet than the usual icing I make. And it is definitely more suited to make rosettes… the swirls come out perfectly and the buttercream is more resistant (which also means, the rosettes do not slide down or "go flat"). At first, I was going to make a single mud cake, but then I thought that a "double" cake would look better, as I could make 2 rows of rosettes on the side instead of one. It did indeed look pretty, but the cake was way too big and we could not finish it. We will be having mud cake for a few days… not that I mind! Hehehe Also, the chocolate ganache layer was too high. Ideally, you would want to divide that amount into 2 layers. I was going to cut each cake in 2 and divide the ganache into 3 thinner layers, but in the end I did not have a lot of time and I was afraid I would break the cake… and what's an 8 year old birthday party without a cake?? But I will try it the next time as that would have made the cake perfect. Overall, I recommend this cake for any special occasion. The piping itself took about 10 minutes… no kidding. Making the buttercream took longer… but it was so worth it! So, what do you think of my first effort? Have you ever tried to make a Rosette cake?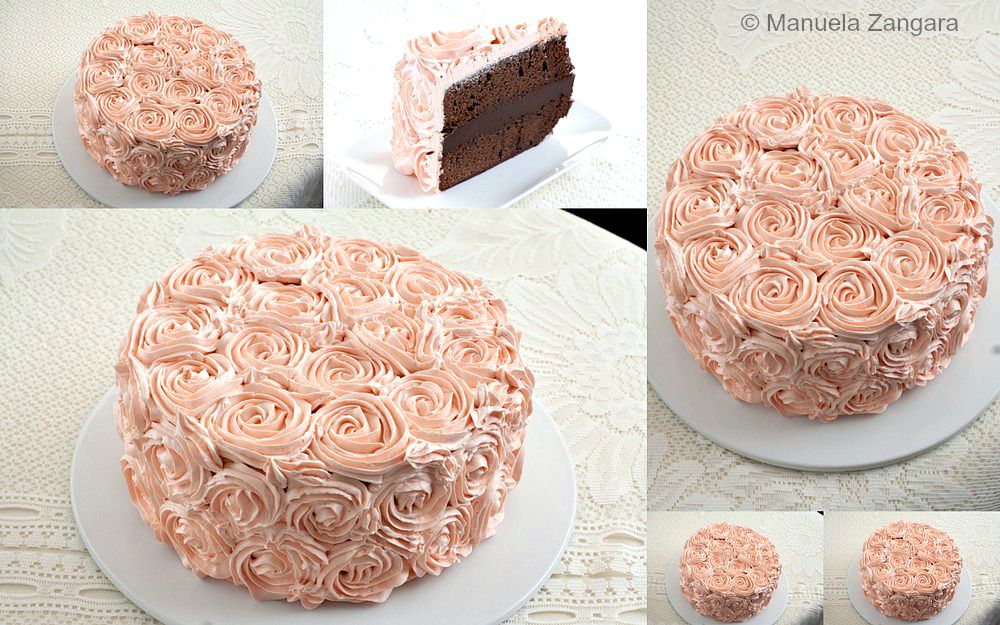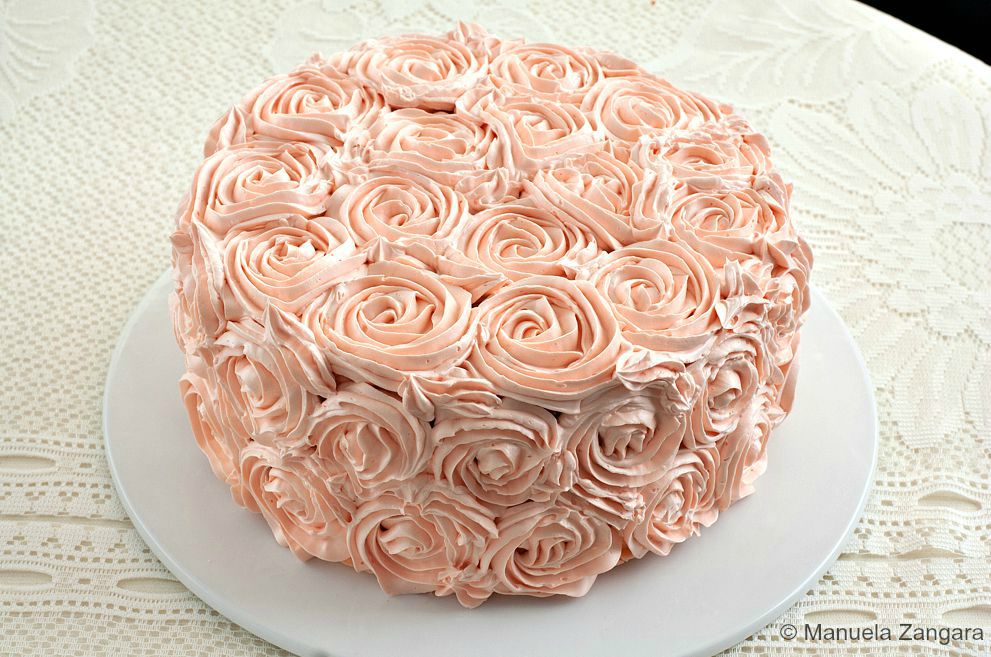 Rosette Cake
How to make a beautiful Rosette Cake and a chocolate mud cake tutorial.

Cook Time
1
hour
30
minutes
Total Time
4
hours
30
minutes
Servings
1
double 23 cm - 9 inch cake
Ingredients
Mud Cakes
500

gms

– 1.1 lbs. butter

chopped

400

gms

– 14 oz. dark chocolate

chopped

900

gms

– 4 cups caster sugar

480

ml

– 2 cups cold water

4

eggs

lightly beaten

250

gms

– 2 cups self-raising flour

sifted

380

gms

– 3 cups plain flour

sifted

60

gms

– ½ cup cocoa powder

sifted
Chocolate ganache
400

gms

– 14 oz. dark chocolate

chopped

330

ml

– 1 1/3 cups heavy cream
Sugar Syrup
240

ml

– 1 cup water

120

gms

– ½ cup sugar

1

shot Rum

optional
Swiss Meringue Buttercream
5

large egg whites

225

gms

– 1 cup + 2 tbsp sugar

Pinch

of salt

400

gms

– 1 lb. unsalted butter

cut into tablespoons, room temperature

1 ½

tsp

vanilla extract

Food colouring

optional
Instructions
Recipe Notes
I made the cakes the week before the party and froze them. The day before the party, I leveled them, made the ganache and assembled the cake. I also did the crumb coating. On the day of the party, I made the Swiss meringue buttercream and piped the rosettes.

Related Posts: