Today we celebrate Australia Day!  You all know I was born and brought up in Italy… but I also became an Australian citizen 2 years ago.  I love this country and I am very happy to be part of such a wonderful and diverse community.  People often ask me how I cope so far from "home"… it was a tough decision to take, but since moving here I have never looked back.  Sure, I miss my family and friends, but I could never settle back in Italy, not after experiencing the "Aussie way of life".  So, to all those who ask me if it is hard to live "away from home", my fair dinkum answer is "nope, I am at home now".  And to celebrate Australia Day, I thought of making a typical Aussie tucker: sausage rolls, the Australian way… served with tomato sauce (aka ketchup).  These are great for a quick lunch or as snack food to have while watching a footy game with a cold stubby in the other hand.  As for all my USA readers… how about having these while watching the Super Bowl??  Beauty, mate!  Happy Australia Day to all Australians! 🙂
Recipe adapted from Weekend Notes
Ingredients (makes 18 rolls):
450 gms – 15.75 oz. mince beef
400 gms – 14 oz. pork sausage, skin removed
1 big onion, grated
2 eggs
2 cloves garlic, crushed
½ tsp dry mixed herbs
1 tbsp BBQ sauce
3 tsp Worcestershire sauce
½ cup breadcrumbs
Salt and pepper to taste
3 sheets puff pastry, thawed
Put the beef mince, sausage, grated onion, garlic, sauces, breadcrumbs, mixed herbs, salt and pepper and 1 of the eggs in a big bowl.  Mix well with your hands.  The consistency should be the same as that of meatballs.
Cut each thawed pastry sheet in half (1). Take a handful of meat, make a sausage as long as the long side of the half pastry sheet and place it towards one of the edges.  Brush the edges with some beaten egg (2).  Roll up the sausage roll leaving the ends open (3). Cut the roll into 3 equal parts (4).  Score the tops diagonally with a sharp knife (5) and brush them with the remaining beaten egg (6).
Place the sausage rolls with the fold down on a baking tray covered with baking paper.
Bake in a preheated oven at 230ºC – 450ºF for the first 10 minutes, then reduce the heat to 180ºC – 350ºF and cook for another 20 minutes.
They can be eaten warm or at room temperature. Serve with BBQ or tomato sauce (ketchup).
NOTE: These sausage rolls can be frozen, thawed and reheated as needed.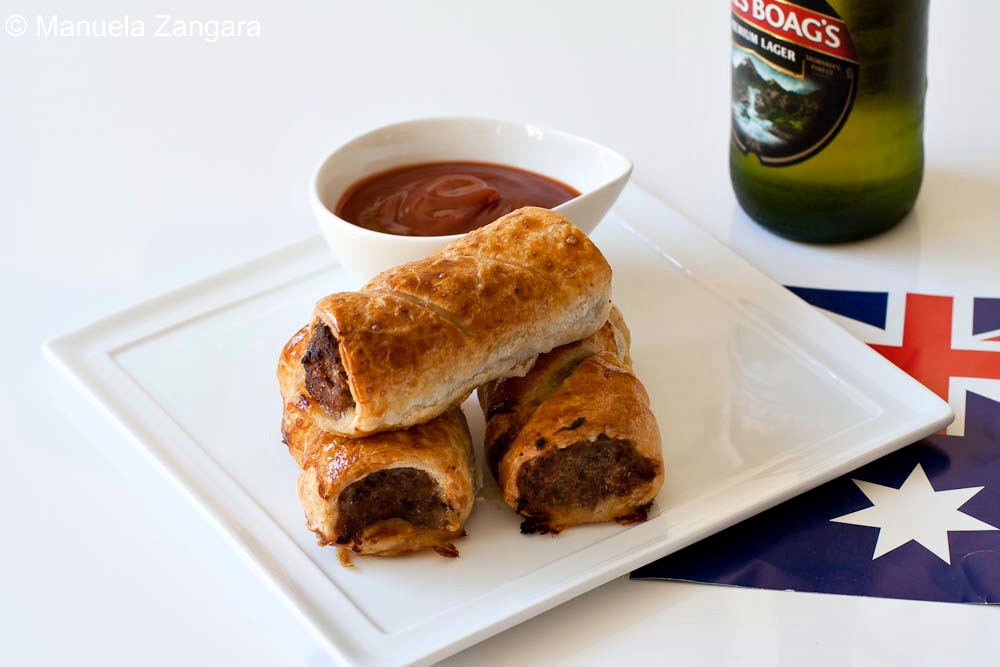 Related Posts: