This week's Regional Italian recipe comes from the region of Sardinia or, as we say, Sardegna, one of the 2 biggest islands of Italy (the other being Sicily).  It is a fantastic place with some of the best food and seaside in the world (I am not kidding you).  It is well known in Italy as a holiday destination, even though I feel it is not as appreciated as it should be, outside Italy.  The island has a very unique history and culture.  It even has its own language (even though it would be more correct to say "languages" as there is more than one) that has been widely influenced by Catalan (which is still spoken in certain areas of Sardinia) and Spanish (having been under Spanish domination for about 4 centuries).  Today I want to share with you the most classic of Sardinian recipes: Malloreddus alla Campidanese.  It is a gnocco shaped pasta served with a sausage, tomato and saffron sauce, typical of the central and southern areas of the island.  Like many of the dishes of this region, it is a poor's man dish, but it tastes fantastic.  Sardinia is manly an agricultural and pastoral area and it is very famous for its sheep milk cheeses, like Pecorino (which cannot be omitted in this recipe ;-P).  Do not forget to check out my tutorial on How to make Malloreddus, so you can make your own!  Enjoy and don't forget to enter my giveaway for a chance to win a $50 or a $25 Amazon.com gift card!
Recipe adapted from Il Sardo
Ingredients (for 6 persons):
200 gms – 7 oz. Italian pork sausage
500 gms – 2 cups tomato purée
50 ml – 1.75 oz. extra virgin olive oil
1 onion, chopped
1 bay leaf
5 basil leaves (optional)
1 pinch saffron
Salt to taste
Pecorino Romano, thinly grated to serve
500 gms – 1 lb. malloreddus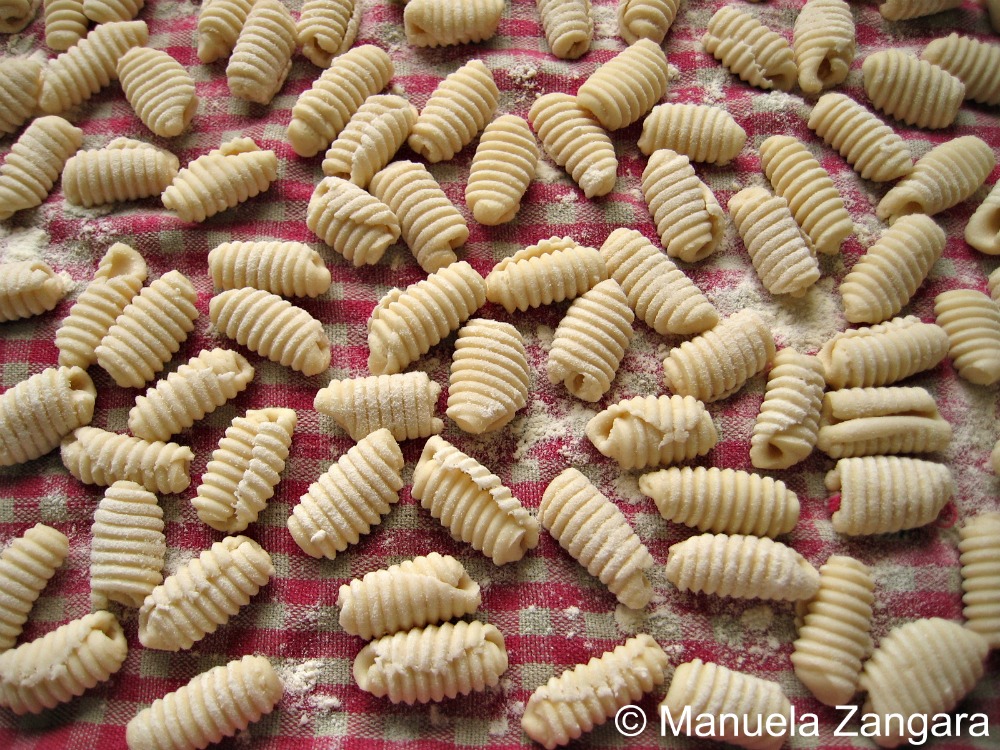 Sauté the chopped onion with the extra virgin olive oil (1) on a low fire, until soft and translucent.  Remove the skin from the sausage, chop it and add it to the onions (2).  Brown it well breaking the lumps with a wooden spoon (3).  Add the tomato purée, the bay leaf and salt and let it cook on a low fire for 20 minutes (4).
Now add the basil leaves (optional) and the saffron (if you are using saffron threads, melt them in some warm water first), stir well and cook for another 5 minutes.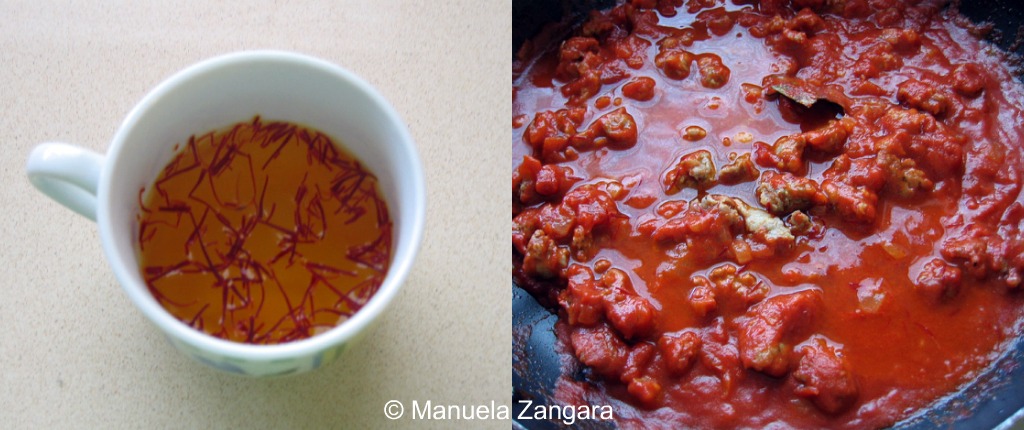 In the meantime, cook the malloreddus following the steps on "How to cook pasta al dente".  Only in this case you will not have a pre set cooking time.  This will vary on the thickness of your malloreddus (it should take approximately 5 minutes).  So, the best solution is to taste it!  Remember, it does have to remain firm.
When the pasta is cooked, drain it, put it in the frying pan with the sausauge sauce and put the fire on a medium flame.  Stir well making sure the pasta is well coated with the sauce.
Serve it hot…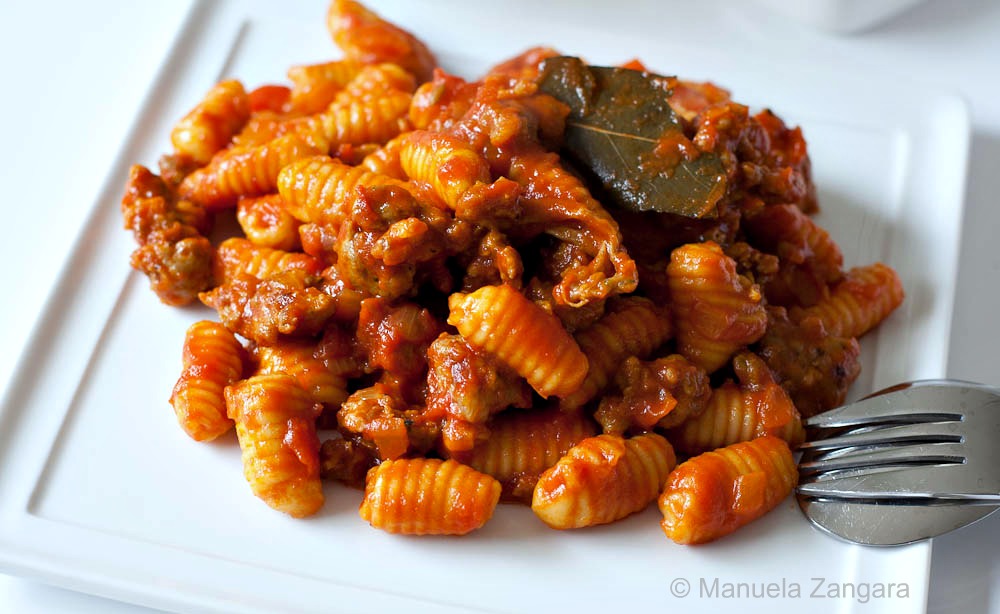 … and sprinkle some grated Pecorino Romano on the top.  Enjoy!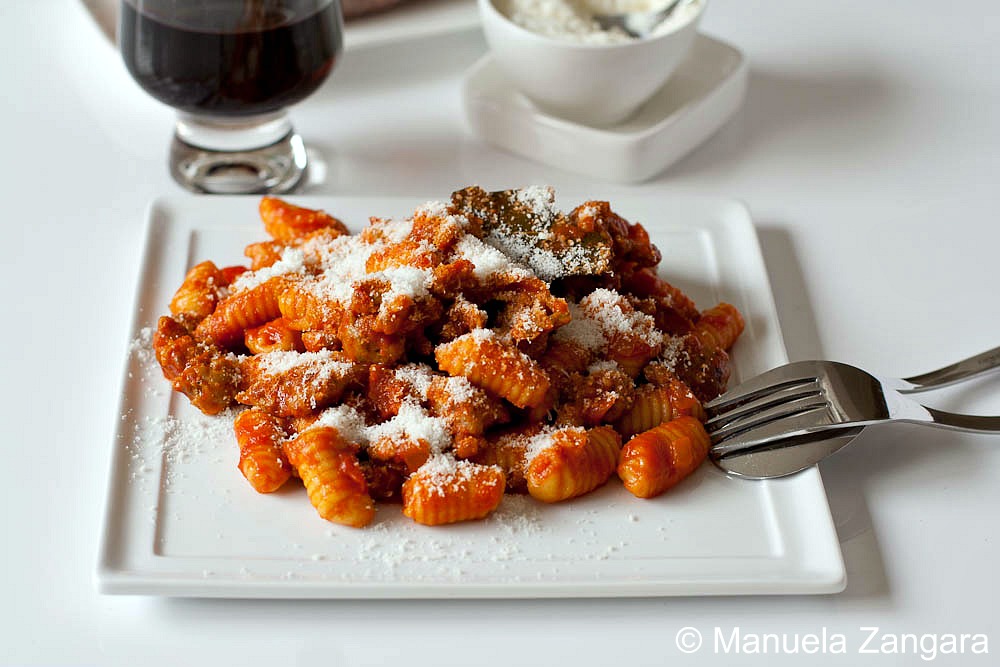 For a complete list of the Regional Italian recipes already published, click here!

Related Posts: