Chestnuts remind me of winter in Italy.  When it's cold (and it does get quite cold in Milan), you can buy hot roasted chestnuts from street carts to warm you up.  The smell of roasted chestnuts always makes me think of Christmas and cozy winter evenings.  I soooo love them!  When they are in season, I often buy them.  You can really make so many dishes with them.  I have already shared with you a Beef Fillet Roast stuffed with puréed Chestnuts, a Chestnut Ice cream and a Mont Blanc in the past.  Today I want to show you how to make a sweet chestnut and vanilla purée that makes for a delicious spread or can be used as a base for many other desserts.  I used to buy this in tins, but the home-made thing is so much better (health-wise and taste-wise)!  And it really takes just a few minutes to make.  Come back tomorrow for a yummy suggestion on how to use this Chestnut and Vanilla Cream!  Enjoy!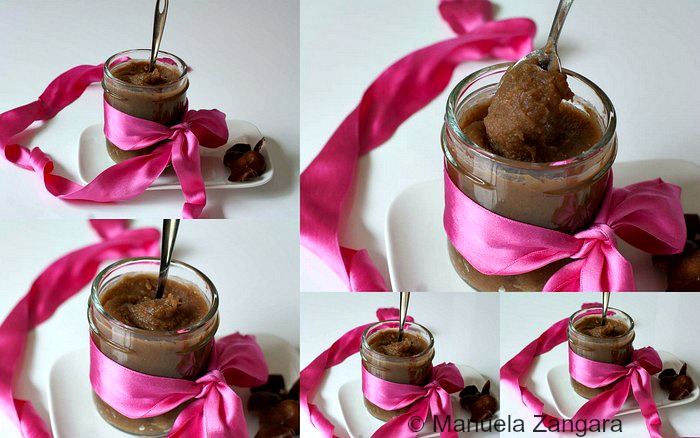 Chestnut and Vanilla Cream – Creme de Marrons Vanillee
A quick recipe to make your own Chestnut and Vanilla Cream: delicious on its own or to be used as a base for other sweet treats!
Total Time
1
hour
5
minutes
Ingredients
400

gms

– 14 oz. chestnuts

boiled

200

gms

– 7 oz. brown sugar

200

ml

– 7 oz. water

1

tsp

vanilla extract
Instructions
Start by cooking the chestnuts. Lay the chestnuts on their flatter side and cut or score halfway around the outer shell until you get to the flesh of the nut. Put them in a pressure cooker, cover them with water and cook for 10 minutes.

Put the fire off and, as soon as you can handle them without getting burnt, start peeling the chestnuts one by one (do this while still hot or they will be hard to peel). Leave the remaining chestnuts in their cooking liquid while peeling them. You need to remove both the outer and the inner skins. Keep them aside.

Put the brown sugar, water and vanilla extract in a pot and bring to a boil. Add the peeled chestnuts and roughly crush them with a wooden spoon. Cook for a couple of minutes, then put the fire off. Blend until completely smooth.

Enjoy as a spread or as a base for other delicious desserts.
Recipe Notes
Come back tomorrow for a delicious sweet treat made with it!

Related Posts: