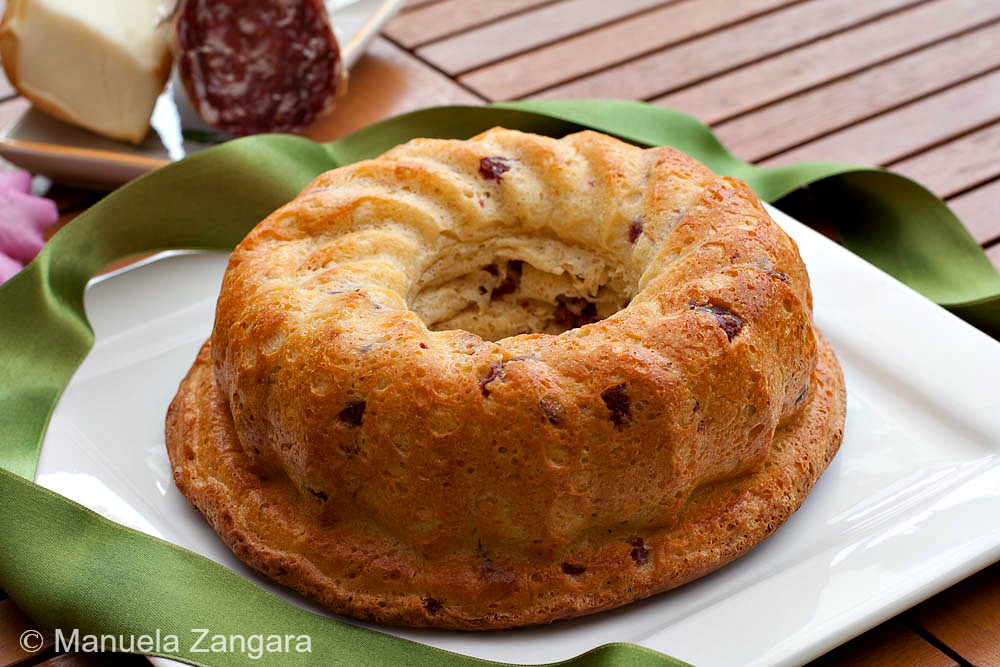 The weather is getting warmer around here… this is the time of the year when I prefer to eat out.  In a few weeks it will be too hot for my liking.  So I try to enjoy this weather as much as I can!  Today I am going to share with you the recipe for a delicious treat which is perfect to take to picnics or barbecues.  It is a savoury bundt cake made with salami and smoked scamorza cheese.  What sets this dish apart from other savoury cakes is the fact that you add some boiled potatoes to the dough.  This helps getting a very moist and fluffy cake after it is baked.  I love the salami in it but I like the smoked scamorza even more.  I know this may be a bit tricky to find (even though I do find it easily in Sydney), but you can substitute it with other smoked cheese or Edam, Gouda and other similar cheese.  It is best eaten at room temperature… in the sun, but it also makes for a very comforting snack any time of the year!  Enjoy!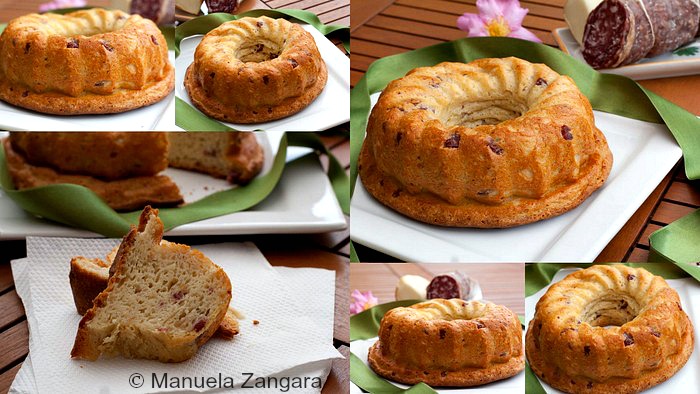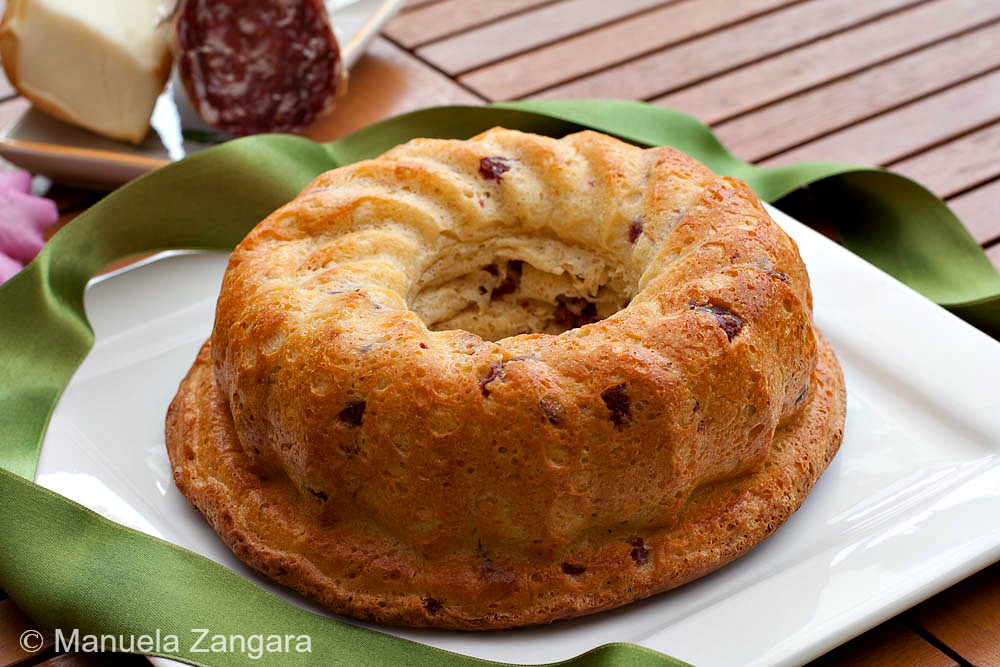 Ciambella Rustica – Salami and Smoked Scamorza Bundt Cake
How to make a delicious savoury Bundt cake with salami and smoked scamorza.
Prep Time
3
hours
15
minutes
Ingredients
250

gms

– 2 cups flour

5

gms

– 0.2 oz. dry yeast

50

gms

– 1.75 oz. Parmigiano Reggiano

thinly grated

100

gms

– 3.5 oz. pure pork salami

chopped

150

gms

– 5.25 oz. smoked scamorza

chopped

1

tsp

salt

½

tbsp

sugar

2

medium potatoes

boiled and riced

40

gms

– 1.4 oz. butter

melted

1

egg
Instructions
Mix together the flour, yeast, thinly grated Parmigiano Reggiano, chopped salami, chopped smoked scamorza, salt and sugar.

Add the hot riced potatoes and mix. Add the melted butter and egg and knead until well incorporated.

Grease a 20 cm – 8 inch bundt pan and put the dough in it.

Bake in a pre heated oven at 150°C – 300°F until it puffs up, then increase the temperature to 175°C – 350°F. Cook for a total of 45 minutes or until a toothpick inserted in the ciambella comes out clean.

Let it cool down before unmoulding and slicing it.
Recipe Notes
It is best eaten at room temperature.

Related Posts: