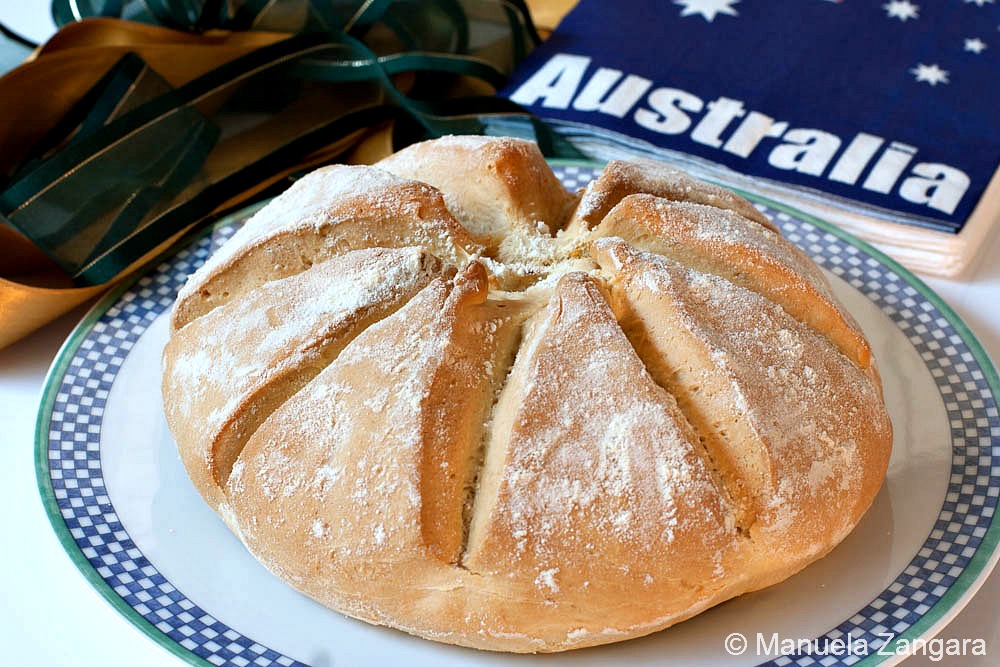 Here is what Wiki says about damper: "Damper is a traditional Australian soda bread prepared by swagmen, drovers, stockmen and other travelers. […] Damper is an iconic Australian dish. […]  Damper was originally developed by stockmen who travelled in remote areas for weeks or months at a time, with only basic rations of flour, sugar and tea, supplemented by whatever meat was available.[1] The basic ingredients of damper were flour, water, and sometimes milk. Baking soda could be used for leavening. The damper was normally cooked in the ashes of the camp fire. The ashes were flattened and the damper was placed in there for ten minutes to cook. Following this, the damper was covered with ashes and cooked for another 20 to 30 minutes until the damper sounded hollow when tapped. Alternatively, the damper was cooked in a greased camp oven.[2] Damper was eaten with dried or cooked meat or golden syrup, also known as "cocky's joy"."
WOW… they sure do use the word "damper" A LOT in the article! Hahaha  Anyhow, I thought it was interesting to share the origins of this iconic Aussie bread with all of you.  I made a slightly more "modern" version of it to serve as one of the sides for my "Come have some Aussie tucker, mate!" event that I organized for this month's 24×24 at Foodbuzz and it was delicious.  Enjoy!
Recipe adapted from Taste
Ingredients (for 4 persons):
450 gms – 3 cups self-raising flour
80 gms – 5 ½ tbsp butter, chilled and cubed
185 ml – ¾ cup water
1 pinch of salt
Put the flour, salt and butter in the bowl of an electric mixer fitted with a dough hook.  Mix until the mixture looks like breadcrumbs.  Now add the water and keep mixing, adding 1 or 2 tbsp extra water if required, until you obtain a smooth dough.
Shape it into an 18 cm disc and place it on a baking tray layered with baking paper.  Mark 8 wedges on the top with a sharp knife that has been dipped in flour and dust the damper with a little extra flour.
Bake it in a preheated oven at 200°C – 390°F for 30 – 40 minutes or until the damper is cooked through and sounds hollow when tapped on the base.  Transfer it to a wire rack for 5 minutes to cool.  You can serve it warm or at room temperature.  It can be stored in an airtight container for a few days.

Related Posts: