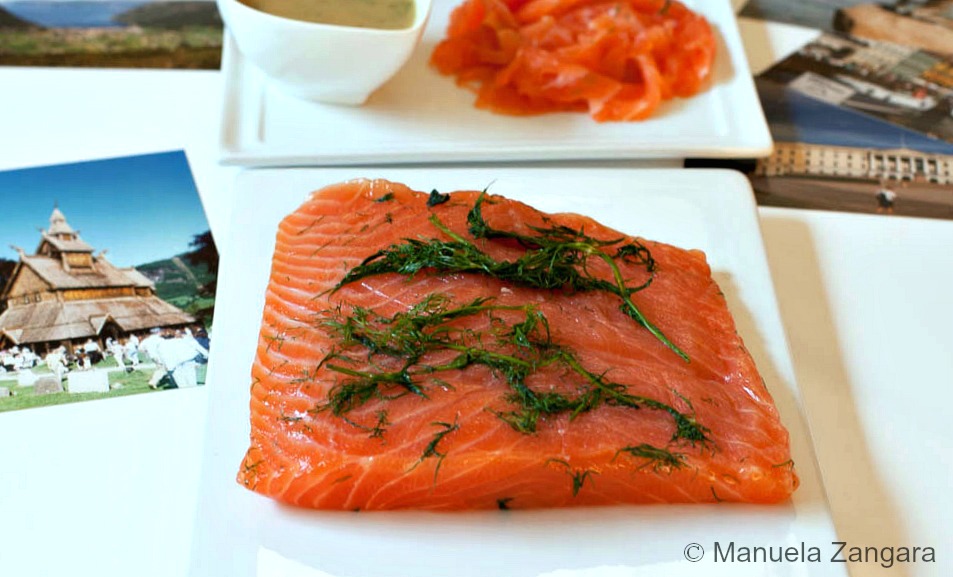 Maybe you don't know this, but since I was a teenager I have always loved Scandinavia. I love the long and bright summer nights and the short and cold winter days. I love snow. I love the beautiful Norwegian fjords and the Finnish lakes. I love the little and colourful Danish villages… Well, I guess you get my point. I also like Scandinavian food and gravlax is one of the dishes I like the most. I have made it a few times in the past but I hadn't noted the recipe down. Luckily I managed to find a good recipe on the internet and I was able to make it at home again. The keys for a good gravlax are obviously a good quality salmon fillet and lots of patience, as it takes a few days for the salmon to "become" gravlax. Maybe not everyone knows that "gravlax" was made by fishermen, who salted the salmon and lightly fermented it by burying it in the sand above the high-tide line. The word gravlax comes from the Scandinavian word grav, which literally means "grave" (in Swedish, Norwegian, Danish, Dutch), and lax (or laks), which means "salmon", thus gravlax means "buried salmon" (Wiki). I like to serve it with my home-made whole-wheat sandwich bread and the typical sweet dill mustard sauce I used to eat it with in Scandinavia. It is delicious and if you eat it with your eyes closed, you will feel like you are sitting on the shore of a fjord!! Enjoy!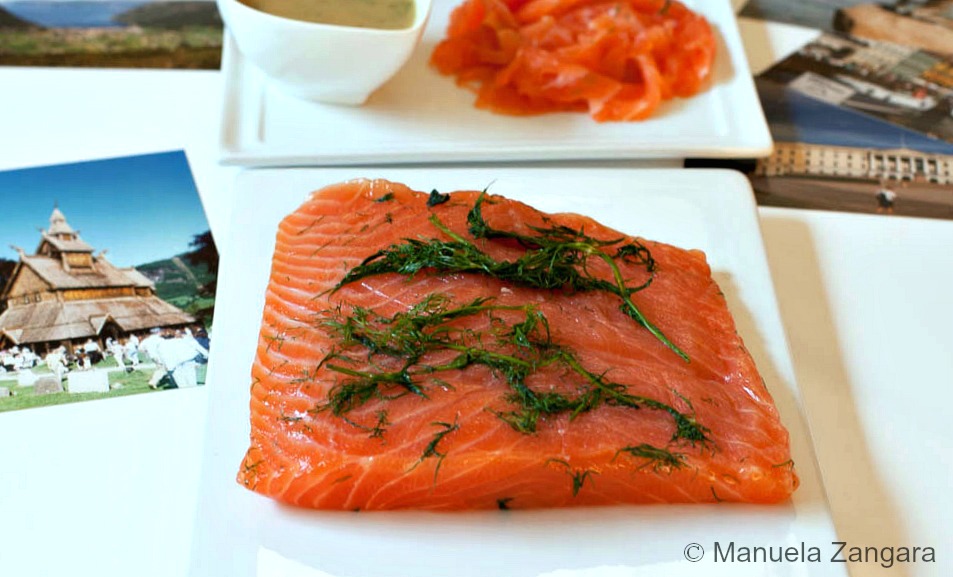 Gravlax with Sweet Dill Mustard Sauce
A tutorial on how to make Gravlax at home and the recipe for the perfect sauce to eat it with Sweet Dill Mustard Sauce!
Ingredients
Gravlax
800

gms

– 1.7 pounds salmon fillet

45

gms

– 3 tbsp white sugar

15

gms

– tbsp sea salt

1

big bunch of fresh dill
Sweet Dill Mustard Sauce (makes 1 ½ cups)
6

tbsp

honey mustard

2

tbsp

Dijon mustard

2

tsp

sugar

1

pinch

of salt

2

tbsp

plain or white wine vinegar

2/3

cup

vegetable oil

I use sunflower

½

cup

fresh dill

finely chopped
Instructions
Gravlax.
Cut the fillet precisely in half and place it on top of some cling wrap. Mix the sugar and salt together in a small bowl.

Spread the sugar and salt mixture on the top of the 2 halves of the salmon fillet. Put more where the salmon is thick and a little less where the salmon is thin as the mixture will get absorbed faster in the thinner parts.

Cover 1 of the halves with the bunch of dill and then place the other half of the salmon on the top, like a sandwich. Do this carefully so that the salt and sugar do not fall out.

Tightly wrap the salmon with the cling wrap. Once wrapped, re-wrap it a couple of times and make sure the salmon fillets are touching each other at all points, with no air space.

Put it on a tray and transfer it to the fridge to cure. You need to flip it over a couple of times a day. The original recipe suggested to let it cure for 48 hours before serving it. I tried it after 48 hours and I thought it tasted a but too "raw" for my liking, so I kept it for another 24 hours and it was perfect. It's up to you.
Sweet Dill Mustard Sauce.
To serve.


Related Posts: