Grissini, aka breadsticks, are a weakness of mine. They originate from the Italian city of Turin, in Piedmont and they have been around for centuries! I love how crunchy they are and I often serve them wrapped in prosciutto as an appetiser or aperitivo. I even like to dip them in Nutella, when I am in the mood for a sweet treat! Grissini also remind me of family celebrations, weddings, christenings and all the other festive occasions that Italians usually celebrate at restaurants. You find packets of grissini in every bread basket, on every table at every restaurant in Italy! I do find an Italian brand of breadsticks here, but they are not exactly like the ones from my childhood. So, I started to make my own. Making grissini is much easier than you think. In fact, it's even easier than making bread! These breadsticks are called "grissini stirati", which means "pulled breadsticks". The name comes from the fact that the pieces of dough are pulled by hand to create long sticks and give them their characteristic shape. Try them and let me know how you like them! Buon appetito.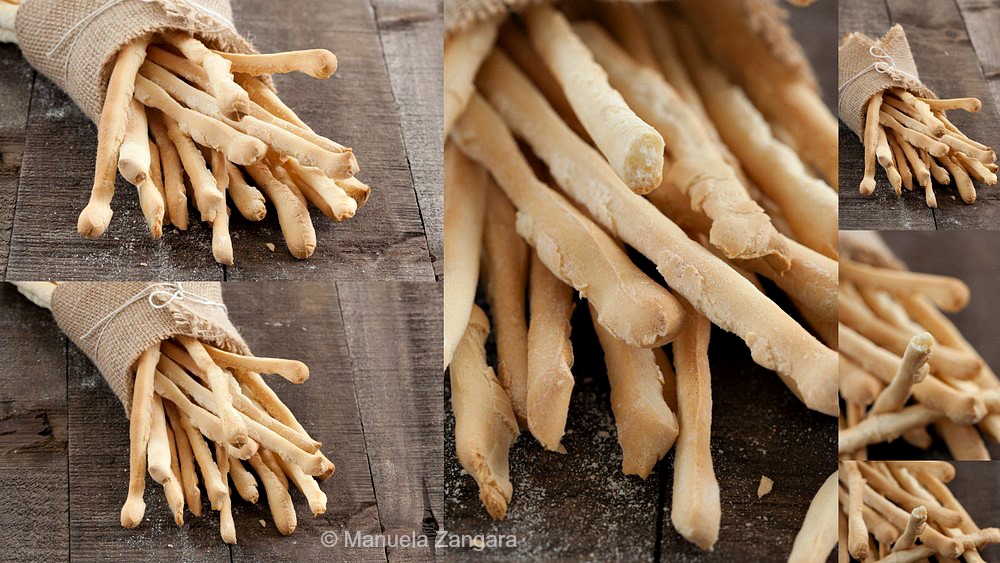 Grissini Torinesi
Grissini Torinesi - how to make Italian breadsticks the traditional way.
Prep Time
2
hours
30
minutes
Total Time
2
hours
45
minutes
Ingredients
500

gms

– 2 cups all-purpose flour

250

ml

– 1 cup water

lukewarm

1

tsp

sugar

2

gms

– 2/3 tsp active dry yeast

20

gms

– 1 ½ tbsp butter

melted

2

tbsp

extra virgin olive oil + more for brushing

¼

tsp

salt

2

tbsp

durum wheat flour
Instructions
In a measuring jug, mix together the lukewarm water, sugar and active dry yeast. Set aside for 5 minutes to activate (until it becomes frothy).

Put the flour in the bowl of an electric mixer fitted with the hook attachment and turn the mixer on (on low). Gradually add the water and yeast mixture, the melted butter and extra virgin olive. Increase the speed to medium and keep kneading for 2 minutes.

Then add the salt and keep kneading for 10 minutes.

When the dough is ready, shape it into a 2 cm – ¾ inch thick rectangle (its short side should measure about 10 cm – 4 inches).

Brush the top of the rectangle with some extra virgin olive oil and dust it with the durum wheat flour. Cover the dough with a clean tea towel and let it rise for 2 hours.

Using a sharp knife, cut the dough along its shorter side. Gently pull the dough from the middle to create the grissini.

Put them on an oven tray lined with baking paper and bake them at 200°C – 390°F for 15 minutes.

Let them cool down completely before serving.
Recipe Notes
These grissini can be left out on the kitchen counter and remain crunchy for a few days.

Related Posts: