During our recent holiday in Japan, we got a glimpse of Japanese culture. One of the most interesting aspects of it is the world of geisha. Geisha are professional entertainers who attend guests during meals and other occasions. They are trained in various traditional Japanese arts, such as dance and music. I thought of writing a post about this subject because I realised I have a lot of pictures of them that I thought are worth sharing and I did not want to fill my Kyoto guide with them.
Geisha can be found in several cities across Japan (including Kanazawa), but Kyoto remains the best place to experience geisha culture. Geisha in Kyoto are known as geiko in the local dialect. There are still 5 geiko districts in town. Four of them, Gion Kobu, Gion Higashi, Miyagawacho and Pontocho, are located in or around the Gion district in central Kyoto, while the fifth, Kamishichiken, is located near Kitano Tenmangu Shrine.
Geiko and geiko aspirants live in special houses (okiya) in the geiko districts. In Kyoto, young girls move there typically at the age of 15 to be taught communication and the various traditional Japanese arts. After a training and examination, the best ones will go on to become maiko (geiko apprentice) and eventually geiko after a few years.
The typical location for a geiko dinner are ochaya (tea houses), usually located in geiko districts. Ochaya are highly exclusive places and will grant entry to trusted customers only. As the bill is paid monthly through a charge on the clients' bank accounts, the customers have to develop a trust relation with the ochaya management and that is why new customers are only accepted if an existing customer serves as their guarantor.
Participants at a geiko dinner eat and drink while being entertained by the maiko and geiko through witty conversation and games in which the loser usually has to drink up another glass of beer. The cultural highlight of the evening though is the geiko's performance of a seasonal dance, accompanied by traditional music.
A former ochaya in Kanazawa's Higashi Chaya district, the Kaikaro Ochaya, has been opened to the public, allowing us tourists to see a traditional ochaya from the inside, including the tatami rooms, utensils, accessories and musical instruments.
We also got to meet the female manager of Kaikaro, called Okami-san, who is responsible for the life and work of young maiko and geiko (or geisha, as they are called in Kanazawa). My little ones were thrilled!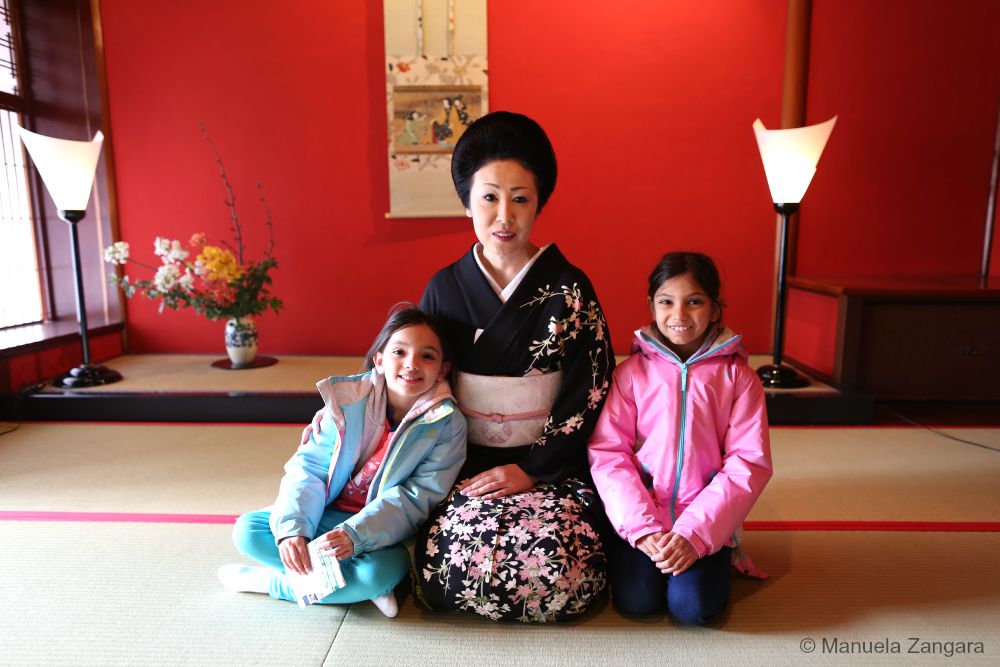 We saw many geiko in Kyoto too, all on Hanamikoji-dori in Gion. Go there after 6PM and wait… you will see them on their way to work, but please be respectful. We saw tourists mobbing them just for a picture. It sometimes felt like a "human safari". Do not block their way and remember, they are people like you and me, not a tourist attraction.
We used a zoom lens for our photos, so we did not need to get too close and disrupt them.
They are very graceful and even though they take small steps, they walk really fast!
The make-up is very interesting and I had no idea that it could be so complicated.
I also loved their kimonos (and so did my little ones) and their bags.
What I liked the most though, was the hair-do with all the beautiful accessories.
Did you know that you could make out a geiko from a maiko just from the accessories they were in their hair? Maiko wear flowers in their hair, while geiko don't. Here is a maiko!
And here is a geiko!
WHERE & HOW
Geiko dinners have always been exclusive and expensive, but it is now possible for almost any tourist with a sufficient budget to have a dinner with a geiko thanks to travel agencies and hotels. The cost for a geiko dinner is around 50,000 yen per maiko or geiko plus the cost for the meal.
Luckily, there are some other ways for people with a smaller budget to experience the geiko culture. The easiest is to watch a daily performance at the Gion Corner.
If you are visiting Kyoto in April, the Miyako Odori is an even better opportunity to watch dance performances by maiko and geiko. There are 4 performances a day at the Gion Kobu Kaburenjo theater in Gion (2,000 or 4,000 yen per person).
A popular service in Kyoto is to get dressed as a maiko or geiko. There are make-over studios all over the city, resulting in quite a few "fake maiko" on the streets of Kyoto! So, beware! We had one such studio right in front of our house! A typical experience costs around 10,000 yen per person including photos.
It is also possible to spot a real maiko or geiko in the streets of Kyoto, especially in the evenings around Gion (in Hanamikoji-dori).
RESOURCES ON MSM
RECIPES:
TRAVEL IN JAPAN:
Nara & Fushimi Inari guide – Japan

Related Posts: