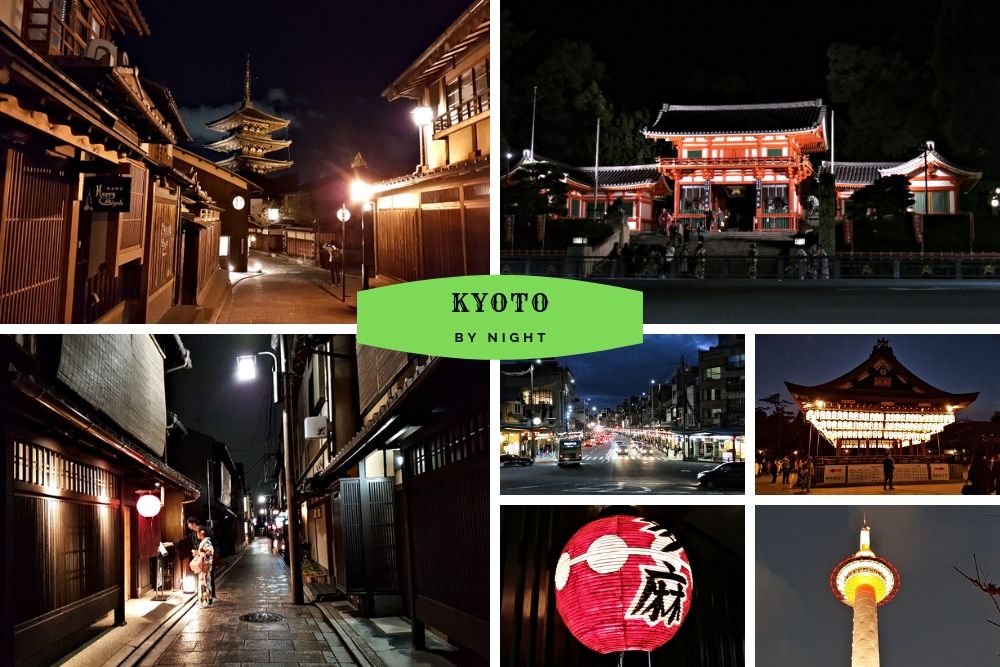 During our latest trip to Japan, we stayed in Kyoto for 11 nights. Besides using it as the base for various day trips in the area, we also visited the city. Read more about Kyoto by Night!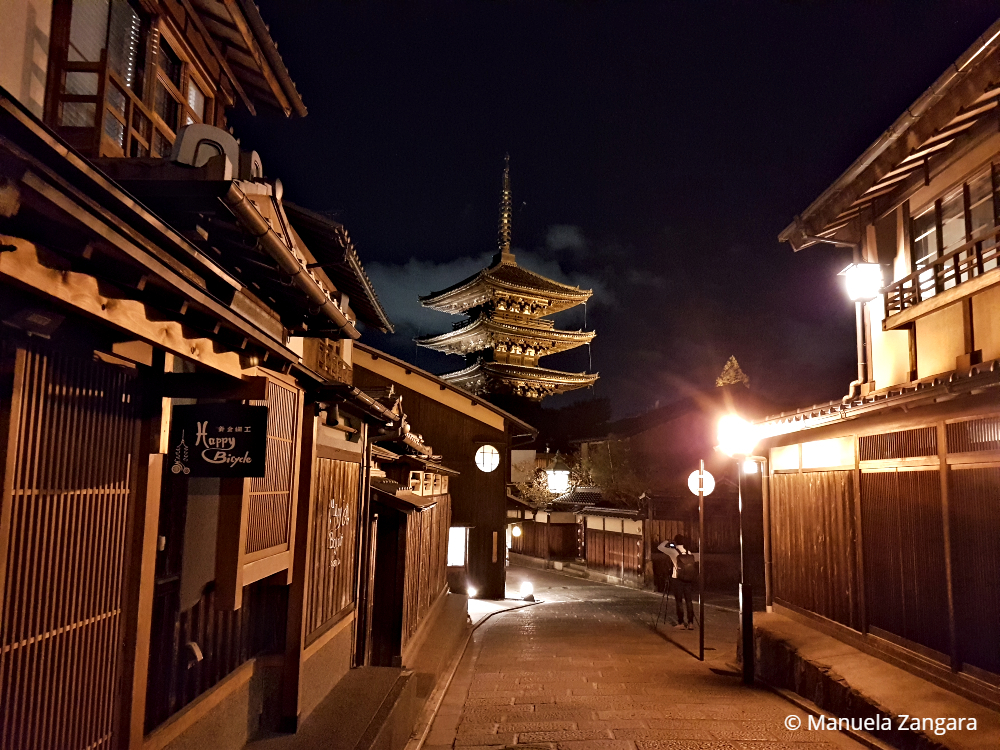 We absolutely ADORE Kyoto. So, every time we go to Japan, we spend at least a week in town. So we know it a bit better than other places. Today, I will share with you my Kyoto by Night guide some of our favourite spots where you can take great night time pictures.
SIGHTSEEING
Gion
The area around Hanamikojidori, south of Shijo-dori is definitely one of our favourite places to stroll around in the evenings.
The narrow streets are lined with traditional chayas (teahouses), little shops and restaurants.
I love red lanterns at night!
In one of the lanes off Hanamikojidori, you can also find a little Inari shrine. I love to go there in the evenings, as it is really quiet.
Keep your eyes open when walking in this area and make sure to look inside the gates you see. There are some hidden gems that are very photogenic.
If you are lucky, this is also the perfect place to see a geisha!
For a more detailed guide of Gion, click here!
At the end of Hanamikojidori, you can find the entrance to Kenninji temple.
Just a little further, you can find Yasui Konpiragu Shrine. Click here for more info on this beautiful place.
Yasaka Jinja
Yasaka Jinja is the heart of Gion. It is one of my favourite temples.
It's not one of the most elaborate ones, but it is Gion's soul.
In the grounds, you can also find stalls that sell delicious street food.
Shijo-dori
Just in front of Yasaka Jinja, you can see Shijo-dori. This is a big road, lined up with shops.
It's not that great-looking during the day, but I like how it looks at night when all the lights come up.
Sannenzaka and Ninnenzaka
This is hands down my favourite place! These beautiful ancient streets are lined with small cafes and shops and they are really busy during the day.
However, when the shops close and the crowds leave, that's time to visit!
Our accommodation is right there, so we always go for a walk when there's no one around.
The Yasaka Pagoda of Hokanji Temple is one of the most photographed sights of Kyoto.
Isn't it beautiful??
Kyoto Station and Kyoto Tower
That's the more modern side of the city and definitely worth a look after dark!
ACCOMMODATION
We stayed in a rental house (Kiyomizu Machiya Inn) in Kyoto, check it out here.
HOW TO GET AROUND IN KYOTO
Bus
We found that the best way to get around Kyoto is by bus (or on foot) as the bus network connects most major sights in the city.
The tourist offices provide a useful English network map for the Kyoto City Buses, which makes it quite easy for foreign visitors to access tourist attractions by bus. We also had maps provided in our house.
We had heard that buses tend to be slow, but we never had a problem. They can get quite crowded in peak hours, but not more than in any other big city around the world.
Buses are entered through the back door and left through the front door. The fare has to be paid when leaving the bus.
Subway
There are two subway lines in Kyoto, the Karasuma Line which runs from south to north along Karasuma-dori and stops at JR Kyoto Station, and the Tozai Line which runs from east to west and crosses the Karasuma Line at the intersection of Karasuma-dori and Oike-dori. But we never used the subway.
Japan Railways
All JR lines including the Tokaido Shinkansen pass through or commence at JR Kyoto Station. JR trains are a good option for accessing the Arashiyama area (Sagano Line) and some attractions in southern Kyoto along the JR Nara Line, like Fushimi Inari.
Other Railways
Keifuku Railways (also known as Randen) operates two tram-like train lines in north-western Kyoto. For train lovers, a ride on these trains is a small attraction by itself, both because the cars are really nice and for the beautiful panorama that you get to see, especially around Ryoanji.
Ticket Options
Kyoto Sightseeing Card – Unlimited use of Kyoto's two subway lines and of Kyoto City Buses and Kyoto Buses in central Kyoto and outskirts, including Arashiyama, Takao and Ohara.
Kyoto One Day Bus Card – Unlimited use of Kyoto City Buses and Kyoto Buses in central Kyoto and Arashiyama on one calendar day. Unlike the Kyoto Sightseeing Card (see above), the one-day bus card does not cover other outlying areas such as Takao and Ohara. This is what we used. You validate it with the machine only the first time you ride the bus, to print the date on it and then you show it to the driver every time you get down the bus. Easy.
Kyoto Subway One Day Card – Unlimited use of Kyoto's two subway lines on one calendar day.
Prepaid cards like SUICA (or ICOCA) don't give you any discounts, but they make the process of taking trains and buses easier, as you do not always need to buy a new ticket for each ride.
RESOURCES ON MSM
RECIPES:
TRAVEL IN JAPAN:
Nara & Fushimi Inari guide – Japan
Haru Cooking Class Kyoto – Japan Guide
Nagashima and Nabana no Sato – Japan Guide
Jigokudani Monkey Park Guide – Japan
Miyajima Autumn 2018 – Japan Guide
Kunisaki Peninsula – Japan Guide
Kyoto like a Local – Japan Guide
Gion and Geisha in Kyoto – Japan Guide
Don't forget to pin this Kyoto by Night guide!
HOW TO GET TO KYOTO
You can easily reach Kyoto by Shinkansen. It takes about 2.5 to 3 hours from Tokyo and 1.5 hours from Hiroshima. Kyoto is also just a half-hour away from Osaka.
MAP

Related Posts: