During our latest trip to Japan, we stayed in Kyoto for 11 nights. Besides using it as the base for various day trips in the area, we also visited the city. So, today I will share some secrets on how to explore Kyoto like a Local!

We absolutely ADORE Kyoto. I personally think it is one of the most beautiful cities I have ever seen (another one being Rome). So, every time we go to Japan, we spend at least a week in town.
I am always surprised when I see that people barely spend 2 or 3 days in Kyoto. There is SO MUCH to see and do! This was our 3rd visit and besides going back to some of our favourite touristy places, we also discovered less popular areas.
We took so many pictures during our stay because we visited in mid-November, which is the peak time for foliage in the area. It was so beautiful! So, I have decided to split up my Kyoto posts by theme. Today I will show you some of the less famous places we saw this time so that you too can explore Kyoto like a Local!
SIGHTSEEING
Firstly, let me tell you this. If you have some "extra" time in town (and I definitely recommend you to plan a few extra days for Kyoto), the best thing to do is to just "wander around on foot". Pick an area on the map and then just walk around. You will find something wonderful at any corner! Even in "residential areas". That's what I like the most about Kyoto.
Kyoto Station
The Kyoto Station was opened to the public in 1997 and stands in perfect contrast to many foreign tourists' image of Kyoto as the capital of traditional Japan.
The building's futuristic design was conceived by the Japanese architect Hara Hiroshi. Hara's design attempts to convey historical Kyoto through a modern aesthetic. I absolutely LOVE it!
The station will very likely be the first thing you will see in Kyoto. To me, it's like I have "finally come home". Just outside the station, you will also find a large bus terminal for city buses and long-distance and overnight highway buses.
The Kyoto Tower is also nearby.
There is also a very useful Tourist Information Centre on the 2nd floor that offers multilingual staff, pamphlets and some PC terminals for use by tourists. We also buy our day bus tickets here.
Luggage storage and takuhaibin (delivery service) counters are available in the basement of the station. Coin lockers are scattered all over the building.
Besides the station facilities, the building's 15 floors offer several other attractions and conveniences including the Granvia Hotel, an art museum, a theatre and a vast array of shopping and dining options – including Isetan and its amazing depachika floor where you can buy all sorts of food!
Higashi-Tenno Okazaki-Jinja Shrine
This shrine is also known as the "Usagi Shrine", aka the Rabbit Shrine because, as you can see, rabbit statues are everywhere!
This shrine is very close to Komyoji Temple, so much so that we literally stumbled upon it on our way out from it. Usagi Shrine is also close to Shinnyodo Temple and Heian Jingu Shrine, so it would be a great idea to combine the visit to all these temples in one day.
Originally Higashi-Tenno Okazaki-Jinja Shrine played a role in protecting the emperor, his court and its citizenry.
After going through the torii entrance gate, the area widens into an open space. The building that is behind the trees is the Honden (main hall) and in front of the Honden, in the centre of the grounds, are shrubs and trees.
It is said that rabbits are messengers for the deities of this shrine, and the reason for this is still unknown. One theory states that there were many wild rabbits living around the shrine, so there are many sculptures, statues, and pictures of rabbits around the shrine. As my youngest daughter adores bunnies, she was delighted!
In the chozuya (a building for purifying your hands before praying), there is a statue of a black rabbit looking up at the moon. This rabbit is called "Kosazuke Usagi," and it is customary to splash water on the statue and rub its belly which is beneficial for having children and the safe delivery of children.
At this shrine, you can also buy omikuji fortunes that are placed inside cute rabbit-shaped dolls.
This shrine is famous for granting blessings for marriage, having children and their safe delivery. In fact, many couples choose this location for their wedding ceremony every year.
Highly recommended!
Goou Jinja Shrine
Goou Shrine is shinto a shrine located on the western side of the Kyoto Gyoen National Garden, not far from the Imperial Palace.
The main gods worshiped here are the historical figure from the 8th century named Wake no Kiyomaro and his elder sister, Wake no Hiromushi. Kiyomaro was one of the people credited with the creation of Kyoto and is now known to be the guardian god of the hip and legs.
Apparently, before the creation of Kyoto, Kiyomaro was sent into exile with the tendons of his legs cut. During his dangerous journey to exile, in which there were multiple assassination attempts by his enemies, 300 boars suddenly appeared from the mountains and accompanied and protected him during the rest of his journey. To add to that, his leg injuries were miraculously healed and he was able to stand and walk again.
That's why Goou Shrine is also commonly known as the Inoshishi Jinja, aka the Boar Shrine and features many boar statues within its compounds.
First, you'll notice the two Koma Inoshishi (guard boars) placed in front of the main shrine. These boars, one male and one female, are commonly recognized as symbols of the shrine.
On the left side of the main shrine, there's the Ashinae Nangi Kaifuku no Hi. This stone monument is used by those who suffer from injuries or ailments of the hip and legs to pray for recovery, either by standing on the footprint shape or just by rubbing the monument with their hands.
Kitano Tenmangu Shrine
Kitano Tenmangu Shrine is one of the most important shrines across Japan that are dedicated to Sugawara Michizane, a scholar and politician who was unfairly exiled by his political rivals. A number of disasters were attributed to Michizane's vengeful spirit after his death in exile, and these shrines were built to appease him.
Apparently, Sugawara Michizane is associated with Tenjin, the kami ("Shinto god") of education. For this reason, many students visit Kitano Tenmangu to pray for success in their studies.
Kitano Tenmangu features an entire grove of nearly 2000 plum trees that bloom from February to March. The shrine hosts a special tea ceremony, called Baikasai, in this plum grove every February 25th, attended by maiko and geiko of the nearby Kamishichiken geiko district. Keep that in mind if you are visiting at that time.
Kitano Tenmangu is famous for its autumn colour as hundreds of maple trees line the garden's river and are lit up in the evenings.
Yokai Street
Not far from Kitano Tenmangu Shrine, you can visit Yokai Street. As the legend goes, thousands of years ago, yokai or "monsters" got fed up with humans and hundreds of them invaded the northern-most street of the old capital of Kyoto.
Today, this street is known as "Yokai Street," where you can see some of these traditional and not-so-traditional monsters. The owners of shops on this street started to build monsters as a celebration of the legend. Some of them are based on Japanese folklore, and others are just a hodgepodge of things thrown together to look like a monster. Either way, it's worth a visit while in Kyoto.
If you happen to visit in September and October, the street also boasts monster-themed events such as the "yokai parade" which is the area's largest event of the year. Hundreds of people dress up as different monsters and parade through the streets in the evening. They also hold a "ghost" flea market on the weekend, where monster-themed goods are sold.
Daishogun Hachijinja Shrine
When Kyoto was founded, the Daishougun-Hachijinja Shrine was built for the purpose of getting rid of evil spirits. It is called the Daishogun-Hachijinja Shrine because it has eight gods of fortune. ("hachi" meaning eight in Japanese).
80 images of the commanders in chief are enshrined in the precincts of the shrine. Although some are damaged, it is very rare for this many images of gods to be collected in one shrine.
Many people visit the shrine before events related to directions, such as vacations and moving.
Tanukidani Fudo-in
Tanukidani Fudo-in is a beautiful and quiet Buddhist temple in the hills of Higashiyama in the east of Kyoto, a short walk uphill from Shisendo.
In the car park before the steep stairs to the main temple buildings, priests bless cars with their magic gohei wands.
Scattered around the grounds are also many ceramic statues of tanuki (raccoon dogs or badgers), which give the temple its name.
The path to Tanukidani Fudo-in is composed of 250 stone steps, and it's a bit of a workout to get to the top.
About a third of the way up you will find a large statue of a traveling monk, his legs and feet festooned with small strap-style sandal charms. Called Omukae Daishi (omukae meaning "welcoming" and daishi being "great teacher", a title given to high-ranking monks), this statue greets visitors to the temple, and those who want to pray for the health of their legs and feet or travels hang the sandal charms on their way back down.
The main temple precinct contains an image of Kobo Daishi, the founder of Shingon Buddhism. 88 stepping stones have been placed around the hall, referencing the 88-temple pilgrimage in Shikoku associated with Kobo Daishi. Thus worshipers can complete the pilgrimage in a couple of minutes by stepping on all the stones, rather than spending a couple of months walking around Shikoku.
The Main Hall at Tanukidani Fudo-in is raised on pillars and it looks like a smaller Kiyomizudera.
From the veranda of the Main Hall, there are beautiful views over Kyoto.
People usually visit this temple to pray for their health. To do so, you use a gankake fuda, a special votive tablet available for people to write and hang up on the columns of the temple's main hall.  A human silhouette is drawn on the charm, and parishioners circle what part of the body they are having trouble with, before writing the date and their name. These tablets will later be burnt in a fire during ceremonies conducted by the temple's priests.
On July 28th there is a popular fire festival in the evening where priests and later the audience walk over the ashes of burning pine branches.
I really LOVED this place. It was so peaceful. There were no tourists and it was very quiet. Such a relief after having visited places packed with visitors! Highly recommended.
Ryozen Kannon Temple
Ryozen Kannon Temple is a war memorial dedicated to the fallen on both sides of the Pacific War and a moving testament to the futility and loss of conflict.
The 24-meter concrete image of the Goddess of Mercy was built in 1955 to honour the dead of World War II, both Japanese and Allied soldiers. Visitors can enter the body of the statue to see the enshrined Eleven-headed image of Kannon. The statue is so big that can also been seen from the bamboo grove of the nearby Kodaiji Temple.
After paying the entrance fee, visitors can place a stick of incense (given to them at the entrance) in a large pot just beyond a reflecting pool of water.
Ryozen Kannon can be seen as a monument to peace and a counterpoint to the more nationalist Gokoku Shrine nearby.
Hideyoshi and Nene Statues
Nene was the official wife of Toyotomi Hideyoshi, the man who dominated Japan (1590 – 1598) before Tokugawa Shogunate seized total control of the country. Apparently, Hideyoshi was a well-known womanizer, however, Nene reigned supreme among them, since she was a very intelligent and reliable woman and Hideyoshi trusted her more than anyone. After Hideyoshi's death, she became a nun, had Kodaiji Temple built in Kyoto and lived there till her death, praying for her demised husband's soul.
The "strange thing" is that the person who built Kodaiji Temple for Nene was Tokugawa Ieyasu, her husband's ex-colleague, later loyal subject, and enemy after his death.
When her husband passed away, Nene knew his kingdom had come to an end so she decided to support Tokugawa Ieyasu, the most powerful samurai after her husband's death, in hope that he'd preserve the Toyotomi Clan as one of his subjects.
Ieyasu knew how important it was to have Nene's support because some of Hideyoshi's former subjects would follow her orders. So, he had Kodaiji Temple built as she desired.
When you exit Kodaiji Temple, you will find the statues of Hideyoshi and Nene. People visit this place to pray for a happy marriage.
Yasui Konpiragu Shrine
Yasui Konpiragu is a little hidden gem in the Gion geisha and entertainment district of Kyoto. We discovered it by chance in 2017 as we use it as a shortcut to get from our Kyoto accommodation to Hanamikoji-dori.
Yasui Konpiragu has become especially popular among young Japanese women who flock to the shrine to perform a ritual of crawling through a hole in a large ema-shaped stone, known as the enkiri or enmusubi stone.
The ritual is performed to pray for breaking off bad relationships (not just human relationships but also end disease) and initiating good ones. Supplicants write down their wishes on a white, paper amulet, crawl through the hole in the stone, then back through it again before pinning their amulet on the megalith along with the thousands of others covering it.
Yasui Konpiragu hosts two very interesting festivals. The Koshi Matsuri (Comb Festival) takes place on the fourth Monday of September and involves the gathering of old combs and hairpins to express thanks for their use. Local Gion geisha and maiko participate as well. This is followed by a procession around the streets of Gion sporting various traditional hairstyles from the different periods of Japanese history.
The Shuki Konpira Taisai (Great Konpira Autumn Festival) is the shrine's main festival and takes place over multiple days in October beginning on October 1st. A mikoshi portable shrine in the shape of a Treasure Boat is paraded around the streets and there are performances of kagura and a lion dance.
TO DO
Kitano Tenmangu Shrine Flea Market
A flea market is held on the shrine grounds and surrounding streets on the 25th of every month.
You can find hundreds of vendors selling plants, antiques, tools, toys, and crafts.
It is also a great place to enjoy some traditional Japanese street food from one of the many stands selling festival food such as yakisoba, karaage, and takoyaki.
Kyoto International Manga Museum
The Kyoto International Manga Museum consists of three floors and a basement, and most of its walls are lined with shelves of manga. Browsing this massive collection of manga is one of the museum's main attractions. A small section of the books is dedicated to foreign and translated manga, but the vast majority is in Japanese.
In addition to its permanent collection, the Manga Museum also features temporary exhibitions on various themes.
The best part is that you can have your portrait done manga-style by one of the manga artists who work there on a regular basis. Check out the museum's site for more details.
We all got our portraits done and they did look kawaii!!
I highly recommend a visit even if you are not a big manga fan.
Purikura
Purikura is a photo booth machine where you can take photos with your friends and then get a print out of it afterward.
You may have similar photo booth machines in your country for more official photos like passport or ID photos. Purikura machines function just the same, except Japan has taken the "photo and print" concept and evolved it into an affordable and fashionable photoshoot!
There are automatic photo filters, in-booth editing systems, and even the option to have photos sent directly to your smartphone! All this is available at about 400 yen per session on average.
These photos often come as stickers.
We tried it at the game arcade of Aeon Mall, behind Kyoto Station.
Highly recommended. Also, while you are there, why not try some of the games at the arcade?
ACCOMMODATION
We stayed in a rental house in Kyoto, check it out here.
HOW TO GET AROUND IN KYOTO
Bus
We found that the best way to get around Kyoto is by bus (or on foot) as the bus network connects most major sights in the city.
The tourist offices provide a useful English network map for the Kyoto City Buses, which makes it quite easy for foreign visitors to access tourist attractions by bus. We also had maps provided in our house.
We had heard that buses tend to be slow, but we never had a problem. They can get quite crowded in peak hours, but not more than in any other big city around the world.
Buses are entered through the back door and left through the front door. The fare has to be paid when leaving the bus.
Subway
There are two subway lines in Kyoto, the Karasuma Line which runs from south to north along Karasuma-dori and stops at JR Kyoto Station, and the Tozai Line which runs from east to west and crosses the Karasuma Line at the intersection of Karasuma-dori and Oike-dori. But we never used the subway.
Japan Railways
All JR lines including the Tokaido Shinkansen pass through or commence at JR Kyoto Station. JR trains are a good option for accessing the Arashiyama area (Sagano Line) and some attractions in southern Kyoto along the JR Nara Line, like Fushimi Inari.
Other Railways
Keifuku Railways (also known as Randen) operates two tram-like train lines in north-western Kyoto. For train lovers, a ride on these trains is a small attraction by itself, both because the cars are really nice and for the beautiful panorama that you get to see, especially around Ryoanji.
Ticket Options
Kyoto Sightseeing Card – Unlimited use of Kyoto's two subway lines and of Kyoto City Buses and Kyoto Buses in central Kyoto and outskirts, including Arashiyama, Takao and Ohara.
Kyoto One Day Bus Card – Unlimited use of Kyoto City Buses and Kyoto Buses in central Kyoto and Arashiyama on one calendar day. Unlike the Kyoto Sightseeing Card (see above), the one-day bus card does not cover other outlying areas such as Takao and Ohara.  This is what we used. You validate it with the machine only the first time you ride the bus, to print the date on it and then you show it to the driver every time you get down the bus. Easy.
Kyoto Subway One Day Card – Unlimited use of Kyoto's two subway lines on one calendar day.
Prepaid cards like SUICA (or ICOCA) don't give you any discounts, but they make the process of taking trains and buses easier, as you do not always need to buy a new ticket for each ride.
RESOURCES ON MSM
RECIPES:
TRAVEL IN JAPAN:
Nara & Fushimi Inari guide – Japan
Haru Cooking Class Kyoto – Japan Guide
Nagashima and Nabana no Sato – Japan Guide
Jigokudani Monkey Park Guide – Japan
Miyajima Autumn 2018 – Japan Guide
Kunisaki Peninsula – Japan Guide
Don't forget to pin this Kyoto like a Local guide!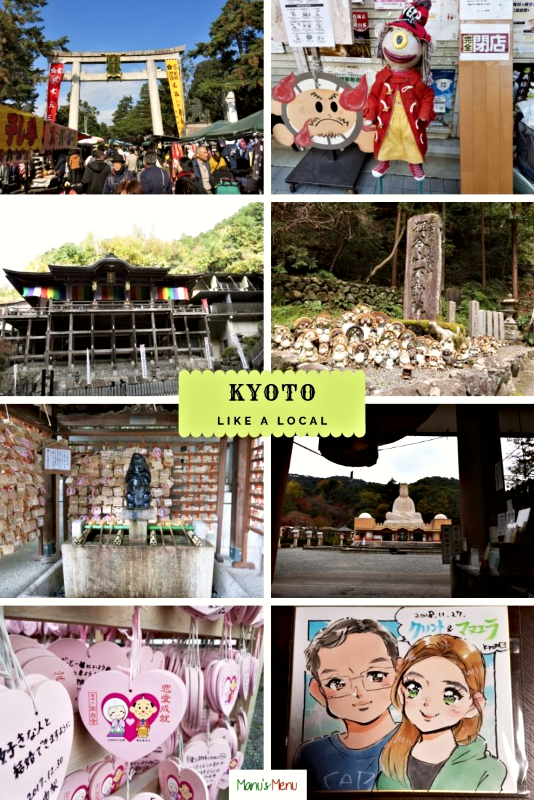 HOW TO GET TO KYOTO
You can easily reach Kyoto by Shinkansen. It takes about 2.5 to 3 hours from Tokyo and 1.5 hours from Hiroshima. Kyoto is also just a half-hour away from Osaka.
MAP

Related Posts: