Do you remember I had told you I would be making more food from my friend Rhonda's site, The Kitchen Witch?  When I got assigned her blog for this month's Secret Recipe Club, I had to chose only one recipe to publish on reveal day and I chose her amazing Sweet Chilli and Orange Chicken Wings… I mean, how can you resist THOSE?  At the same time, there was another recipe that I could not take out of my mind: her Garam Masala and Preserved Lemon Hummus.  I LOVE hummus and I would eat it everyday if I could!  I can say the same thing for my youngest daughter.  I usually make my Orange Hummus, but I love to try new flavours, so I went ahead and made Rhonda's version, though I must admit that I slightly modified it.  What can I say?  Once again, I think the pictures speak for themselves.  It was so good!  I loved the taste that the preserved lemons gave to the hummus and the garam masala added a nice touch!  This is definitely a keeper!  Serve it with a generous drizzle of extra virgin olive oil, a sprinkle of sesame seeds and home-made tortilla chips.  YUM!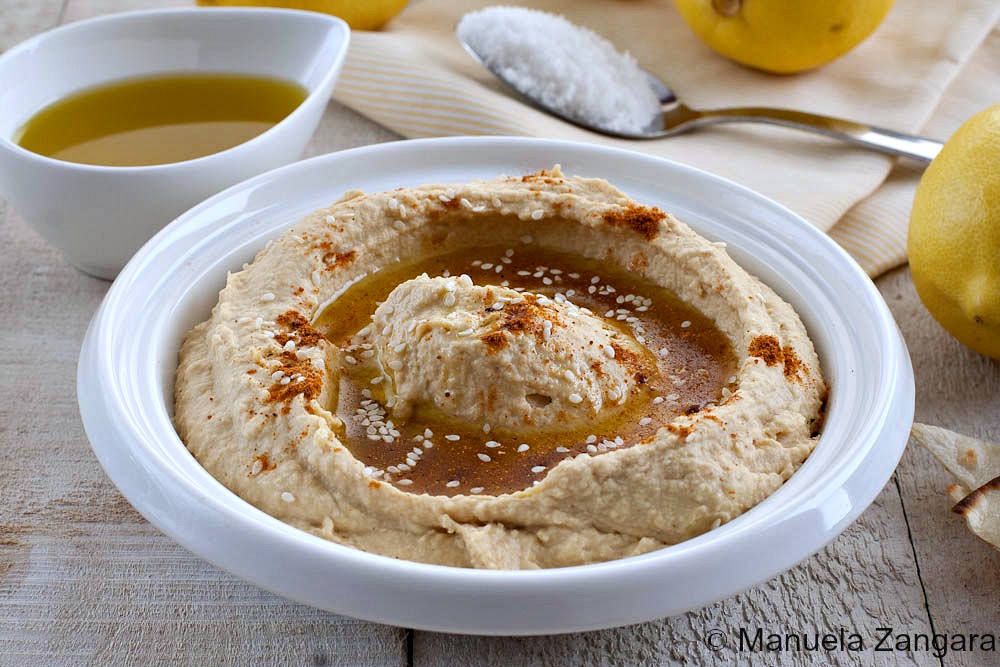 Garam Masala and Preserved Lemon Hummus
A great variation on a classic: Garam Masala and Preserved Lemon Hummus!
Ingredients
400

gms

– 15 oz chickpeas

drained and rinsed

3

cloves

garlic

3

tbsp

lemon juice

¼

cup

extra virgin olive oil

1

tbsp

tahini

¾

tsp

salt

¼

preserved lemon

flesh and skin, rinsed and chopped

½

teaspoon

garam masala

2

tbsp

water

More extra virgin olive oil to drizzle on the top

Sesame seeds to decorate
Instructions
Rinse the canned chickpeas under running water and put them in an electric mixer together with the water, garlic, lemon juice, chopped preserved lemon, a ¼ cup of extra virgin olive oil, tahini, ½ tsp of garam masala and ¾ tsp of salt. Blend well until smooth.

Transfer it into a serving bowl, drizzle with a dash of extra virgin olive oil and sprinkle with a little more garam masala and sesame seeds.

Related Posts: