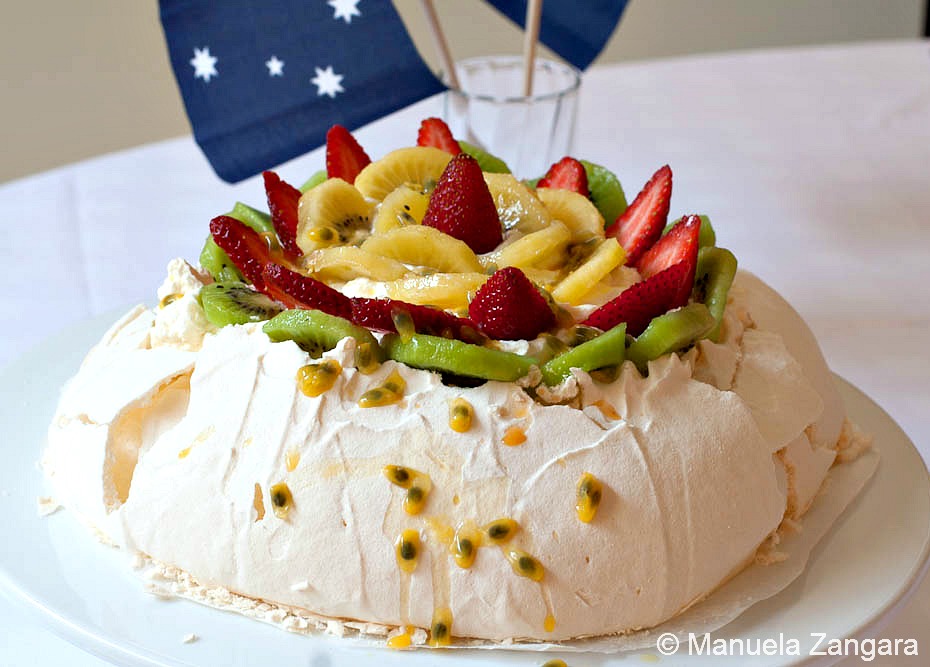 The last recipe from my "Come have some Aussie tucker, mate!" party is the Pavlova recipe.  I kept the best for last…  I have to warn you.  It is not an easy dessert to make and mine did not come out perfect either, as it did crack a bit.  Luckily the taste was not affected at all and it was still delicious.  I guess it was not too bad for a first attempt, but I will have to make it again, you know… just to perfect it!  Ohhh what a life of terrible sacrifices is a food blogger's life!!! Hehehehe  Anyhow, the origin of the Pavlova is not certain but it appears that it was created in honour of the famous ballet dancer Anna Pavlova either in Australia or New Zealand.  I will not enter into details as I know it is a bit of a sore point between the 2 countries, but if you are interested in knowing more, you can read this Wiki article.  What counts the most is that it is a delicious cake and it is the perfect dessert for a spring/summer barbecue!  It is made of a meringue-like base with a crisp crust and soft marshmallowy inside and it is decorated with whipped cream and fresh fruits.  Need I say more??  I chose strawberries, kiwi, golden kiwi and passion fruit, but you could use mango (which is not in season here at the moment) or berries.  As I wrote on my Facebook page, I bought and tasted my first passion fruit to make this Pavlova and I totally fell in love with it!  I cannot believe I spent so many years without knowing how amazing passion fruit tastes!  I hope you enjoy my Pavlova!
Recipe adapted from Taste 
Ingredients: (serves 10)
For the meringue base
6 egg whites, at room temperature
315 gms – 1 ½ cups caster sugar
3 tsp cornflour
2 tsp white vinegar
1 tsp vanilla essence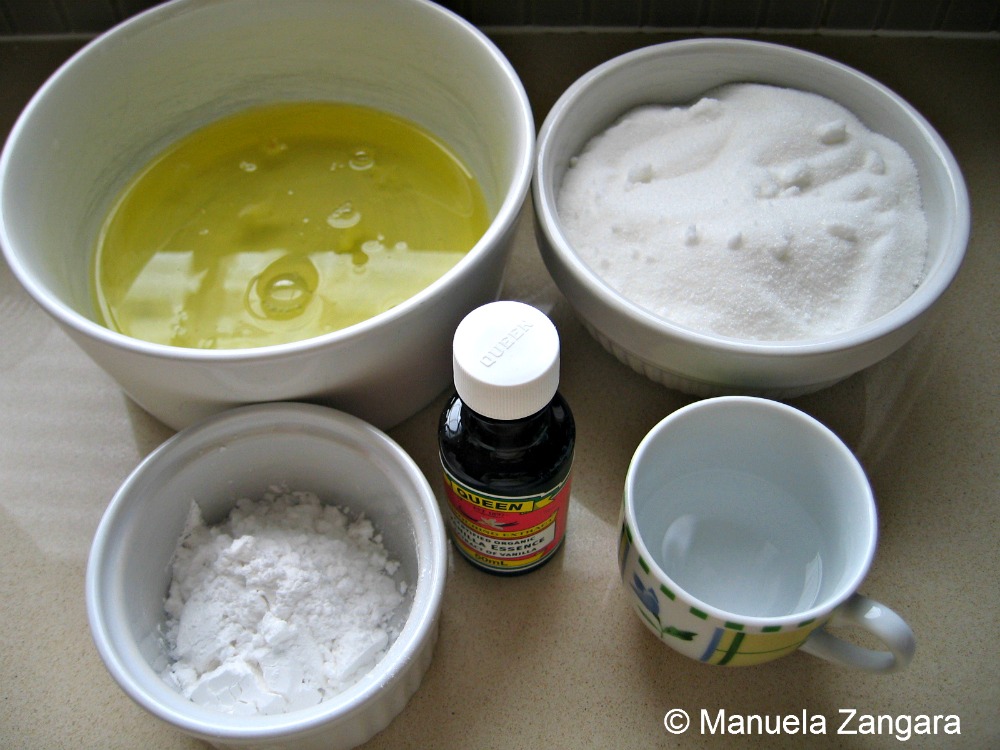 For the topping
375 ml – 1 ½ cups thickened cream (or heavy cream)
2 tbsp caster sugar (not in the picture)
1 or 2 passion fruit, halved
1 kiwi, sliced
1 golden kiwi, sliced
1 punnet of strawberries, sliced
Line a baking tray with baking paper.  Draw a 20 cm disc on the paper and turn it ink-side down.  Keep it aside.
With an electric beater, beat the egg whites just until firm peaks form.  Then, gradually add the sugar, 1 tablespoon at a time, beating constantly, until the sugar dissolves and the mixture is thick and glossy.  Add the cornflour, vinegar and vanilla essence and beat for 1 minute more.  NOTE: if you overbeat the egg whites, the meringue is likely to collapse and crack during baking (that is what happened to mine, I guess!).  Check out this article for more useful tips!
Spoon the meringue mixture onto the disc and shape it into a "cake" with furrows using a spatula.
Bake it in a preheated oven at 150°C – 300°F for 10 minutes, then reduce the oven temperature to 110°C – 230°F and bake it for 1 extra hour or until the meringue is crisp and dry.  When ready, turn the oven off, but leave the meringue in the oven with the door closed, to cool completely.
Whip the cream with the 2 tbsp of caster sugar until firm peaks form and spread it on the top of the pavlova.
Decorate it with the sliced fruits and and the passion fruit pulp.
Enjoy!

Related Posts: