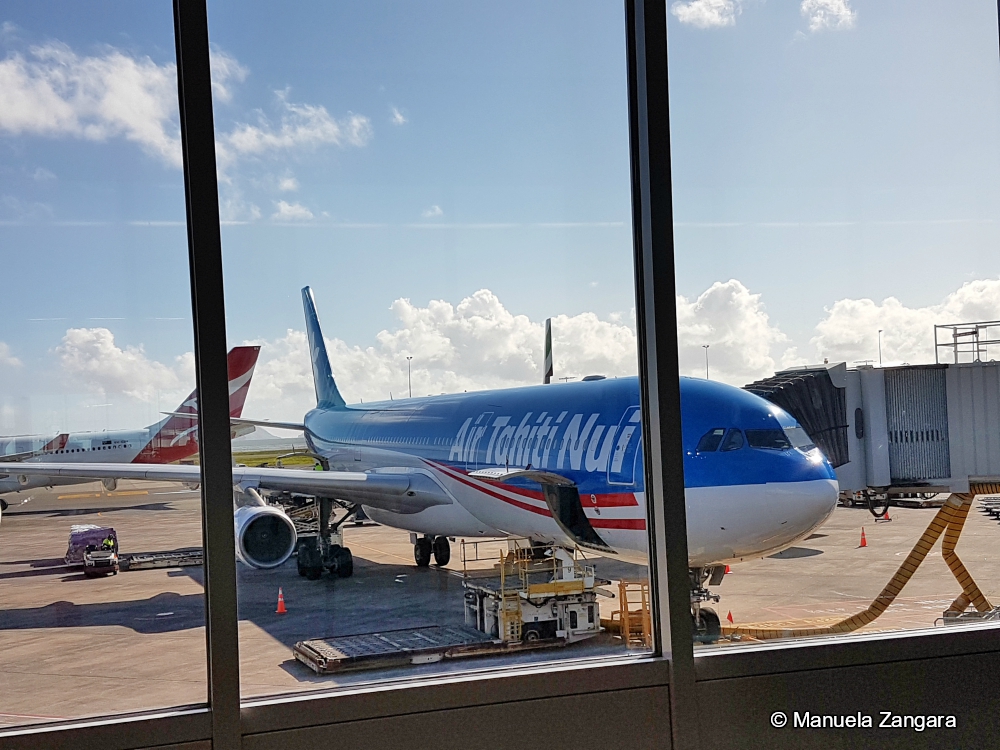 My family and I recently visited French Polynesia and loved it, so I thought of sharing a few more details about the islands we visited and the hotels we stayed at, in the event that any of my readers may be interested in "following our footsteps". 😉 We had already visited the Society Islands (Moorea and Bora Bora) in 2013 – click HERE for that post. This time we visited the Tuamotu Islands and you can read all about our holiday HERE.
We stayed in Tahiti only 2 nights (we had already visited the island in 2013), as the flight to and from Sydney arrives at night and departs in the morning. This time as well, we stayed at the Manava Suite Resort and Spa, just like in 2013, always a great option.
The next day, we went straight to the centre of Papeete to visit the famous Papeete Markets – the best place to buy good souvenirs at reasonable prices.
The market is very colourful and filled with tropical fruits and veggies.
Fish
Flowers
Shells and mother pearl.
I highly recommend this visit, especially to foodies, as the colours and smells are amazing! I also recommend you try some Firi Firi (aka coconut doughnuts)!
After visiting the markets, we saw the Cathedral.
Then we took a bus (the orange one) and in 15 minutes we went back to the hotel to check out and go to the airport to go to the Tuamotu islands.
Manava Suite Resort
For our short stay in Tahiti, we decided to go back to the Manava Suite Resort because we had liked it during our previous stay. It is close to both Papeete and the airport and it has an amazing restaurant (more on that later in the post).
They don't have a transfer to and from the airport, but catching a cab is very easy. It is about 2,350 xpf at night and 1,750 xpf during the day, plus 100 xpf per suitcase. No fear of getting scammed, as these are all fixed prices and there is a printout with the tariffs for various destinations at the taxi stand. Keep in mind that if you need a cab very early in the morning (or at night), the prices will be slightly higher.
The Manava has a very nice reception area, modern and smart looking, with a big round fountain in the middle.  Checking in was smooth and easy.
The hotel has 120 rooms divided in 4 buildings: 2 of which have fantastic views over the lagoon and Moorea.
We did not care about the view, so we booked a Garden Suite which was perfect for us.  It had a small equipped kitchenette, a bathroom, a living room with a double sofa bed for the kids and a separate bedroom for us.
There were also some delicious macarons waiting for us!
The hotel has a nice infinity pool with views of Moorea, and a spa which we did not have time to use.
The resort was going through some renovations in the pool area when we were there, so now it will look even better.
The hotel also has free internet, which is great too. And beautifully kept gardens full of flowers.
There are also 2 bars and a restaurant (scroll down for my review).  There are also some food trucks (roulottes) just opposite the hotel.  We did not try them, but one of the cab drivers we had, highly recommended them.
All things considered, we liked this hotel even more than the previous time and we will definitely be back. I would not recommend to spend a lot of time in Tahiti, especially if you don't have many days for your holiday, but 2 or 3 nights (depending on your flights) would be good. I would also recommend you rent a car for 1 day and tour the island – read here about it.
Vaitohi Restaurant
The Vaitohi Restaurant is on the ground floor of the Manava Suite Resort.
We just couldn't wait to eat a "proper" dinner at the hotel's restaurant… especially after spending 6 days in Fakarava, where the menu was very limited. The food was just as good as we remembered it to be!
In fact, we chose to stay at Manava Suite Resort also because we remembered the delicious food we had here.
Here is the menu:
It's great to see the also have gluten free options available and they were really thoughtful about my lactose intolerance.
My husband ordered Roasted lamb, cauliflower, crispy foie gras & lamb confit (4,100 xpf), and a classic Taha'a vanilla crème brûlée (1,300 xpf).
I instead had Braised Wagyu beef breast, creamy zucchini, and grilled potatoes (3,900 xpf), and a Gourmet coffee (1,650 xpf).
Both my husband and I enjoyed our meals so much! Let's just say, it was easily the best meal of our entire holiday. The service was good and fast.
They also serve a little amuse bouche before the appetisers and they have very good bread.  Instead of serving the warm bread with butter, they have extra virgin olive oil and balsamic vinegar in little spray bottles, both of great quality.
Kids eat from the kids menu (their dinner and breakfasts were included in the price of the room) and they can choose 1 main and 1 dessert.  My girls went for cheeseburger, ice cream, and chocolate mousse and were quite happy with their choices.
I would definitely recommend trying out this restaurant if you are staying at the Manava, as the price is reasonable and the food quality and service are excellent!
Just remember, it is best to book! We did not, and had trouble getting a table. It was only after the manager came, that we found one.
Tahitian Recipes on MsM
Fish Fillet with Tahitian Vanilla Sauce
CONTACT INFO
MANAVA SUITE RESORT TAHITI
PK 10,5 côté mer – BP 2851 – 98 703 Punaauia – Tahiti
Ph : 47 31 00
Fax : 47 31 01
Email : [email protected]
For reservations:
Ph: 50.84.45
Email : [email protected]
Website: https://www.manavatahitiresort.com/

Related Posts: