Being born in Milan, the city where risotto was created, I have always been a huge fan of this dish, and today's Low Fodmap Sausage and Capsicum Risotto is no exception.
Sausage and capsicum/peppers are a match made in heaven and a classic of Italian cuisine. If you have never tried it, please do so ASAP! I am sure you will fall in love with it too.
To make this risotto, I use my "fake" Low Fodmap sausage – you can find the recipe here. It's fake because I use ground pork and I do not put it into the casing, but the taste is just spot on! You can also use my Low Fodmap vegetable stock to make this dish – you can find the recipe here.
Don't skip the parsley at the end, it's not used just to add some beautifully vibrant colour, but it also adds a delicious earthy flavour to the dish! Don't you just love herbs??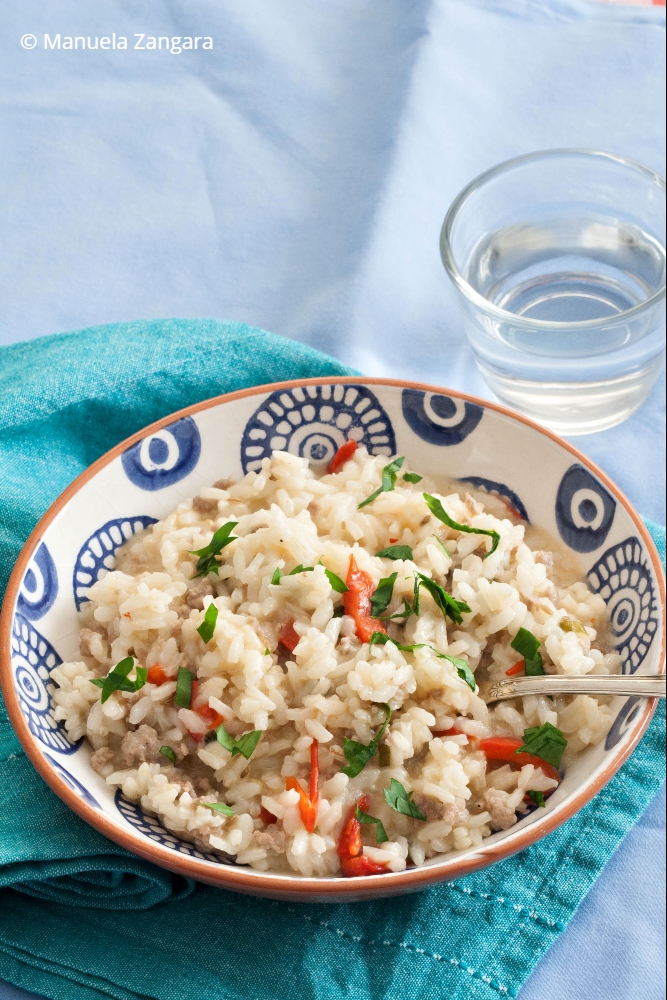 Enjoy and don't forget to check out my video recipe and to leave a comment in the section below to let me know how you like it!
Low Fodmap Sausage and Capsicum Risotto
Low Fodmap Sausage and Capsicum Risotto - a traditional Italian recipe that can be easily adapted for more delicate tummies. And it tastes just like the original.
Ingredients
200

gms

– 7 oz. risotto rice Arborio Carnaroli or Vialone nano

3

tbsp

spring onions green part only

½

tbsp

extra virgin olive oil

½

tbsp

garlic infused olive oil

80

gms

– 3 oz. red capsicum

sliced

140

gms

– 5 oz. low fodmap pork sausage

50

ml

– ¼ cup white wine

Salt to taste

1

tbsp

parsley chopped

4

tbsp

Parmigiano Reggiano

finely grated
Instructions
Put the stock or water in a pot and heat it on the fire.  The stock/water has to be hot all the time while you are cooking risotto, so that the rice temperature does not drop when you add it to it.

Put the chopped green onion, the garlic oil,  and the extra virgin olive oil in a pot and let it cook on a slow fire for 30 seconds.

Add the sliced capsicum and sauté for a couple of minutes.

Add the low fodmap pork sausage and brown well.

Add the rice, mix well and let it cook for 1 or 2 minutes until it becomes translucent.

Now pour in the white wine and let the alcohol burn off by cooking on a high flame.

Then add enough hot stock/water to cover the rice and turn the fire to medium-low. Keep cooking, occasionally stirring the rice and adding hot stock little by little, until the rice is cooked. It is going to take approximately 18 to 20 minutes depending on the rice you are using.

When the rice is ready, put the fire off and add the grated Parmigiano Reggiano. Mix very well and make sure that your risotto is moist (or, as we say, all'onda – which literally means wavy) and not sticky. You can do that by adding 1 or 2 extra tbsp of hot stock if needed.  Check for salt and season to your liking.

Serve your risotto hot, with some chopped parsley on the top.
Recipe Notes
Do not wash the rice before cooking it. You want to keep the starch in it, as that is what makes risotto naturally creamy.
Don't forget to PIN this recipe!

Related Posts: