Nagashima was the place we visited after leaving Kawaguchiko. We had always wanted to see the winter illuminations of Nabana no Sato, so this time we made sure to include it in our itinerary. Read my Nagashima and Nabana no Sato Guide for great tips and photos!
From Kawaguchiko, we took a Fujikyu bus to Mishima JR station and from there a shinkansen train to Nagoya. While going from Nagoya JR station to catch the bus to Nagashima, we saw a street concert…
I am not sure if these girls are famous, but many of the people watching were actually singing along. The songs were quite catchy!
Nagashima Resort is a major vacation destination just outside Nagoya. There are 5 leisure facilities: the Nagashima Spaland amusement park, a water park, a hot spring complex, an outlet shopping mall and a flower park called Nabana no Sato. The resort is located on a long piece of land that is surrounded by rivers and the sea (Nagashima means "long island").
SIGHTSEEING
Nagashima Spaland, is one of the best amusement parks for roller coaster lovers in Japan, and it is the main attraction of the resort. Inside the Nagashima Spaland grounds there is also a water park: Joyful Waterpark, packed with water slides and swimming pools. However this park is open only in summer.
At the south-western corner of the resort island lies Nagashima Spa Yuami no Shima, an outstanding hot spring bath complex with a wide array of indoor and outdoor baths.
Mitsui Outlet Park Jazz Dream Nagashima is a large outlet mall located just beside Nagashima Spaland. It has 240 stores, including famous foreign and domestic boutiques, and world-renowned brand names. However, we did not visit it.
Located at about 15 minutes by bus from Nagashima Spaland, is the Nabana no Sato flower park. The park hosts one of the largest flower festivals in Japan during the warmer seasons. But the main attraction is the outstanding winter illumination from mid-October to early May. And that is what we went to visit!
There are about 8.5 million LED lights illuminating the flower park! Nabana no Sato is one of the largest illumination events in Japan.
There is also a unique, moving observation deck, called Island Fuji, which offers great views across the park.
There are various attractions including a huge field transformed into a sea of lights. There are "waterfalls of lights" that keep changing colour.
There is an amazing animated light show. This year's theme was "the beauty of nature"… and the show showcased all the different ecosystems of the world.
Look at this video I took!
There are lights everywhere you look, including on trees.
And look at this reflection!
This was an area with only blue led lights!
However, the most famous attractions of Nabana no Sato are its light tunnels. To be honest, we thought there would be only one – the golden lit tunnel, which was breathtaking.
The video I took, gives you a better idea of what it is like to be walking under all those lights!
We were very pleased to discover there was actually a second tunnel.
This one represented the changing seasons and it was possibly even more beautiful than the golden one, as the colours kept changing from red, to green passing through all the possible variations.
Look at the video – amazing, right?
Nabana no Sato Hours & Fees
9:00 to 21:00 (until 22:00 on weekends during winter illumination)
1600 yen (spring and autumn)
1000 yen (summer)
2300 yen (winter illumination) adults AND children alike
The admission fee includes a 1000 yen gift certificate to be used inside the park for food and souvenirs.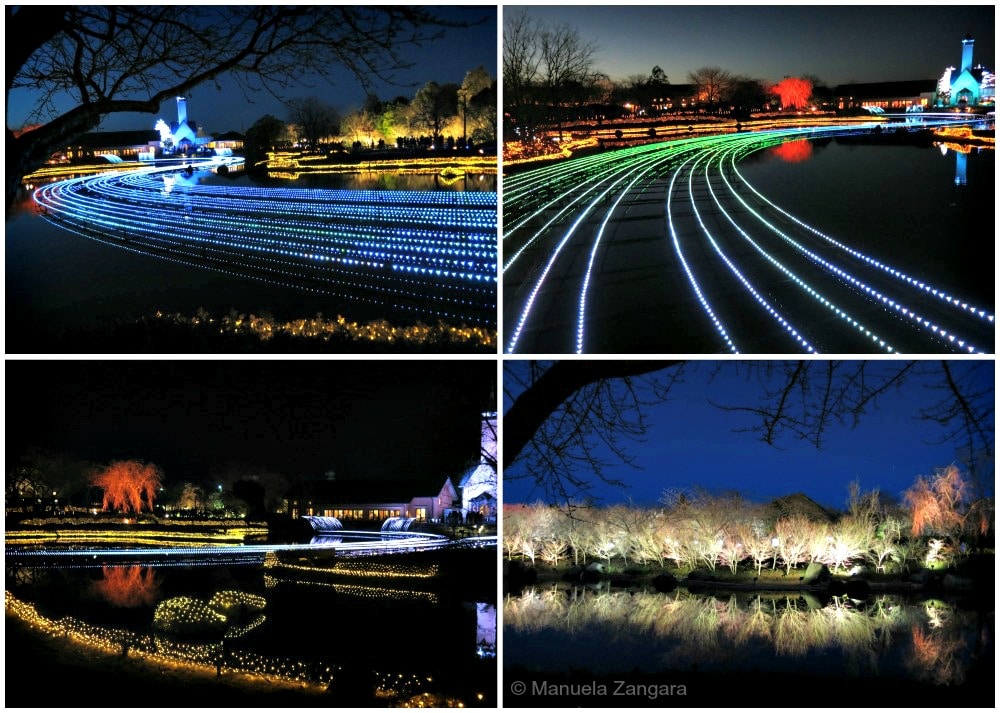 FOOD
We had dinner at Nabana no Sato. The entry ticket includes a voucher to be spent inside the park, and we used it to buy something to eat as there were no many other options, apart from souvenirs we were not interested in.
The kids had karaage (fried chicken) with some amazing potato croquettes.
And a chikuwa filled with a sort of hot dog. A chikuwa is a tube-like fish cake with a hole inside! The kids didn't know what it was, but they liked it.
The adults had a delicious beef steamed bun.
And gyoza.
There were quite a few food stands that were selling all kinds of street food, so there is plenty of choice.
ACCOMMODATION
Deciding where to stay was not easy. At first we thought we would stay in Nagoya and just visit the park from there. Then we changed our mind. Going back to Nagoya at night, in the cold, after a very long day and with 2 young kids would have been hell. Especially considering the HUGE crowds (we also visited during the weekend and the park was PACKED!).
So, we decided to stay in Nagashima. The only places we found were very expensive ryokans and we really didn't think it was worth spending $600-700 for something we would not have the time to enjoy!
That's when we found the Hatagoya Family Lodge. It's a very cute and clean motel style hotel.
It's actually a chain and there are many throughout Japan. If you travel by car, these are great as they also have parking just outside the rooms. Not only, they are also much cheaper than regular hotels. We paid around $160 for the 4 of us – it was one of the cheapest places we stayed at.
For the price paid, I was expecting something a bit run down. Instead, it was really nice, clean and the room didn't luck anything… we even had a fridge!
The guy at the reception was really kind and helpful, even in his broken English! He even booked us a cab for the following morning at 6am!!
Booking was quite easy. I sent them an email through their website ([email protected]). There is a general reservation centre and they speak good English. The only thing is you need to pay in advance (I did it via paypal) and you can book only 3 months before.
I highly recommend Hatagoya Family Lodge for the comfort of its great value and friendly service.
HOW TO GET AROUND IN NAGASHIMA
The best way to explore Nagashima would be by car! However, you can also use busses.
To get to the Hatagoya Family Lodge from Nagoya, take the Meitetsu bus (see below) bound for Nagashima Onsen and get down at Yokomakura bus stop – just in front of the hotel.
To go to Nabana no Sato, take the same bus in the opposite direction and get down at Nabana no Sato.
Please note that the last bus doesn't run after a certain time (or early in the morning). We were done by 7:30PM and had to take a cab back to the hotel from Nabana no Sato.
RESOURCES ON MSM
RECIPES:
TRAVEL IN JAPAN:
Nara & Fushimi Inari guide – Japan
Haru Cooking Class Kyoto – Japan Guide
HOW TO GET THERE
From Nagoya
The easiest way to get to Nagashima from Nagoya is by bus. From the Meitetsu Bus Center (a 10 minute walk from Nagoya Station), take a bus bound for Nagashima Onsen and get off at either Nabana no Sato (35 minutes) or Nagashima Onsen (50 minutes). Busses depart every 20 to 30 minutes. The one way trip between Nabana no Sato and Nagashima Onsen takes about 15 minutes.
You can also get to Nagashima or Kuwana JR stations by train from Nagoya and then use a bus from there.
Kuwana Station and Nagashima Spaland are connected by 1-3 buses per hour (20 minutes). A different bus connects the station with Nabana no Sato (10 minutes). During the winter illuminations from mid-October to early May, the bus to Nabana no Sato departs from Nagashima Station instead of Kuwana Station. These buses take about 25 minutes.
We arrived to Nagashima with the Meitetsu bus (that stops in front of the Hatagoya Family Lodge) and then went back to Nagoya by train from Nagashima JR station as we took a very early train back and there were no busses at time in the morning (we reached Nagashima JR station by cab – make sure to specify that you want to go to the JR station and NOT the Kintetsu station).
MAP

Related Posts: