I am so excited about sharing with you today's recipe, as it is one of my latest creations: Macadella.
I am sure everyone is familiar with Nutella, the most famous Italian spread ever! Nutella is made with hazelnuts and chocolate and it is sinfully delicious. To Italian children, it is the equivalent of peanut butter for American kids. We have all grown up eating bread and Nutella for breakfast or afternoon snack.
Since starting the low Fodmap diet though I have had to give up Nutella as hazelnuts are unfortunately high Fodmap. Macadamia nuts however are allowed in bigger quantities, so I thought of adjusting my homemade Nutella recipe to use macadamia nuts… thus the name Macadella.
The result is a delicious nutty chocolate spread. It is somewhat more delicate in flavour than traditional Nutella because macadamia nuts are not as flavourful as hazelnuts. The chocolate taste comes out more which is great… I mean, who doesn't like chocolate anyway, right?
What is your favourite spread? Do you like Nutella? Or do you prefer Peanut Butter?
Enjoy and don't forget to check out my video recipe and to leave a comment in the section below to let me know how you like it!
Macadella
Macadella – a Low Fodmap version of Nutella, made with macadamia nuts instead of the more traditional hazelnuts.
Ingredients
100

gms

– 3.5 oz. dark chocolate

chopped

100

gms

– 3.5 oz. macadamia nuts

toasted and cooled

100

gms

– 3.5 oz. brown sugar

120

ml

– ½ cup lactose-free milk

2

tbsp

vegetable oil

I use sunflower oil

10

gms

– 1 ½ tbsp unsweetened cocoa powder

sifted

2

gms

– 1/3 tbsp lecithin granules

optional

1

tsp

vanilla extract
Instructions
Blend together the toasted macadamia nuts, chocolate, brown sugar, lecithin until you get a smooth paste. This will take some time, so don't give up! Try and get it as smooth and silky as possible.

In a small pot, mix together the sifted cocoa powder and milk. Put it on the fire and stir until mixed.

Add the macadamia nut paste and vanilla extract and whisk well.

Stir in the vegetable oil, and mix until well combined.

Cook for a couple of minutes on low, always whisking.

Just before it starts to boil, put the fire off.

Pour your spread in a glass jar and refrigerate for 4 hours before eating.
Recipe Notes
Macadella keeps well in the fridge for 3 to 4 weeks, but it won't last that long!
Don't forget to PIN this recipe!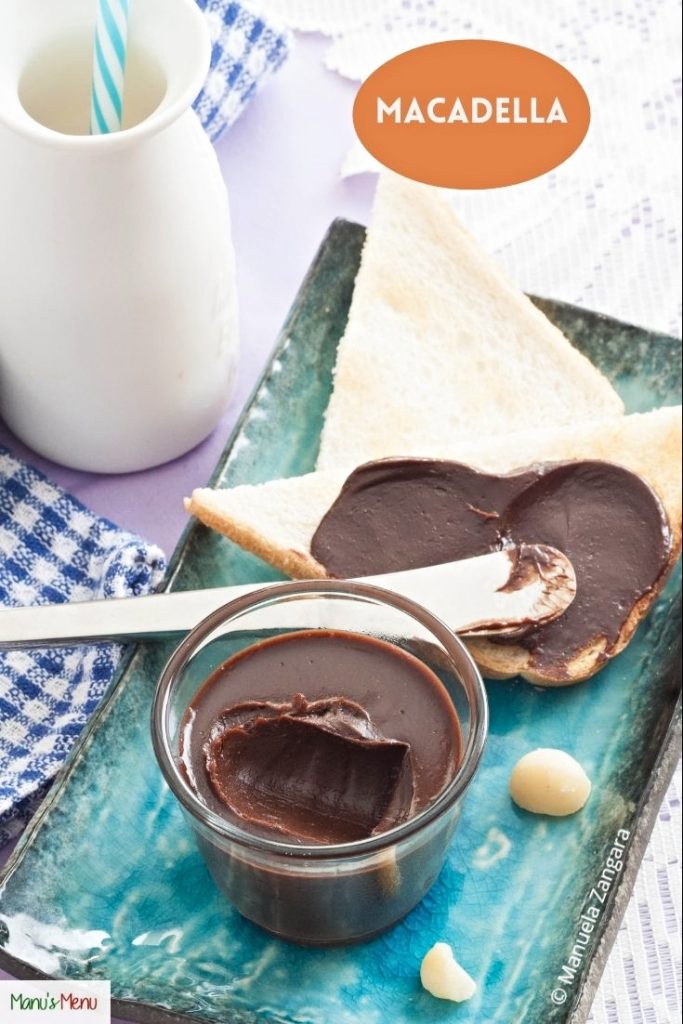 Related Posts: