Oh Miyajima! This has to be, together with Kyoto, my favourite place in whole of Japan! When we drafted our itinerary for our latest holiday in Japan, we had no doubt we would include Miyajima in it. It was a given, actually. We had fallen in love with it during our 2015 visit, and when we had left, we had promised to be back. Miyajima is a small island in front of Hiroshima famous for the Itsukushima shrine and its "floating tori". However, there are also other beautiful temples to visit and the island has a big population of deer.
SIGHTSEEING
The first thing you see when approaching the island on the ferry is the famous Floating Tori.
The tori is not always floating, as that depends on the tides. Which means that sometimes you can walk to it and see if from close (like it happened to us in 2015), while other times… you simply can't.
The floating tori is part of the Itsukushima Shrine, the "floating temple". We visited it in 2015, so this time we decided not to enter. It is a very beautiful red temple with plenty of wooden corridors and lanterns.
I highly recommend you spend a night in Miyajima. We did and loved it. This way, you get to enjoy the island when the crowds have left and, above all, you can get to see the sights "by night". Check out my 2015 post for some beautiful night shots.
Unfortunately, once again, we were not very lucky with the weather, as it rained all the time! Just as it had happened during our previous visit.
There are other temples to visit, like the Daiganji, but we particularly enjoyed visiting the Daisho-in – again!
It's a Buddhist temple, and there are 500 statues lining the steps to the temple, all of which have unique facial expressions! Fascinating!
And then, just wander around and enjoy the beautiful streets of this quiet island.
There are many little souvenirs shops and tea house/cafes worth exploring, especially on the main street (Omotesando).
There are also the Momijidani Park and Mount Misen (reachable by ropeway), but we didn't visit them because of the rain.
Miyajima is particularly beautiful during autumn, as there are plenty of maple trees (called momiji) that turn red. Just a hint to myself… 😉 As I do believe we will have to go back again to try and visit without the rain!!
FOOD
Miyajima is famous for its seafood, particularly for the local oysters. You can find them everywhere … even in the food stalls around the Itsukushima shrine.
Another typical food item is the momiji manju, a maple-leaf-shaped cake traditionally filled with sweet bean paste. There are also many non-traditional fillings available like custard – my favourite!
We also saw how they are made!
We also tried the deep fried version, which is to DIE FOR!!
We also had some amazing steamed buns filled with Hiroshima beef. Oh, they were so good!
If you are staying overnight, I highly recommend you eat at your ryokan and try a kaiseki dinner. We did (again!) and loved it (again!). The food is beautiful and delicious and an experience not to be missed. Scroll down to read more about our kaiseki dinner experience!
ACCOMMODATION
RYOKAN
In Miyajima, we stayed at Auberge Watanabe, a beautiful Japanese ryokan.
We had already stayed here in 2015 and we had absolutely ADORED it. The ryokan itself is beautiful, beautifully appointed and… well, simply perfect. But what stands it apart from other ryokans we stayed at is the warmth of the owners. They are simply AMAZING.
Our stay was once again perfect, even more so than the previous time if that could be possible. The owners came to pick us up at the peer and let us sit down at their café during the check in procedure, which was quite fast. They also gave us some delicious matcha tea and momiji manju, which helped to warm us up, as it was a bit cold and rainy.
It felt like meeting family again after being away for some time. We felt welcome and… cherished. I don't think there is a better word to describe it.
Not only… they asked our daughters if they wanted to play with their children and they welcomed them into their own house as if they were part of the family. This was a highlight of the trip for our children and they enjoyed the afternoon immensely!
Miyajima is quite small, so no matter where your accommodation is, you can easily walk almost everywhere. Auberge Watanabe is just in front of Daisho-in and a 5 minute walk from the Itsukushima Shrine. It is a family business, so it's not a huge hotel, so book in advance!
We got the same room as last time! It actually comprised of 2 Japanese style rooms, a bathroom (with a private onsen!), a toilet and a veranda!
The futons were laid down while we were having dinner…
We even had a Yukata each to wear for the night and all the usual toiletry sets you find in Japanese hotels, like toothbrushes and toothpaste, razors etc…
Booking was very easy. I sent an email directly to the hotel. They remembered us and gave us the room at the same price as 2 years before! Not only, they still had a list of our dietary requirements, so they took care of it perfectly without having to remind them. I found this extremely thoughtful on their part.
KAISEKI DINNER
As I mentioned before, Miyajima is a great place to experience a Kaiseki dinner in your ryokan. A Kaiseki dinner is a traditional multi-course Japanese haute cuisine dinner. It balances the taste, texture, appearance, and colours of food. Only fresh seasonal (and often local) ingredients are used and are prepared in ways that aim to enhance their flavour. The finished dishes are carefully presented on plates chosen to enhance both the appearance and the seasonal theme of the meal. The garnishes are beautiful too and they are often made with real leaves and flowers. It is an amazing experience both for your palate and for your eyes.
We ate in a private room in the ryokan.
We had a lot of food and even our kids had their little junior kaiseki dinner. It looked so pretty and it tasted even better. Their tray included a kumquat, beef and a skewer with egg and chicken.
My husband and I had some hot sake.
And we also had a very nice drink with yuzu peel in it to begin with.
Then the food started to arrive. We began with Sakizuke, an appetizer similar to the French amuse-bouche – spinach and fish.
Then we had Hassun, the second course, which is meant to set the seasonal theme, which in our case was winter. Our tray (sorry no picture!) was similar to the kids' one and it had miso grilled oyster, a local fish, potato and scallop, lily root, radish salmon and yuzu (this was amazing), umeboshi, eel and smoked duck (YUM). Everything was delicious.
Then we had Mukōzuke, seasonal sashimi – which included shell fish and a local fish that was so tender, it would melt in your mouth!
And tempura: stone fish. A full one. It looks amazing and it tastes even better! I was so impressed!
Then we had some AMAZING rare roast beef served with a dipping sauce and yuzu (did I already mention I LOVE yuzu?). The meat was so tender and juicy! This was a dish I don't think I will easily forget!
But the highlight of our dinner was definitely Yakimono: grilled fish head served with a sweet soy sauce. We had eaten this in 2015 as well and we had LOVED it. I had mentioned in one of my emails how much we had enjoyed our dinner and the fish head and the people at Auberge Watanabe were so kind to make sure it was included in our dinner this time as well! See what I mean when I say they are the perfect hosts??
The fish head was as delicious as we remembered! Tender and sweet and still the best thing we ate during the whole trip. My husband also had the fish eye, which apparently is a delicacy.
We also had some pickles, a warm fish and vegetable soup and rice.
And we finished off this amazing dinner with Mizumono, seasonal fruits.
And some Hojicha – roasted green tea.
What an amazing experience it was! Yet again!
We also had breakfast at the ryokan. We all had a western style breakfast which was delicious. The bread was particularly good and it was home-made at the ryokan.
I highly recommend Auberge Watanabe for the comfort and the beauty of the room, the warm and friendly service, the amazing attention to details, and the great location. I also recommend you eat there and try the Kaiseki dinner. It is a bit pricey, but it is absolutely worth every penny. It is an unforgettable experience for your taste buds and for your eyes and it was, yet again, one of the highlights of our holiday!
This is definitely the place where we will be staying again (and again!) on our next visit. It was hard to say goodbye to our hosts, it felt a bit like leaving family! But we will be back!
RESOURCES ON MSM
RECIPES:
TRAVEL IN JAPAN:
Nara & Fushimi Inari guide – Japan
Haru Cooking Class Kyoto – Japan Guide
Nagashima and Nabana no Sato – Japan Guide
HOW TO GET THERE
The easiest way to get to Miyajima is by Shinkansen till Hiroshima Station.
From there, take the JR Sanyo Line to Miyajimaguchi Station (25 minutes, covered by the Japan Rail Pass).
From Miyajimaguchi Station, it is a short walk to the ferry pier from where ferries depart frequently for Miyajima. If you have the JR pass, take the JR Ferry which is included in your pass. It takes 10 minutes by boat to get to Miyajima from Miyajimaguchi.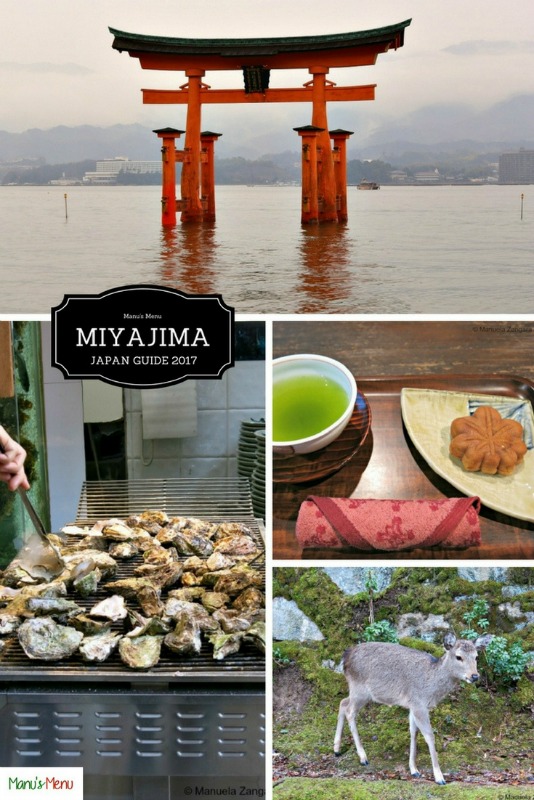 MAP

Related Posts: