I am so excited about today's post: Kurokawa Onsen – Japan Guide! Kurokawa Onsen is one of Japan's most attractive hot spring towns, located in the middle of Kyushu near Mount Aso.
We visited this little jewel in November (read all about our trip here), possibly the best time to go for the amazing autumn colours. I had wanted to visit this town for a while, and this time, we made it happen.
The town maintains a pleasant, traditional atmosphere: there are no massive concrete hotels like in many of Japan's other resort towns.
Instead, Kurokawa Onsen is made up of wooden buildings, earthen walls, stone stairs and a river flowing through. The town centre is small and easily explored on foot, except for a few ryokan which are located in the forests around town.
SIGHTSEEING
The town is full of ryokan, public bathhouses, attractive shops and cafes, a small shrine and bridges that lead over the river directly to ryokan entrances.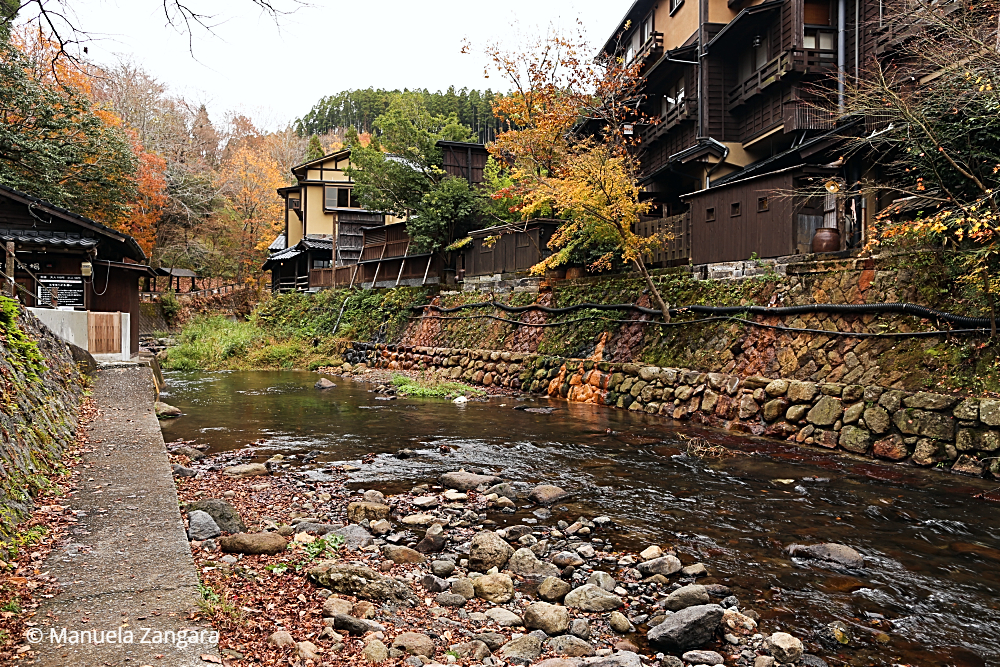 Kurokawa is not only known for its attractive town, but also for the outstanding outdoor baths (rotenburo) of its ryokan, some of which are located right beside a gushing river. The larger baths with good views are located a little bit outside of town, while some of the more central ryokan have smaller but historic baths, which were already enjoyed by the feudal lords of nearby Kumamoto Castle!!
While staying guests naturally have the opportunity to enjoy their own ryokan's baths as often as they wish, it is also possible to explore any other bath in town during daytime and engage in a so-called Rotemburo Meguri ("tour of outdoor baths"). You may also wear the yukata and setta sandals provided by your ryokan anywhere in Kurokawa, it`s the custom!
For this purpose, you can buy a wooden pass, providing admission to the baths of three different ryokan of your choice. It is available at the information centre and at the participating ryokan. You can also visit a single bath if you don't have enough time.
BEST BATHS
Yamamizuki
One of the best riverside baths in Japan, Yamamizuki's outdoor bath is located in the woods next to a picturesque mountain river. All pools are gender separated.
Hozantei
Located the farthest from the town centre, Hozantei offers another outstanding riverside bath surrounded by the forest in a pleasantly rustic atmosphere. The baths are gender separated.
Yamanoyado Shinmeikan
Central riverside location, popular outdoor sulfur spring baths set inside unusual, dark and steamy caves.
Iyashi no Sato Kiyashiki
Despite its short history, Kiyashiki and its baths feel very rustic and traditional. There is a nice variety of pools including an indoor bath, a wooden tub, a standing bath and a large outdoor bath surrounded by thick foliage. The facilities are gender separated except for the large outdoor bath which is mixed.
Kurokawaso
Kurokawaso features a huge outdoor bath that is surrounded by trees and has some views onto a cliff face. Additionally, there is a smaller outdoor pool and a spacious indoor bath. All bathing facilities are gender separated.
Oku no Yu
There is a wide variety of gender separated baths at Oku no Yu, including a steam sauna, a cave bath and a couple of outdoor pools with decent views of the river.
Yamabiko Ryokan
There are two outdoor baths available to daytime visitors. One of the baths is women only, while the other is men only, alternating on a daily basis. The baths are surrounded by rocks and plants.
Sato no Yu Waraku
Waraku offers two baths to daytime visitors: an outdoor bath and a unique rock cave, which are alternated daily between use by men and women.
Others
In addition to the ryokan baths, Kurokawa Onsen has two very simple public bath houses with small indoor baths: the Jizo-yu public bath has small, gender separated baths, while the Ana-yu public bath house has a small, mixed bath.
FOOD
Kurokawa Onsen is famous for its beautiful ryokan that traditionally also serve kaiseki cuisine. If you are staying overnight, I highly recommend you eat at your ryokan and try a kaiseki dinner (and breakfast). We did and loved it. The food is beautiful and delicious and an experience not to be missed. Scroll down to read more about our kaiseki dinner experience!
We also stopped at Patisserie Roku (closed on Tuesdays), a little bakery/pastry shops very famous (and for good reasons!) for its huge choux cream buns!
Look at that filling!
The shop itself is really cute and we also tried their custard/crème caramel! Yum!
ACCOMMODATION
RYOKAN
In Kurokawa Onsen, we stayed at Yamamizuki, a beautiful and traditional Japanese ryokan with amazing service.
I did a lot of research before choosing Yamamizuki. What mattered the most to me, in this case, was the quality of the onsen. I was looking for the best outdoor onsen with a view. I wanted to bathe and relax in the forest, surrounded by red maples. Well, let me tell you this. I got all of that, PLUS a gushing rivulet, a "rain of maples" and the singing of birds! PARADISE! More on this later.
We were welcomed at the bus stop and because we were early, we were "pre-checked in", our luggage sent to the ryokan and we were given a bag with all we needed to visit other onsens in town. Yamamizuki had an agreement with Yamanoyado Shinmeikan where we could bathe for free.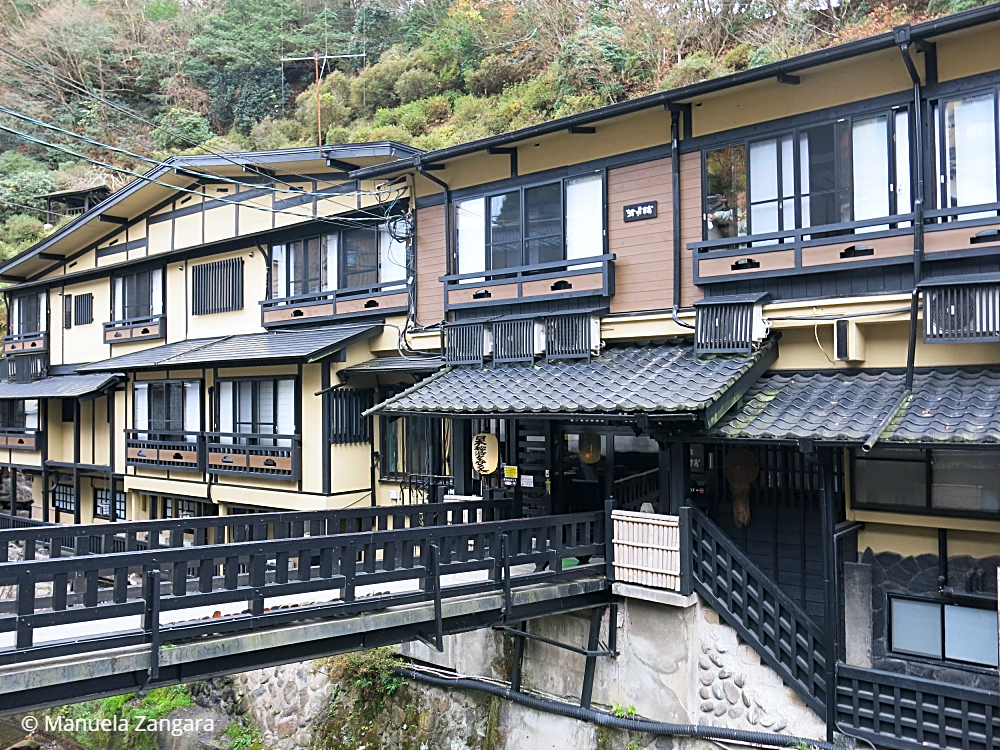 Yamanoyado Shinmeikan is famous for its cave baths. It was an interesting experience, however, I am very glad we did not stay the night. The cave baths were quite small and dark. The changing conditions were "rustic" to say the least, as there was only a small area in the open-air (it was FREEZING!) with a few baskets where to keep your clothes. It was quiet at the beginning, but when more people came, it made things a bit difficult. Anyhow, it was a fun experience and I would do it again. The pools are inside real caves, with a few "rooms"… the deeper in the cave you go, the warmer the water gets.
We then toured the town till it was time to check in. The people from Yamamizuki came to pick us up and took us to the ryokan by a minivan. At the ryokan, we were welcomed by 2 ladies who confirmed our dinner time and dietary requirements and took us to our room.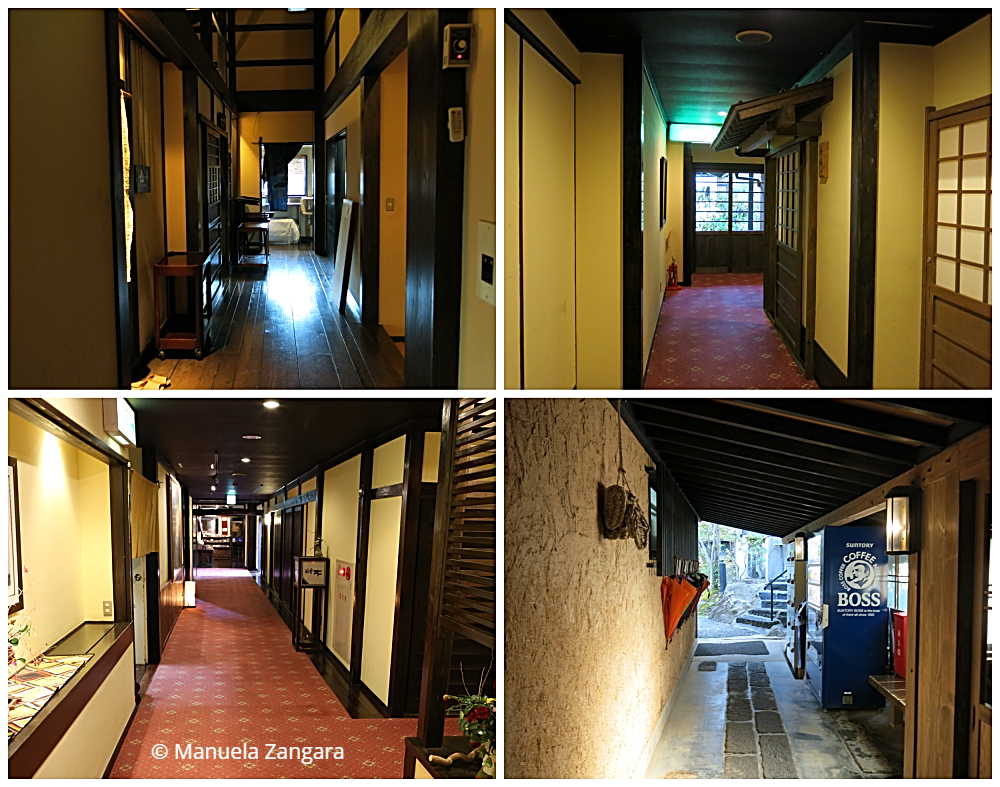 While they explained all the ryokan features, they also served us green tea and some sweets.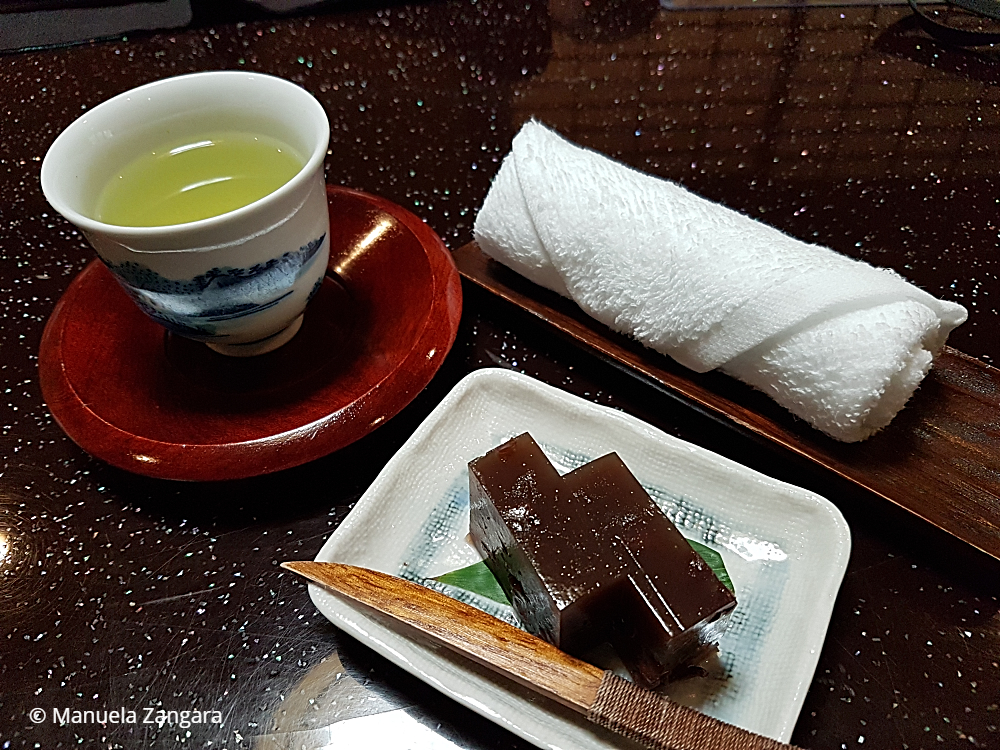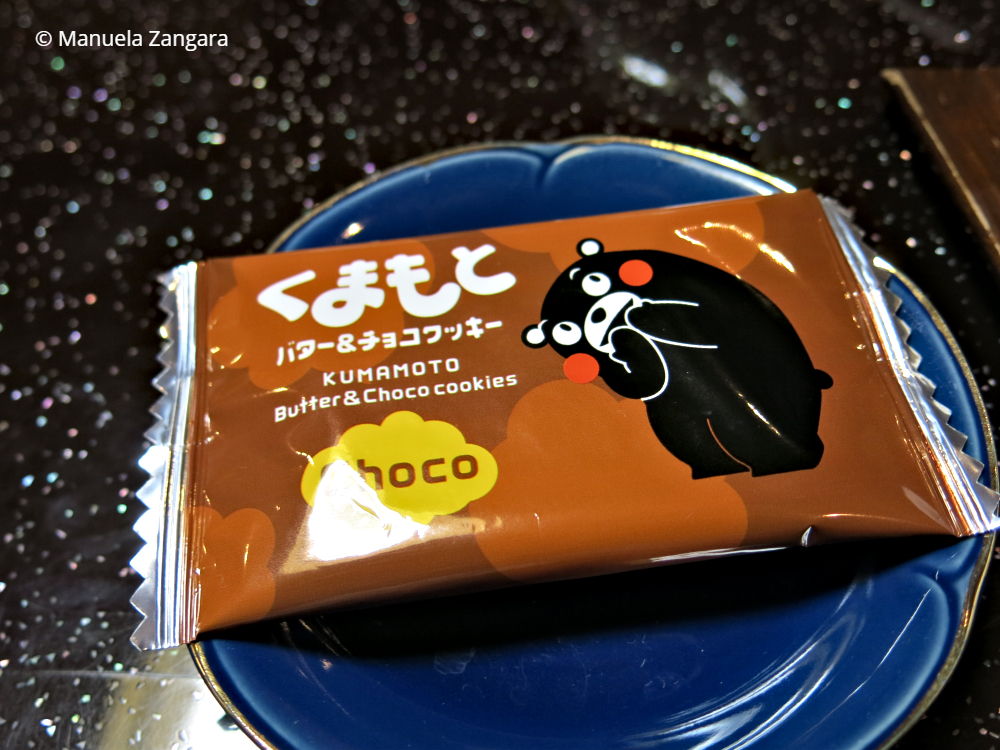 The room itself was AMAZING. It was not as HUGE as the one we had in Shuzenji Onsen, it had no shower, and it looked a little "older", but I loved the fact that we had a big veranda with a table and even an espresso machine (it's the Italian in me who is speaking now!).
The futons were laid down while we were having dinner.
We even had a Yukata each to wear for the night and all the usual toiletry sets you can find in Japanese hotels, like toothbrushes and toothpaste, razors etc…
The absolute best feature of our room though, it's the little private garden with the private outdoor onsen!
The onsen is amazing and it has the most beautiful view! You can see (and hear) the river while bathing and there are 2 red maple trees just in front of it! It's like paradise!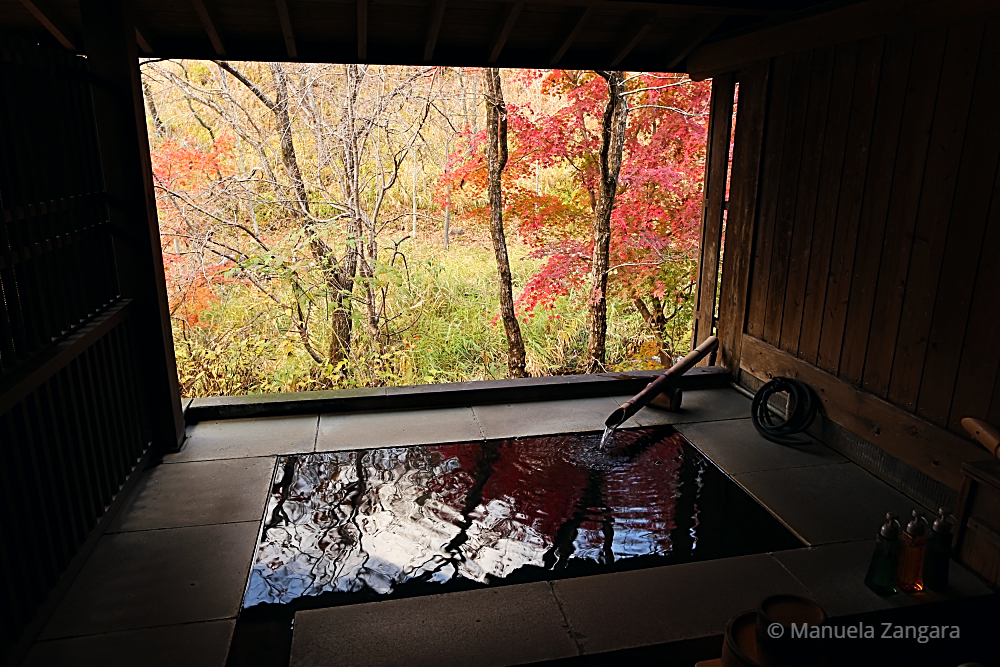 We immediately wear our yukata and hit the onsen! At Yamamizuki, there are 2 indoor baths and 1 rotenburo (outdoor bath). This rotenburo is the highlight and possibly the best one of Kurokawa Onsen. It is really big, near a river and surrounded by red maples. It's so peaceful and beautiful! There are only 2 other ladies beside us (and we will meet one of the two again in Yufuin!), while I am completely alone the next morning (such a shame I did not have my camera/mobile)!
The only somewhat annoying thing is that the indoor baths are in the same area as the rotenburo, which means you need to get out of the ryokan to bathe. This is ok on a good day, but it can be annoying if it's raining or very cold.
Staying at Yamamizuki also means you can use the baths at Miyama Sanso, just opposite. There are 2 indoor and 1 outdoor pools here as well and even though they are smaller than the ones at Yamamizuki, they are still very nice.
Booking was very easy. I booked through Japan I can and then sent an email directly to the hotel to explain my extremely restrictive dietary requirements that they accommodated perfectly!
KAISEKI DINNER
As I mentioned before, Kurokawa Onsen is a great place to experience a Kaiseki dinner in your ryokan. A Kaiseki dinner is a traditional multi-course Japanese haute cuisine dinner. It balances the taste, texture, appearance, and colours of food. Only fresh seasonal (and often local) ingredients are used and are prepared in ways that aim to enhance their flavour.
The finished dishes are carefully presented on plates chosen to enhance both the appearance and the seasonal theme of the meal. The garnishes are beautiful too and they are often made with real leaves and flowers. It is an amazing experience both for your palate and for your eyes.
We ate in a private room in the ryokan.
We had a lot of food and even our kids had their little junior kaiseki dinner.
We began with Sakizuke, an appetizer similar to the French amuse-bouche – seasonal "white" salad.
Then we had Hassun, the second course, which is meant to set the seasonal theme, which in our case was autumn. This looked spectacular! Our food included autumn swordfish sushi, steamed red pepper, lotus root, daikon radish, pumpkin, a beautiful jelly with fish and vegetables, black potato, tomato confit and sweet natto. Everything was delicious.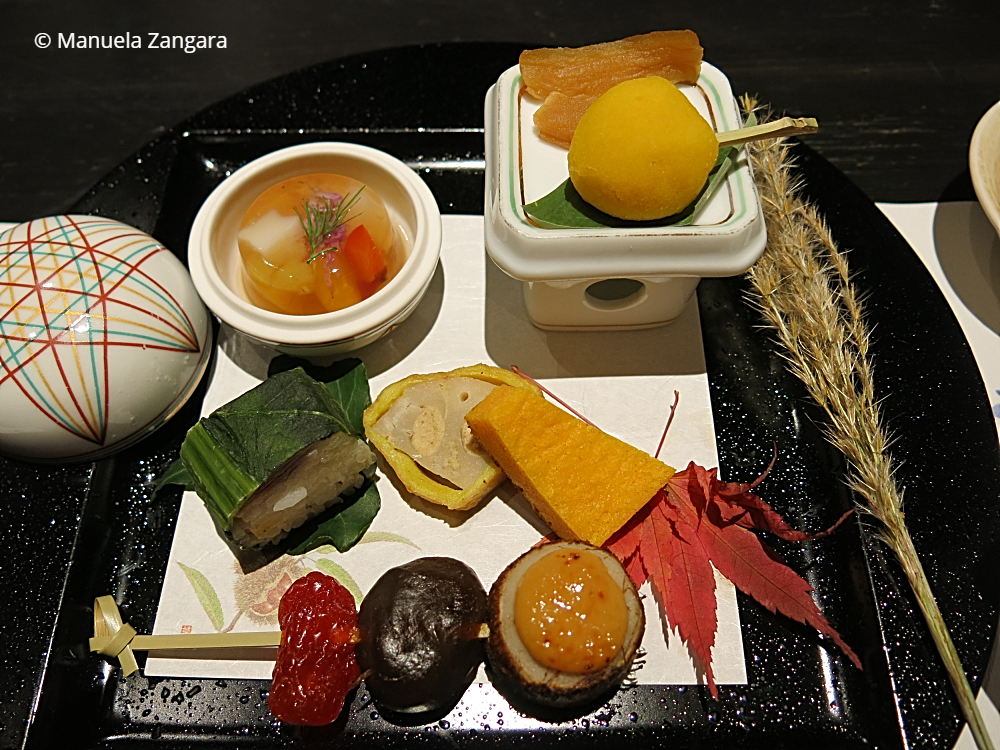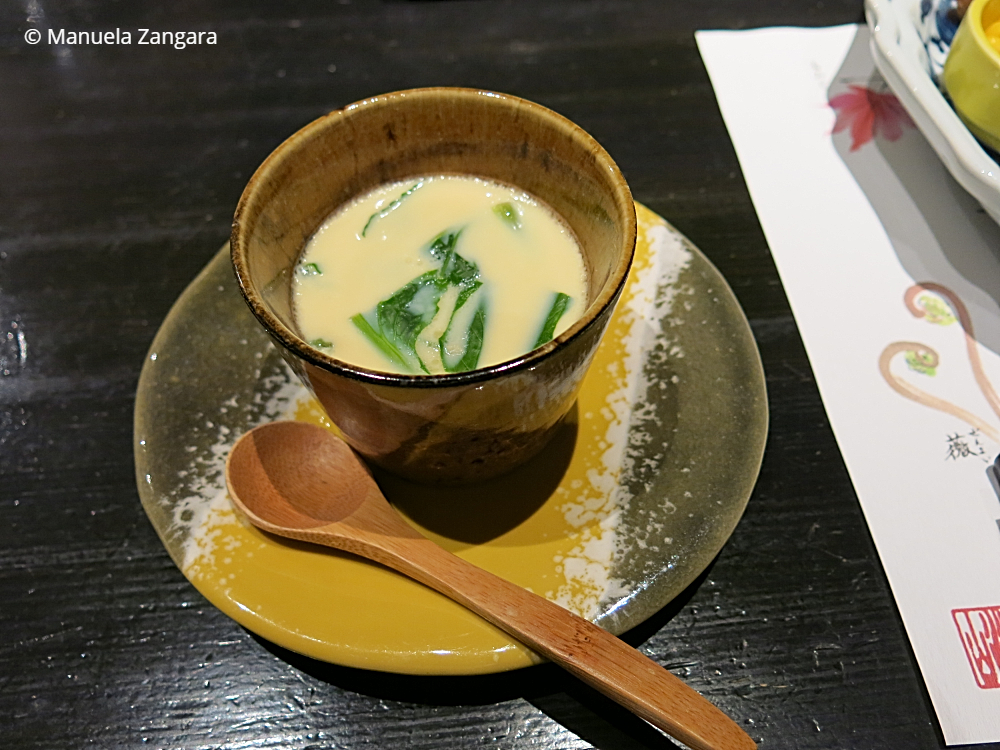 We also had a vegetable soup – vegetables braised in an earthenware teapot.
Then we had Mukōzuke, seasonal sashimi – which included sea bream and brook trout that was so tender, it would melt in your mouth!
Then we had simmered taro, pumpkin, and eggplant.
The most photogenic dish of all was the Grilled Ayu (river fish) served with a tempura of mushrooms and kaki/persimmons (which was one of the best thing I have EVER eaten!), roasted chestnuts and gingko beans.
Then we had Higo beef steak. The meat was so tender and juicy!
We also had a warm vegetable soup with dumplings.
We also had some pickles, warm soup and rice.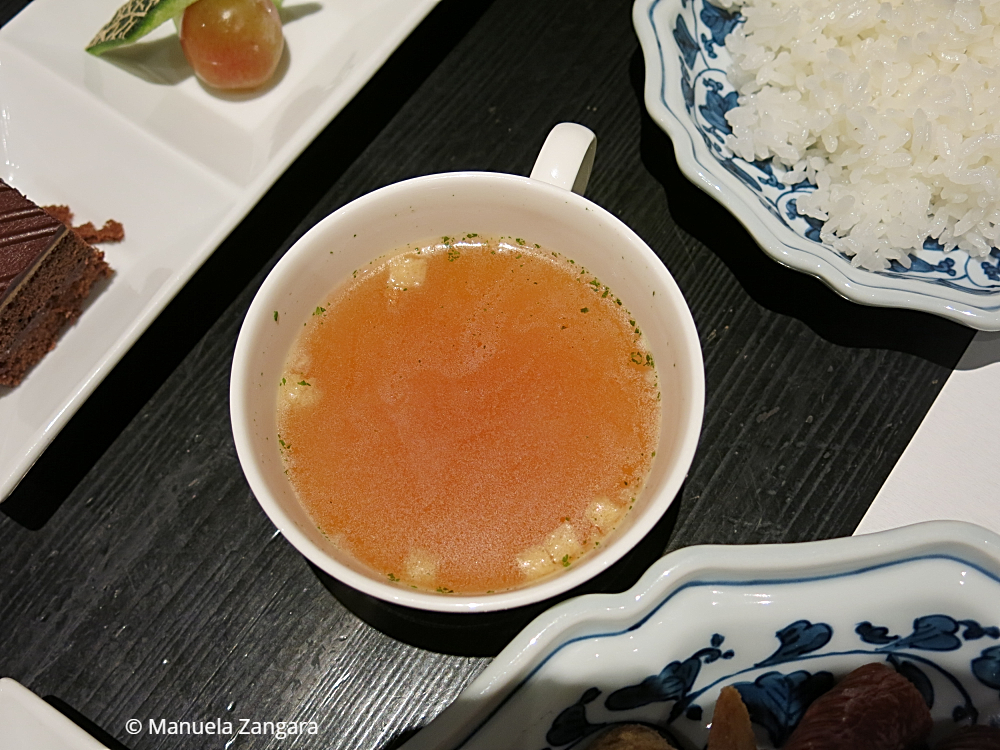 And we finished off this amazing dinner with Mizumono, ice cream and seasonal fruits.
What an amazing experience it was!
We also had breakfast at the ryokan. We all had a Japanese style breakfast (no choice here) which was delicious (but a bit overwhelming for the kids).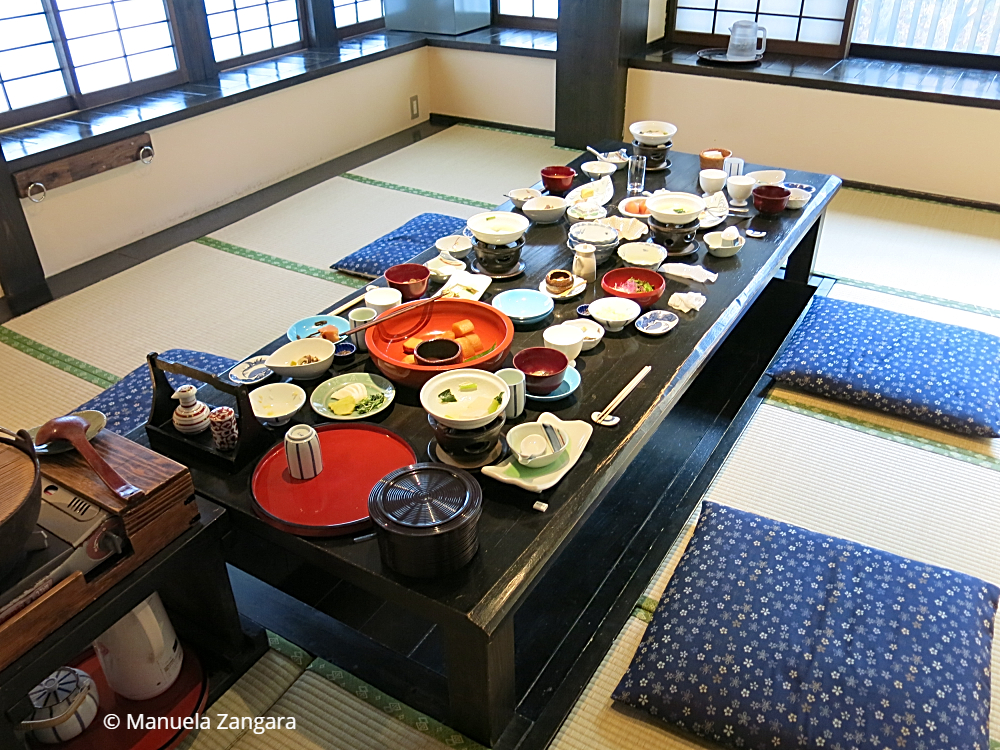 It included fish, tofu with soup, simmered roots and vegetables, pickles, rice, salad and eggs, including soft boiled eggs cooked in the onsen – Onsen Tamago – eggs with silky egg whites and custard-like yolk.
I highly recommend Yamamizuki ryokan for the comfort and the beauty of the room, the professional service, the amazing attention to details, and the beautiful location. I also recommend you eat there and try the Kaiseki dinner. It is a bit pricey, but it is absolutely worth every penny. It is an unforgettable experience for your taste buds and for your eyes and it was one of the highlights of our holiday! And if you like onsen… this is a MUST!
We would definitely be back!
RESOURCES ON MSM
RECIPES:
TRAVEL IN JAPAN:
Nara & Fushimi Inari guide – Japan
Haru Cooking Class Kyoto – Japan Guide
Nagashima and Nabana no Sato – Japan Guide
Jigokudani Monkey Park Guide – Japan
Miyajima Autumn 2018 – Japan Guide
Don't forget to pin this post!
HOW TO GET THERE FROM FUKUOKA/HAKATA
By highway bus
A direct highway bus runs twice per day between Fukuoka (Hakata Station, Tenjin Bus Centre and Fukuoka Airport) and Kurokawa Onsen. The one-way trip takes around 2.5 hours and is covered by the Sun Q Pass.
By train (for rail pass holders)
Kurokawa Onsen is not connected to the railway network, but Japan Rail Pass and Kyushu Rail Pass holders can save a few yen by boarding the above mentioned Fukuoka-Kurokawa highway bus at Hita instead of Hakata. Hita Station is accessed from Fukuoka's Hakata Station by direct limited express train (75 minutes) or by local trains via Kurume (100 minutes); both fully covered by the JR passes. The bus ride from Hita Bus Center to Kurokawa takes 70 minutes. There are two buses per day.
We opted for the second option – train + bus. We actually took a Shinkansen between Hakata and Kurume and then we boarded the cutest local train ever. It was a 2-car yellow diesel train!
We travelled through beautiful rural areas where you could see persimmon trees and rice paddies for kilometres. Apparently, Kyushu is famous for its persimmons. We even passed through Tanushimaru Station – the station looks like the beak of a Kappa, an aquatic Yokai/Monster/Spirit which is associated with the town.
MAP

Related Posts: