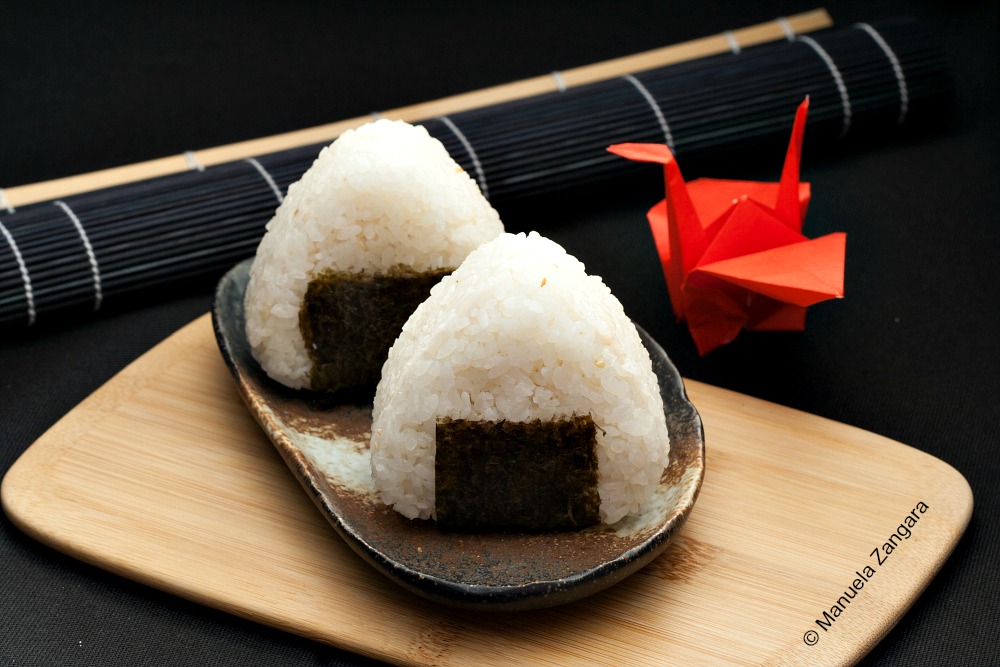 Today I am going to share with you one of my favourite Japanese recipes: Onigiri – aka Japanese Rice Balls. As you know, in the last 2 years, my family and I have visited Japan twice (check out my 2015 post and my 2017 post). We literally love the country and its food! Not only, I grew up watching Japanese anime and the characters would ALWAYS eat onigiri, especially at school or on picnics! So, after eating plenty of them in Japan, I decided to make them at home. And guess what? They are really easy to make!
You can either shape them by hand or buy a DAISO Simple Triangular Onigiri Rice Ball Maker
. The important thing is to use high-quality ingredients, especially the rice, which is king in this simple recipe. But what are onigiri exactly? They are rice balls/triangles filled with a variety of fillings and flavours. It's not sushi though, as they are made with plain steamed rice which, unlike the rice used for sushi, is not seasoned with vinegar, salt, and sugar. Onigiri make an ideal quick snack and are a fun alternative to sandwiches for lunch (think kids' lunchboxes!). These rice snacks are so popular in Japan that you can buy them anywhere, from supermarkets to convenience stores to specialty stores! The most common and traditional fillings include umeboshi (Japanese salty pickled plum), salted salmon, bonito flakes, salted kombu seaweed, and salted cod roe. However, nowadays onigiri fillings are more creative and my favourite is a simple mix of tuna and mayo, even though chicken karaage comes a close second! Have you ever had onigiri? What is your favourite filling?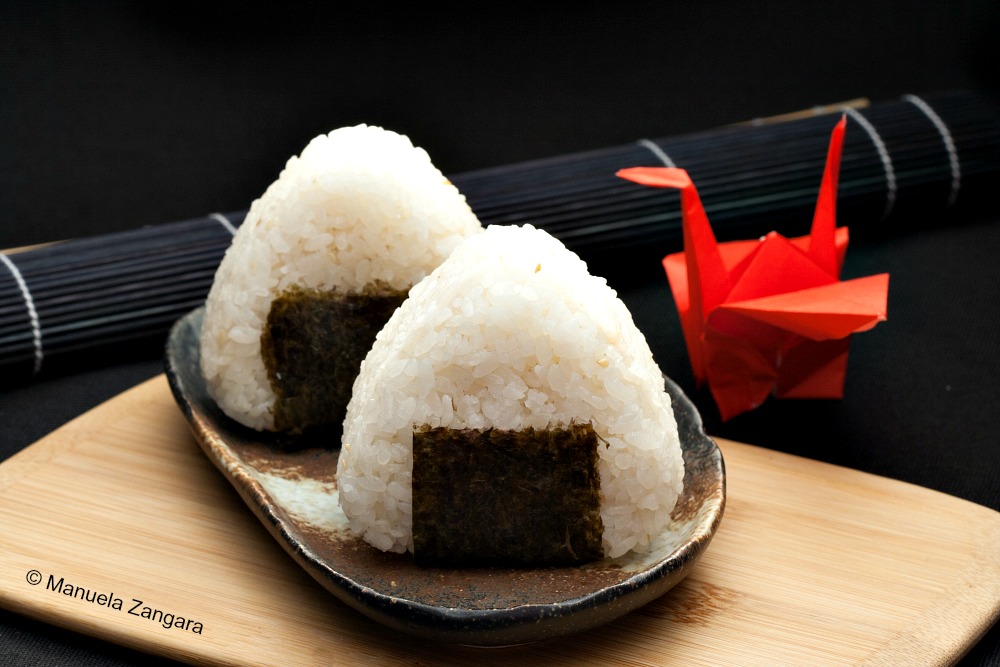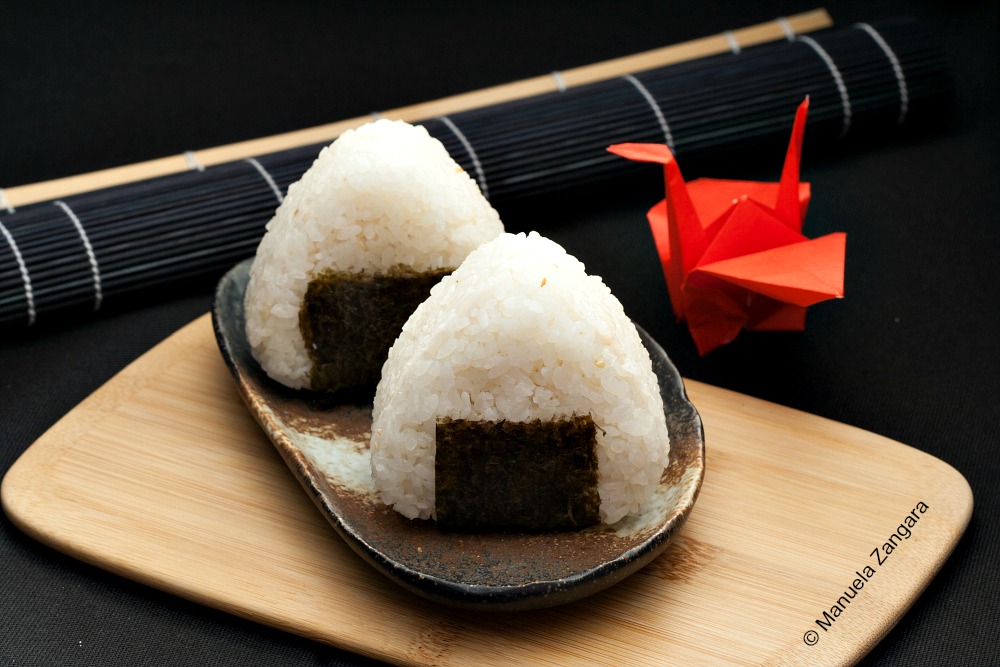 Onigiri
Onigiri - aka Japanese rice balls/triangles filled with a variety of fillings and flavours. They make an ideal quick snack and are a fun alternative to sandwiches for lunch.
Ingredients
100

gms

– 3.5 oz. sushi rice

1

tsp

salt

110

ml

– ½ cup scant water

30

gms

– 2 tbsp canned tuna

drained

1

tbsp

Japanese Mayo

1 ½

tsp

sesame seeds

toasted

Nori strips
Instructions
Wash the rice very well under cold water. Make sure the water comes out transparent at the end of the wash.

Put the rice in a large bowl and soak it for 30 minutes.

After the 30 minutes have passed, drain the rice and put it in a pot. Add the water and salt (if you will be using a mould to shape your onigiri) to it. Cover it with a tight lid and put it on a high flame until it starts to boil, then simmer it on low for 10 to 12 minutes or until all the water has been absorbed.

Add the toasted sesame seeds and mix well.

Let the cooked rice cool a little bit until you can hold it without burning your hands. However, do not let the rice cool down completely or it will harden.

To shape the onigiri by hand, wet both your hands with water in order to keep the rice from sticking to your hands.

Then put some salt on your hands and rub it to spread all around.

Scoop out a handful of warm rice (about ½ cup) into one hand. Using the other hand, make an indentation in the rice and put half of the filling inside. Press the filling into the rice.

Then use your hands to mold and press the rice around the filling to gently form the rice into a triangle. Shape the bottom with your left hand and the top corner with your right hand. I use three fingers (thumb, index finger, middle finger) to cover the area to make a nice triangle shape. Pressing the triangle into the palm of your left hand, squeeze each corner of the triangle with your right hand. Your hands should be just firm enough so the onigiri doesn't fall apart. You don't want to squeeze the rice too tight.

If you have an onigiri mould, simply fill it half-way through with rice, add the filling in the middle, cover with some more rice and press down to shape. In this case, add 1 tsp of salt to the rice while cooking it.

Serve immediately or wrap with plastic wrap.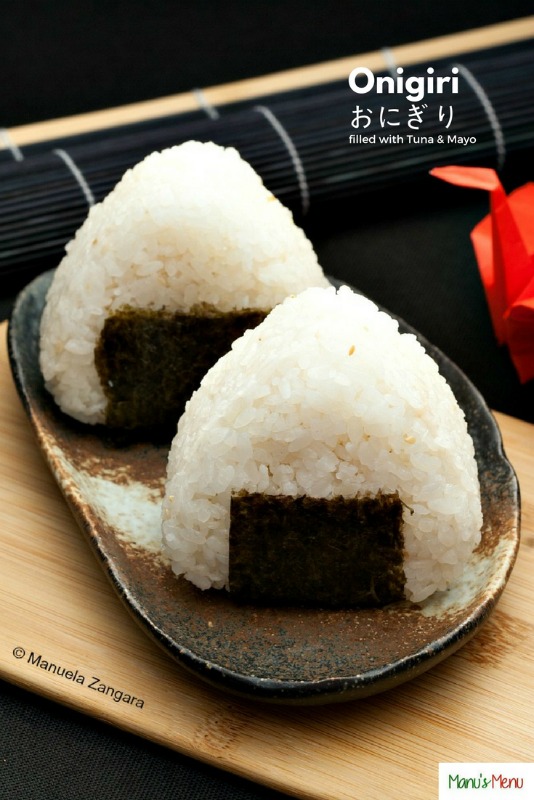 *In the spirit of full disclosure, this post contains some affiliate links, which means that I may get a commission if you decide to purchase anything from Amazon.com. I only recommend products that I use and love myself, so I know you'll be in good hands.

Related Posts: