Every time we go back to Japan, we fall in love with a few new places. Nagasaki is definitely one of them and today I will tell you a little bit about this beautiful city on the southern island of Kyushu.
Nagasaki is an attractive city and one of Japan's closest ports to the Asian mainland. This meant that Nagasaki played a prominent role in foreign trade relations for many centuries and was the most important of only a very few ports open to restricted numbers of foreign traders during Japan's period of isolation.
In more recent history, Nagasaki became the second city, after Hiroshima, to be destroyed by an atomic bomb towards the end of World War II.
SIGHTSEEING
There are plenty of things to see, so we decided to spend 2 nights there. We were supposed to have 1 and a half day to explore the city, but for "train reasons" (I will explain this later, so keep reading!), we ended up arriving late in the afternoon and we only had a full day. We started off very early in the morning, and we still got to see all we wanted. However, a half day more would have been good. Keep that in mind when planning your trip.
Nagasaki is not your "usual" Japanese city. Thanks to its history and geographical position, it's been in touch with both Asia and Europe for many centuries and you can see that very well in the sights that have been saved (or rebuilt) after the bombing. Also, it's built on many hills, so you have stairs everywhere!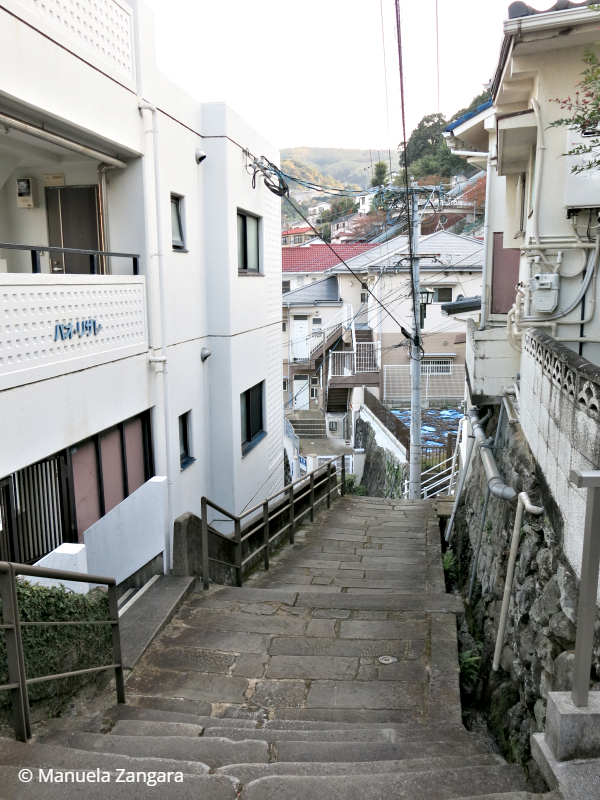 Meganebashi – aka the "Spectacles Bridge"
We started our day by stopping by Meganebashi. This is the most remarkable of several stone bridges on the Nakashima River. The bridge gets its name from its resemblance to a pair of spectacles when reflected in the river water.
The bridge was originally built in 1634, but it was badly damaged by floodwaters in 1982. However, it has since been repaired with recovered stones.
Nagasaki Peace Park
The next place we visited was the Nagasaki Peace Park. It is a quiet place that commemorates the atomic bombing of Nagasaki on the 9th of August 1945, which destroyed a significant portion of the city and killed ten thousands of people.
The Peace Park is made up of 2 parks, a museum, and a memorial hall. I really liked it. It is smaller than the Hiroshima one, and it almost feels like its "less-famous" cousin. However, this also makes it "cozier". I was able to "feel" more than just "see". It's less monumental and more spiritual.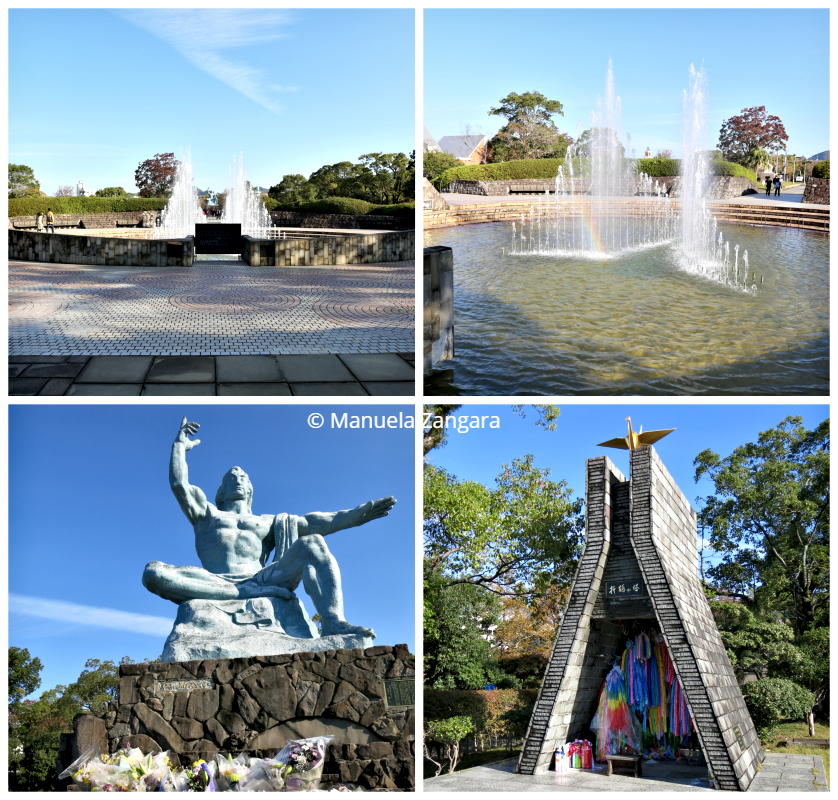 Memorial Park
This park contains the iconic Peace Statue, a large fountain and various other memorials presented to the city by various governments and groups from across the world.
The Fountain of Peace was built as an offering of water to the atomic bomb victims who suffered from horrific burns. The water sprays up into 2 wings that resemble the wings of a dove, a symbol of peace.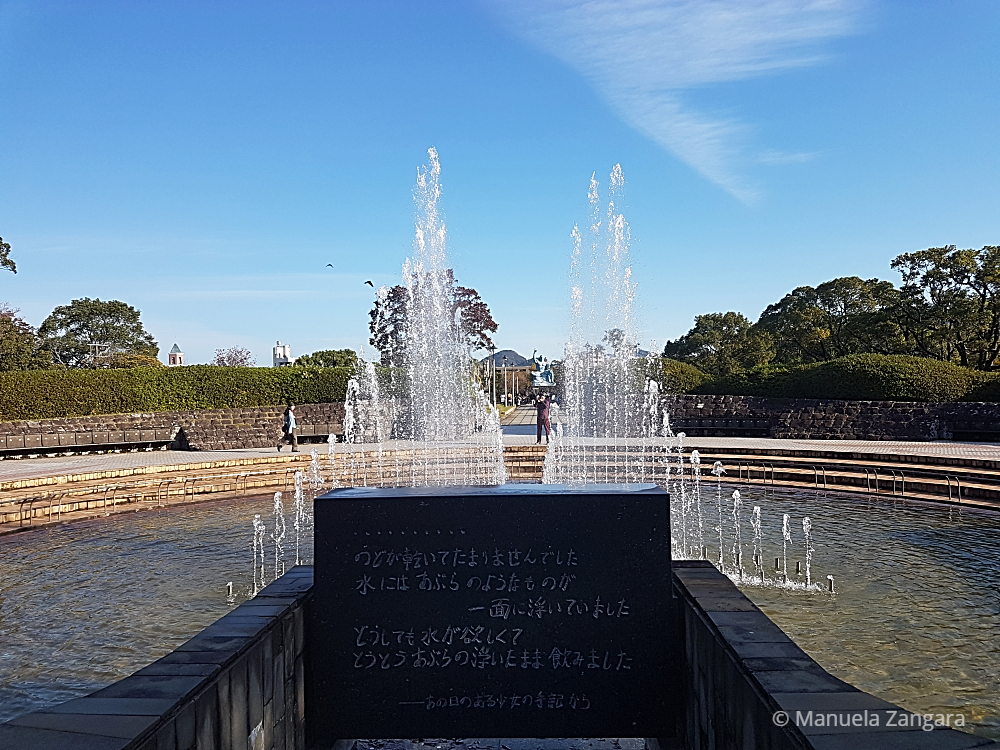 Water is a recurrent them in the park. This monument had lots of water bottles to remind us of the terrible thirst the victims of the bombing were feeling.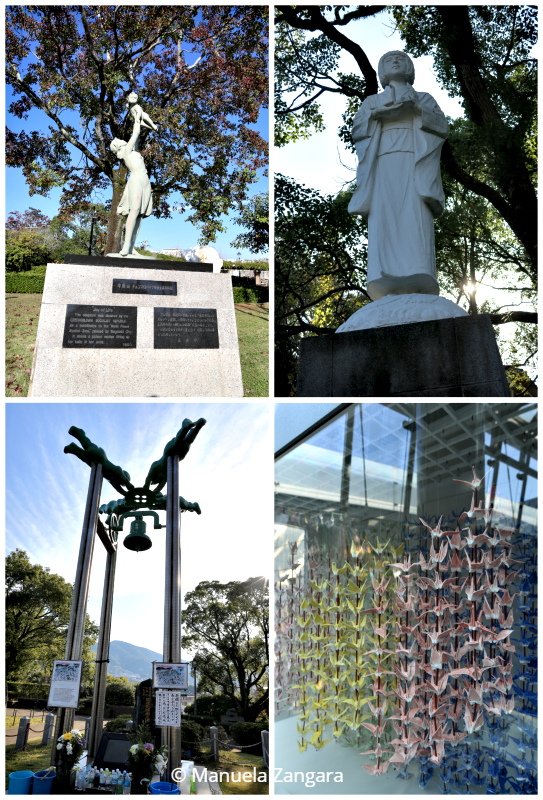 The Peace Statue is 10 metres tall. The man's right hand is pointing at the bomb, while his left hand is indicating peace, while the face looks like he's praying. The man has no race, it's a universal figure.
We were lucky enough to be present for a ceremony held by the students of a high school from Tokyo who came for a visit and to honour the victims.
Nagasaki Atomic Bomb Museum
The Nagasaki Atomic Bomb Museum is located on a hill and, even though it is smaller than the Hiroshima one, it is still very moving.
You can see remains and ruins from the bombing.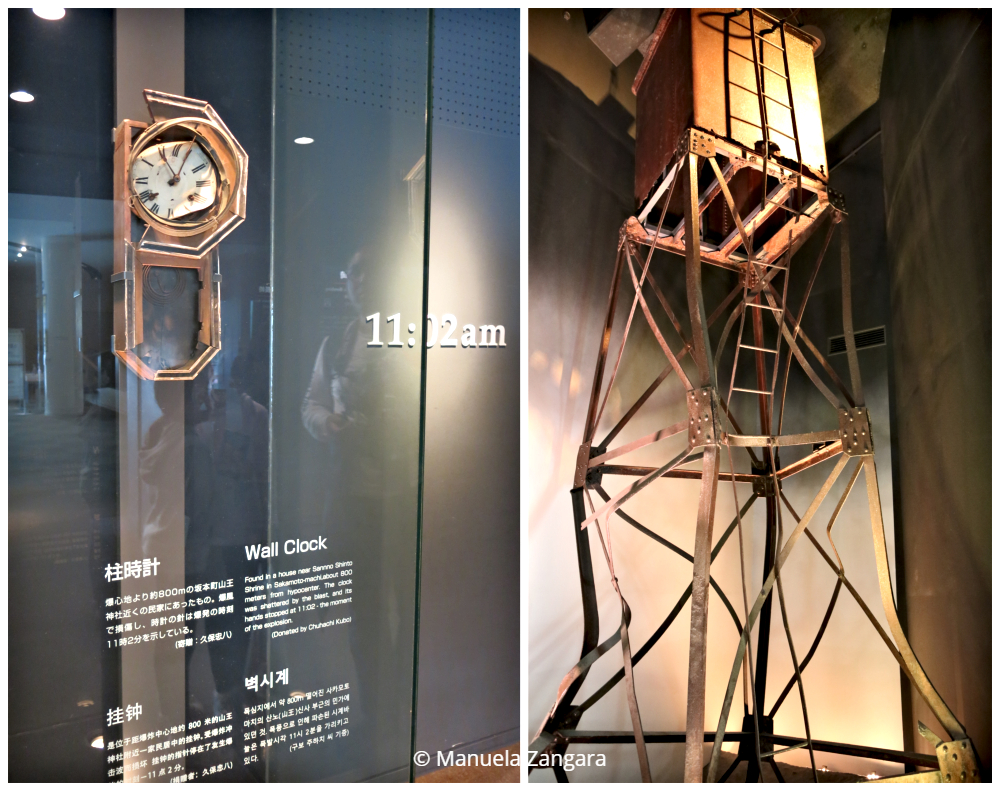 Including the remains of the Urakami Cathedral, one of the largest churches in East Asia.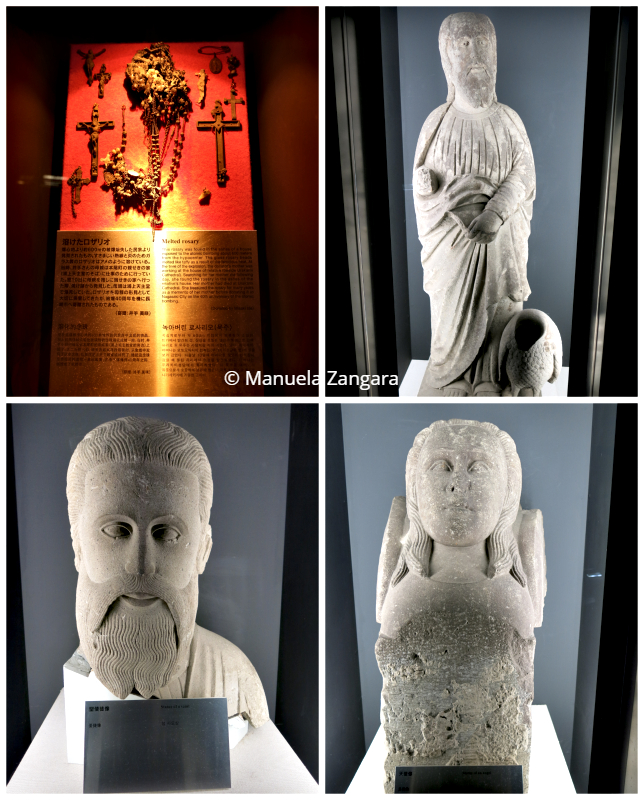 Burned clothes and melted objects.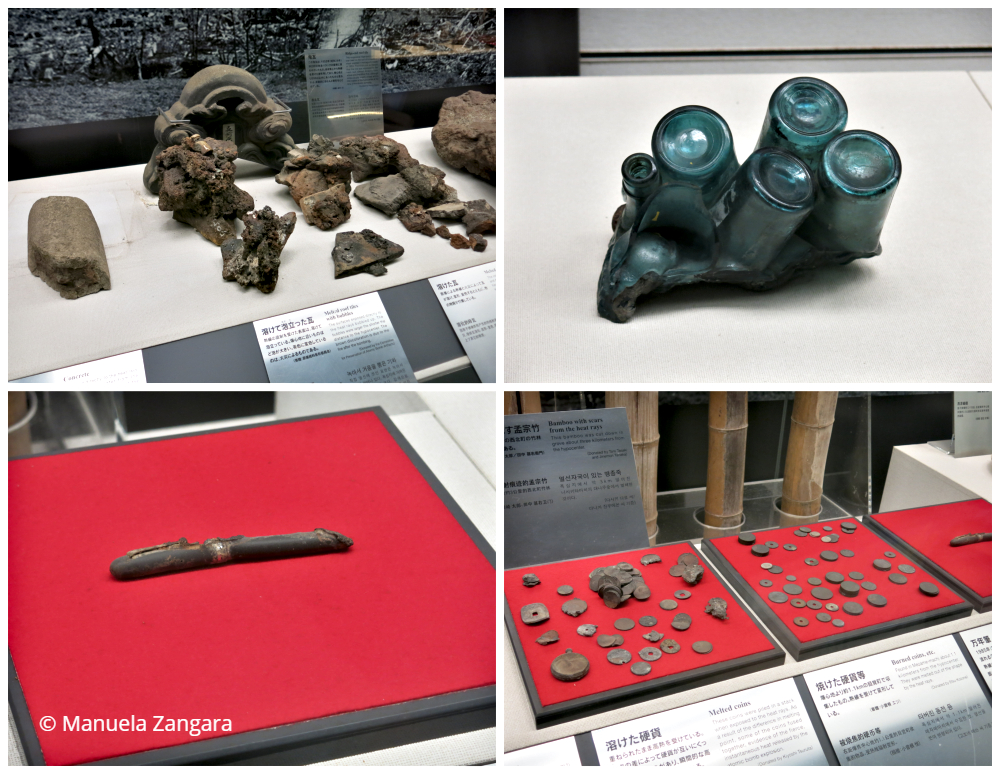 The shadows of leaves on a wooden wall…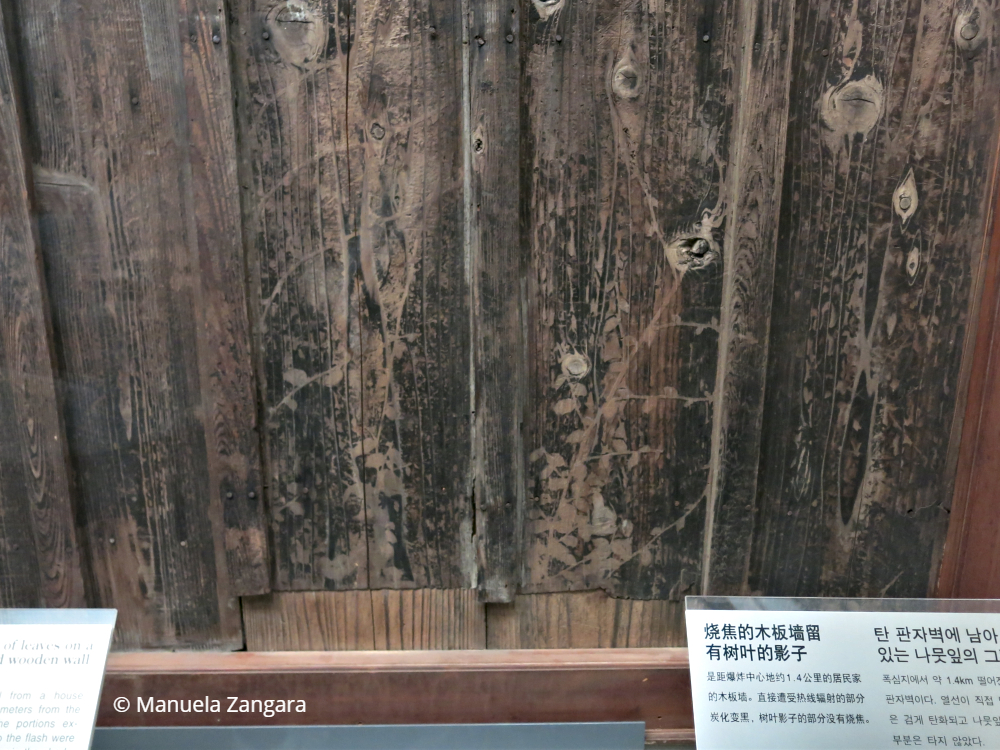 And carbonised rice in a lunchbox.
There is even a reproduction of the bomb itself.
It's also interactive and you can even touch some of the things.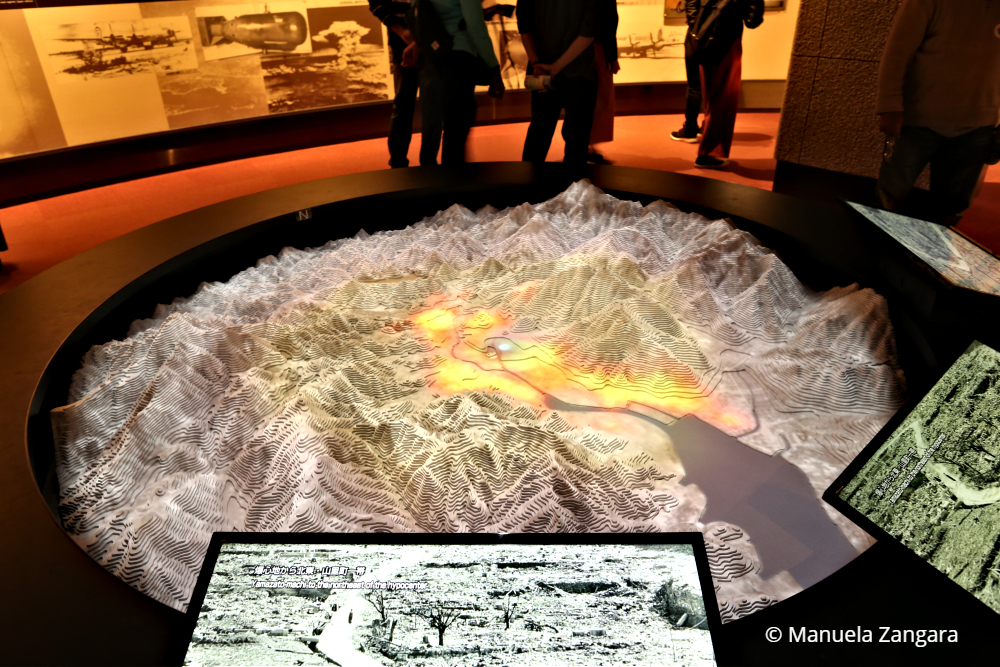 Memorial Hall for the Victims of the Atomic Bomb
Next to the museum, there is a beautiful and very moving memorial hall for the victims of the bombing. It has an interesting modern architecture. The hall is located mainly underground and its design involves water and light.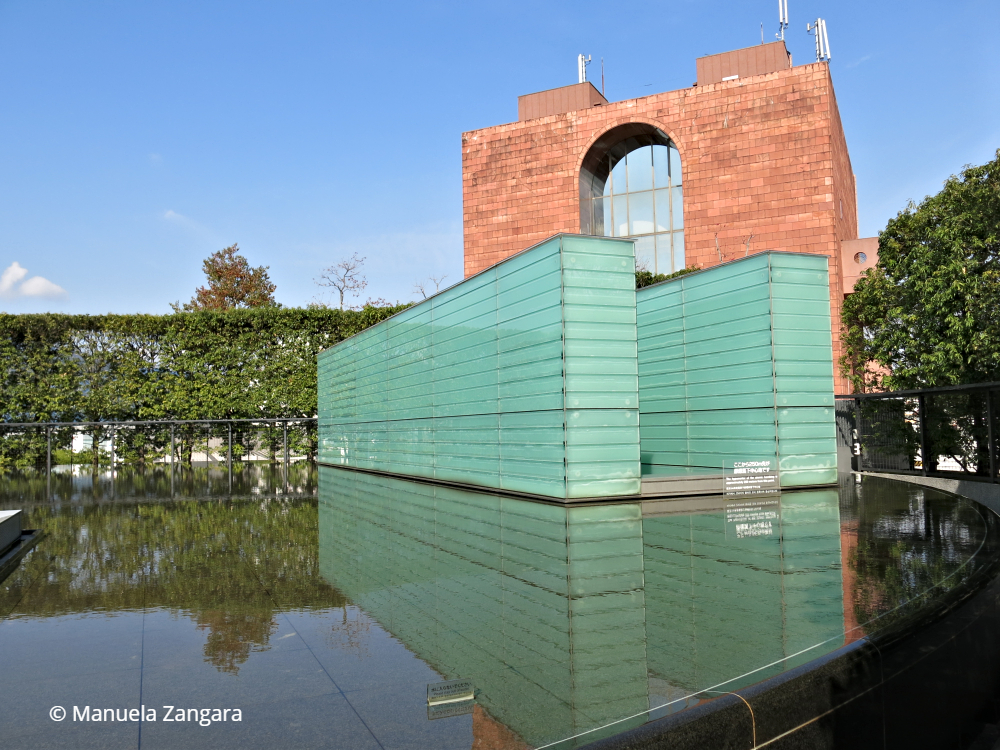 In this hall, there are the books where all the names of the people who died are kept. Out of 240,000 inhabitants, 150,000 were killed by the atomic bomb.
Hypocenter Park
Nearby, you can visit the Hypocenter Park with a simple, black monolith that marks the explosion's epicenter.
Not far from it stands a damaged pillar of the former Urakami Cathedral which was destroyed in the blast.
There is also an area that allows visitors to take a look at a layer of soil below the park's surface where broken roof tiles, bricks, and pieces of glass remain from the explosion.

This area is near the river that was filled with corpses that day. This was possibly the most moving part of it all, probably because it was "outside" and not inside a museum.
I highly recommend you visit this part of town. It's north of the JR station, in the Urakami area, but it's a really moving experience and absolutely worth a visit.
Sanno Shrine
After visiting the Peace Park, we walked to the Sanno Shrine to see the "one-legged" torii. The torii was damaged by the atomic bomb, but it's still standing on one leg after all these years!
Dejima
Then we went to Dejima. This was a man-made island in the port of Nagasaki, built in 1636 to segregate Portuguese residents from the Japanese population in order to control their missionary activities.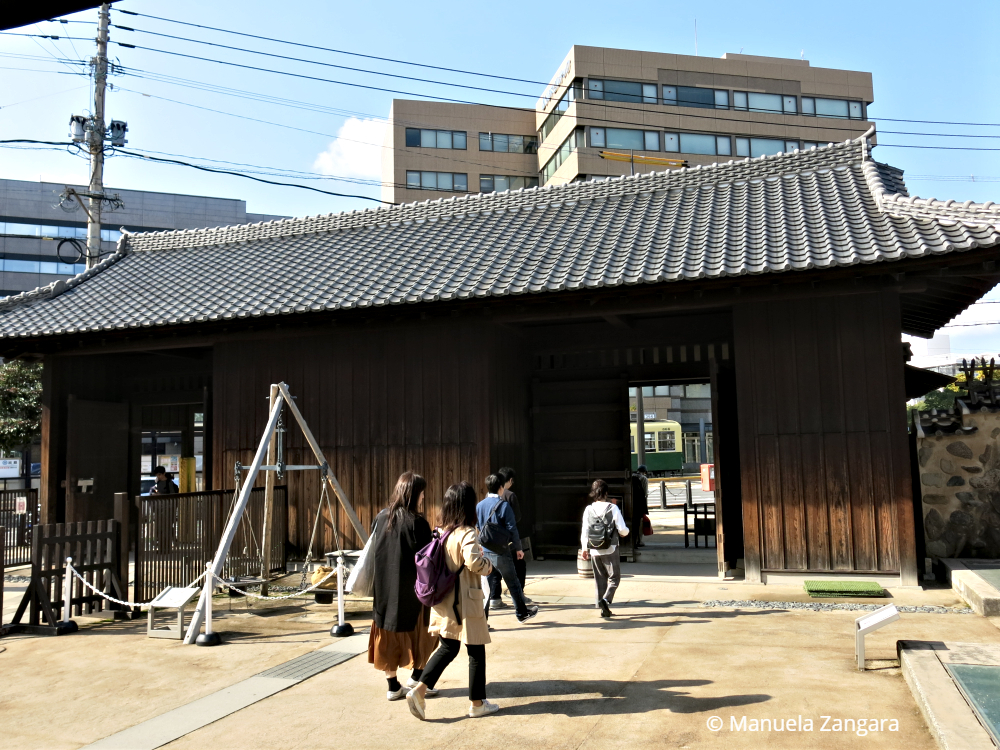 A few years later, the Portuguese were expelled from Japan, and the Dutch Trading Station, formerly located in Hirado, was moved to Dejima. The Dutch were restricted to Dejima during Japan's two centuries of isolation and they were the only Westerners allowed in the country.
Today, Dejima is not an island anymore. However, a number of Dejima's historical structures remain or have been reconstructed in the area, including various residences, warehouses, walls, and gates.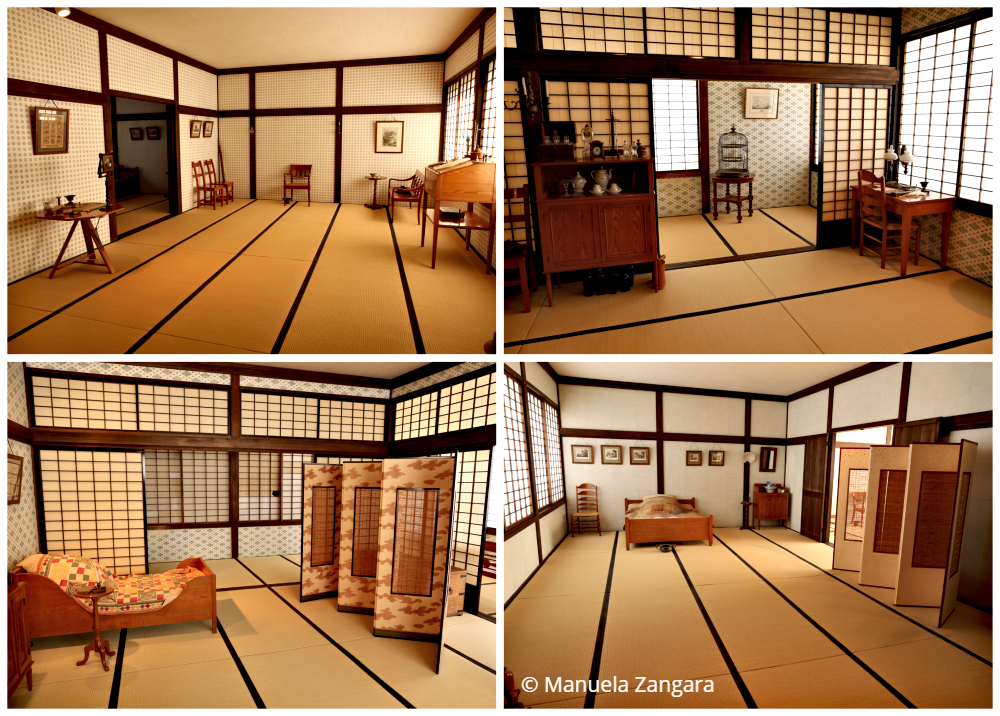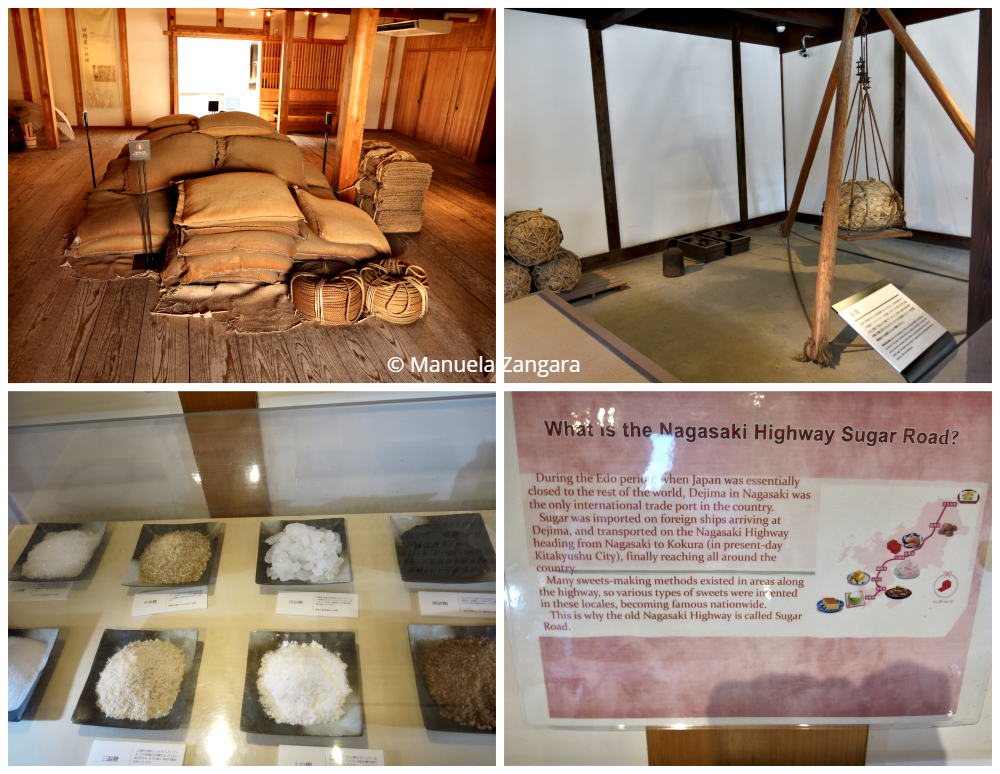 It is a surreal experience, it almost feels like being in Europe!
Oranda Zaka – Dutch Slope
The Dutch Slope is a stone-paved street leading up a hillside in Nagasaki where many foreign traders resided after the opening of the city's port to foreign trade in 1859. Because the Dutch were the only Westerners allowed in the country for the preceding two centuries, "Dutch" referred to everything Western for a while.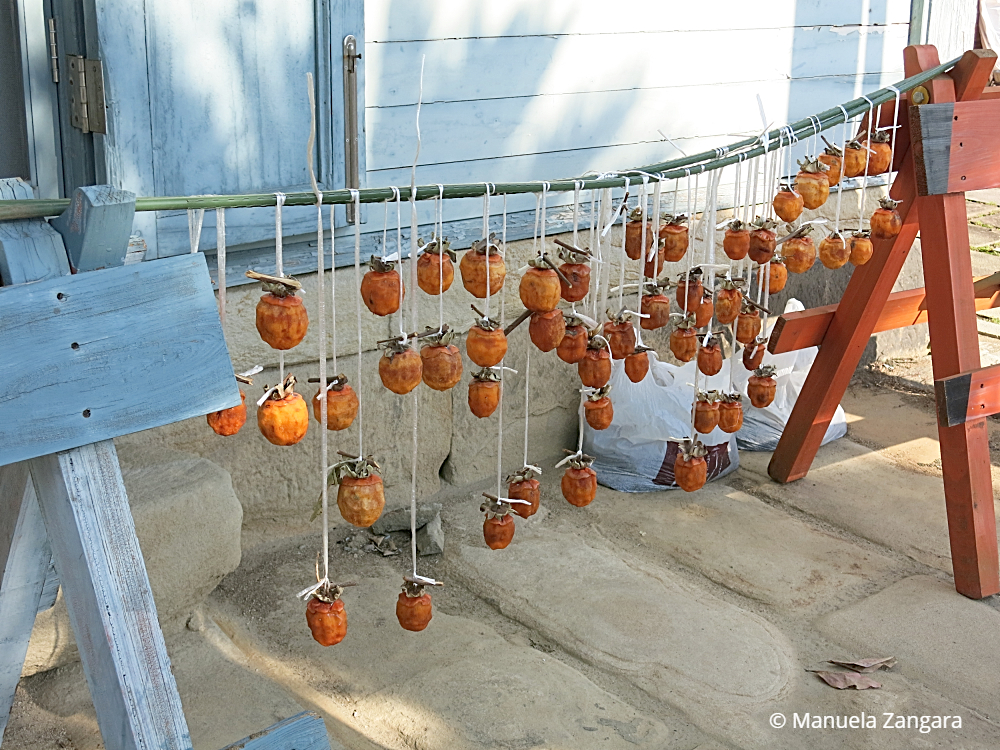 A few former residences remain in the area today. Among them, the Higashi Yamate 13 is open to the public, with much of the old furniture and original room layouts remaining.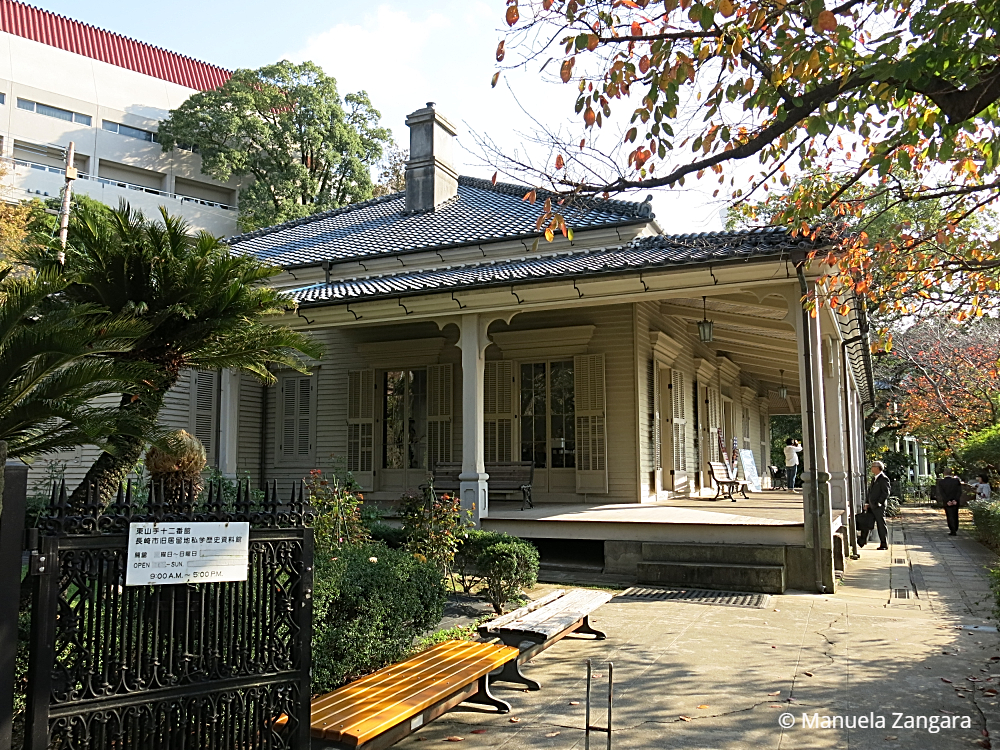 Chinatown
Nagasaki Shinchi Chinatown is the oldest Chinatown in Japan. The district in downtown Nagasaki stretches over approximately one city block dissected by intersecting lanes and is home to a variety of shops and restaurants. It is the best place to eat Nagasaki's famous, Chinese-influenced dishes, Champon and Sara Udon (see below).
Confucius Shrine
Nagasaki Confucius Shrine was built in 1893 by Nagasaki's Chinese community. The colourful, atmospheric shrine also contains the small (but very interesting) Historical Museum of China at the rear of the grounds. The museum contains various artefacts from China, including pottery, sculptures and even 2 bricks from the Great Wall.
A small garden with a bridge and pond greets visitors at the entrance.
The ornate Chinese-style buildings are adorned with yellow roofs. Flanking the shrine's courtyard are the 72 sages, life-size stone statues that depict Confucius' disciples.
In the centre of the courtyard stands the main hall that houses a seated statue of Confucius.
Oura Church
Oura Church is a Catholic church built towards the end of the Edo Period in 1864 by a French missionary for the growing community of foreign merchants in the city, it is considered the oldest standing Christian church in Japan.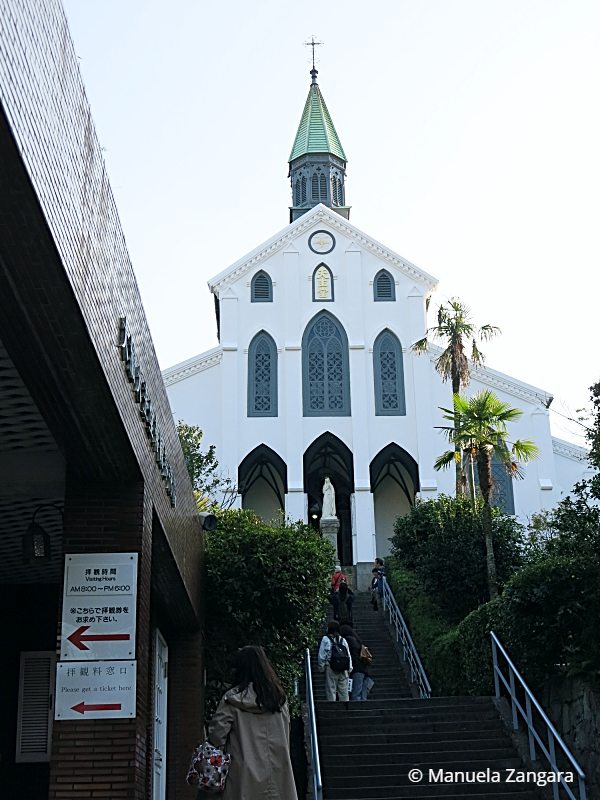 The Church is dedicated to the memory of the 26 Christians martyrs who were executed in the city in 1597.
Glover Garden
Glover Garden is an open air museum that exhibits mansions of several of the city's former foreign residents. It is located on the hill where Western merchants settled down after the end of Japan's era of seclusion in the second half of the 19th century.
You can also visit the houses inside and see the original furnishing.
The view is just amazing. You can see the city and the bay from here.
Apparently, it's also a popular place for weddings.
There are also plenty of references to Puccini and his Madame Butterfly that was set right here in Nagasaki. There is even a piece of paper with part of Madame Butterfly's lullaby (ninna nanna) written by Puccini himself. It feels a bit surreal to see a piece of Italian culture so far away! It makes me quite proud to be Italian.
The main attraction of the garden is Glover House, the oldest Western-style wooden building in Japan. Thomas Glover was a Scottish merchant who moved to Nagasaki after the opening of its port to foreign trade in 1859. Active in various industries, Glover features prominently in the early history of Japan's industrialisation.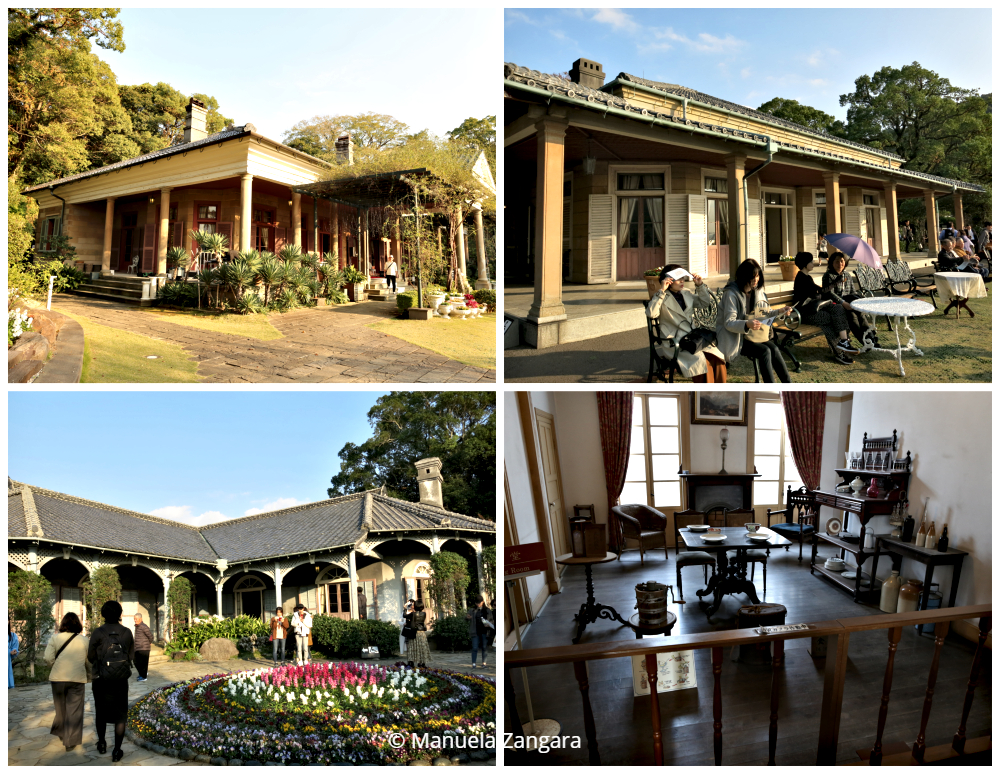 The last thing we saw were the floats and boats used for the Nagasaki Kunchi festival of Suwa Shrine, held annually on October 7th-9th. The festival incorporates different aspects of Chinese and Dutch cultures, presenting traditional Japanese dances, Chinese influenced dragon dances and performances involving large floats, many of which are shaped like ships.
FOOD
Nagasaki's long history of international trade has greatly impacted the local food culture which has its own unique local character. Nagasaki's cuisine combines Japanese, Chinese, and Western flavours.
Dishes to Try
Shippoku ryori
Shippoku ryori is one of the best examples of the various multicultural influences in Nagasaki's cuisine. It combines elements of Chinese, Dutch, and Portuguese cooking and fuses them together with Japanese sensibility. Common dishes include red snapper fin soup, braised pork, fried chicken, and tempura eaten around a red lacquered table similar to a Chinese family-style meal.
Champon
Champon is a local dish made with vegetables, meat, seafood, and springy udon noodles stir-fried together in a thick soup for a cheap and filling meal. Champon can also be served over a bed of deep-fried noodles to make the local dish sara-udon.
Goto udon
Goto udon is a noodle dish named after the Goto Islands, in Nagasaki prefecture. Goto Udon is known for its thin, round shape made by hand-pulling the noodles, which have a faint aroma of camellia flower as the dough is coated in camellia oil for stretching. The noodles are boiled and then served with soy sauce or a dashi dipping sauce made with local fish.
Castella
Castella is a sweet made with eggs, flour, and sugar that was brought to Japan by the Portuguese during the 16th century. These small cakes are enjoyed all over the country and are a typical street food sold at outdoor festivals, but Nagasaki is considered the birthplace of castella. Nagasaki's own variety is called momo castella, and it's a small cake decorated with frosting to make it look like a peach.
Unfortunately, we could not try any of the above dishes. We had dinner at the YouMe shopping centre as the kids were craving Western food. I instead, had some delicious sushi from the depachika.
ACCOMMODATION
In Nagasaki, we slept at Hotel Monterey.
The hotel is in a fantastic spot. It's basically opposite Oranda-zaka, and very close to Oura Church and Glover Garden. The tram stop (O-Urakaigandori – line 5) is 2 minutes away and that's very convenient too. You do need to change at Shinchi Chinatown to go to the station, but it's very easy.
The hotel's décor emulates the atmosphere of Portugal. The walls are adorned with blue tiles, expertly painted by Portuguese craftsmen, providing a colourful atmosphere. It does feel like being in Lisbon!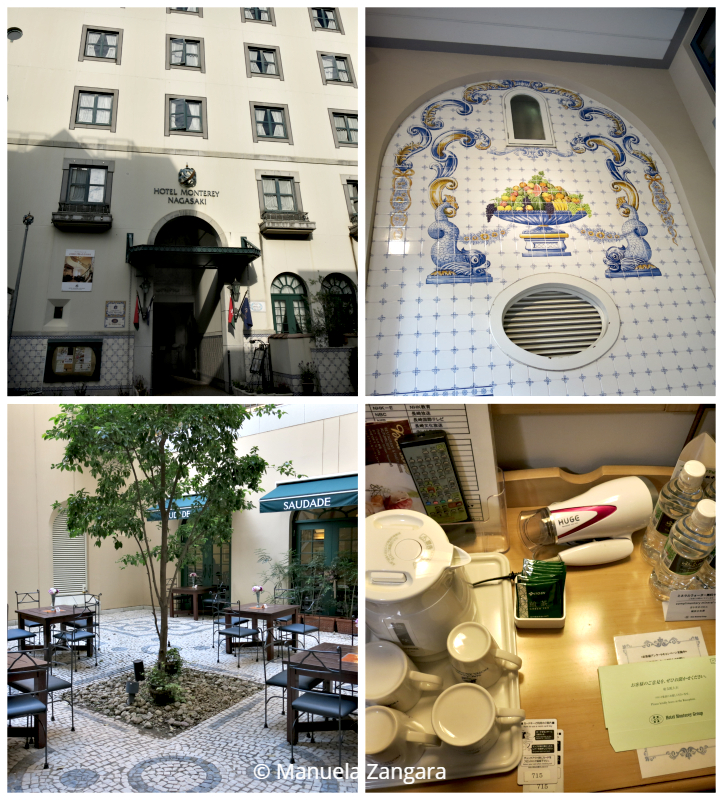 We had a quadruple room and it was a decent size for Japan. The beds were really comfortable and it was very reasonably priced!
Also the bathroom was not too small and it had everything we needed. We had all the usual toiletry sets you find in Japanese hotels, like toothbrushes and toothpaste, razors etc…
We also got complimentary bottled water (1 per person/per day), free tea and a smartphone too. There was also complimentary coffee in the hall.
I booked this through Booking.com as the hotel would not answer my emails. Service is not their strong point. They almost refused to help us fill in the forms to send our luggage to Kyoto. They do offer the service, they just didn't want to do it. The problem is the forms are in Japanese, so we really needed help… It was the first time in 3 trips we had this issue.
However, I still recommend Hotel Monterey Nagasaki for its good location and reasonable price/size of the room (especially for a quadruple room). We would be back.
HOW TO GET AROUND IN NAGASAKI
Nagasaki is easily navigated by tram and on foot. The city centre with most major tourist attractions is situated about one kilometre southeast of Nagasaki Station. Among the major sights, only the Peace Park is not centrally located, several kilometers (ten minutes by tram) north of Nagasaki Station in the Urakami district.
Trams
Nagasaki is served by four tram lines. Operated by Nagasaki Electric Tramway, the tram lines provide easy access to most of the city's main attractions and run approximately every 5-8 minutes from 6 AM to 11 PM.
Enter the tram through the rear door and exit through the front door. Pay the driver when exiting. One ride costs a flat 120 yen per ride regardless of how far you travel. A 1-day pass for unlimited use of trams on one calendar day is available for 500 yen.
Only at Shinchi Chinatown tram stop, it is sometimes necessary to transfer between lines 1 and 5. Therefore, transferring passengers can ask for a transfer ticket when exiting a tram at Shinchi Chinatown in order to avoid paying twice. Hand the transfer ticket to the driver of the second tram when exiting.
HOW TO GET THERE
By train from Tokyo/Osaka/Hiroshima
Take the JR Tokaido/Sanyo Shinkansen from Tokyo to Fukuoka's Hakata Station and transfer to the JR Kamome limited express train to Nagasaki.
Japan Rail Pass holders using Hikari and Sakura trains, will require about 8.5 hours and an additional transfer of trains at Shin-Osaka Station.
We boarded the Shinkansen at Hiroshima station as we were coming from Miyajima. Japan is famous for its themed trains which are sometimes seasonal. We were lucky enough to be there when the Hello Kitty Shinkansen was travelling between Shin-Osaka and Hakata, so booked our seats on it. However, that restricted our schedule and we missed a few precious hours in Nagasaki.
The train was cute and the girls loved it, so we were happy to sacrifice our time. We had not told them about this and the look on their faces when they saw the train was priceless!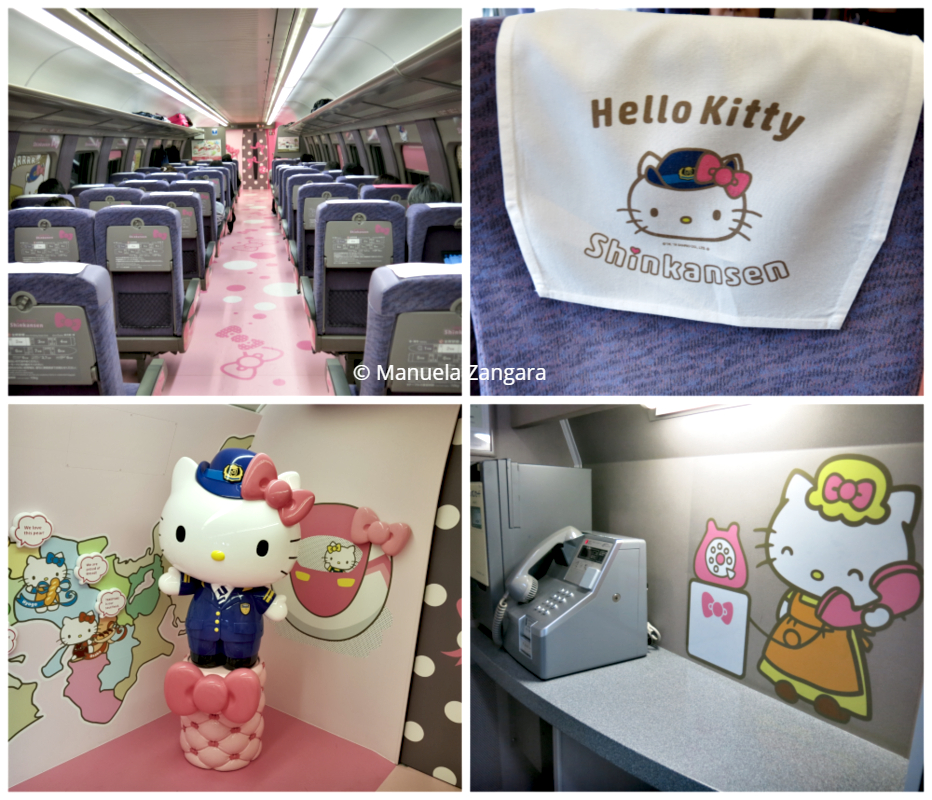 Make sure to book the JR Kamome limited express between Hakata and Nagasaki as early as possible. We had troubles getting our seats. For this reason, we had to cancel the visit of Dazaifu as we arrived in Fukuoka too late. We also could not find seats together… So keep this in mind. I also found this route, the most boring of all train trips in 3 visits to Japan. It was the longest 2 hour-train ride EVER.
By air via Nagasaki Airport
JAL, ANA, Solaseed Air and Jetstar Japan operate frequent flights between Tokyo (Haneda or Narita) and Nagasaki Airport. Flight time is approximately two hours.
Nagasaki Airport is located 45 minutes outside of central Nagasaki by bus.
By air via Fukuoka Airport
The Tokyo-Fukuoka route is the world's third busiest air route. Accordingly, competition is fierce, thus the probability that flying from Tokyo to Fukuoka comes cheaper than flying directly into Nagasaki Airport is very high. From Fukuoka Airport, buses depart to Nagasaki every hour. The one way trip from Fukuoka Airport to Nagasaki takes 2.5 hours.
RESOURCES ON MSM
RECIPES:
TRAVEL IN JAPAN:
Nara & Fushimi Inari guide – Japan
Haru Cooking Class Kyoto – Japan Guide
Nagashima and Nabana no Sato – Japan Guide
Jigokudani Monkey Park Guide – Japan
Miyajima Autumn 2018 – Japan Guide
Don't forget to pin this post!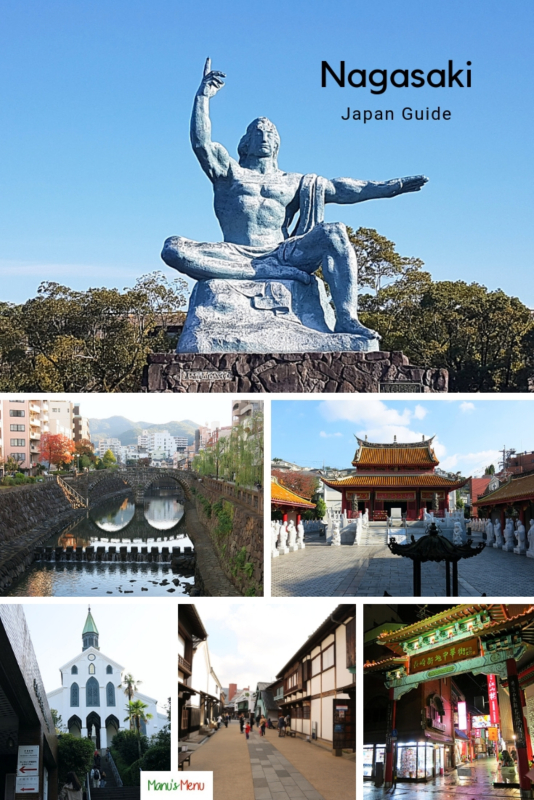 MAP

Related Posts: