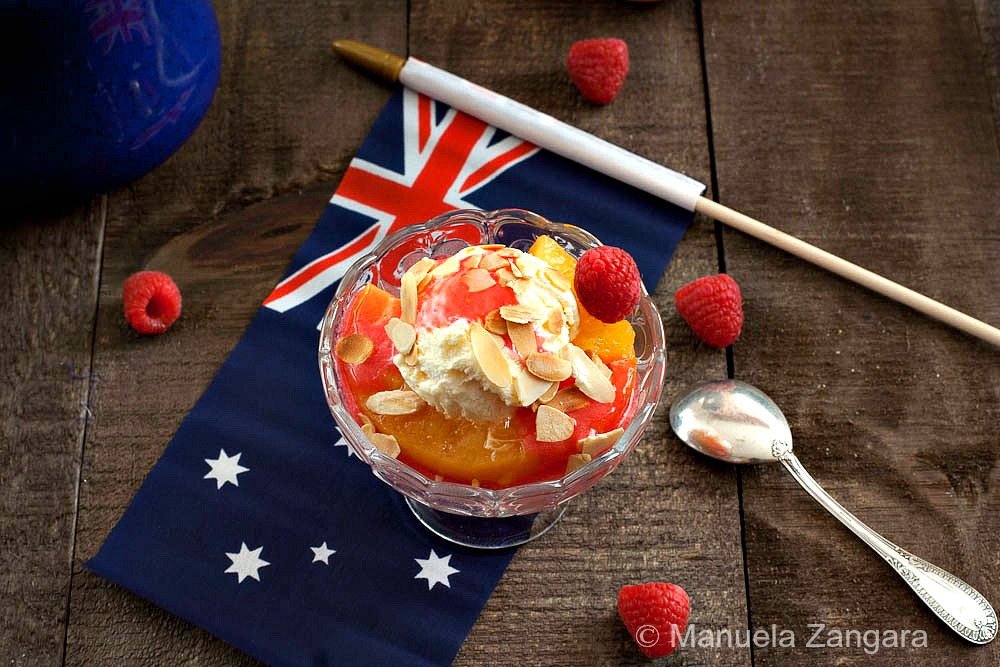 Happy Australia Day to all my fellow Aussies!  In honour of our National Holiday, I thought I'd share with you a special dessert: Peach Melba.  This delicious and very easy to make dessert of peaches and raspberry sauce with vanilla ice cream was invented in the 1890's by the French chef Auguste Escoffier at the Savoy Hotel in London, in honour of the Australian soprano Nellie Melba (thus the name Peach Melba).  It's the end of summer down here and school is about to start again… so what better way to say bye to summer than with an ice cream treat?  This dessert is very refreshing and a family favourite.  It is perfect for a barbecue or pool party, but also for a more sophisticated dinner.  You can serve it in a big bowl or in individual cups.  Also, this recipe will show you how to poach peaches… you won't believe how easy it is and they taste much better than store bought ones (which can be used too, if you are in a pinch or it's not peach season).  If you are curious to learn more about Australian food, listen to the podcast I taped with Paolo from Quatro Fromaggio and Other Disgraces on the Menu a few days ago!  Enjoy!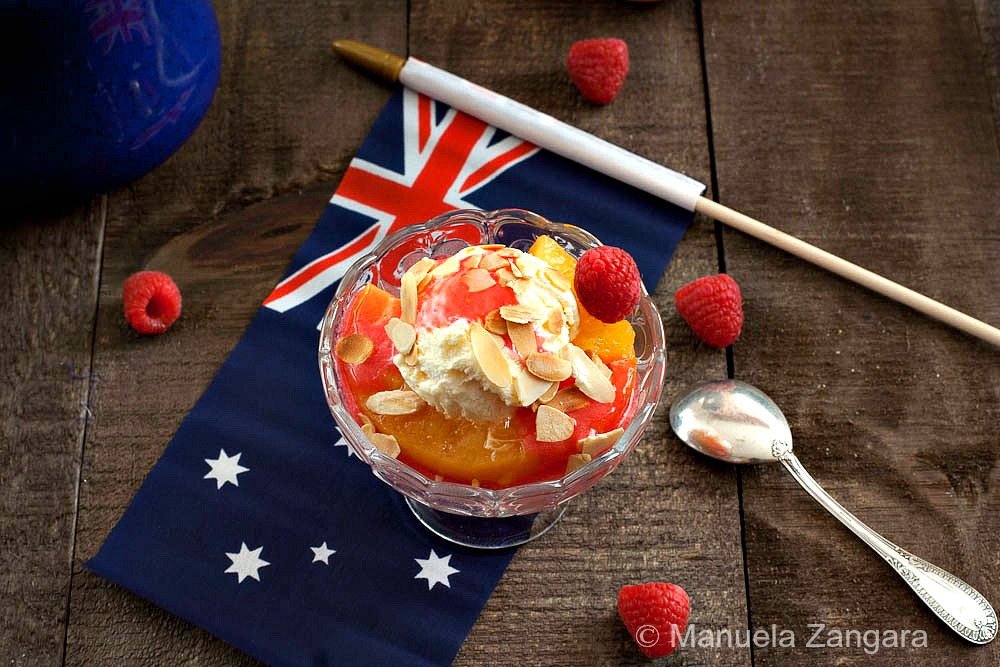 Peach Melba
The recipe for Peach Melba: a classic dessert made of peaches and raspberry sauce and served with vanilla ice cream and toasted almonds.
Total Time
2
hours
10
minutes
Ingredients
Peaches
1 ½

lt – 6 cups cold water

450

gms

– 2 cups caster sugar

superfine sugar

½

vanilla pod

split open lengthwise

Thinly peeled rind of 2/3 of a lemon

6

just ripe peaches
Raspberry Coulis
250

gms

– 9 oz. raspberries

fresh or frozen

juice of 1 orange

juice of ½ lemon

2

tbsp

caster sugar

superfine sugar
To Assemble
Above peaches

Above raspberry coulis

1

lt – 4 cups vanilla ice-cream

40

gms

– 3 tbsp flaked almonds

toasted

Icing sugar for dusting

optional
Instructions
Peaches
Pour the cold water into a saucepan. Add the caster sugar, vanilla pod and lemon rind. Bring to a simmer and cook for 5 minutes.

Carefully put the washed peaches into the syrup. Bring to a slow simmer and poach the peaches for 10 minutes.

Remove the peaches from the heat and transfer them with the syrup into a bowl. Let them cool down, then refrigerate them until 10 minutes before serving.
Raspberry Coulis
Blend the orange juice, lemon juice, caster sugar and the raspberries to a purée.
To Assemble
Just before serving, lift the peaches from the syrup and peel them carefully. You can either keep them whole or halve them to remove the pit like I did.

Put several scoops of vanilla ice-cream in a deep serving dish. Gently place the peeled peaches on top and spoon the raspberry coulis over the top.

Sprinkle with toasted flaked almonds and dust with icing sugar.

You can also serve the Peach Melba in individual bowls, like I did.

Serve immediately.
Recipe Notes
I make the peaches the previous day so they soak up the syrup and are nice and chilled when I serve them.
After poaching the peaches, don't discard the syrup in which you poached them. After finishing the peaches, put the syrup back on the fire and simmer until it reduces by half. Use this syrup to top ice cream, pancakes and cakes.

Related Posts: