During our latest trip to Japan, we decided we wanted to try the onsen experience. Winter is the best time to soak in hot water after a day in the cold! We picked a few ryokans which had their own onsen throughout the journey, but we also wanted to try the public baths. There are many little towns known as onsen towns in Japan, and we chose to visit Kinosaki Onsen.
SIGHTSEEING
Kinosaki Onsen is located on the coast of the Sea of Japan. It is a pleasant town, built along a willow-lined river, and it is one of the top onsen destinations of the Kansai region.
The town is charming and old-fashioned. In the evenings guests of the local ryokans walk around town in yukata and geta (wooden clogs), visiting the numerous public baths.
There are many ryokans in the area, all with their own baths, but the real draw to Kinosaki are its seven public bathhouses, called sotoyu. Also scattered throughout town are some beautiful foot baths, known as ashiyu, and spring water drinking fountains.
These are the 7 public bath houses:
Satono-yu
Satono-yu is the largest bath house and it is located next to the train station. It has two styles of baths, traditional and Romanesque, which rotate daily between men and women. The large variety of baths includes waterfalls and saunas. Unfortunately, we did not have enough time to visit this bath.
Open: 13:00 to 21:00
Closed: Mondays
Jizo-yu
Jizo-yu is located at the intersection of the river and Ekidori, the main road that leads to the Kinosaki train station. This bath house's main baths feature high ceilings. It also has less hot tubs for kids. Private family baths are also available.
Open: 7:00 to 23:00
Closed: Fridays
Yanagi-yu
Yanagi-yu is the smallest public bath house, but it has a traditional feel with hand-cut timbers and wooden baths. All things considered, if you don't have enough time, you can easily skip this one. There is also a small street-side ashiyu (foot bath) next to its entrance.
Open: 15:00 to 23:00
Closed: Thursdays
Ichino-yu
Ichino-yu is located near the centre of town. Its indoor baths are modern granite while its outdoor baths are located in a cave. Private family baths are also available.
Open: 7:00 to 23:00
Closed: Wednesdays
Goshono-yu
Goshono-yu is one of Kinosaki's larger bath houses, featuring a multi-level outdoor bath facing a waterfall, as well as a granite water bench and a sauna. My kids particularly liked the water bench.
Open: 7:00 to 23:00
Closed: First and third Thursday of each month
Mandara-yu
Mandara-yu is the only bath house that is located off the main road. You'll find it one block south of the main road (Yunosatodori) just before the road turns north to the ropeway entrance. It has an enticing outdoor bath, and it is said that Mandara-yu is the most attractive of the public baths. Unfortunately, we did not have enough time to visit this bath.
Open: 15:00 to 23:00
Closed: Wednesdays
Kono-yu
Kono-yu is near the ropeway. It was the first bath house in Kinosaki, although it has been rebuilt numerous times since its founding. Kono-yu features an outdoor bath with a view of the surrounding forests. Unfortunately, we did not have enough time to visit this bath.
Open: 7:00 to 23:00
Closed: Tuesdays
We managed to visit only 4 of the 7 public bath houses and liked all of them, but Yanagi-yu, which wasn't much bigger than the ryokan's family bath!
When you stay at a local ryokan you can use Kinosaki's seven public bath houses for free between check-in and check-out with a special pass the ryokan will give you. Note that, you need to have your own towels (the ryokan will give you some) – or you can rent them for a fee at the baths. Soap and shampoo are provided within the baths.
If you go there when it's not too cold, you will be able to roam around the little town in the yukata provided by the ryokan and go from one bath to the other.
There is also a ropeway that leads halfway up the mountain from where you can enjoy some nice views. We did not do this, because the weather was not very good.
FOOD
KAISEKI DINNER
If staying in Kinosaki Onsen, I highly recommend you stay in a ryokan – a Japanese style hotel. This is the perfect place to experience the onsen and, above all, a kaiseki dinner – a traditional multi-course Japanese dinner. It balances the taste, texture, appearance, and colours of food. Only fresh seasonal (and often local) ingredients are used and are prepared in ways that aim to enhance their flavour. The finished dishes are carefully presented on plates chosen to enhance both the appearance and the seasonal theme of the meal. The garnishes are beautiful too and they are often made with real leaves and flowers. It is an amazing experience both for your palate and your eyes.
During this trip, we tried this dinner in 4 different ryokans and even though the one we had in Kinosaki Onsen was good, it wasn't AS good as the other 3. I must admit we were probably spoilt by the other experiences, but all things considered – including the price we paid – this dinner was not as great as the others.
Kinosaki Onsen is very famous for its crabs.
So, I had the crab based kaiseki dinner.
Unfortunately, my husband is allergic to crab, so he had the local beef dinner.
The dinner is served in your room, but unlike in the other places, it is brought all at the beginning. So, it wasn't always easy to remember what we were eating or the other in which to eat it.
Anyhow, we had a starter,
and then I had crab in many ways: boiled, grilled…
In a hotpot,
But the best dish was the sashimi! I had never had sashimi of crab and I was blown away by how soft and delicious it was. It literally melts in your mouth!
My husband's meal was different and he had some delicious Tajima beef. It was very tender.
The kids had their own kids' meal – which was ok too.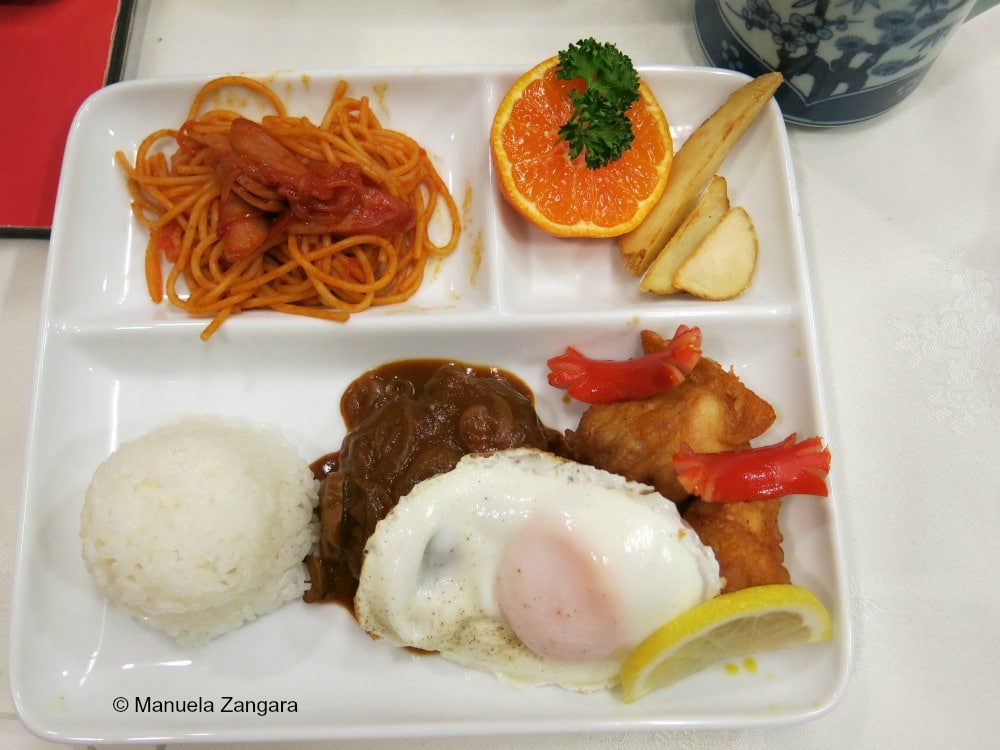 For dessert, we had apples and tea.
BREAKFAST
Breakfast at the hotel was ok too. We were told we could choose to have either Japanese style or Western style breakfast, but in the end, we were not given the choice. It was ok for my husband and me, but the kids barely ate anything as they are not used to eating fish, rice and soup for breakfast.
I really liked the fishcakes and the potato salad – it was the best I have ever eaten.
There were also eggs cooked in the onsen water, tamagoyaki, and pickles.
ACCOMMODATION
In Kinosaki Onsen there are plenty of ryokans to choose from. I did a lot of research and at the time of booking, my priority was to have a shower in the room, mainly because I did not know how the kids were going to react to the onsen experience.
In the end, I booked ryokan Mikuniya through Japan I can. I had previously contacted the ryokan directly to ask about the bathroom and was assured they had rooms with it. The surprise was, there was no shower in the room! We only had a sink and a WC.
By then, it didn't really matter anymore, as we spent the day and the next morning at the onsen, so we really didn't need a shower, but had I known before, I would have booked somewhere else! I did feel a little cheated, though I hope it was just a misunderstanding.
The room was otherwise nice and spacious. I was given a special yukata to wear (the rental was included in the price) and my husband and kids had their own yukatas too. My yukata being "special" was not very easy to wear, but the nice ladies at the ryokan helped me out. Check out this article on how to wear a yukata.
When we arrived, we used the room as "day room", so we had a table and we could sit around it on the tatami mat to enjoy tea and pastries provided by the ryokan management.
After dinner, the rooms were prepared for the night and the futons were laid down for us to sleep in.
The ryokan also has 2 family baths that you can rent for free. They are not very big, but they are quite nice and I finally managed to take some photos of what an onsen looks like. There's a changing area too. For more information on how to take a bath at an onsen, read my post on Onsen Etiquette.
Mikuniya ryokan is not very far from the station and it is very easy to find with the little rickshaw in front of its entrance.
We had a nice time, but all things considered, I found it to be a bit overpriced for what we got.
HOW TO GET AROUND IN KINOSAKI ONSEN
Kinosaki Onsen is a compact town and can be fully explored on foot. It takes about 20-25 minutes to walk from the train station at the eastern end of town to the Kono-yu bath house at the western end of town.
RESOURCES ON MSM
RECIPES:
TRAVEL IN JAPAN:
Nara & Fushimi Inari guide – Japan
Haru Cooking Class Kyoto – Japan Guide
Nagashima and Nabana no Sato – Japan Guide
HOW TO GET THERE
By train – from Tokyo
Take the JR Tokaido Shinkansen from Tokyo to Kyoto and transfer to a JR limited express train to Kinosaki Onsen Station. The one-way journey takes 5-6 hours and is fully covered by the Japan Rail Pass.
We took a train from Himeji to Kinosaki Onsen. The journey itself was very nice. We passed through mountains, rivers and valleys covered with snow!
I love the snow!
MAP

Related Posts: