While organising our latest holiday in Japan, I saw photos of some monkeys bathing in a hot tub somewhere in Japan. The monkeys looked incredibly cute, so I did some research and saw that the photos were taken at Jigokudani Monkey Park in Yamanouchi, not far from the onsen towns of Shibu Onsen and Yudanaka. As the place is quite near Matsumoto… we immediately decided to add it to our itinerary!
The Jigokudani Monkey Park offers visitors the unique experience of seeing wild monkeys bathing in a natural hot spring.
The park is inhabited by Japanese Macaques, which are also known as Snow Monkeys. The park is located in the forests of the Jigokudani valley.
I got carried away with the photos… but they are just too cute!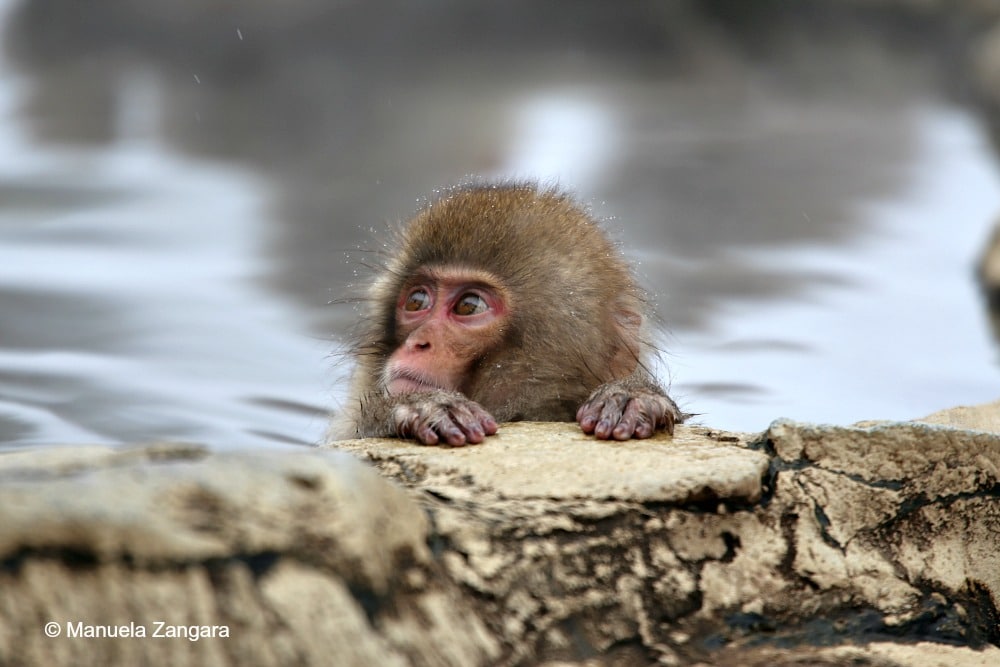 I mean… how can you resist??
The little ones were particularly adorable!
 '
To get to the park entrance, you have to walk for about 40 minutes on a snowy/icy path. The walk itself is breathtaking for people who, like me, adore the snow. It goes deep into a forest and I found it really beautiful and not too tiring. Just wear appropriate shoes… it can get slippery!
The park has one man-made pool around which the monkeys gather.
The monkeys live in large social groups, and it is quite entertaining to watch their interactions.
Check out this short video I took!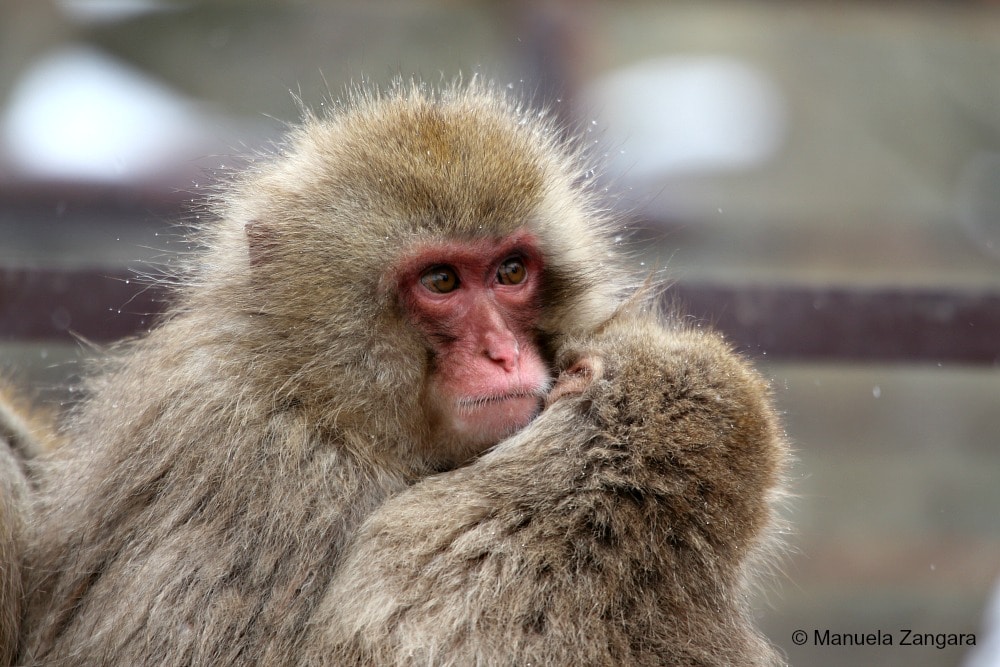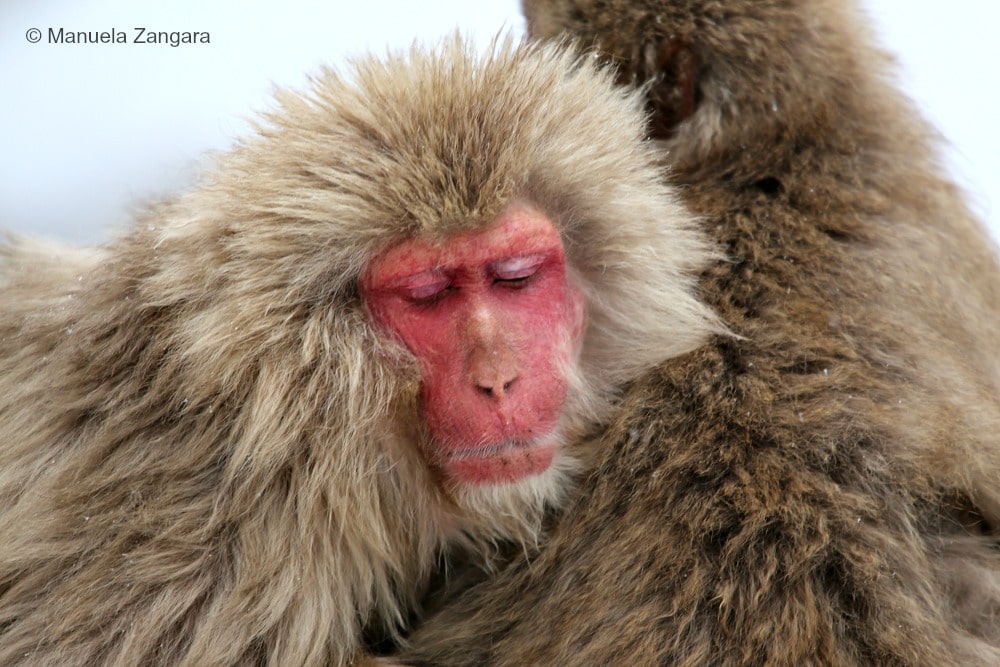 The monkeys are accustomed to humans, they can be observed from very close and almost completely ignore you. Obviously, it is prohibited to touch or feed them.
Although the park is open all year round, the bathing monkeys are particularly photogenic in winter, when the area is covered in snow. There is usually snow in the region from December to March, and the best timing for a visit is January and February… just when we went!
Jigokudani, in which the park is located, means "hell valley" and is a common name for Japanese valleys with volcanic activity, and it does have a few steaming hot springs.
There is a ryokan called Korakukan in the valley, which visitors will pass along the way to the monkey park, but we decided to stay in Kanbayashi Onsen instead, which is a little further out, at the beginning of the path to get to the park.
On our way out, we also got to see what we think was a wolf…
FOOD
KAISEKI DINNER
If staying in the area, I highly recommend you stay in a ryokan – a Japanese style hotel. This is the perfect place to experience the onsen (read my post on Onsen etiquette!) and, above all, a kaiseki dinner – a traditional multi-course Japanese dinner. It balances the taste, texture, appearance, and colours of food. Only fresh seasonal (and often local) ingredients are used and are prepared in ways that aim to enhance their flavour. The finished dishes are carefully presented on plates chosen to enhance both the appearance and the seasonal theme of the meal. The garnishes are beautiful too and they are often made with real leaves and flowers. It is an amazing experience both for your palate and your eyes.
During this trip, we tried this dinner in 4 different ryokans and the one we had in Kanbayshi Onsen came to a 3rd place. But that's because, even though it was very good, the dinners we had in Kawaguchiko and Miyajima were simply spectacular!
Dinners and breakfasts are served in a common area/restaurant and not in your room.
We started our dinner with a Wild grape Liqueur.
The appetisers were: Lotus root, shrimp and green peas with miso; Konnyaku and walnuts with sugar; Hand rolled sushi; Carrot, simmered burdock root; Mugwort wheat gluten; Deep fried Japanese angelica spear; Skewered sweet beans.
The soup was Fish dumpling, rape blossoms, and carrot.
Then there was some amazing sashimi.
The boiled dish was Yellowtail tuna, daikon radish, and snow peas.
The grilled dish was Nagano beef, local vegetables and mushrooms with apple sauce and rock salt. And a salad.
The steamed dish was Yam, soft roe, mushrooms and gingko nut with trefoil and wasabi.
They also served us some cold soba noodles with wasabi.
And then there was rice, miso soup, and pickles.
For dessert, we had frozen ice cake, strawberry, and kiwi. The kids had crème caramel.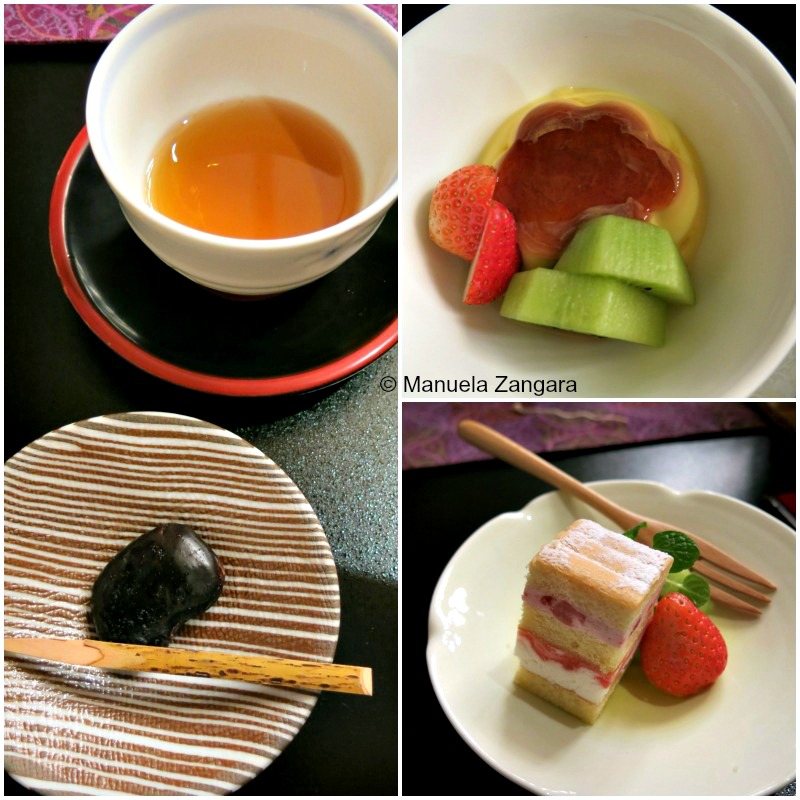 Tea and sweet bean (yum!) to finish it off.
Plenty of food, beautifully presented and delicious!
The kids had a kids meal – sorry no picture…
BREAKFAST
Breakfast at the hotel was good.
We had juice, yogurt with cooked fruits, five-grain porridge, scrambled eggs with ham (with ketchup on the side).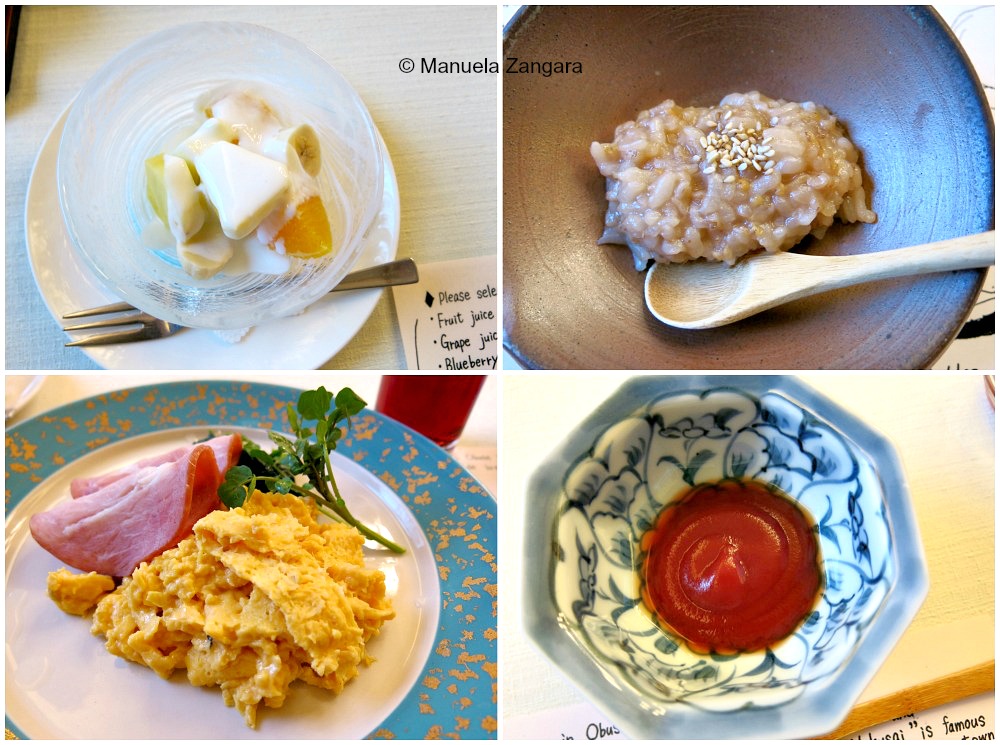 There were a delicious potato soup and a salad with mayo dressing. There was some delicious home-made bread (toast, walnut bread, raisin bread and French bread) with jam and butter.
We also had tea/coffee.
The kids had their own breakfast too.
Everything was delicious!
ACCOMMODATION
At first, we wanted to stay at Shibu Onsen, but then we decided to stay at Kanbayashi Onsen instead, mainly because we wanted to be closer to the Monkey park and visit it immediately the day we arrived.
There is not much in Kanbayashi Onsen, so if you are looking for a "town" with restaurants and facilities, this is not the place for you. We just wanted to visit the park, play in the snow and then relax in the ryokan. So it worked perfectly well for us.
We chose to stay at Kanbayashi Hotel Senjukaku and I highly recommend it.
Besides having great food, it has a nice onsen where you can relax after having been out walking in the cold! The best part is that there is also an outside onsen and when we are relaxing in it, it begins to snow. The steam comes out of the tub and the snow falls inside it. It is really magic! One of the best memories of the whole trip! For more information on how to take a bath at an onsen, read my post on Onsen Etiquette.
They also come to pick you up (and drop you off) from Yudanaka station.
When we checked in, they served us some hot tea and this amazing chestnut sweet called Obusedo.
The room was nice and spacious. When we arrived, we used the room as "day room", so we had a table and we could sit around it on the tatami mat to enjoy tea and pastries provided by the ryokan management. After dinner, the rooms were prepared for the night and the futons were laid down for us to sleep in. The room also has a little balcony.
It has a nice bathroom too.
We were also given nice and comfortable yukatas to wear around the hotel.
I particularly liked a common tea room near the onsen where you could sit down to have some cold water or hot tea and listen to music. We used it to unwind and wait for my husband (or he for us) after the onsen. It was very nice and it had a beautiful view of the courtyard.
I can highly recommend Kanbayashi Hotel Senjukaku for its great service, great food, and beautiful experience.
RESOURCES ON MSM
RECIPES:
TRAVEL IN JAPAN:
Nara & Fushimi Inari guide – Japan
Haru Cooking Class Kyoto – Japan Guide
Nagashima and Nabana no Sato – Japan Guide
HOW TO GET TO THE MONKEY PARK
There are two ways to get to the Monkey Park: one requires a 30-40 minute walk through the forest (this is what we did), while the other requires a 10-15 minute walk from the nearest parking lot.
The first approach involves taking a bus to Kanbayashi Onsen from Yudanaka Station (10-15 minutes), Shibu Onsen (5-10 minutes) or Nagano Station (40 minutes). Buses along the Yudanaka-Kanbayashi Line stop at "Kanbayashi Onsen" bus stop, while other buses stop at the "Snow Monkey Park" bus stop, a short walk away. From Kanbayashi Onsen, it is a 30-40 minute walk to the monkey park. The walking trail is doable around the year, but sturdy footwear is recommended especially in winter.
The alternative approach involves a 10-15 minute walk from a paid parking lot just to the west of the monkey park. However, the narrow road from Shibu Onsen to the parking lot is not served by public transportation and gets closed in winter.
HOW TO GET THERE
Most visitors to Yamanouchi (Yudanaka and Shibu Onsen) will access the town from the city of Nagano.
By train from Nagano
Nagaden (Nagano Electric Railway) operates one to two trains per hour between Nagano (underground Nagaden Nagano Station, next to JR Nagano Station) and Yamanouchi (Yudanaka Station). About half of the trains are local (70 minutes, one transfer at Shinshu-Nakano Station along the way) and half are limited express (50 minutes) – we took this one. The trains are NOT covered by the Japan Rail Pass.
The train itself is an amazing experience… it's a panoramic train!
I loved it!
Check out this short video I took!
By express bus from Nagano
Nagaden operates express buses between Nagano (bus stop number 3 at the East Exit of Nagano Station) and Shiga Kogen. There are four buses per day in summer and around ten buses per day in winter. The buses do not stop in central Yudanaka or Shibu Onsen, but they stop at the Snow Monkey Park bus stop (40 minutes) from where the Jigokudani Monkey Park can be reached. In Shiga Kogen, all buses stop at Hasuike (70 minutes), and some continue in direction of either Oku Shiga Kogen or Mount Yokoteyama.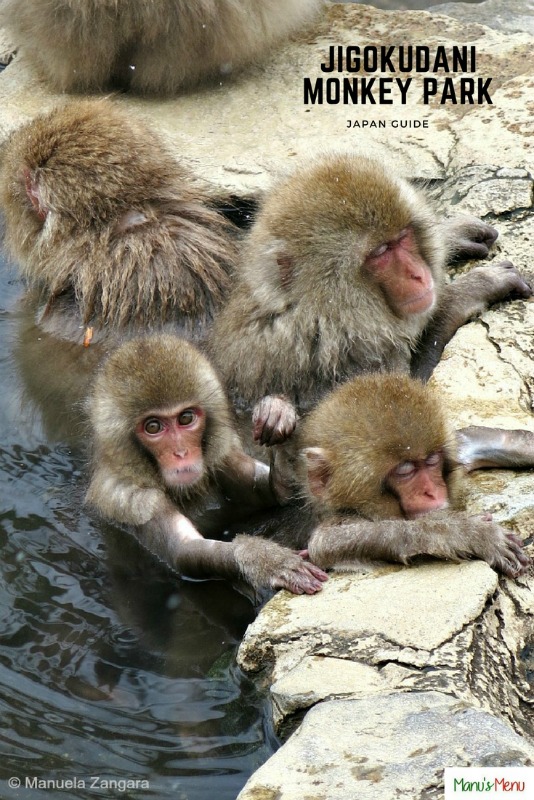 MAP

Related Posts: