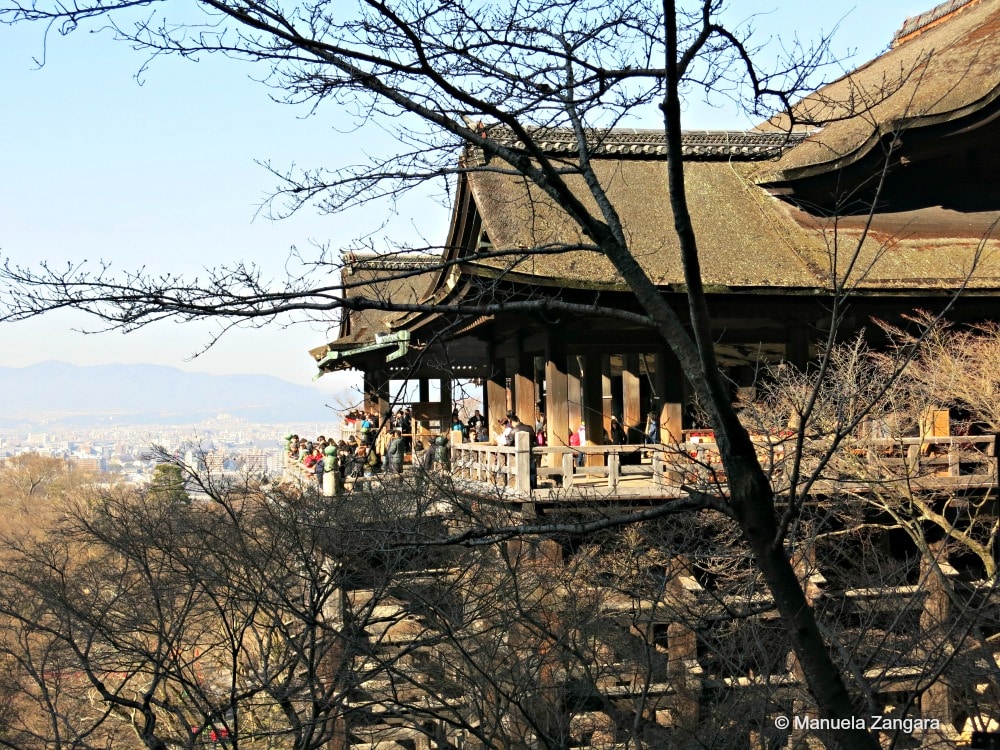 During our recent trip to Japan, we spent a few days in Kyoto. We had already visited it in 2015 and we had completely fallen in love with the city. To me, it is possibly the most beautiful city on earth! And if I could, I would easily move and live there. Many tourists divide their time between Tokyo and Osaka, and visit Kyoto for a day or 2, but I highly recommend to spend a few nights in Kyoto. During the day it gets quite crowded with all the day trippers, but if you stay in Kyoto, you can get to the most popular places as soon as they open and find them quiet, and also enjoy a stroll in the evening without the crowds.
Having already been there in 2015, we had already visited all the "must-see" places on our list, so this time, we decided to take it easy, and see a few "off-the-beaten-path" places. That said, we also went back to a few of our favourites.
SIGHTSEEING
Higashiyama
Ninenzaka and Sannenzaka
During both our visits, we stayed in a house 2 minutes away from Ninenzaka. It is my absolute favourite place in the world!
Ninenzaka and Sannenzaka are 2 sloping lanes in the Higashiyama District, one of the city's best preserved historic districts.
It is a great place to experience traditional old Kyoto, especially between Kiyomizudera and Yasaka Jinja, where the narrow lanes, wooden buildings, and traditional merchant shops invoke a feeling of the old capital city. The area is so pretty, even Japanese people come take their wedding pictures here!
The streets in Higashiyama are lined by small shops, cafes, and restaurants which have been catering to tourists and pilgrims for centuries. These businesses retain their traditional design and sell local specialties such as Kiyomizu-yaki pottery, sweets, pickles, crafts and other souvenirs.
The shops and restaurants in the area typically open around ten in the morning and close relatively early around five in the evening, so the streets get very crowded during the day. But once the tourists leave, you can stroll around the area and discover how amazingly beautiful it is!
Our house was near Yasaka Pagoda, the last remnant of Hokanji Temple, and one of the most visible and recognizable landmarks in the Higashiyama District.
Kiyomizudera
Kiyomizudera (literally "Pure Water Temple") is one of the most celebrated temples of Japan. It was founded on the site of the Otowa Waterfall in the wooded hills east of Kyoto, and derives its name from the fall's pure waters. In 1994, the temple was added to the list of UNESCO world heritage sites.
We had already been here in 2015, but the temple was undergoing renovations, so we visited it again this time. And this time too… it was under renovation! Kiyomizudera's main hall will be covered up until March 2020 for the renovation of its roof. Visitors will be able to enter the main hall during the renovations.
Kiyomizudera is best known for its wooden stage that juts out from its main hall, 13 meters above the hillside below. From there, you can enjoy a nice view of the numerous cherry and maple trees below, as well as of the city of Kyoto in the distance.
Behind Kiyomizudera's main hall stands Jishu Shrine, a shrine dedicated to the deity of love and matchmaking. In front of the shrine are two stones, placed 18 meters apart. Successfully finding your way from one to the other with your eyes closed is said to bring luck in finding love.
The Otowa Waterfall is located at the base of Kiyomizudera's main hall. Its waters are divided into three separate streams, and visitors use cups attached to long poles to drink from them. Each stream's water is said to have a different benefit, namely to cause longevity, success at school and a fortunate love life.
Around the entrance of Kiyomizudera, outside of the paid area, stand various other temple buildings, including a red three storied pagoda.
Shorenin
Shorenin is a Buddhist temple in Higashiyama, near the Maruyama Park.
After passing through the entrance, visitors first walk through the Kachoden drawing room, which has portraits on the walls and paintings on the sliding doors. The drawing room opens up to a garden with pond, which visitors can admire from the building while sitting on tatami mats.
Shorenin's other principal buildings are connected to the Kachoden by wooden walkways.
What we liked the most was the garden. We arrived as soon as it opened in the morning, and we had the temple all to ourselves.
There is also a small shrine and a bamboo grove.
Chionin
Chionin is another Buddhist temple, not far from Shorenin. In fact, the massive Sanmon Gate through which you enter the temple is impressive and it is located alongside the road between Maruyama Park and Shorenin Temple. Standing 24 meters tall and 50 meters wide, it is the largest wooden gate in Japan! Behind the gate, a wide set of stairs leads to the main temple grounds.
Unfortunately, Chionin's main hall is undergoing major renovation works that will last until March 2019. During the renovation works, the hall is covered by a large scaffolding structure and closed to visitors.
At the centre of Chionin is an open area with stone paths connecting the temple's main buildings.
Beyond the Miedo there is a path that leads up the hillside to a number of small buildings, but we did not visit them.
Maruyama Park
Maruyama Park is a public park next to Yasaka Jinja in the Higashiyama District. In the first half of April, when the cherry trees are in full bloom, the park becomes Kyoto's most popular and most crowded spot for cherry blossom viewing parties.
The centrepiece of the park is a tall weeping cherry tree.
If you want to see how it looks like during cherry blossom season, check out my 2015 post!
Gion
Gion is Kyoto's most famous geisha district, located around Shijo Avenue between Yasaka Shrine in the east and the Kamo River in the west. It is filled with shops, restaurants, and teahouses, where geisha and maiko (geisha apprentices) entertain.
Gion attracts tourists with its high concentration of traditional wooden machiya merchant houses.
Gion is also known for the Gion Matsuri, the most famous festival in Japan.
Hanamikoji-dori
The most popular area of Gion is Hanamikoji-dori, from Shijo-dori to Kenninji Temple. The street and side alleys are lined with preserved machiya houses many of which now function as restaurants, serving Kyoto style kaiseki ryori (Japanese haute cuisine).
Among the restaurants, there are also many tea houses, the most exclusive and expensive of Kyoto's dining establishments, where guests are entertained by maiko and geishas.
If you want to learn more about geishas and traditional Japanese arts and crafts, visit the Gion Corner at the end of Hanamikoji-dori. There is a cultural show held every day!  Aimed at foreign tourists, the show is a highly concentrated introduction to several traditional Japanese arts and include short performances of a tea ceremony, ikebana, bunraku, Kyogen comic plays and dances performed by real maiko.
Shijo-dori, that starts right in front of Yasaka Jinja, is a popular shopping area with stores selling local products including sweets, pickles, and crafts.
Shirakawaminami-dori
Another scenic part of Gion is Shirakawaminami-dori, which runs along the Shirakawa Canal parallel to Shijo-dori. The canal is lined by willow trees, high-class restaurants, and teahouses, many of which have rooms overlooking the canal. As it is a little off the beaten path, the Shirakawa area is a little quieter than Hanamikoji-dori.
These two places, are the best areas where you can spot a geisha or maiko on their way to or from an engagement at a teahouse in the evenings or while running errands during the day. However, if you see them, act respectfully!
Read my 2015 post on geishas, if you are interested. I also have another post on the subject planned, so watch this space!
Yasaka Jinja
Yasaka Jinja, is one of the most famous shrines in Kyoto, and possibly my favourite!
It is located between the popular Gion District and Higashiyama District and is often visited by tourists walking between the two districts.
Yasaka Jinja is well known for its summer festival, the Gion Matsuri, which is celebrated every July. Arguably the most famous festival in the whole country!
Yasui Konpira-gu Shrine
Yasui Konpira-gu is a quirky shrine in the Gion district. It has become especially popular among young Japanese women who go to the shrine to perform a ritual of crawling through a hole in a large stone, known as the enkiri or enmusubi stone.
The ritual is performed to pray for breaking off bad relationships and initiating good ones. Supplicants write down their wishes on a white, paper amulet, crawl through the hole in the stone, then back through again before pinning their amulet on the megalith along with the thousands of others covering it.
Performing this ritual can break up or initiate not just human relationships but also end disease or other harmful associations.
We discovered this place by chance, one evening while taking a shortcut to go from our "home" to Hanamikoji-dori!
Kenninji Temple
Kenninji Temple is a nice temple with a beautiful Zen garden.
It is situated right at the end of Hanimikoji-dori.
Heian Shrine
Heian Shrine was built on the occasion of the 1100th anniversary of the capital's foundation in Kyoto and is dedicated to the spirits of the first and last emperors who reigned from the city. Heian is the former name of Kyoto.
A giant torii gate marks the approach to the shrine. The actual shrine grounds themselves are very spacious, with a wide open court at the centre.
Occasionally, the shrine's court is used for special events. For instance, we attended the Setsubun celebration… more about this in another post!
Daitokuji
Daitokuji is a large walled temple complex in northern Kyoto. The complex consists of nearly two dozen sub-temples and is one of the best places in Japan to see a wide variety of Zen gardens and to experience Zen culture and architecture. Besides, it is a very quiet place!
Daitokuji's main buildings (the Sanmon Gate, Butsuden Hall, Hatto Hall and Hojo Residence) are lined up on the east side of the temple grounds according to the classical layout of a Zen monastery. They are not usually open to the public.
We only visited Ryogenin. The temple's main building is designed in a typical Zen style and is said to be the oldest building standing in Daitokuji.
Ryogenin features as many as five different dry landscape gardens on each side of its main building. The largest of them consists of a field of raked white gravel representing the universe, and islands of rocks and moss representing a crane and a turtle, symbols of longevity and health commonly found in Japanese gardens.
Kyoto Station
Kyoto Station is a modern and beautiful construction! The building's futuristic design was conceived by the Japanese architect Hara Hiroshi. Hara's design attempts to convey historical Kyoto through a modern aesthetic.
Kyoto Station is the city's transportation hub, served by Japan Railways (including the Tokaido Shinkansen), Kintetsu Railways and the Karasuma Subway Line. It is also the site of a large bus terminal for city buses and long distance and overnight highway buses.
There are also two tourist information centres in the building. The general Tourist Information Centre on the 2nd floor offers multilingual staff, pamphlets and some PC terminals for use by tourists. Even more English information is available at the International Information Centre on the 9th floor. It is staffed by multilingual representatives and also provides free internet access.
Besides the station facilities, the building's 15 floors offer several other attractions and conveniences including a hotel, an art museum, a theatre and a vast array of shopping and dining options!
Philosopher's Path
The Philosopher's Path (Tetsugaku no michi) is a pleasant stone path through the northern part of Kyoto's Northern Higashiyama district. The path follows a canal which is lined by hundreds of cherry trees. Usually, in early April these trees explode with colour, making this one of the city's most popular cherry blossom viewing spots. See my 2015 post for some pictures!
We decided to go back for a winter walk because we had particularly enjoyed the experience. The walk is approximately two kilometers long. It begins near Ginkakuji and ends near Nanzenji. The path gets its name due to Nishida Kitaro, one of Japan's most famous philosophers, who was said to practice meditation while walking this route. We went first thing in the morning and it was indeed very peaceful.
Restaurants, cafes, and boutiques can be found along the path, as well as a number of smaller temples and shrines which are a short walk from the canal.
The most notable of the temples is Honen-in, with an entrance gate that is quite spectacular especially during the autumn leaf season.
I particularly like this temple. It's always quiet and peaceful.
Nishiki Market and Teramachi-dori
Nishiki Market is a narrow, five block long shopping street lined by more than one hundred shops and restaurants. The market specializes in all things food related, like fresh seafood, produce, knives and cookware, and is a great place to find seasonal foods and Kyoto specialties, such as Japanese sweets, pickles, dried seafood and sushi.
Most shops specialize in a particular type of food, and almost everything sold at the market is locally produced and procured.
The market has a history of several centuries, and many stores have been operated by the same families for generations.
Today it is an important market for Kyoto and is often packed with locals and tourists alike.
It is foodie heaven, trust me! If you want to know more about it, read my detailed post from 2015.
FOOD
Whenever we are in Kyoto, we rent a little house. For this reason, we don't eat at restaurants, as we have a kitchen with a fridge and microwave.
We usually buy ready-made food from the depachikas (food floors) at the many department stores of the city: Isetan, Daimaru and, our favourite, Takashimaya.
These places are AMAZING. You can find all kinds of delicious food, like sushi and sashimi.
Yakitori, another family favourite. This time around, I discovered and fell in love with chicken liver yakitori! So good!
Korokke (look at the cheese one!), tonkatsu, karaage and all sorts of fried food.
There are also international bakeries (mainly French and Italian) that sell European and Japanese delicacies.
We always had a mini orange bundt cake/brioche for breakfast!
They also sell meat, potato salad…
This year, by chance, we discovered 551 Horai, a shop where they sell Chinese inspired food. We got hooked on their gyoza and sweet and sticky meatballs!!! YUM! They are so popular, the queue is always long!
Look at these Okonomiyaki.
Fresh fruits like these beautifully packaged strawberries – look at the white ones!
There are also numerous pastry shops. We had a slice of the most delicious Japanese Cheesecake there! We even saw a place that sold Miffy chocolates! My youngest daughter adores Miffy!
They also sell edible flowers and flowers/leaves to decorate dishes at the supermarket! So beautiful!
And everything is amazingly delicious and much cheaper than at a restaurant!
Another thing you should absolutely try is the local soft serve. You will find it everywhere in Kyoto, but the areas around Ninenzaka and Sannenzaka have some very tasty choices: we tried chocolate, yuzu, and matcha!
Also, if you are a foodie like us, you may want to take a Japanese food cooking class and Kyoto is the PERFECT place to do so. In 2015 we took the most amazing class with Taro of Haru Cooking Class and we LOVED it. You can read my review here and I HIGHLY recommend you take the class!
The class is held at Taro's house and our daughters enjoyed spending time with his daughters Haruko and Kyoko, while we learned how to make some delicious dishes. The moment we told them we would go back to Kyoto, they immediately asked to see them again!
And here we are… at Taro and Yoshiko's house, having dinner with them! They are amazing people and we were really happy to see them again! Thank you for having us over! <3
ACCOMMODATION
As mentioned, in Kyoto we rented a little machiya house: Kiyomizu Machiya Inn.  The house is beautiful, inside and outside. It is a restored old tea house, full of character and charm.
We had already stayed here in 2015 and we had left a part of our heart in this house. It is just perfect!
It's in a fantastic spot. It's basically in front of Ninenzaka, in the heart of Southern Higashiyama. But the best part is that it is also very quiet, as it is tucked in at the end of a tiny cobblestone lane where tourists don't go. The area is my absolute favourite in Kyoto! See above for a description and photos of the area around Ninenzaka and Sannenzaka.
It is also very close to the Yasaka Pagoda and barely a 5 minute walk from the bus stops (and convenience stores) on Higashi Oji dori.
So you are in the centre of ancient Kyoto, yet very well connected to get anywhere you like! Besides, walking around Ninenzaka in the evening, after the crowds of tourists have left and with the streets all lit up is an experience that we'll never forget.
It's also very close to the information centre that also works as Takuhaibin… so receiving and sending your luggage is easy!
It is a 2 storey house. As in all Japanese houses, you have a little entrance with space to leave your shoes.
There is a little living room, a well-equipped kitchen, and a guest book – note my kids' thank you message from 2 years ago!
A bathroom with a tub and shower and even a laundry (with a washing machine that also dries clothes)!
On the second floor, there are 2 bedrooms (1 Western style and 1 Japanese style) and a little study.
Basically, everything you need and more.
We had soaps (including soap for the laundry and dishes), tea, sugar, plates, glasses, cups, etc… all the basics.
Needless to say everything was absolutely clean! There was a heater/air con and we simply loved to have a place to call home for a few nights.
Ahhh… I almost forgot to say that while we were in Kyoto, it snowed!!
Booking was very easy. I sent an email directly to the management. The people who manage the house are very well organised and helpful and they speak very good English too, which is a plus.
I highly recommend the Kiyomizu Machiya Inn because living like the locals for a few days helps to you to better appreciate a place. Besides, the location is unbeatable. This is definitely the place where we will be staying at again and again on our next visits to Kyoto.
HOW TO GET AROUND IN KYOTO
BUS
We found that the best way to get around Kyoto is by bus (or on foot) as the bus network connects most major sights in the city.
The tourist offices provide a useful English network map for the Kyoto City Buses, which makes it quite easy for foreign visitors to access tourist attractions by bus. We also had maps provided in our house.
We had heard that buses tend to be slow, but we never had a problem. They can get quite crowded in peak hours, but not more than in any other big city around the world.
Buses are entered through the back door and left through the front door. The fare has to be paid when leaving the bus.
SUBWAY
There are two subway lines in Kyoto, the Karasuma Line which runs from south to north along Karasuma-dori and stops at JR Kyoto Station, and the Tozai Line which runs from east to west and crosses the Karasuma Line at the intersection of Karasuma-dori and Oike-dori. But we never used the subway.
JAPAN RAILWAYS
All JR lines including the Tokaido Shinkansen pass through or commence at JR Kyoto Station. JR trains are a good option for accessing the Arashiyama area (Sagano Line) and some attractions in southern Kyoto along the JR Nara Line, like Fushimi Inari.
OTHER RAILWAYS
Keifuku Railways (also known as Randen) operates two tram like train lines in northwestern Kyoto. For train lovers, a ride on these trains is a small attraction by itself, both because the cars are really nice and for the beautiful panorama that you get to see, especially around Ryoanji.
TICKET OPTIONS
Kyoto Sightseeing Card – (1,200 yen for one day, 2,000 yen for two days) – Unlimited use of Kyoto's two subway lines and of Kyoto City Buses and Kyoto Buses in central Kyoto and outskirts, including Arashiyama, Takao and Ohara.
Kyoto One Day Bus Card – (500 yen) – Unlimited use of Kyoto City Buses and Kyoto Buses in central Kyoto and Arashiyama on one calendar day. Unlike the Kyoto Sightseeing Card (see above), the one-day bus card does not cover other outlying areas such as Takao and Ohara.  This is what we used. You validate it with the machine only the first time you ride the bus, to print the date on it and then you show it to the driver every time you get down the bus. Easy.
Kyoto Subway One Day Card – (600 yen) – Unlimited use of Kyoto's two subway lines on one calendar day.
Prepaid cards like SUICA (or ICOCA) don't give you any discounts, but they make the process of taking trains and buses easier, as you do not always need to buy a new ticket for each ride.
RESOURCES ON MSM
RECIPES:
TRAVEL IN JAPAN:
Nara & Fushimi Inari guide – Japan
Haru Cooking Class Kyoto – Japan Guide
Nagashima and Nabana no Sato – Japan Guide
HOW TO GET THERE
You can easily reach Kyoto by Shinkansen. It takes about 1.5 hours both from Tokyo and from Hiroshima. Kyoto is also just a half hour away from Osaka.
MAP

Related Posts: