Today Manu's Menu turns 4!  I barely can believe it's already been 4 years since I started blogging.  At times it feels like yesterday, but when I look at my first posts, I do notice that I have come a long way.  I have learnt a lot of "technical stuff" and I have definitely improved my photography skills (though I know there's still room for improvement!).  Looking back, I can easily say that this was yet another great year for Manu's Menu!
Among the many accomplishments, I have learnt how to use a Macro lens to take better close up pictures.  I finally got a Canon EF 100mm f/2.8L IS USM Macro Lens and I LOVE it. It lets me take very detailed pictures of food that looks better up close, like the jam coming out from these Ravioli Dolci di Carnevale.
RAVIOLI DOLCI DI CARNEVALE (click on the picture for the recipe):
I still use my Canon EF 50mm f/1.4 USM
 a lot too though, as not all pictures can be taken with a Macro lens – a full cake, for instance, would not fit in the frame. 😉
If you are curious to see my photography improvements for yourselves, just check out my Foodgawker, Tastespotting and Tasteologie galleries. Also, my biggest photography accomplishement of 2014 was the fact that the picture of my Alpine Sliders were featured on Food Porn Daily!
ALPINE SLIDERS (click on the picture for the recipe):
These are my favourite pictures of the past year (click on the picture for the recipe):
FATTOUSH WITH SUMAC DRESSING
PANINO CON LA SALAMELLA
AAMRAKHAND
BIBIMBAP
ROASTED BELL PEPPERS
MINESTRONE
CHAI CHEESECAKE WITH PUMPKIN BUTTERSCOTCH SAUCE
COOKIES AND CREAM FUDGE
CINNAMON APPLE CHIPS
SWEET DREAMS
I am very grateful for all the amazing people I have "met" during these years. I want you to know that even though I do not always reply to each single comment, I read them ALL and they mean a lot to me! Every comment is special… so keep them coming! I also know I have many "silent" readers and I am very grateful to you too… but don't be shy, stop by to say "hello", I'd love to know you! Thank you for all your love and support!
The summary of this 4th year of blogging would not be complete if I did not share some statistical data with you all:
As you can see from the screenshot, since its creation, Manu's Menu has been visited by more than 1,750,000 different people and it has a pageview count of about 5.5 million! I had never even dreamt that my blog would be read and followed by so many people!
I am also quite happy with the results in the Social Media area… Manu's Menu has more than 6,800 followers on Facebook, about 2,100 on Twitter and over 2,000 on Pinterest.  I am in almost 7,900 circles in Google+. Even though there's always room for improvement, these achievements go well beyond my expectations! THANK YOU!!
This past year, I have also had the honour of being featured in a variety of online publications and other wesbsites, among which the Examiner (which featured my Arancine with Spinach, Pappardelle with radicchio and speck and Orecchiette with sausage and fennel tops); the Daily Basics; the Huffington Post Canada (that featured my – Chicken Tikka Masala); Storypick (that featured my Shankarpali); Buzzfeed that featured a variety of my recipes, including many Sicilian treats; Merry Weddings (that featured my Aamrakhand); Brit.com (that featured my Salted Caramel Panna Cotta); The Loop (that featured my Creamy Nutella Liqueur and my White Chocolate Liqueur); Fox News Magazine (that featured my Gelo di Melone recipe); FoodNetwork UK that featured my Molten White Chocolate Pudding on their  Valentine's Day edition and, last but not least, The Independent UK (that featured my Malloreddus alla Campidanese).
The accomplishment that I am the most proud though is having reached #12 food blog out of 1,047 Australian food blogs as per Noodlies' latest list.  That's huge for me!
In 2015, you will still see me making recipes from the Secret Recipe Club, the Daring Kitchen and the Sunday Supper Movement!  So stay tuned!
I also thought it would be nice to share Manu's Menu 10 most visited posts of this 4th year… here they go in descending order! – Click on the picture for the recipe.
HYDERABADI CHICKEN BIRYANI
CABBAGE ROLLS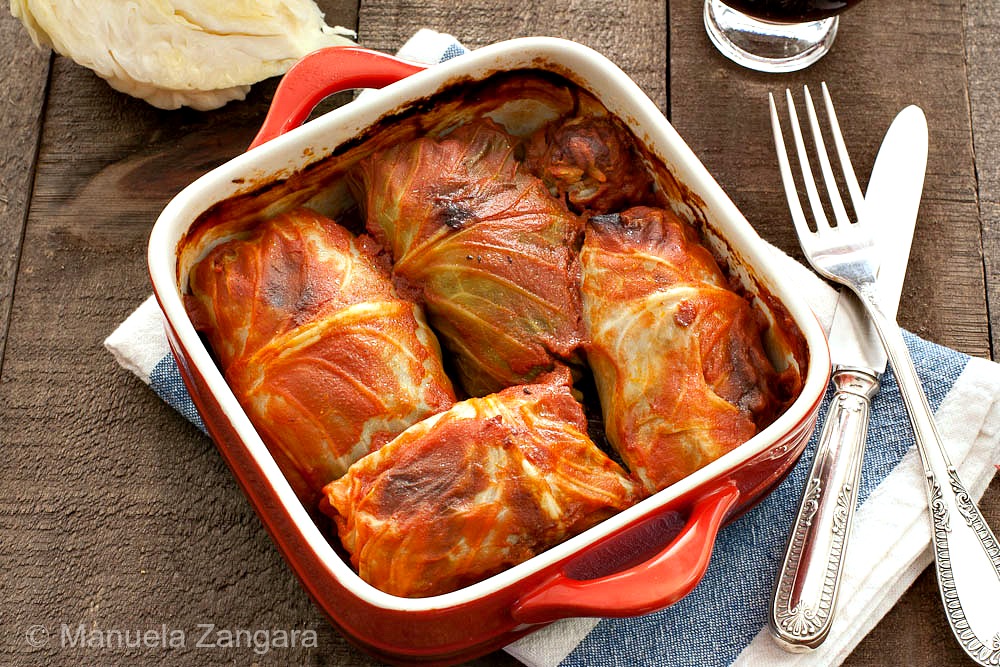 LAMB KOFTA CURRY
SHANKARPALI
HOME-MADE MASCARPONE
PEPPA PIG CAKE
SPINACH AND FETA GOZLEME
CHICKEN STIR FRY WITH CASHEW NUTS
HOME-MADE BAILEY'S IRISH CREAM
HOME-MADE SICILIAN PORK SAUSAGE WITH FENNEL
For the complete list of the recipes I have published, go to my Visual Archive.
These instead are my personal favourite recipes of 2014 (click on the image for the recipe):
PEACH MELBA
BOMBOLONI ALLA CREMA
CHOCOLATE CHIP COOKIES
SALMON SLIDERS WITH AIOLI
MAFTOUL WITH CHICKEN
MAPLE AND SRIRACHA CHICKEN WINGS
SALTED CARAMEL GELATO
MUSHROOM SOFFICINI
GLACIER FUSION DAIQUIRI
MOMOS IN GINGER BROTH
BROKEN GLASS CUPCAKES
This has been quite an interesting year on Social Media.  Facebook has been making it harder and harder for pages to reach their audience.  Basically, the more you like/share/comment etc., the more likely you are to get my updates on your feed.  If you are using other social media platforms besides Facebook, remember you can follow MsM also on: Twitter, Google+, Pinterest and Instagram. Come join us!
So, which was your MsM's favourite recipe this year?
Once more I want to thank all of you for your love and support during these last 4 years!!! Here is to many more!!!
*In the spirit of full disclosure, this post contains some affiliate links, which means that I may get a commission if you decide to purchase anything from Amazon.com. I only recommend products that I use and love myself, so I know you'll be in good hands.

Related Posts: