Today I will tell you a little bit about Osaka, Japan's third-largest city after Tokyo and Yokohama. During our 2018 Japan vacation, we spent a night there and we thoroughly enjoyed it.
We had already been there in 2015, so we knew exactly what to expect and where to go. We didn't have a lot of time, as we stopped only 1 night between Shuzenji Onsen and Kyoto. We could have gone straight to Kyoto and then on to Osaka as a day trip but decided against it. You see, whenever we are in Kyoto, we find it very hard not to remain there, and this time we really wanted to go back to Osaka.
Many people ask me whether or not to include Osaka in their itinerary. My answer is always "it depends" – on how many days you have, on what your interests are, and on what the other places you intend to visit are.
You see, Osaka is actually a beautiful city! Very modern for sure, but nonetheless a beautiful place and if you have more than 2 weeks, I highly recommend you visit it! That's why I wrote this little Osaka guide, so you can make up your mind.
SIGHTSEEING
Unfortunately, we did not have a lot of time to dedicate to the visit, so we decided to just go to the Dotonbori area, our favourite place in town. We arrived at Shin-Osaka Station from Mishima and took the subway to Namba station.
Dotonbori is famous for its beautiful lights, nightlife and… food. So, it's the perfect place for us!
Dotonbori is, in fact, one of Osaka's most popular tourist destinations. It is a popular shopping and entertainment district. The main street runs parallel to the Dotonbori canal. The area around the canal is actually a bit quieter.
At night it is lit by hundreds of neon lights and mechanized signs, including the famous Glico Running Man sign and Kani Doraku crab sign.
We just went around enjoying the lights and we thoroughly enjoyed it, even though the crowds were insane, as it was Saturday night!
What I love the most are the crazy shop/restaurant signboards.
There are so many and some are just so much fun!
And look at this cute manhole art!
We particularly liked the Hozenji Yokocho Alley area. There are more than 60 traditional restaurants and izakaya along its narrow path.
Even though we could not see much more, there are many interesting sites in Osaka, like the castle, Tennoji, and the Kita/Umeda area. And even attractions like the Osaka Universal Studios!
Osaka surely deserves much more time to be explored, and it's already on our "visit-again-list"!
FOOD
Osaka is a foodie paradise! It is famous for its Okonomiyaki, a pancake made with shredded cabbage and a whole range of other ingredients such as squid, prawn, octopus or meat served with okonomiyaki sauce, mayonnaise, green laver and dried bonito.
Another specialty of Osaka is Takoyaki, a flour and egg-based batter cooked with a filling of octopus slices, pickled ginger, and green onion. It is made using a special pan which moulds the ingredients into small balls. Takoyaki sauce and other toppings such as mayonnaise, green laver, and dried bonito flakes are then added on the top. This is the ultimate Osaka street food!
We really enjoyed watching the skilled Takoyaki "chefs" prepare them in tiny shops. Watch the video!!
Other typical food are Kushikatsu (battered and deep-fried pieces of food on skewers), Kitsune Udon (udon served in a hot soup with a piece of deep-fried tofu) and Teppanyaki style food.
This time, my husband had Gyoza at a specialised shop that also made crazy Gyoza sandwiches – HUGE ones!
I had sushi at Sushi Zanmai, which was good.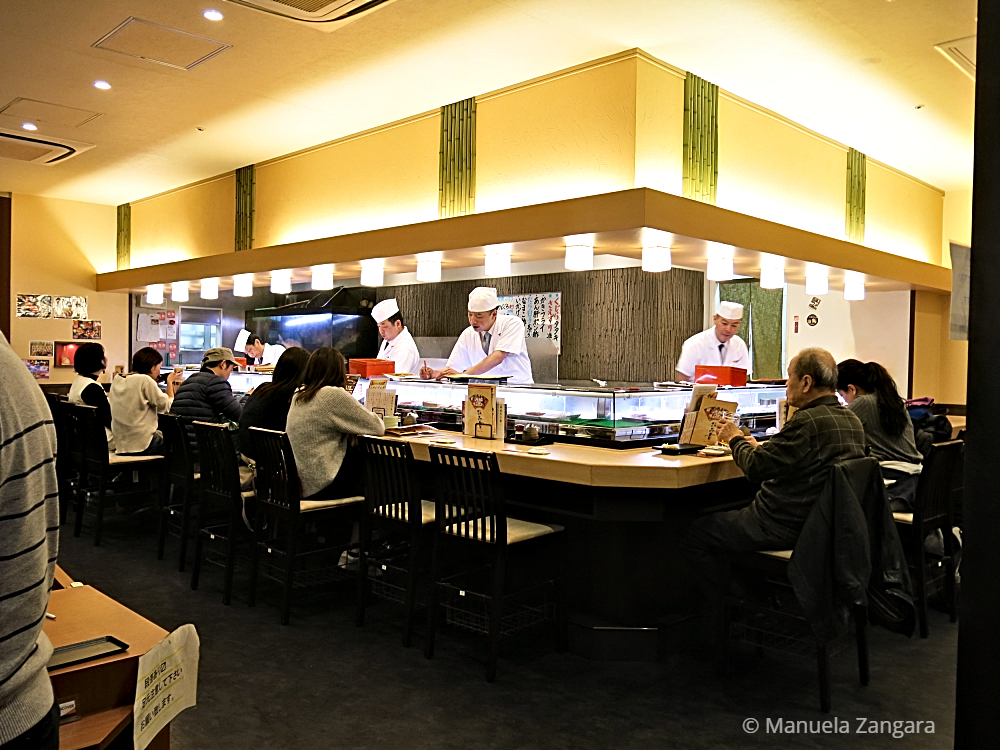 I chose salmon and tuna (take away), my favourite! It was yum!
ACCOMMODATION
In Dotonbori, we slept in our favourite hotel in Osaka: the Dotonbori hotel.
The hotel is in a fantastic spot. It's basically in the centre of Dotonbori and walking distance from Namba Station!! Really unbeatable as it was very easy to go and explore the area by night, even after a long day and with 2 kids in tow!
We had a triple room and it was very small. And when I say small I mean SMALL. There was no place to open the suitcase and the bathroom was tiny – but we already knew this, as we had already been there in 2015.
However, it had everything we needed and the beds were really comfortable. Besides, it was very reasonably priced!
We had all the usual toiletry sets you find in Japanese hotels, like toothbrushes and toothpaste, razors etc… And they even had free ramen at 10 PM in the hall! We were already asleep by then, but it would have been nice to try it.
They also gave presents to the girls and that was a nice touch too and they organise all sorts of fun activities!
The massage chairs in the hall are great too! There is also free tea/coffee there.
Booking was very easy. I sent an email directly to the hotel, but you can also check Booking.com or HotelsCombined to see if they have any better prices.
I highly recommend Dotonbori hotel because it was great quality for the money we paid and for the amazing location. This is definitely the place where we will be staying on our next visit to Osaka, even with a small room.
RESOURCES ON MSM
RECIPES:
TRAVEL IN JAPAN:
Nara & Fushimi Inari guide – Japan
Haru Cooking Class Kyoto – Japan Guide
Nagashima and Nabana no Sato – Japan Guide
Jigokudani Monkey Park Guide – Japan
Don't forget to pin this post!
HOW TO GET THERE
You can easily reach Osaka by Shinkansen (arriving at Shin-Osaka station). It takes about 1.5 hours from Hiroshima and about 2.5 hours from Tokyo. Osaka is also just a half hour away from Kyoto.
To go to Dotonbori from Shin-Osaka Station, take the subway Midosuji line and get down at Namba (7 stops).
MAP

Related Posts: