During our latest trip to Japan, we stayed in Kyoto for 11 nights. Besides visiting the city, we also used it as the base for various day trips in the area. During one of these day trips, we visited the beautiful town of Uji.
Uji is situated between Kyoto and Nara, two of Japan's most famous historical and cultural centres. Thanks to this proximity, Uji also developed into an important cultural centre in its own right. During the Heian Period (794 to 1192), buildings such as Byodoin Temple and Ujigami Shrine, the oldest existent shrine in Japan, were built.
Uji is also famous for its green tea which has been known for its superior quality since the 1100s.
SIGHTSEEING
Uji is not too big and you can easily walk around the main attractions from the station.
Byodoin Temple
Byodoin Temple, the most famous attraction of the town, is a striking example of Buddhist Pure Land (Jodo) architecture. Together with its garden, the temple represents the Pure Land Paradise. Byodoin was initially built in 998 as a countryside retreat villa for the powerful politician Fujiwara no Michinaga, not as a temple.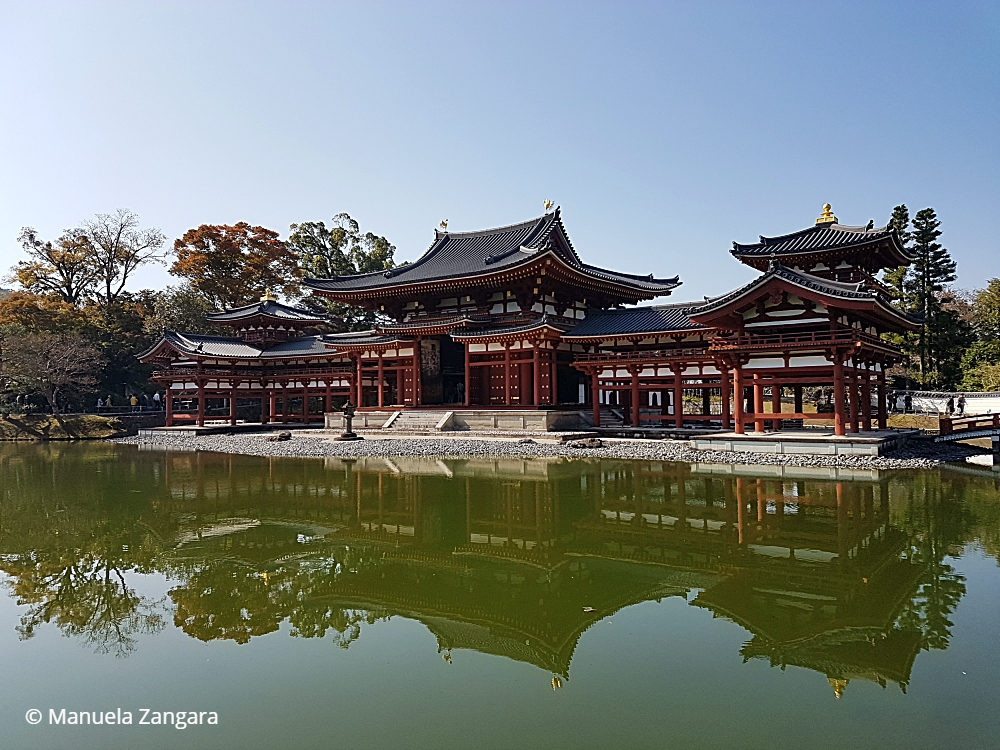 Michinaga's son turned Byodoin into a temple and ordered the construction of its most spectacular feature, the Phoenix Hall. The hall is now featured on the back of the Japanese ten yen coin.
Byodoin's buildings were repeatedly lost to fires and other calamities over the centuries, however, the Phoenix Hall was never destroyed, making it one of the few original wooden structures to survive from the Heian Period.
Visitors to Byodoin can enter the Phoenix Hall on short guided tours (in Japanese) that start every 20 minutes and cost an additional 300 yen. It houses a statue of the Amida Buddha. We did not enter, as the queues were crazy (there was a 2 hour plus wait)!! We simply admired it from the outside.
Ujigami Shrine and Uji Shrine
Ujigami Shrine is believed to be the oldest standing shrine in Japan. Although there is no official record of when it was first constructed, experts estimate that Ujigami Shrine was well established by 1060. It was closely linked to Byodoin Temple as its "guardian shrine".
A hundred meters south of Ujigami Shrine stands Uji Shrine. The two shrines used to be one until they were separated during the Meiji Period (1868-1912). Ujigami Shrine used to be known as the upper shrine while Uji Shrine was the lower shrine.
We particularly liked the rabbit-shaped fortunes at the shrine!!
Uji River
The Uji River divides Uji into two parts. Most of the city's attractions are within short walks from the river.
River cruises and cormorant fishing are popular summer activities. Cormorant fishing takes place at the Uji River from around mid-June to late September.
Lining the riverbank, many teahouses and restaurants showcase Uji's famous tea and tea-themed foods. Visitors can try tea flavoured soba noodles, green tea ice-cream, and other popular Uji tea treats while enjoying the view.
Pedestrian bridges connect Uji's riverbanks to a small island in the centre. The island is mostly flat and bare, with a tall stone pagoda in the middle.
The main bridge over Uji River was first constructed sometime around 646, making it one of the oldest remaining in Japan. It has been destroyed and replaced many times since then; however, the current bridge reflects some of its historical representations. Uji Bridge is well known for its frequent mention in the Uji Chapters of The Tale of Genji, an 11th century work of fiction that is often argued to be the world's first novel. The Tale of Genji was written by a Japanese noblewoman and describes the intrigues of courtly life in Heian Period Kyoto.
Uji Bridge is just one of many locations in Uji that are mentioned in the final ten chapters of The Tale of Genji. To honour Uji's role in the novel, the city is marked by statues and plaques that indicate locations where the novel's events occurred. In addition, Uji hosts a Tale of Genji Museum with a few English displays, which relate some of the stories in the novel.
Uji is a very nice town, so if you have plenty of time in the Kyoto area, it's definitely worth a day trip!
FOOD
Green Tea
Green tea is now everywhere in Japan, but when it first arrived from China in the 700s, the drink was unknown except to a handful of priests and noblemen. A few hundred years later, green tea leaves cultivated in Uji started becoming popular among the nobility.
Eisai, the Zen priest who imported Zen Buddhism to Japan from China, introduced the benefits of the beverage in a book and advised the Uji priests in tea plant cultivation and preparation. Tea drinking later became popular among the masses, and Uji earned a reputation for excellent tea production as one of the first places to engage in tea cultivation. Today, Uji's tea is still regarded to be of superior quality.
There are a variety of ways to enjoy Uji's tea and tea culture. Most restaurants and stores in town offer tea in one way or another. Popular on the menus of restaurants are matcha flavoured soba noodles, ice-cream and sweets. Drinking tea in riverside tea houses is a well-received past time. One of the best places to purchase tea and tea related souvenirs is Omotesando, the 300 meter approach to Byodoin Temple that is lined by shops.
A short walk from Byodoin Temple is Taihoan, a public tea house which offers visitors the opportunity to participate in an authentic tea ceremony at a very reasonable price.
We had a delicious soft serve Matcha ice cream at Tsuen teahouse, near the Uji Bridge. We also bought some matcha tea to take home here. Highly recommended.
Hakodate Ichiba
We had lunch at Hakodate Ichiba, a good sushi train franchise.
The quality was good (better than your average sushi train joint) and the prices reasonable.
The tuna nigiri were particularly good.
Recommended!
ACCOMMODATION
We stayed in a rental house in Kyoto, check it out here.
HOW TO GET AROUND UJI
Definitely on foot!
RESOURCES ON MSM
RECIPES:
TRAVEL IN JAPAN:
Nara & Fushimi Inari guide – Japan
Haru Cooking Class Kyoto – Japan Guide
Nagashima and Nabana no Sato – Japan Guide
Jigokudani Monkey Park Guide – Japan
Miyajima Autumn 2018 – Japan Guide
Kunisaki Peninsula – Japan Guide
Don't forget to pin this post!
HOW TO GET TO UJI FROM KYOTO
Kyoto and Uji are connected by frequent trains along the JR Nara Line from Kyoto Station. The one-way trip takes about 20 minutes by rapid train or 30 minutes by local train. The trip is covered by the Japan Rail Pass.
MAP

Related Posts: