During our latest trip to Japan, we stayed in Kyoto for 11 nights. Besides visiting the city, we also used it as the base for various day trips in the area. During one of these day trips, we visited the beautiful mountainous area of Ohara. So, today I will share with you my Ohara – Japan Guide!
Ohara is a rural town nestled in the mountains of northern Kyoto, about one hour from Kyoto Station. Ohara is best known for Sanzenin Temple and particularly popular in mid-November during the autumn leaf season, which typically occurs about one week earlier than in central Kyoto. And being in the area around that time, we couldn't really miss it!
SIGHTSEEING
Ohara is not too big and you can easily walk around the main attractions from the bus stop. There are quite a few temples (and even a waterfall) to visit, however, we chose to spend our time exploring the 2 main ones: Sanzenin and Jakkoin.
Sanzenin Temple
Sanzenin Temple is the main attraction of Ohara. The approach from Ohara bus stop to Sanzenin is lined with shops and restaurants catering to temple visitors, and there are a number of smaller temples in the vicinity.
Sanzenin Temple itself has large temple grounds and a variety of buildings, gardens and walking paths.
I particularly liked this temple. I have seen many throughout my travels in Japan and this is definitely high up in my list of favourites.
Sanzenin is a temple of the Tendai sect of Japanese Buddhism and was founded the revered monk Saicho who introduced Tendai Buddhism to Japan in 804. Sanzenin is a monzeki temple, one of only a few temples whose head priests used to be members of the imperial family!
After entering the temple through the front gate, you pass through a series of connected temple buildings.
The first major building is the Kyakuden (guest hall) that opens up onto the beautiful Shuhekien Garden, a traditional Japanese garden that has a small pond and hill.
Connected to the Kyakuden by a corridor, the Shinden (main hall). From here you can enjoy the most famous view of Sanzenin Temple: the Ojo Gokuraku-in Hall seen through maple and cedar trees across a moss garden.
After admiring the view from the Shinden, you walk through the moss garden. Here you can see many cute stone statues that peek out from the moss.
Along with the rest of the temple, the garden is particularly impressive during the autumn colours.
Located in the middle of the moss garden, the Ojo Gokuraku-in Hall is the oldest temple building at Sanzenin. The hall was first built in 985 and most recently rebuilt in 1143. It holds a statue of Amida Buddha, Sanzenin's most valued treasure.
From the Ojo Gokuraku-in Hall there is a path that leads to the back of the temple grounds, where there are a few temple buildings of more recent construction.
The garden is stunning and huge!
Jakkoin Temple
Jakkoin Temple has a long history, but unfortunately, it suffered serious damage from a fire in 2000 in an act of arson.
Jakkoin was founded around the year 600. A long flight of stairs leads up to the temple gate, which is particularly attractive during autumn.
The leaves were breathtaking!
Unfortunately, the main hall burnt down in 2000, but it has since been rebuilt. Jakkoin is noted for having served as the nunnery of a former Empress.
Apparently, even this famous 1000-year-old pine tree, called Princess Komatsu, was damaged during the fire.
The little moss garden is quite nice as well.
Jakkoin is about a 20-minute walk from the Sanzenin area. I loved this part of Ohara the best. It was a simple rural area, with countryside houses and fields.
It was really peaceful. And look at these beautiful flowers!!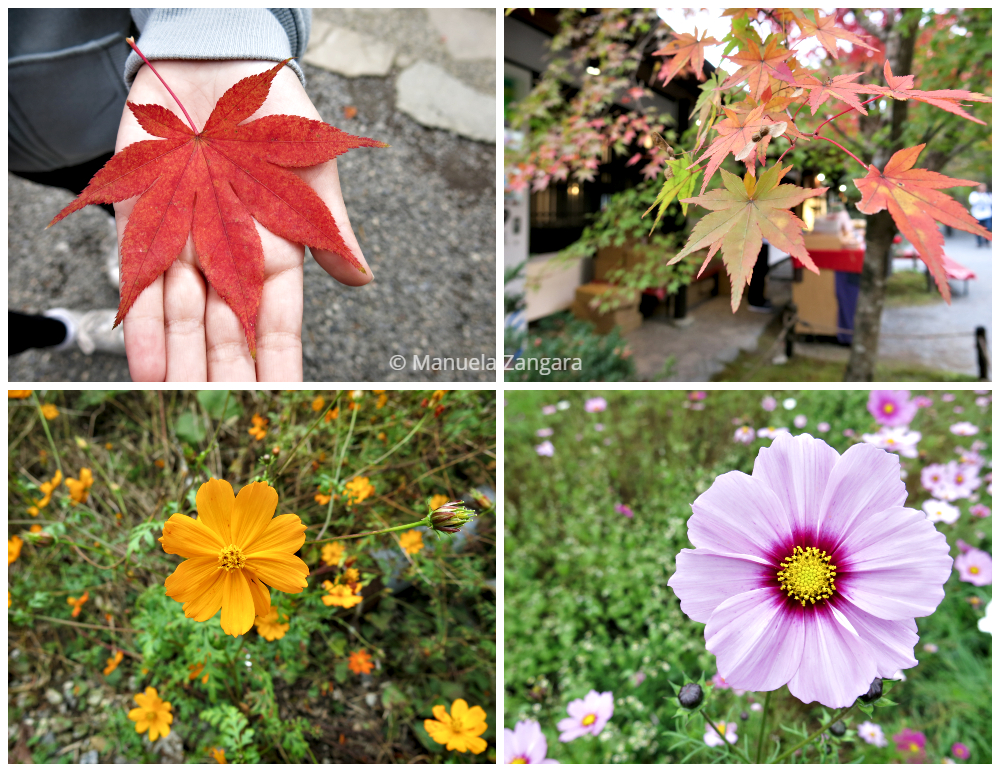 Ohara is a very nice town, so if you have plenty of time in the Kyoto area, it's definitely worth a day trip!
ACCOMMODATION
We stayed in a rental house in Kyoto, check it out here.
If you'd rather spend a night in Ohara, there are two ryokan near Jakkoin and one near Sanzenin where visitors can stay overnight, enjoying hot spring water baths. For travellers with less time, the baths are also open to day trippers in combined lunch and bath sets.
HOW TO GET AROUND OHARA
Definitely on foot!
RESOURCES ON MSM
RECIPES:
TRAVEL IN JAPAN:
Nara & Fushimi Inari guide – Japan
Haru Cooking Class Kyoto – Japan Guide
Nagashima and Nabana no Sato – Japan Guide
Jigokudani Monkey Park Guide – Japan
Miyajima Autumn 2018 – Japan Guide
Kunisaki Peninsula – Japan Guide
Don't forget to pin this post!
HOW TO GET TO OHARA FROM KYOTO
From Kyoto Station, the fastest way to reach Ohara is to take the Karasuma Subway Line to its terminal station Kokusaikaikan Station (20 minutes) and then Kyoto Bus number 19 to Ohara (20 minutes, every 40 minutes). Alternatively, Kyoto Bus number 17 provides a direct connection from Kyoto Station to Ohara (60 minutes, every 20 minutes) via Shijo-Kawaramachi (45 minutes).
In peak season, I'd recommend catching the bus from the Station, as it gets packed quickly and the ride is a long one! The bus rides are not covered by the 1-day bus pass.
MAP

Related Posts: